Caffeic Acid Targets AMPK Signaling and Regulates Tricarboxylic Acid Cycle Anaplerosis while Metformin Downregulates HIF-1α-Induced Glycolytic Enzymes in Human Cervical Squamous Cell Carcinoma Lines
1
Department of Food Chemistry and Nutrition, Faculty of Pharmacy, Jagiellonian University Medical College, Medyczna 9, 30-688 Krakow, Poland
2
Department of Clinical Immunology, Institute of Pediatrics, Jagiellonian University Medical College, Wielicka 265, 30-663 Krakow, Poland
3
Faculty of Medicine, Jagiellonian University-Medical College, Kopernika 7, 31-034 Krakow, Poland
4
Department of Department of Transplantation, Faculty of Medicine, Jagiellonian University Medical College, Wielicka 258, 30-688 Krakow, Poland
*
Authors to whom correspondence should be addressed.
Received: 22 May 2018 / Revised: 23 June 2018 / Accepted: 25 June 2018 / Published: 28 June 2018
Abstract
The small molecules, natural antioxidant Caffeic Acid (trans-3,4-Dihydroxycinnamic acid CA) and anti-diabetic drug Metformin (Met), activate 5′-adenosine monophosphate-activated protein kinase (AMPK) and interfere with metabolic reprogramming in human cervical squamous carcinoma cells. Here, to gain more insight into the ability of CA, Met and the combination of both compounds to impair aerobic glycolysis (the "Warburg effect") and disrupt bioenergetics of cancer cells, we employed the cervical tumor cell lines C-4I and HTB-35/SiHa. In epithelial C-4I cells derived from solid tumors, CA alleviated glutamine anaplerosis by downregulation of Glutaminase (GLS) and Malic Enzyme 1 (ME1), which resulted in the reduction of NADPH levels. CA treatment of the cells altered tricarboxylic acid (TCA) cycle supplementation with pyruvate via Pyruvate Dehydrogenase Complex (PDH), increased ROS formation and enhanced cell death. Additionally, CA and CA/Met evoked intracellular energetic stress, which was followed by activation of AMPK and the impairment of unsaturated FA de novo synthesis. In invasive HTB-35 cells, Met inhibited Hypoxia-inducible Factor 1 (HIF-1α) and suppressed the expression of the proteins involved in the "Warburg effect", such as glucose transporters (
GLUT1
,
GLUT3
) and regulatory enzymes of glycolytic pathway Hexokinase 2 (
HK2
), 6-Phosphofructo-2-Kinase/Fructose-2,6-Biphosphatase 4 (
PFKFB4
), Pyruvate Kinase (
PKM
) and Lactate Dehydrogenase A (
LDH
). Met suppressed the expression of
c-Myc
,
BAX
and cyclin-D1 (
CCND1
) and evoked apoptosis in HTB-35 cells. In conclusion, both small molecules CA and Met are capable of disrupting energy homeostasis, regulating oxidative metabolism/glycolysis in cervical tumor cells in regard to specific metabolic phenotype of the cells. CA and Met may provide a promising approach in the prevention of cervical cancer progression.
View Full-Text
►

▼

Figures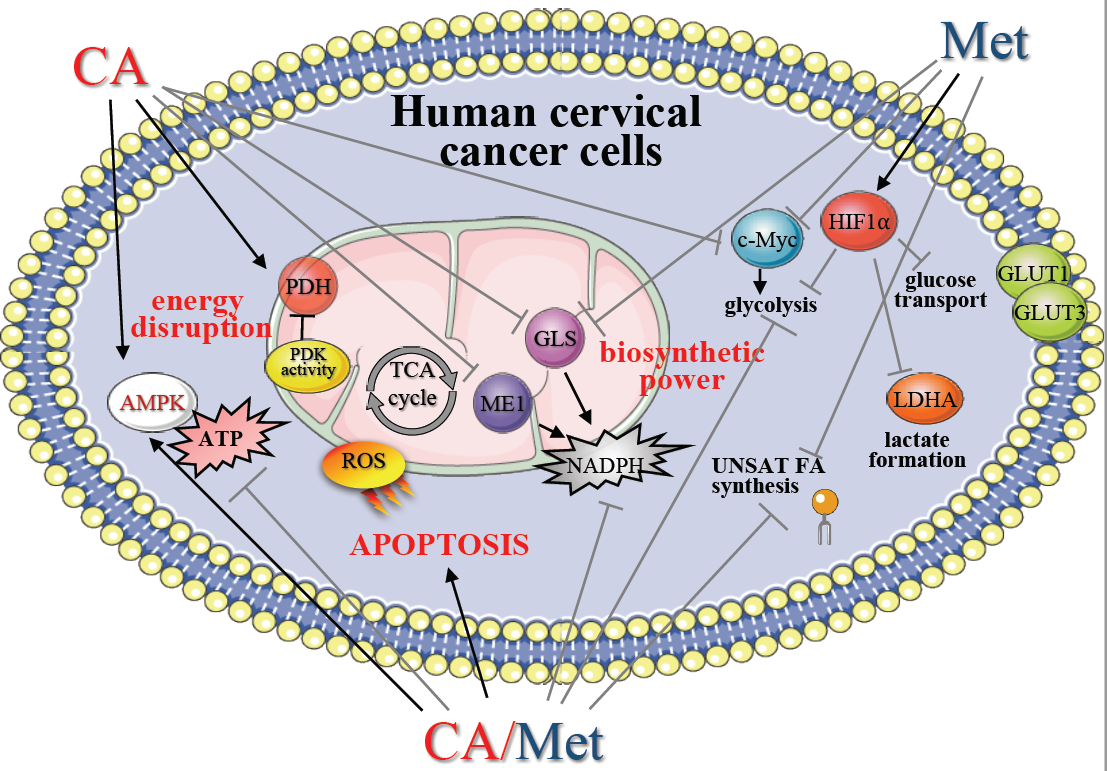 Graphical abstract
This is an open access article distributed under the
Creative Commons Attribution License
which permits unrestricted use, distribution, and reproduction in any medium, provided the original work is properly cited (CC BY 4.0).

Share & Cite This Article
MDPI and ACS Style
Tyszka-Czochara, M.; Bukowska-Strakova, K.; Kocemba-Pilarczyk, K.A.; Majka, M. Caffeic Acid Targets AMPK Signaling and Regulates Tricarboxylic Acid Cycle Anaplerosis while Metformin Downregulates HIF-1α-Induced Glycolytic Enzymes in Human Cervical Squamous Cell Carcinoma Lines. Nutrients 2018, 10, 841.
Note that from the first issue of 2016, MDPI journals use article numbers instead of page numbers. See further details here.
Related Articles
Comments
[Return to top]