Open Access This article is
freely available
re-usable
Review
The Role of
n
-3 Long Chain Polyunsaturated Fatty Acids in Cardiovascular Disease Prevention, and Interactions with Statins
1
DSM Nutritional Products, 4303 Kaiseraugst, Switzerland
2
Human Development and Health Academic Unit, Faculty of Medicine, University of Southampton, Southampton SO16 6YD, UK
3
NIHR Southampton Biomedical Research Centre, University Hospital Southampton NHS Foundation Trust and University of Southampton, Southampton SO16 6YD, UK
*
Author to whom correspondence should be addressed.
Received: 25 May 2018 / Accepted: 13 June 2018 / Published: 15 June 2018
Abstract
:
Decreases in global cardiovascular disease (CVD) mortality and morbidity in recent decades can be partly attributed to cholesterol reduction through statin use.
n
-3 long chain polyunsaturated fatty acids are recommended by some authorities for primary and secondary CVD prevention, and for triglyceride reduction. The residual risk of CVD that remains after statin therapy may potentially be reduced by
n
-3 long chain polyunsaturated fatty acids. However, the effects of concomitant use of statins and
n
-3 long chain polyunsaturated fatty acids are not well understood. Pleiotropic effects of statins and
n
-3 long chain polyunsaturated fatty acids overlap. For example, cytochrome P450 enzymes that metabolize statins may affect
n
-3 long chain polyunsaturated fatty acid metabolism and vice versa. Clinical and mechanistic study results show both synergistic and antagonistic effects of statins and
n
-3 long chain polyunsaturated fatty acids when used in combination.
Keywords:
omega-3; cardiovascular disease; statins
2. Statins: Mode of Action
3. Epidemiology of Statin Use
Since the introduction of lovastatin into clinical practice in 1987, statins have become one of the most widely prescribed classes of drugs in the world. The extensive use of statins has lowered LDL-cholesterol levels in the general population in high-income countries, and statins are considered to be one of the direct causes of the global reduction in cardiovascular events and mortality that has taken place in recent decades [
30
].
The largest markets for statins globally are the United States and Europe; however, the loss of patent exclusivity of the major brands since 2001 has opened the market for developing countries. In the United States, 93% of users of cholesterol-lowering prescription medication used a statin. 25% of adults aged 45 years and over used a statin in the period 2005–2008, equivalent to around 30 million adults [
31
], but usage varied widely depending on age and existence of CVD or diabetes [
32
]. Statin use varies greatly within Europe, with usage in countries such as Sweden, Ireland and the Netherlands four times greater than that in Austria or Italy [
33
]. The pattern of statin types prescribed also shows considerable variation among countries in the European Union [
33
]. In the United Kingdom, statins accounted for 94% of all prescriptions in the anti-dyslipidemic class in 2010: this corresponds to 55.1 million statin prescriptions dispensed in primary care. 72% of these prescriptions were for generic simvastatin [
31
]. Even so, treatment rates are still considered sub-optimal, and there is a considerable opportunity to reduce CVD through greater use in populations [
30
,
32
].
4.
n

-3 LC PUFAs: Mode of Action in CVD Prevention
5. Use of
n

-3 LC PUFAs as Dietary Supplements in the General Population

Dietary supplements containing

n

-3 LC PUFAs are used widely in North America, Europe, and the Asia-Pacific region. The main sources of these products include fatty fish, krill, and fermentation-derived microalgal oils. Demand for

n

-3 LC PUFAs for human nutrition is projected to grow 4.1% annually on a volume basis over the coming decade [

56

]. An international survey of

n

-3 LC PUFA supplement users in ten countries (U.S., U.K., Germany, Italy, China, South Korea, Russia, Australia, Brazil, Mexico) found that usage varied from 14% of the adult population in Germany to 38% in Australia [

57

]. A high proportion of

n

-3 LC PUFA supplement use has also been found by other researchers [

58

]. In most countries, users started taking supplements due to advice from a physician. The main reasons given for taking supplements are for overall or cardiovascular health [

57

].

n

-3 LC PUFA supplements are taken by 10% of the U.S. adult population aged 20 years or more, most commonly for heart health [

59

].
6. Interactions between LC PUFAs and Statins, and Effects on Dyslipidemia, CVD and Mortality
In addition to distinct effects on dyslipidemia, the pleiotropic effects of statins overlap with those of
n
-3 LC PUFAs. Similar mechanisms include enhancing endothelial nitric oxide synthesis, inhibiting the production of pro-inflammatory cytokines, and the lowering of LDL-cholesterol via repression in activity and mRNA expression of the HMG-CoA reductase enzyme [
60
,
61
]. Given these commonalities in actions, statins and
n
-3 LC PUFAs may interact, either competing with or complementing each other. Statins may also augment the metabolism of LC PUFAs and their metabolites [
60
]. These interactions are summarized in
Figure 2
.
6.1. Effects of Dietary Fatty Acids and Statin Co-Administration on Dyslipidemia
6.2. Effects of Statins on n-3 LC PUFA Concentrations
6.3. Interactions between Statins and n-3 LC PUFAs on Mitochondrial Function
There may be a counteracting effect of statins and
n
-3 LC PUFAs on mitochondrial function [
80
]. Myocardial mitochondria provide energy for ischemic pre-conditioning in cardiomyocytes prior to myocardial infarction, which may reduce the size of the infarction, reduce post-ischemic arrhythmias and result in better patient survival. Dietary
n
-3 LC PUFAs are able to induce a chronic state of cardiac preconditioning, associated with increases in
n
-3 LC PUFA accumulation in plasma as well as cardiac mitochondria [
80
]. On the other hand, a known side-effect of statin usage is muscle pain and weakness, linked to disrupted mitochondria in muscles [
22
]. Endogenous production of ubiquinone, used primarily to generate energy in mitochondria, is decreased by statin administration, as its biosynthesis requires the HMG-CoA reductase enzyme [
81
]. Therefore, in the presence of statins,
n
-3 LC PUFAs may not be able to precondition cardiomyocytes due to a reduction in mitochondrial function arising from intrinsic ubiquinone deficiency.
6.4. Inhibition of CYP Enzymes by Statins and Effects on Eicosanoid Production
An important biological function of LC PUFAs is the production of eicosanoids, lipid mediators with cardioprotective, vasodilatory, inflammatory and allergic properties [
82
]. ARA is considered the traditional precursor of eicosanoids; however the CYP enzymes responsible for metabolizing ARA have broad substrate specificities and accept most
n
-3 and
n
-6 LC PUFAs [
82
]. Increasing the availability of EPA and DHA to the CYP enzymes shifts eicosanoid production to EPA- and DHA-derived metabolites, possibly having a favorable effect on CVD risk [
83
]. However, statins can inhibit or induce the activity of particular CYP enzymes [
22
,
24
,
84
], and thus the production of CYP-derived eicosanoids. For example, fluvastatin is both a substrate for, and potent inhibitor of, CYP2C9 [
84
]. CYP2C9 is found in human cardiovascular tissue [
85
], where it catalyzes the conversion of ARA, EPA and DHA to epoxyeicosatrienoic acids (EETs), epoxyeicosatetraenoic acids (EpETE) and epoxydocosapentaenoic acids (EpDPE), respectively [
86
]. EpETE and EpDPE show in vitro anti-inflammatory and cardioprotective properties [
82
]. Use of fluvastatin may reduce the overall production of PUFA-derived eicosanoids, with differential effects on CVD risk depending on the ultimate shift in PUFA-derived eicosanoids that occurs. When underlying
n
-3 LC PUFA concentrations are high, statins may lower the effectiveness of EPA or DHA in reducing CVD risk by inhibiting the production of EpETEs and EpDPE. On the other hand, when
n
-6 LC PUFA concentrations are high, a reduction in the production of ARA-derived inflammatory metabolites through CYP2C9 inhibition by certain statins may be beneficial. As a complicating factor, different statins affect different CYP enzymes, and some have no effect. In populations using a range of different statins, disparate effects on eicosanoid production may increase variability in the effect of PUFA on cardiovascular risk. Clearly, further work is needed in this area.
6.5. Effects of Statins and n-3 LC PUFAs on Clinical and Mechanistic Endpoints
7. Conclusions
Both statins and
n
-3 LC PUFAs are recommended for CVD prevention. While each treatment has a distinct mode of action, pleiotropic effects of the two overlap. In addition, statins and
n
-3 LC PUFAs interact, potentially affecting net cardiovascular risk (
Figure 2
). Statins may cause a mitochondrial ubiquinone deficiency, which blocks the ability of
n
-3 LC PUFAs to precondition myocytes, reducing their effectiveness in reducing cardiac arrhythmias. Statins appear to increase concentrations of LC PUFAs: when LA intakes are high, this could lead to a rise in concentrations of pro-inflammatory eicosanoids from ARA. The main effect of statins is to block the activity of HMG-CoA reductase; however
n
-3 LC PUFAs are also capable of HMG-CoA reductase inhibition, albeit less effectively, resulting in a smaller effect size for the combination. Both competition for, and activation of, CYP enzymes could be a further confounding factor in the metabolism of statins and the production of eicosanoids from
n
-3 LC PUFAs, but this may depend on the type of statin used. Post hoc analyses of clinical studies have yielded mixed results, with some results indicating that
n
-3 LC PUFA supplementation is only beneficial in statin non-users and others showing combined use of
n
-3 LC PUFA and statins is beneficial. Prospective intervention studies that stratify for statin use are warranted to explore the interaction further.
Author Contributions
Conceptualization, M.E.; Writing-Original Draft Preparation, J.K.B.; Writing-Review and Editing, J.K.B. and P.C.C.
Funding
This research received no external funding.
Acknowledgments
We acknowledge the critical reviews of the manuscript by Norman Salem Jr, Karin Yurko-Mauro and Mary van Elswyk.
Conflicts of Interest
J.K.B. and M.E. are employed by DSM Nutritional Products, a manufacturer of omega-3 fatty acids. P.C.C. is an adviser to DSM Nutritional Products.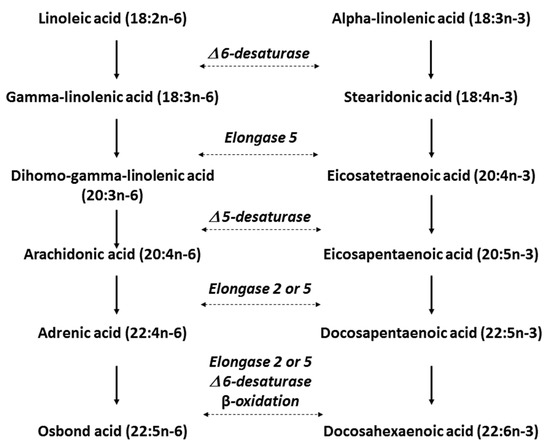 Figure 1. Pathway of metabolic interconversion of omega-6 and omega-3 polyunsaturated fatty acids. Abbreviation used: Δ, delta.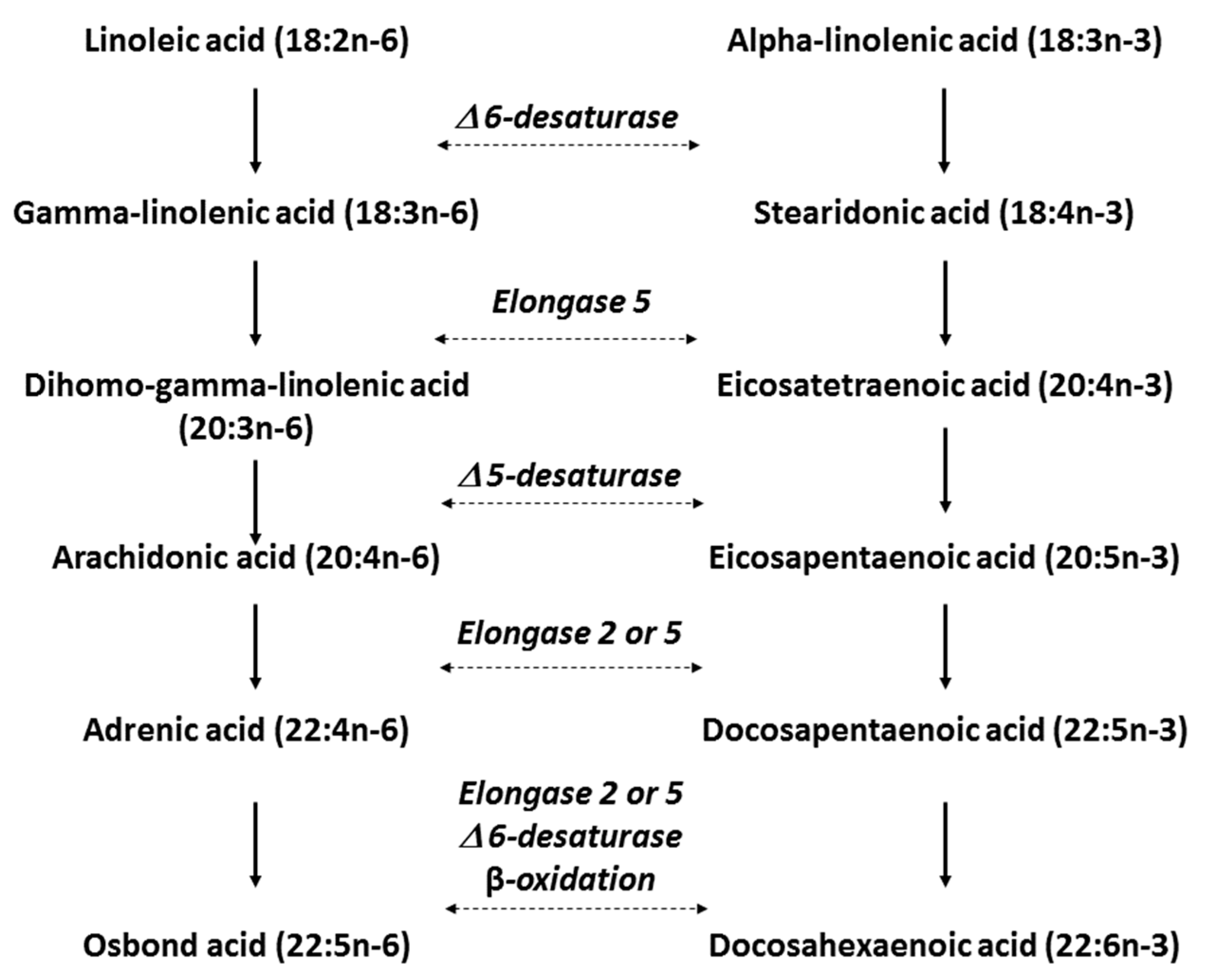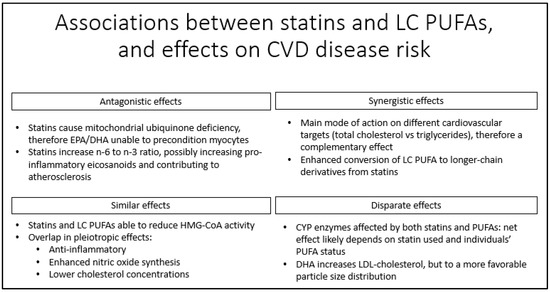 Figure 2.
Overview of the interaction between statins and
n
-3 LC PUFAs on cardiovascular risk factor.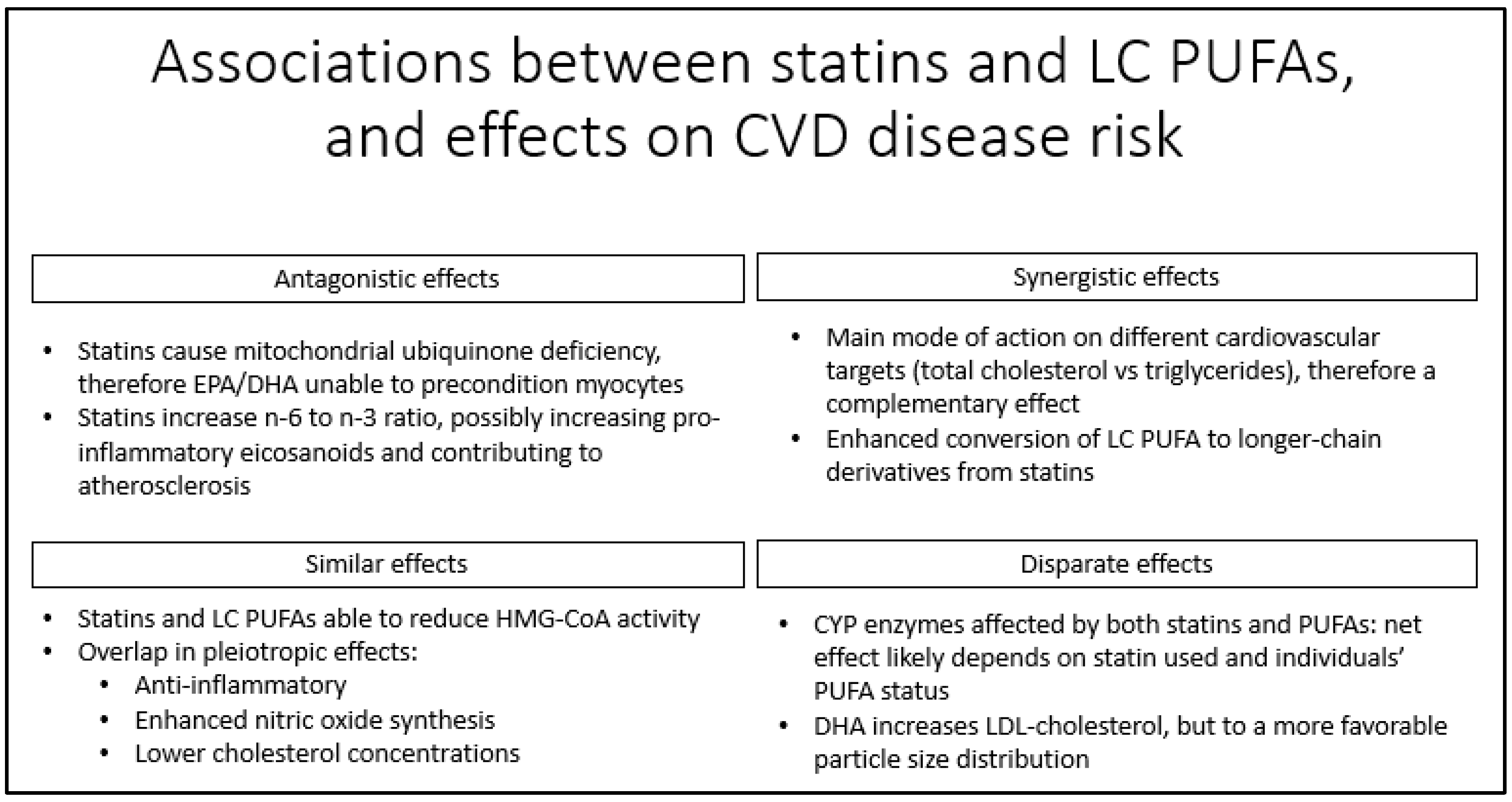 | Statin Name | Origin [23] | Structure [23] | Lipophilicity [23] | Generation [23] | CYP Metabolism [22,24,25] |
| --- | --- | --- | --- | --- | --- |
| Fluvastatin | Synthetic | Fluorophenyl group | Lipophilic | I | CYP2C9 |
| Atorvastatin | Synthetic | Fluorophenyl group | Lipophilic | II | CYP3A4 |
| Rosuvastatin | Synthetic | Fluorophenyl group | Lipophobic | III | CYP2C9 |
| Pitavastatin | Synthetic | Fluorophenyl group | Lipophilic | II | Marginal [26] |
| Lovastatin | Fungal | Butyryl group | Lipophilic | I | CYP3A4 |
| Pravastatin | Fungal | Butyryl group | Lipophobic | I | CYP2C9 |
| Simvastatin | Fungal | Butyryl group | Lipophilic | II | CYP3A4 |
Study Name (

n

)
Study Type/Treatments
Main Results
Reference
Southern cohort community study
(

n

= 69,559)
Prospective cohort study
Modest inverse associations between

n

-3 PUFA and

n

-6 PUFA intake with mortality among non-statin users but not among statin users.
[87]
(

n

= 14,704)
Retrospective cohort study
As compared with statins alone, combined treatment with statins and

n

-3 LC PUFAs was associated with an adjusted higher survival rate, survival free of atrial fibrillation and survival free of new heart failure development, but not with re-infarction.
[90]
JELIS
(

n

= 18,645)
RCT
Treatment: 1800 mg EPA + statin
Control: statin alone
The incidence of MCE was significantly lower in the EPA group.
Compared to patients with normal serum TG and HDL-C levels, those with abnormal had significantly higher CAD hazard ratio. In this higher risk group, EPA treatment suppressed the risk of CAD by 53%.
[91,92]
Alpha Omega
(

n

= 4153)
Post hoc analysis of RCT
Treatments:
400 mg EPA + DHA
2 g ALA
Both
Control: Placebo margarine
In statin users,

n

-3 fatty acids did not reduce cardiovascular events. In statin non-users, only 9% of those who received EPA-DHA plus ALA experienced an event compared with 18% in the placebo group.
[88]
CHERRY
(

n

= 193)
RCT
Treatment:
1,800 mg EPA + 4 mg pitavastatin
Control: Pitavastatin (Pitavastatin) 4 mg
The prevalence rate of plaque regression was significantly higher in Pitavastatin/EPA group than in Pitavastatin group (50% vs. 24%,

p

< 0.001).
[93]
Kagawa hospital study
(

n

= 241)
Prospective, open-label, randomized trial
Treatment:
1,800 mg EPA + 2 mg Pitavastatin
Control: 2 mg Pitavastatin
Significant reduction in composite endpoint of cardiovascular death, MI, stroke, or coronary revascularization at 1 year: 9.2% in the EPA group and 20.2% in the control group (absolute risk reduction, 11.0%; HR, 0.42; 95% CI, 0.21–087;

p

= 0.02), in acute coronary syndrome patients.
[94]
(

n

= 11,269)
Retrospective cohort study

n

-3 LC PUFA supplement users had a reduced risk of all-cause mortality (HR 0.76 [0.59 to 0.97]). Statin use did not affect all-cause mortality reduction, however a reduction in recurrent myocardial infarction was only seen in statin users.
[89]
(

n

= 77,776)
Meta-regression
Lower control group statin use and higher DHA/EPA ratio was associated with higher reduction in total mortality.
[18]
HEARTS
(

n

= 285)
RCT in patients with stable statin therapy
Treatment: 1860 mg EPA + 1500 mg DHA
Control: Placebo
EPA + DHA in addition to low-dose statin treatment prevented progression of atherosclerotic plaques, compared to low-dose statin treatment alone.
[95]
Abbreviations: coronary artery disease (CAD), alpha-linolenic acid (ALA,

n

-3), randomized clinical trial (RCT), major coronary event (MCE), triglycerides (TG), coronary artery disease (CAD), myocardial infarction (MI), eicosapentaenoic acid (EPA), hazard ratio (HR), docosahexaenoic acid (DHA).

© 2018 by the authors. Licensee MDPI, Basel, Switzerland. This article is an open access article distributed under the terms and conditions of the Creative Commons Attribution (CC BY) license (http://creativecommons.org/licenses/by/4.0/).