Open Access This article is
freely available
re-usable
Review
Dietary Neurotransmitters: A Narrative Review on Current Knowledge
1
Tourette's Syndrome and Movement Disorders Centre, I.R.C.C.S. Galeazzi Hospital, 20161 Milan, Italy
2
Department of Pathophysiology and Transplantation, I.R.C.C.S. Ca' Granda Foundation, Ospedale Maggiore Policlinico, 20122 Milan, Italy
3
Department of Psychiatry and Behavioral Sciences, School of Medicine, Stanford University, Stanford, CA 94305, USA
4
Department of Neuroscience, Rita Levi Montalcini, University of Turin, 10126 Turin, Italy
5
Neurobiology of Learning Unit, Division of Neuroscience, Vita-Salute San Raffaele University, 20132 Milan, Italy
6
Scientific Direction, I.R.C.C.S. Galeazzi Hospital, 20161 Milan, Italy
*
Author to whom correspondence should be addressed.
Received: 13 April 2018 / Accepted: 8 May 2018 / Published: 13 May 2018
Abstract
:
Foods are natural sources of substances that may exert crucial effects on the nervous system in humans. Some of these substances are the neurotransmitters (NTs) acetylcholine (ACh), the modified amino acids glutamate and γ-aminobutyric acid (GABA), and the biogenic amines dopamine, serotonin (5-HT), and histamine. In neuropsychiatry, progressive integration of dietary approaches in clinical routine made it necessary to discern the more about some of these dietary NTs. Relevant books and literature from PubMed and Scopus databases were searched for data on food sources of Ach, glutamate, GABA, dopamine, 5-HT, and histamine. Different animal foods, fruits, edible plants, roots, and botanicals were reported to contain NTs. These substances can either be naturally present, as part of essential metabolic processes and ecological interactions, or derive from controlled/uncontrolled food technology processes. Ripening time, methods of preservation and cooking, and microbial activity further contributes to NTs. Moreover, gut microbiota are considerable sources of NTs. However, the significance of dietary NTs intake needs to be further investigated as there are no significant data on their bioavailability, neuronal/non neuronal effects, or clinical implications. Evidence-based interventions studies should be encouraged.
Keywords:
functional foods; neurotransmitters; diet, food, and nutrition; acetylcholine; glutamate; gamma-aminobutyric acid; dopamine; serotonin; histamine; gut microbiota
Author Contributions
M.B. and M.P. conceived the literature review and strategies. M.B. conducted the literature search and analysis, and prepared the first draft of the manuscript. B.D., G.P., A.M., G.B., C.Z.D., R.G., and M.P. further provided feedbacks on drafts. All authors approved the final manuscript.
Acknowledgments
No external funds supported this work. This study is part of the Ministero dell'Istruzione, dell'Università e della Ricerca (MIUR) project "Dipartimenti di Eccellenza 2018-2022" of the Department of Neuroscience "Rita Levi Montalcini".
Conflicts of Interest
The authors declare no conflict of interest.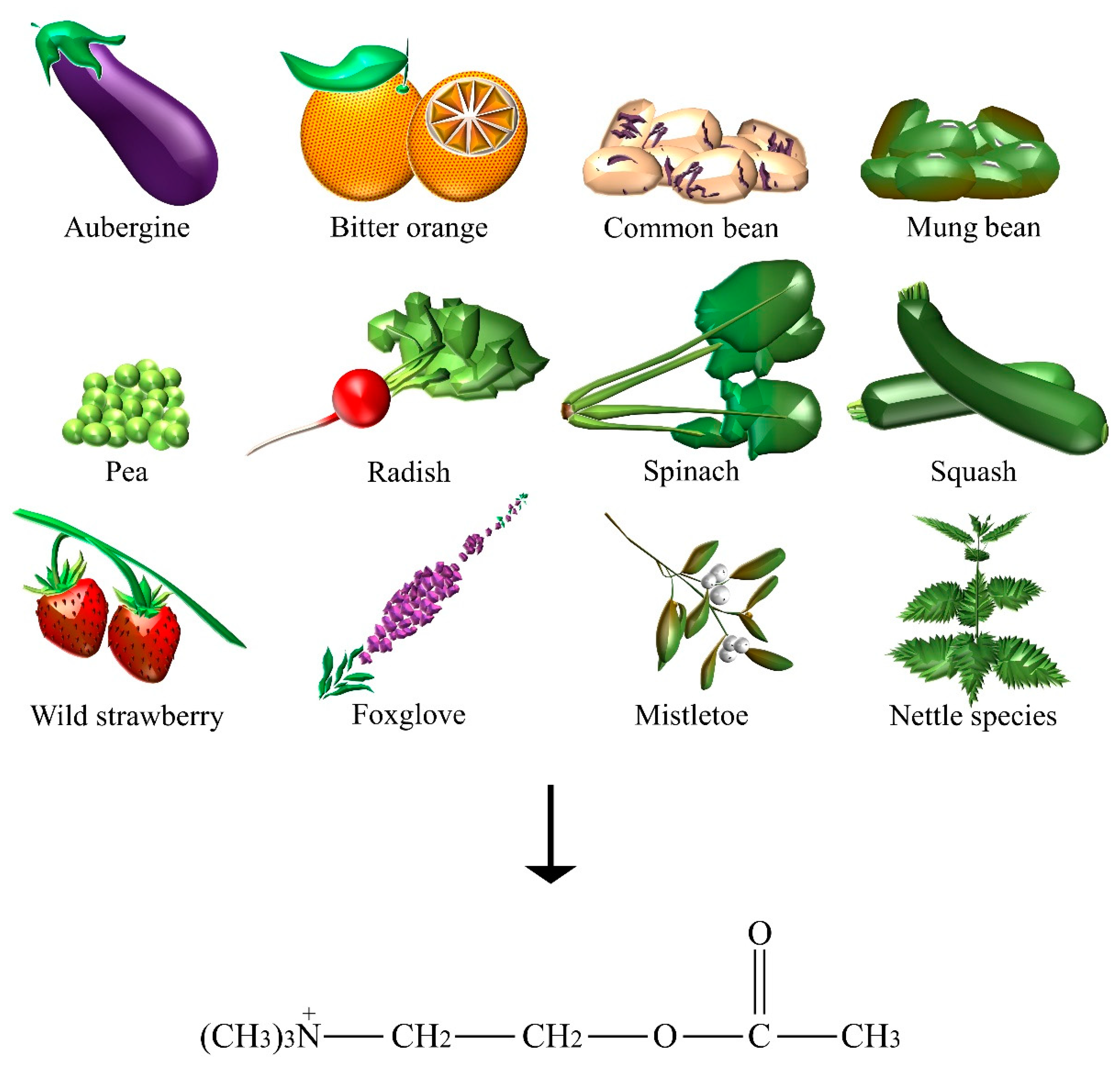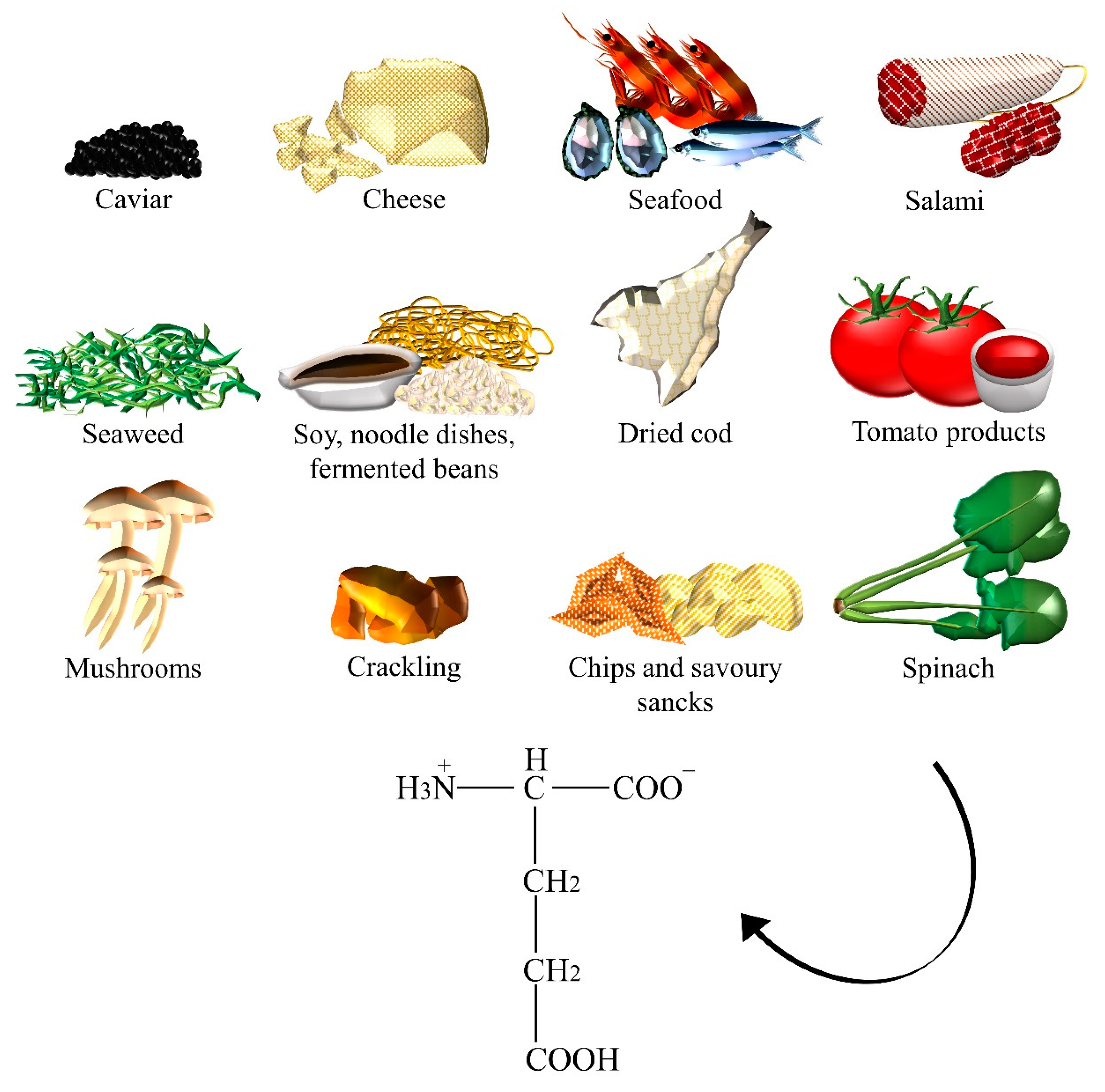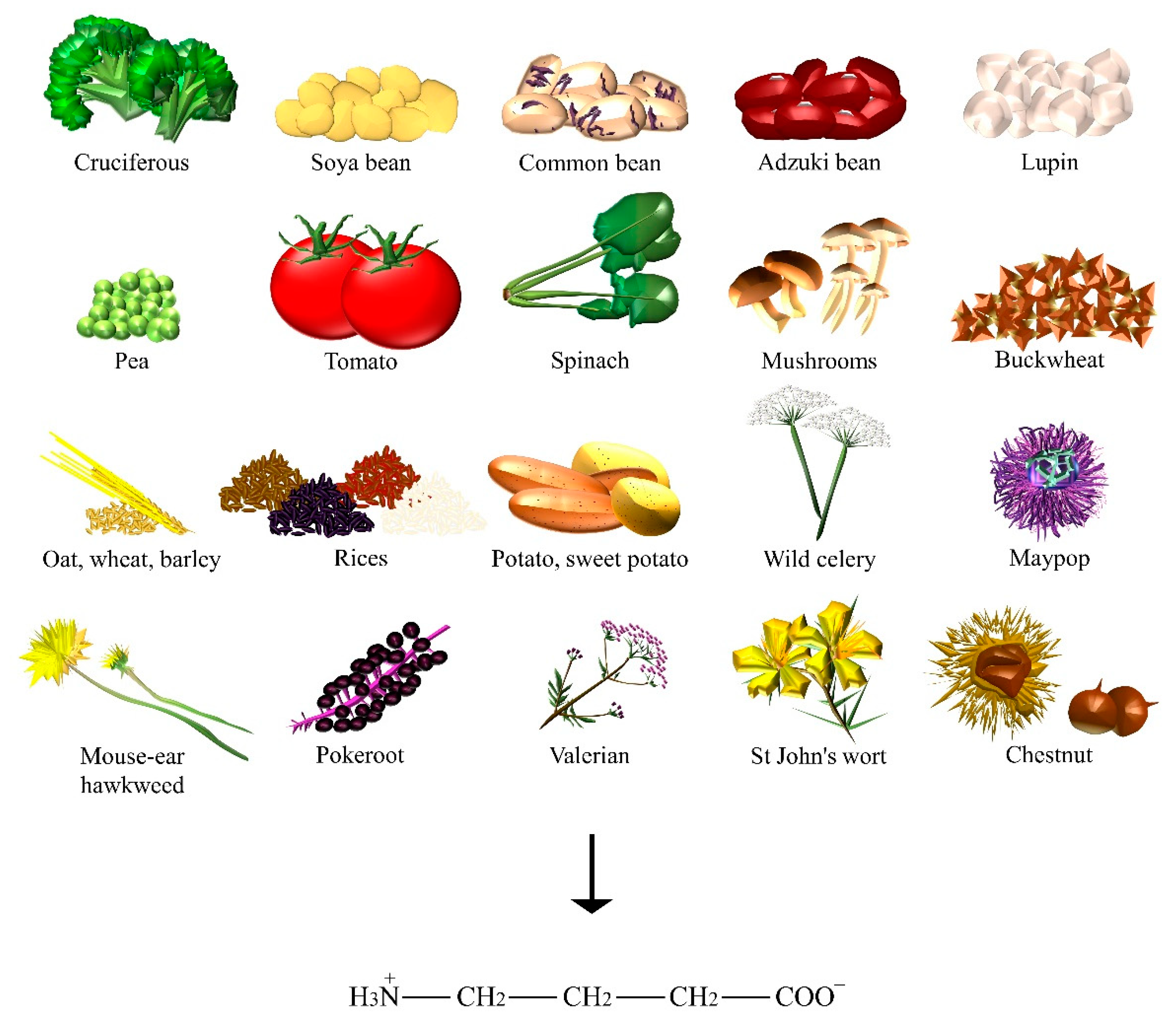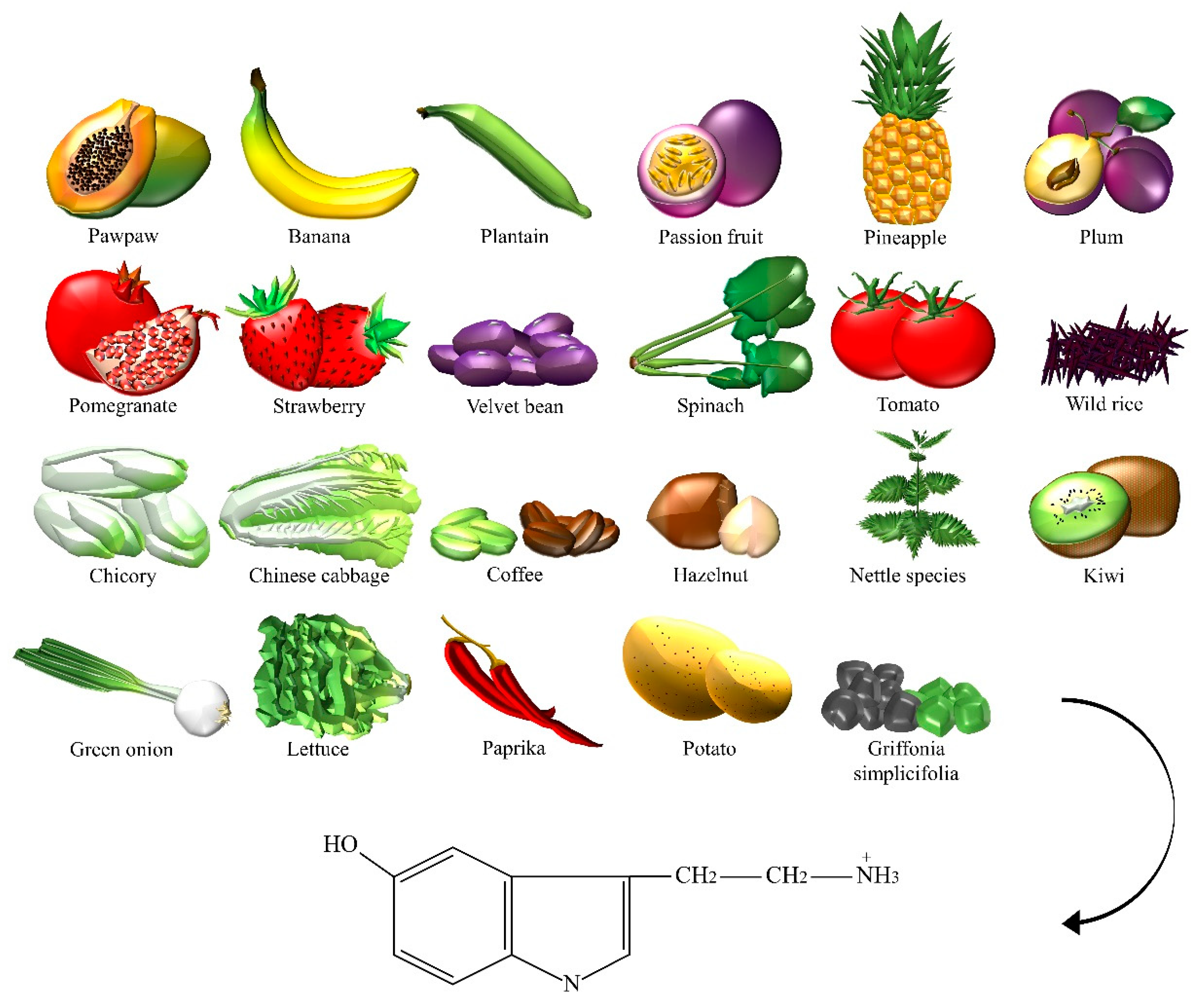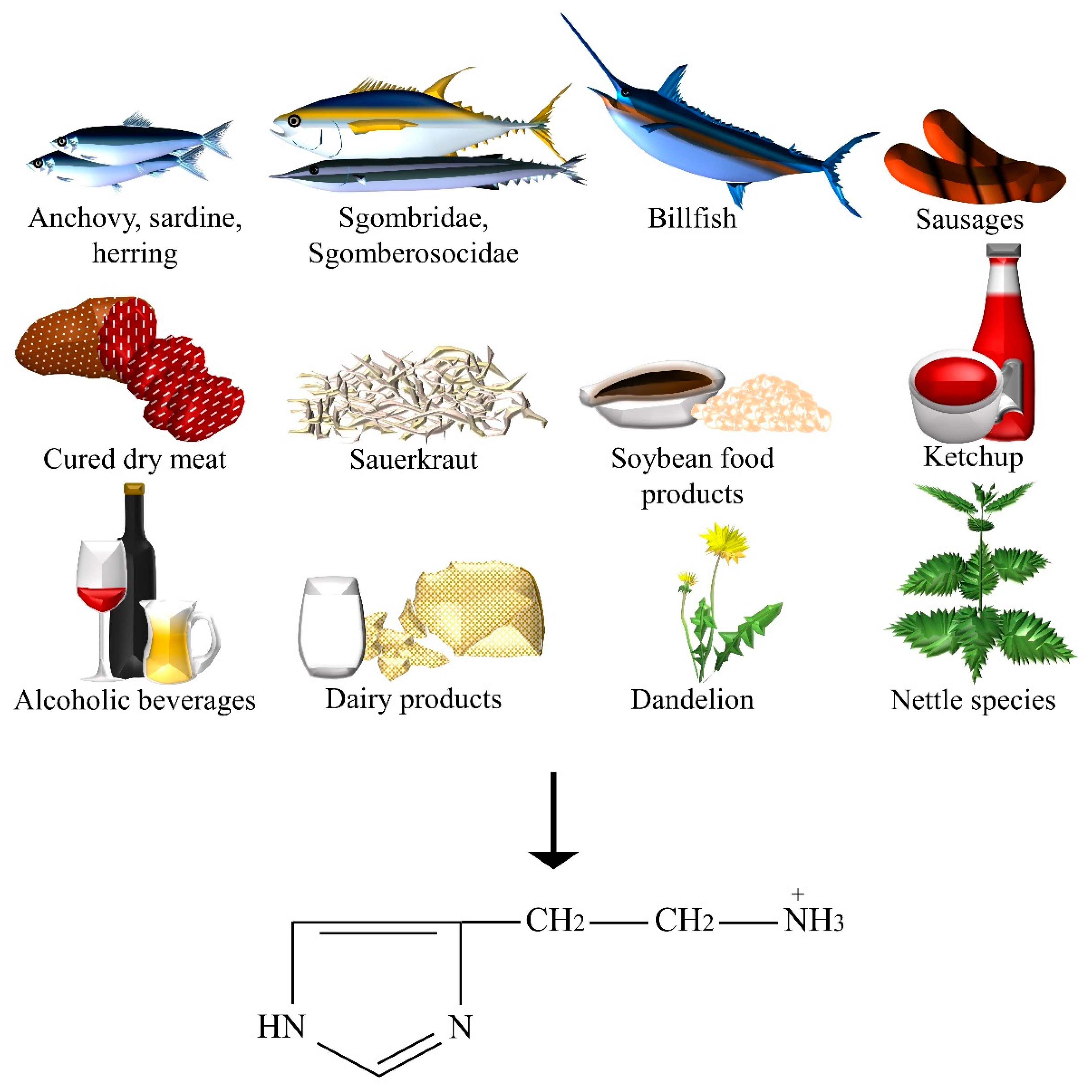 | Dietary Neurotransmitter | Foods and Botanicals |
| --- | --- |
| Acetylcholine | Aubergine, bitter orange, common bean, foxglove, mistletoe, mung bean, nettle species, pea, radish, spinach, squash, wild strawberry. |
| Glutamate | Caviar, cheese, crackling, chips, dried cod, fermented beans, fish sauces, gravies, instant coffee powder, meats, miso, mushrooms, noodle dishes, oyster sauce, Parmesan cheese, ready-to-eat meals, salami, savory snacks, seafood, seaweeds, soups, soy sauces, spinach, stews, tomato, tomato sauce. |
| GABA | Adzuki bean, barley, broccoli, buckwheat, chestnut, common bean, kale, lupin, maypop, mouse-ear hawkweed, oat, pea, pokeroot, potato, rice, shiitake, soya bean, spinach, St John's wort, sweet potato, tea, tomato, valerian, wheat, wild celery. |
| Dopamine | Aubergine, avocado, banana, common bean, apple, orange, pea, plantain, spinach, tomato, velvet bean. |
| Serotonin | Bananas, chicory, Chinese cabbage, coffee powders, green coffee bean, green onion, hazelnut, kiwi, lettuce, nettle, Griffonia simplicifolia, paprika, passion fruit, pawpaw, pepper, pineapple, plantain, plum, pomegranate, potato, spinach, strawberry, tomato, velvet bean, wild rice. |
| Histamine | Anchovy, beer, billfish, Champagne and Sherry, dandelion, fermented sausages, ham and other cured dry meat products, herring, ketchup, aged cheeses, nettle, red, white and dessert wines, sardine, sauerkraut, Scomberesocidae (for example, sauries), Scombridae (for example, tuna, mackerel, and bonitos), soybean food products (for example, soy, tempeh, soy sauce, soya bean milk, doenjang, doufuru, and nattō), sweet or sour cream, UHT, pasteurized, and fresh milk, yoghurt. |

© 2018 by the authors. Licensee MDPI, Basel, Switzerland. This article is an open access article distributed under the terms and conditions of the Creative Commons Attribution (CC BY) license (http://creativecommons.org/licenses/by/4.0/).