Appetite and Subsequent Food Intake Were Unaffected by the Amount of Sourdough and Rye in Soft Bread—A Randomized Cross-Over Breakfast Study
1
Department of Biology and Biological Engineering, Food and Nutrition Science, Chalmers University of Technology, 412 96 Gothenburg, Sweden
2
Department of Molecular Sciences, Swedish University of Agricultural Sciences, SE-750 07 Uppsala, Sweden
†
These authors contributed equally to this work.
‡
Affiliated at Department of Molecular Sciences, Swedish University of Agricultural Sciences while conducting the human study.
*
Author to whom correspondence should be addressed.
Received: 2 October 2018 / Revised: 26 October 2018 / Accepted: 27 October 2018 / Published: 30 October 2018
Abstract
Sourdough fermented bread has been suggested to have beneficial health effects, in part mediated by increased satiety in the postprandial phase, but only limited research has been conducted to verify this. The current study aimed to investigate the effect of the amounts of sourdough and rye in soft bread on postprandial appetite. On 6 occasions, 23 healthy volunteers consumed 5 different test breads, with varying amount of rye and sourdough, and a yeast-fermented refined wheat control bread as part of a breakfast meal. The sourdough ranged between 9–51% of dough weight and rye content between 35–48% of flour weight. Appetite was recorded using visual analogue scales from immediately before breakfast and every 30 min the following 4 h. An ad libitum lunch was served 4 h after the breakfast meal, from which voluntary energy intake was measured. While some of the test breads resulted in lower hunger ratings and increased sense of fullness compared to the refined wheat bread, there were no differences between the test breads. The content of rye in the test breads differed within a narrow range, which might explain the lack of a consistent effect of rye on appetite. Microstructural examination of the test breads showed an increased aggregation of proteins in the breads with high content of sourdough, indicating additional changes to the breads, beyond change in pH, which may counteract the potential effect of decreased pH in the bread on appetite. In conclusion, our study does not support an effect of sourdough on appetite and ad libitum food intake.
View Full-Text
►

▼

Figures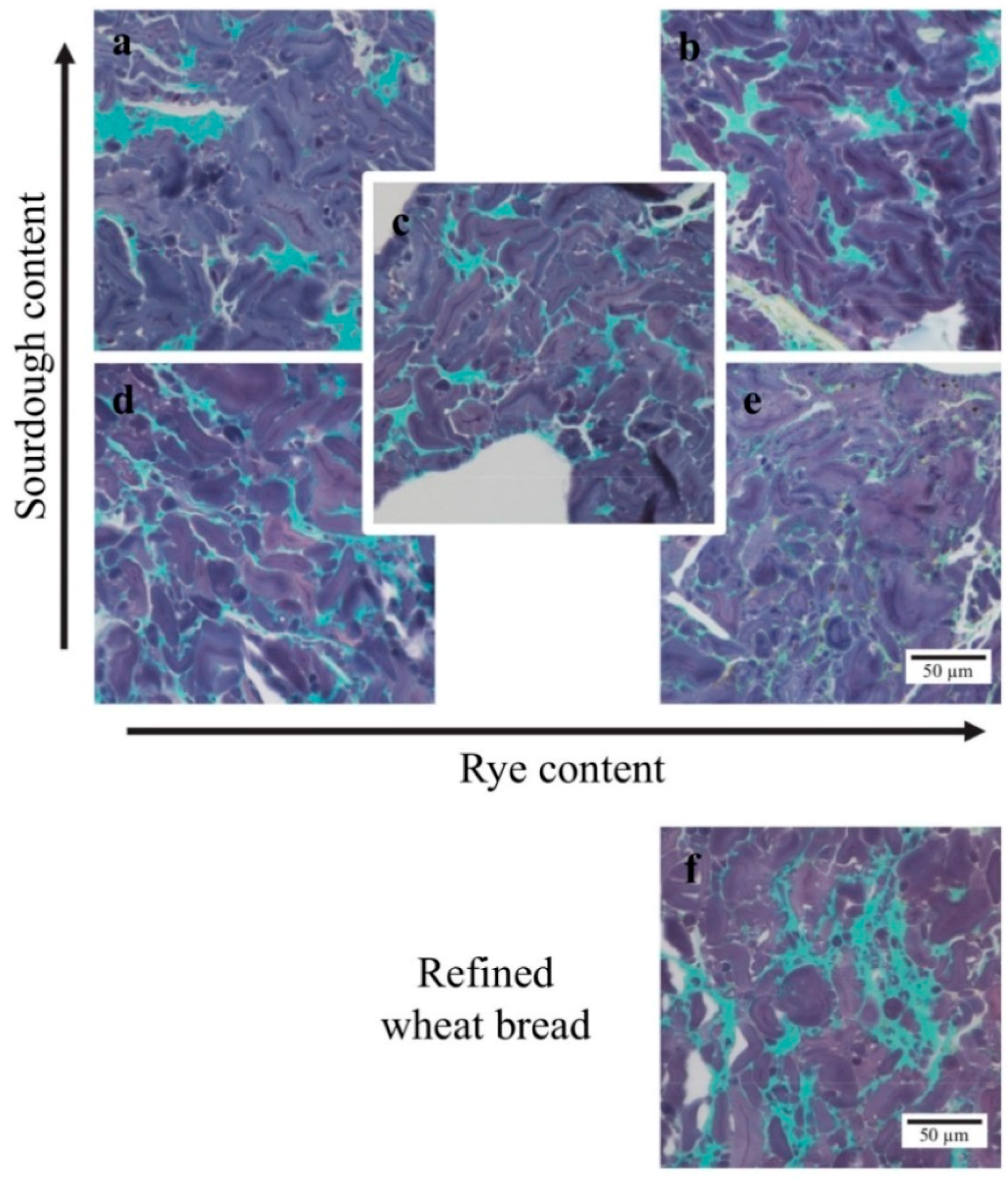 Figure 1
This is an open access article distributed under the
Creative Commons Attribution License
which permits unrestricted use, distribution, and reproduction in any medium, provided the original work is properly cited (CC BY 4.0).

Share & Cite This Article
MDPI and ACS Style
Iversen, K.N.; Johansson, D.; Brunius, C.; Andlid, T.; Andersson, R.; Langton, M.; Landberg, R. Appetite and Subsequent Food Intake Were Unaffected by the Amount of Sourdough and Rye in Soft Bread—A Randomized Cross-Over Breakfast Study. Nutrients 2018, 10, 1594.
Note that from the first issue of 2016, MDPI journals use article numbers instead of page numbers. See further details here.
Related Articles
Comments
[Return to top]