Open Access This article is
freely available
re-usable
Article
Direct Estimation of Forest Leaf Area Index based on Spectrally Corrected Airborne LiDAR Pulse Penetration Ratio
1
State Key Laboratory of Remote Sensing Science jointly Sponsored by Beijing Normal University and Institute of Remote Sensing and Digital Earth of Chinese Academy of Sciences, Beijing 100875, China
2
Beijing Engineering Research Center for Global Land Remote Sensing Products, Institute of Remote Sensing Science and Engineering, Faculty of Geographical Science, Beijing Normal University, Beijing 100875, China
3
Department of Civil Engineering, Ryerson University, Toronto, ON M5B 0A1, Canada
4
School of Forest Sciences, University of Eastern Finland, P.O. Box 111, FI-80101 Joensuu, Finland
5
Biosciences Laboratory, NASA Goddard Space Flight Center, Greenbelt, MD 20707, USA
6
Department of Geographical Sciences, University of Maryland, College Park, Maryland, MD 20740, USA
7
School of Forest Resources and Conservation, University of Florida, Gainesville, FL 32611, USA
*
Author to whom correspondence should be addressed.
Received: 17 December 2019 / Accepted: 5 January 2020 / Published: 8 January 2020
Abstract
:
The leaf area index (LAI) is a crucial structural parameter of forest canopies. Light Detection and Ranging (LiDAR) provides an alternative to passive optical sensors in the estimation of LAI from remotely sensed data. However, LiDAR-based LAI estimation typically relies on empirical models, and such methods can only be applied when the field-based LAI data are available. Compared with an empirical model, a physically-based model—e.g., the Beer–Lambert law based light extinction model—is more attractive due to its independent dataset with training. However, two challenges are encountered when applying the physically-based model to estimate LAI from discrete LiDAR data: i.e., deriving the gap fraction and the extinction coefficient from the LiDAR data. We solved the first problem by integrating LiDAR and hyperspectral data to transfer the LiDAR penetration ratio to the forest gap fraction. For the second problem, the extinction coefficient was estimated from tiled (1 km × 1 km) LiDAR data by nonlinearly optimizing the cost function of the angular LiDAR gap fraction and simulated gap fraction from the Beer–Lambert law model. A validation against LAI-2000 measurements showed that the estimates were significantly correlated to the reference LAI with an R2 of 0.66, a root mean square error (RMSE) of 0.60 and a relative RMSE of 0.15. We conclude that forest LAI can be directly estimated by the nonlinear optimization method utilizing the Beer–Lambert model and a spectrally corrected LiDAR penetration ratio. The significance of the proposed method is that it can produce reliable remotely sensed forest LAI from discrete LiDAR and spectral data when field-measured LAI are unavailable.
Keywords:
leaf area index; Light Detection and Ranging (LiDAR); gap fraction; extinction coefficient; spectral correction
Author Contributions
Conceptualization, Y.Q. and A.S.; Methodology, Y.Q.; Software, K.J.; Writing—original draft preparation, Y.Q.; Writing—review and editing, L.K. and C.A.S.; visualization, L.T. and J.S. All authors have read and agreed to the published version of the manuscript.
Funding
This research was funded by the National Natural Science Foundation of China grand number 41671333/41531174.
Acknowledgments
The dataset of LiDAR and forest LAI data were acquired with support from NCALM (National Center for Airborne Laser Mapping).
Conflicts of Interest
The authors declare no conflict of interest.
Figure 1. Location of the research area in the USA (a) and in South Carolina (b), and Light Detection and Ranging (LiDAR) coverage overlaid by forest tree height (c), where white grids indicate that LiDAR data are unavailable. The red dots in (c) are the leaf area index (LAI)-2000 sampling plots.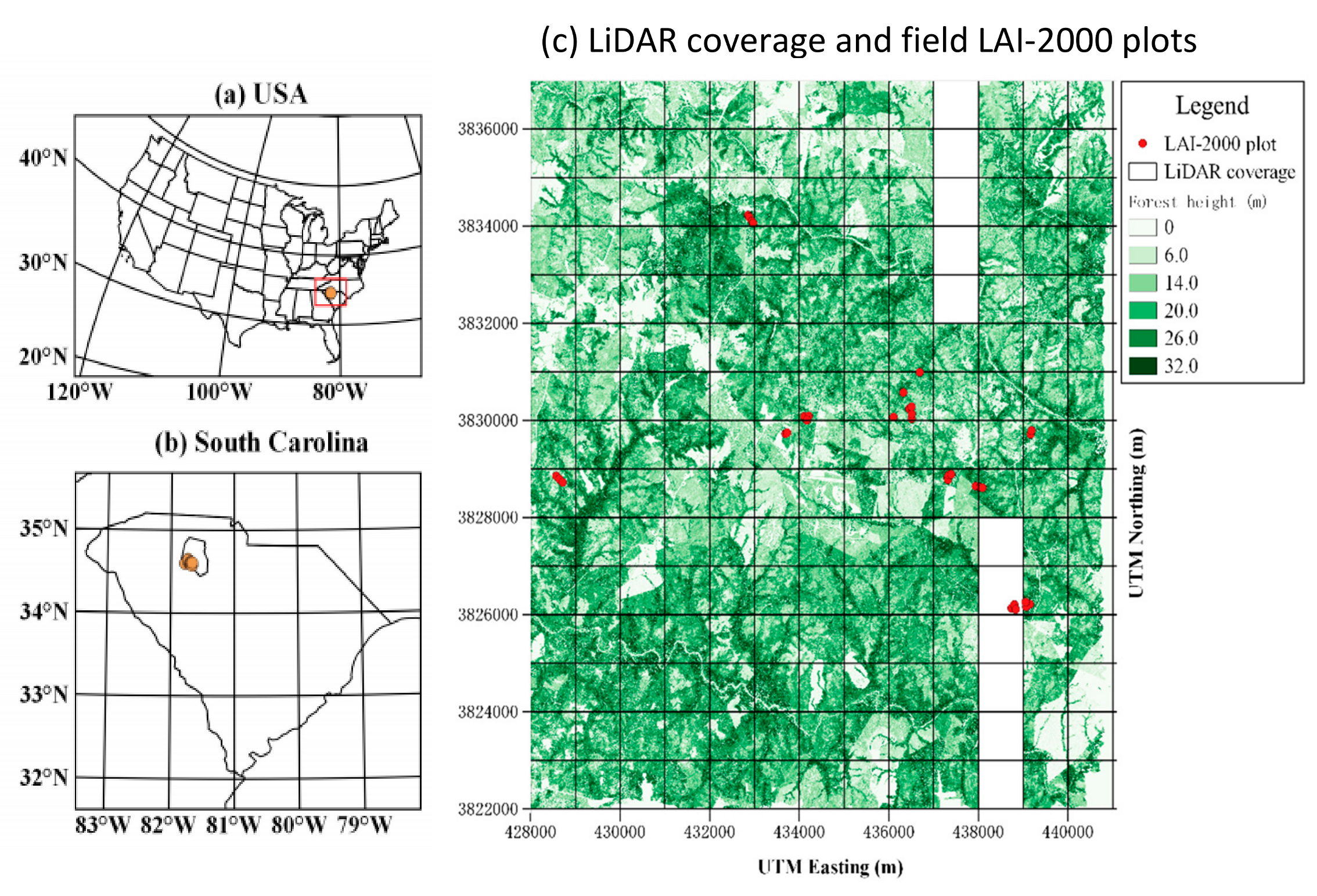 Figure 2. Sketch plot for the calculation of the angular gap fraction from tile-level (1 × 1 km2) LiDAR data. The bin size of the scan zenith angle was set as 3 degrees. The plots (40 × 40 m2) corresponding to the field measurements are indicated as a red square.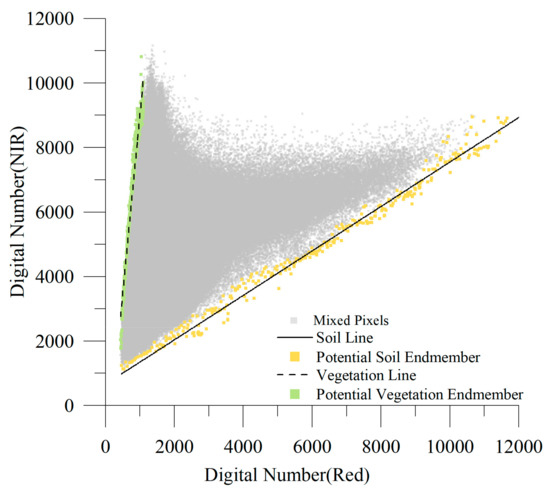 Figure 4. An example of the soil line and vegetation line. The origin and green points are the pixels used to fit the soil and vegetation lines, and these points, together with all the pixels below the soil line and above the vegetation line, are used to calculate the soil and vegetation reflectance ratio.
Figure 5. Distribution of the leaf area index (a), mean tilt angle (b) from LAI-2000 measurement. The extinction coefficient at zenith angle = 0° is plotted in panel (c).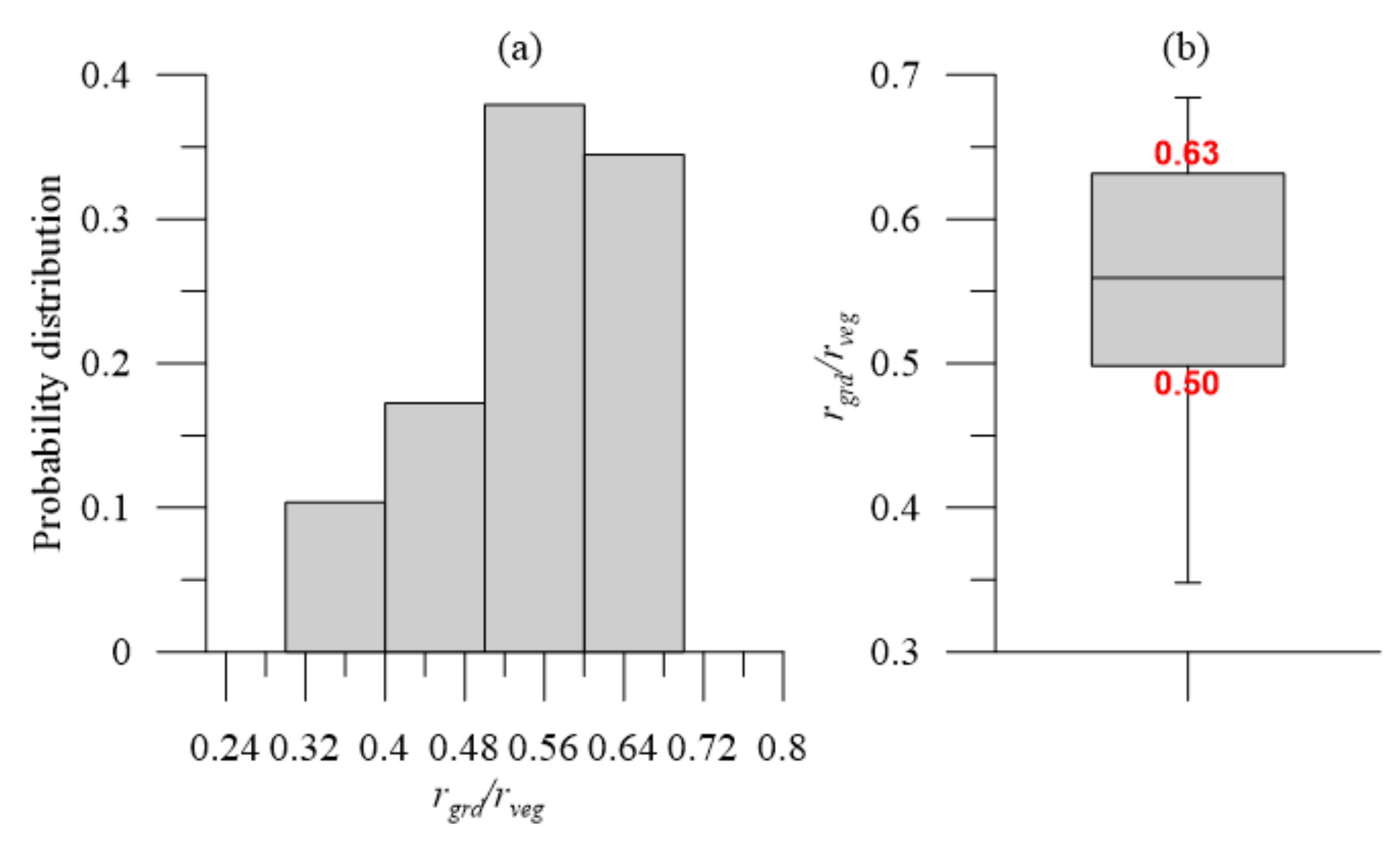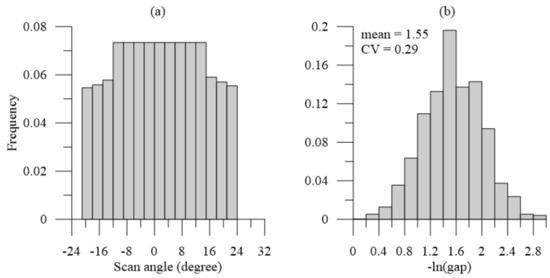 Figure 7. Statistics for the LiDAR scan angle (a) and the negative logarithm of all gap fractions at different scan zenith angles (b).
Nominal Flight Parameters
Equipment Settings
Flight altitude
500 m
Laser PRF *
100 kHz
Flight speed
±65 m/s
Beam Divergence
0.80 mrad
Swath width
268 m
Scan frequency
60 Hz
Swath overlap
≥50%
Mean scan angle
±16°
Point density
10.7 p/m2
Scan cutoff
1.0°
* PRF: pulse repetition frequency.
| Parameter | Mean | Min. | Max. | Std. | Median |
| --- | --- | --- | --- | --- | --- |
| Gap Fraction | 0.21 | 0.10 | 0.45 | 0.092 | 0.17 |
| Scan Zenith Angle | 7.92 | 4.34 | 10.29 | 1.43 | 8.22 |

Table 3. Performance of LiDAR-derived LAI of different physically-based methods*. RMSE: root mean square error; RRMSE: relative RMSE.
#
Forest
Type a
Min.
LAI
Max. LAI
R2
RMSE
RRMSE
N b
Sensor
Platform c
Citation
1
BLF
0.10
9.60
0.5/0.63 d
1.79/1.36 d
0.45/0.34
546/185 d
Waveform ALS
Tang et al. [4] Figure 3
2
CLF
2.23
4.61
0.53
0.67
0.19
15
Waveform ALS
Ma et al. [43] Figure 9
3
CLF
0.89
4.90
0.66–0.73 e
0.72–2.20 e
0.20–0.68 e
24
Waveform ALS
Ma et al. [44] Figure 11
4
MLF
1.17
6.48
0.72
1.16
0.44
18
Discrete ALS
Zheng et al. [25] Figure 6
5
CLF
0.27
8.77
0.62
1.59
0.42
30
Discrete TLS
Ma et al. [45] Figure 12
6
BLF
1.30
1.90
0.64
1.20
0.76
8
Discrete TLS
Hopkinson et al. [46] Figure 3
7
CLF
1.71
5.23
0.66
0.60
0.15
31
Discrete ALS
This study
* The data were digitized and recompiled from the figures of the cited work, and there might be a slight bias to the original results. a: BLF: broad leaf forest, CLF: conifer leaf forest, MLF: mixed leaf forest. b: The number of ground data points used for validation. c: ALS: Airborne Laser Scanning (ALS), TLS: Terrestrial Laser Scanning. d: The performance depends on the ground data selection according to the distance with LiDAR location. e: The performance depends on the method of forest height retrieval.

© 2020 by the authors. Licensee MDPI, Basel, Switzerland. This article is an open access article distributed under the terms and conditions of the Creative Commons Attribution (CC BY) license (http://creativecommons.org/licenses/by/4.0/).