Impact of Soil Reflectance Variation Correction on Woody Cover Estimation in Kruger National Park Using MODIS Data
1
Centre for Landscape and Climate Research, School of Geography, Geology and the Environment, University of Leicester, Leicester LE1 7RH, UK
2
Department of Geography, Adamu Augie College of Education, PMB 1012, Argungu, Kebbi State, Nigeria
3
National Centre for Earth Observation, University of Leicester, Leicester LE1 7RH, UK
4
Ecosystems Earth Observation, Natural Resources and the Environment, Council for Scientific and Industrial Research, PO Box 395, Pretoria 0001, South Africa
5
Department of Geography, Geomatics and Meteorology, Private BagX20, Hatfield 0028, University of Pretoria, Pretoria 0001, South Africa
6
Graduate School of Global Environmental Studies, Kyoto University, Kyoto 606-8501, Japan
*
Author to whom correspondence should be addressed.
Received: 7 March 2019 / Revised: 3 April 2019 / Accepted: 10 April 2019 / Published: 12 April 2019
Abstract
Time-series of imagery acquired by the Moderate Resolution Imaging Spectroradiometer (MODIS) has previously been used to estimate woody and herbaceous vegetation cover in savannas. However, this is challenging due to the mixture of woody and herbaceous plant functional types with specific contributions to the phenological signal and variations in soil background reflectance signatures observed from satellite. These factors cause variations in the accuracy and precision of woody cover estimates from different modelling approaches and datasets. Here, woody cover is estimated over Kruger National Park (KNP) from the MODIS 16-day composite time-series data using dry season NDVI/SAVI images and applying NDVI
soil
determination methods. The woody cover estimates when NDVI
soil
was ignored had R² = 0.40,
p
< 0.01, slope = 1.01, RMSE (root mean square error) = 15.26% and R² = 0.32,
p
< 0.03, slope = 0.79, RMSE = 16.39% for NDVI
pixel
and SAVI
pixel
, respectively, when compared to field plot data of plant functional type fractional cover. The woody cover estimated from the soil determination methods had a slope closer to 1 for both NDVI and SAVI but also a slightly higher RMSE. For a soil-invariant method, RMSE = 19.04% and RMSE = 17.34% were observed for NDVI and SAVI respectively, while for a soil-variant method, RMSE = 18.28% and RMSE = 19.17% were found for NDVI and SAVI. The woody cover estimated from all models had a high correlation and significant relationship with LiDAR/SAR based estimates and a woody cover map produced by Bucini. Woody cover maps are required for vegetation succession monitoring, grazing impact assessment, climate change mitigation and adaptation research and dynamic vegetation model validation.
►

▼

Figures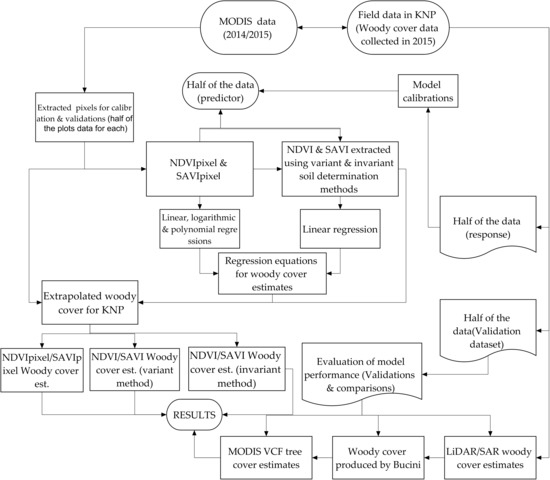 Graphical abstract
This is an open access article distributed under the
Creative Commons Attribution License
which permits unrestricted use, distribution, and reproduction in any medium, provided the original work is properly cited (CC BY 4.0).

Share & Cite This Article
MDPI and ACS Style
Ibrahim, S.; Balzter, H.; Mathieu, R.; Tsutsumida, N. Impact of Soil Reflectance Variation Correction on Woody Cover Estimation in Kruger National Park Using MODIS Data. Remote Sens. 2019, 11, 898.
Note that from the first issue of 2016, MDPI journals use article numbers instead of page numbers. See further details here.
Related Articles
Comments
[Return to top]