Open Access This article is
freely available
re-usable
Article
Classification of North Africa for Use as an Extended Pseudo Invariant Calibration Sites (EPICS) for Radiometric Calibration and Stability Monitoring of Optical Satellite Sensors
Department of Electrical Engineering and Computer Science, South Dakota State University (SDSU), Brookings, SD 57007, USA
*
Author to whom correspondence should be addressed.
Received: 11 February 2019 / Accepted: 9 April 2019 / Published: 11 April 2019
Abstract
:
Pseudo invariant calibration sites (PICS) have been extensively used for the radiometric calibration and temporal stability monitoring of optical satellite sensors. Due to limited knowledge about the radiometric stability of North Africa, only a limited number of sites in the region are used for this purpose. This work presents an automated approach to classify North Africa for its potential use as an extended PICS (EPICS) covering vast portions of the continent. An unsupervised classification algorithm identified 19 "clusters" representing distinct land surface types was used; three clusters were identified with spatial uncertainties within approximately 5% in the shorter wavelength bands and 3% in the longer wavelength bands. A key advantage of the cluster approach is that large numbers of pixels are aggregated into contiguous homogeneous regions sufficiently distributed across the continent to allow multiple imaging opportunities per day, as opposed to imaging a typical PICS once during the sensor's revisit period. This potential increase in temporal resolution could result in increased sensitivity for the quicker identification of changes in sensor response.
Keywords:
Pseudo invariant calibration sites (PICS); Google Earth Engine; land cover classification; radiometric calibration; sensor stability monitoring; satellite sensors
1. Introduction
For over 45 years, data from Earth observing satellite sensors have been used to increase the understanding of long-term global change. Thus, the quality of data produced by previous and currently operational sensors is a primary concern, as it critically depends on accurate radiometric calibration for each sensor. Accurate radiometric calibration also allows meaningful comparisons of data acquired by different sensors to be combined into a continuous record [
1
]. Radiometric calibration needs to be performed both before launch (to establish an initial operating state) and at regular intervals after launch (to account for degradations in response due to launch stresses, aging and effects relating to conditions in near-Earth orbit). Sensors often include onboard calibrators (e.g., solar diffuser panels, lamps, thermal blackbody radiators) intended to provide data for radiometric calibration and long-term stability monitoring.
Since an onboard calibrator experiences conditions similar to the sensor, its data will likely show similar degradation in radiometric response. Onboard calibrator systems can increase the design, building, and operating costs of a sensor and are thus not included in all satellites, especially those designed with shortened operating lifetimes. Alternatively, image data from locations on the earth's surface exhibiting minimal temporal change and other desirable properties have been identified and are increasingly used as a calibration data source; these sites are known as pseudo-invariant calibration sites (PICS) [
2
]. Any changes in a sensor's radiometric response can then be attributed to changes in the sensor itself, rather than to changes at the PICS. Teillet et al. [
3
,
4
] provided a comprehensive list of PICS suitable for post launch radiometric calibration, sensor cross calibration, and long-term stability monitoring. Some of these sites have since been endorsed by the Committee on Earth Observing Sensors (CEOS).
Primarily, PICS are used for three purposes: long term trending to assess sensor radiometric stability, cross calibration of sensors, and absolute radiometric calibration. PICS are most widely used to monitor the post launch degradation of sensors [
5
,
6
,
7
,
8
,
9
,
10
,
11
]. Using data from the CEOS-recommended standard PICS, Chander et al. [
5
] investigated on-orbit stability of the Terra MODIS and ETM+ sensors, and found that both sensors' measured TOA reflectances changed less than 0.4% per year. Several researchers have used PICS for cross calibration of sensors as well [
12
,
13
,
14
,
15
,
16
]. Li et al. [
17
] used PICS to cross calibrate the recently launched Sentinel-2A MSI to the OLI and estimated agreement between the corresponding bands to approximately 1% or better. Furthermore, absolute calibration predicts the TOA reflectance, or radiance, observed by the sensor at any given geometry [
18
,
19
,
20
,
21
,
22
]. A recent absolute radiometric calibration model develop by Bouvet can accurately simulate the VNIR band TOA reflectance of Libya 4 to within 1% of observed values [
23
].
3. Results and Validation
4. Discussion
Factors to consider when performing a cluster-based analysis include the cluster size (represented by the number of pixels in the cluster) and its distribution across a region, as well as the degree of contiguity of the cluster pixels. The "optimal" cluster for calibration and performance monitoring balances a lower spatial uncertainty, a larger size and distribution (in order to cover a larger geographic area), and a greater degree of pixel contiguity (in order to minimize effects due to geometric misregistration between images); this becomes particularly important for sensors with higher (<30 m) spatial resolution.
Two of the clusters identified by the proposed procedure (Clusters 2 and 3) exhibit similar levels of spatial uncertainty at longer wavelengths. With respect to cluster size and distribution across the region, Cluster 3 would be considered optimal; however, with respect to cluster contiguity, Cluster 2 would be considered optimal. For sensors with lower geometric accuracy, Cluster 2 would be preferred for radiometric calibration and sensor performance analysis.
Similarly, Clusters 4 and 6 provide a lower intensity level that would help widen the dynamic range for PICS based calibration. Between them, Cluster 4 is slightly darker, but it has a spatial uncertainty of approximately 8% to 9% across all bands; in addition, it contains the smaller number of pixels forming less contiguous subregions. Cluster 6 would be preferred due to its larger number of pixels, more contiguous sub-regions and lower spatial uncertainty.
This paper only presents initial cluster classification results. Since Cluster 13 has more than 3 million pixels, offers lower spatial uncertainty across most bands, and forms more contiguous subregions widely distributed across North Africa, it stands out as a viable first candidate for EPICS based calibration. Future directions for this work would investigate the use of cluster regions, beginning with Cluster 13, to perform long-term stability assessment and sensor cross calibration. The following sections discuss these potential cluster-based applications in greater detail.
4.1. Long Term Monitoring of Sensor Radiometric Stability
Cluster-based analyses of long-term sensor stability can potentially benefit from a significant increase in temporal resolution over that provided by individual PICS, since a cluster is considered as a group of spectrally similar pixels, with each cluster containing contiguous regions distributed across the continent. Preliminary investigation into this topic has begun with Cluster 13, as its contiguous regions tended to be the largest in size among all the clusters and were more widely distributed.
Figure 9
shows the intersection of Landsat WRS-2 path/rows (black lines) and Cluster 13 region boundaries (red). In all, 25 WRS-2 path/rows imaging these regions were identified, potentially allowing multiple image acquisitions per day within the 16-day revisit period. This potential increase in temporal resolution could result in quicker detection of sensor response changes over time, which would be especially desirable for sensors with shorter life expectancies and greater variability in detector response.
4.2. Hyperspectral Data Availability for Cross Calibration
A cluster-based cross calibration approach would need to have accurate knowledge of the cluster's expected hyperspectral response, in order to derive appropriate scaling factors to compensate for spectral response differences between a well calibrated "reference" sensor and the sensor to be calibrated. In the absence of ground truth measurements, this knowledge can be derived from available hyperspectral image data.
Figure 10
shows a simplified diagram of the five largest contiguous regions of Cluster 13 across North Africa (represented by the blue color) and a map of the available Hyperion coverage over the same regions (represented by the red color). Hyperion is a hyperspectral pushbroom sensor imaging the Earth's surface in the 400–2500 nm portion of the solar spectrum, in 242 overlapping bands with a spectral resolution of approximately 10 nm; 196 of these bands are well calibrated. It images a 7 km by 100 km swath at a spatial resolution of 30 m [
45
,
46
,
47
,
48
]. Preliminary investigation has identified a set of 731 Hyperion scenes imaging these regions. After filtering the set for 10% or less cloud cover and sensor view angles within ± 5° of nadir, 101 scenes were identified that could be used to determine the hyperspectral profile. As Cluster 13 regions are spectrally similar (as determined by the classification process), it could be expected that the hyperspectral profile of a region may be used as a "representative" profile for the entire cluster.
5. Conclusions
This work demonstrated the potential of using the whole of North Africa as a continental PICS. Traditionally, only a few locations in North Africa have been used due to the lack of knowledge about the temporal stability of most of North Africa. This work analyzed each and every pixel of North Africa and found that the majority of North Africa is temporally stable and could potentially be used for the radiometric calibration of satellite sensors.
Conventionally, all these pixels were broadly categorized as a "barren" surface type which includes soil, sand, and rock. This work developed a first-ever high-resolution classification of this "barren" surface type of North Africa using Landsat 8 OLI image data and sub classified it into finer classes using an unsupervised classification algorithm. The algorithm identified 19 clusters each representing a distinct surface type having different spectral characteristics. The range of TOA reflectance at shorter wavelengths is narrow, but wider at longer wavelengths which offers a wide dynamic range to calibrate optical satellite sensors.
All of the identified clusters contained a large number of pixels grouped in contiguous regions potentially useable for sensor calibration and stability assessment. Among all the clusters, Cluster 13 possessed the largest contiguous region, lowest overall spatial uncertainty and was also more widely distributed across North Africa. Due to their spatial extent, most of the clusters allowed multiple imaging opportunities per day in contrast to a typical once during the sensor's revisit time. Multiple imaging opportunities obtained through a cluster, or EPICS, approach increases the temporal resolution of a calibration time series which leads to increased sensitivity for quicker identification of changes in sensor response.
While some obvious next steps need to take place, as indicated in the discussion sections, the results presented in this paper are very promising. They represent an advance towards the development of an extended PICS (EPICS) with large areal extent, and the ability to evaluate any sensor system on a daily basis using a potentially continent-wide site that behaves as a point site. The cluster-based approach could lead to a new way to calibrate and monitor sensor radiometric performance on orbit. More importantly, this approach could address a very new and serious problem of calibration monitoring for shorter-lived sensor missions, such as low-cost small satellite-based systems, where more pronounced degradation in radiometric performance is possible.
Author Contributions
M.S. conceived the research, developed the algorithm with the help of L.L. and D.H., M.S., L.L. and D.H. analyzed the data. M.S. wrote the paper; and L.L. and D.H. edited the paper.
Funding
This research was funded by NASA (grant number NNX15AP36A) and USGS EROS (grant number G14AC00370).
Conflicts of Interest
The authors declare no conflict of interest.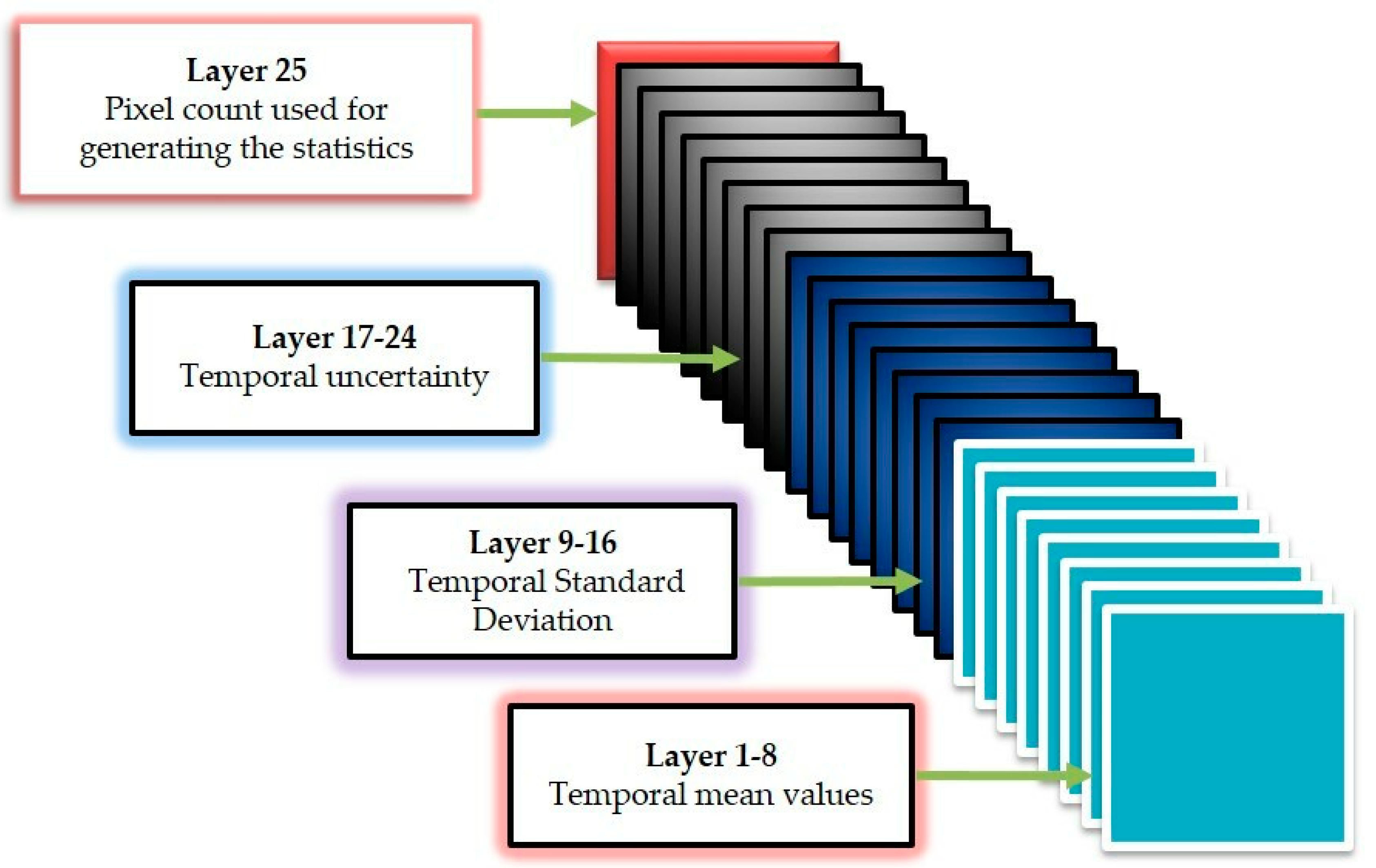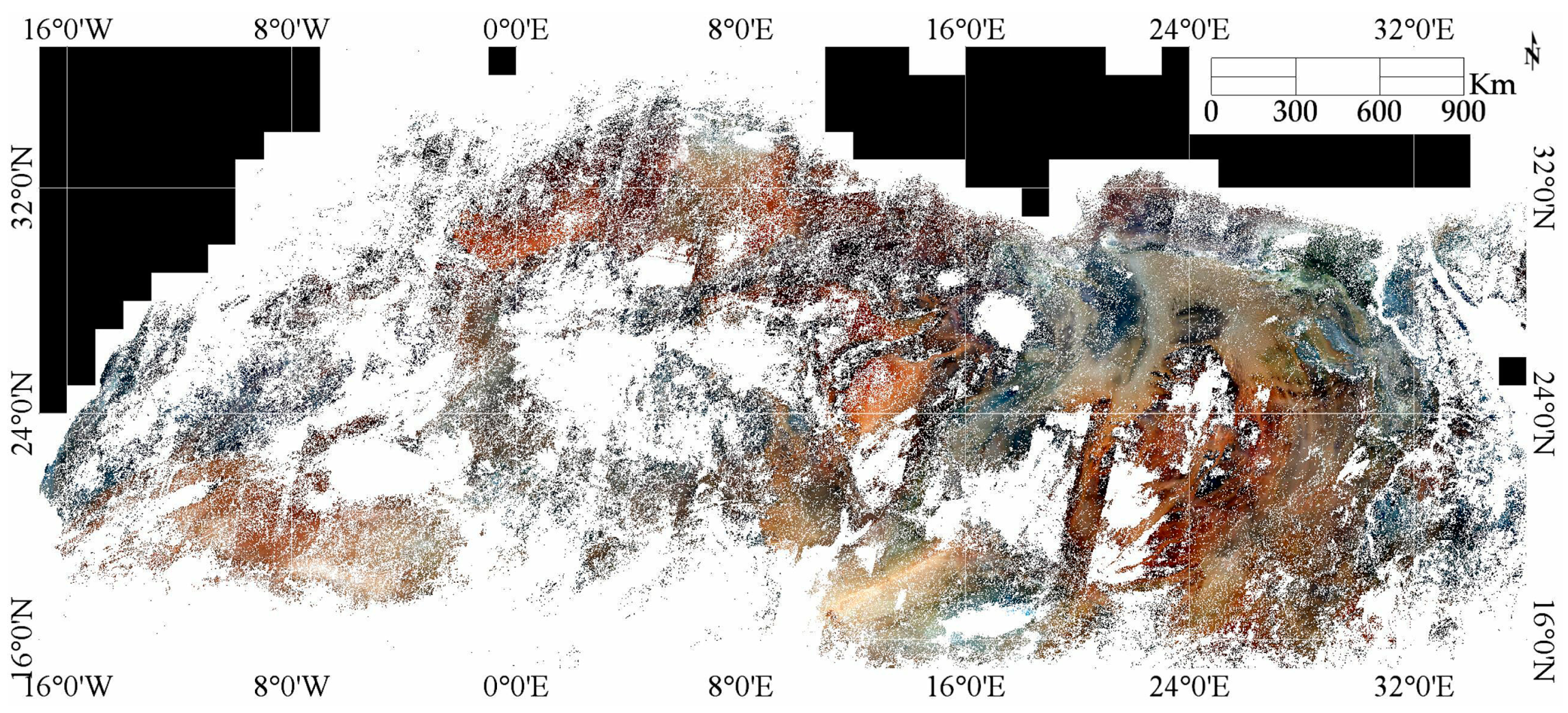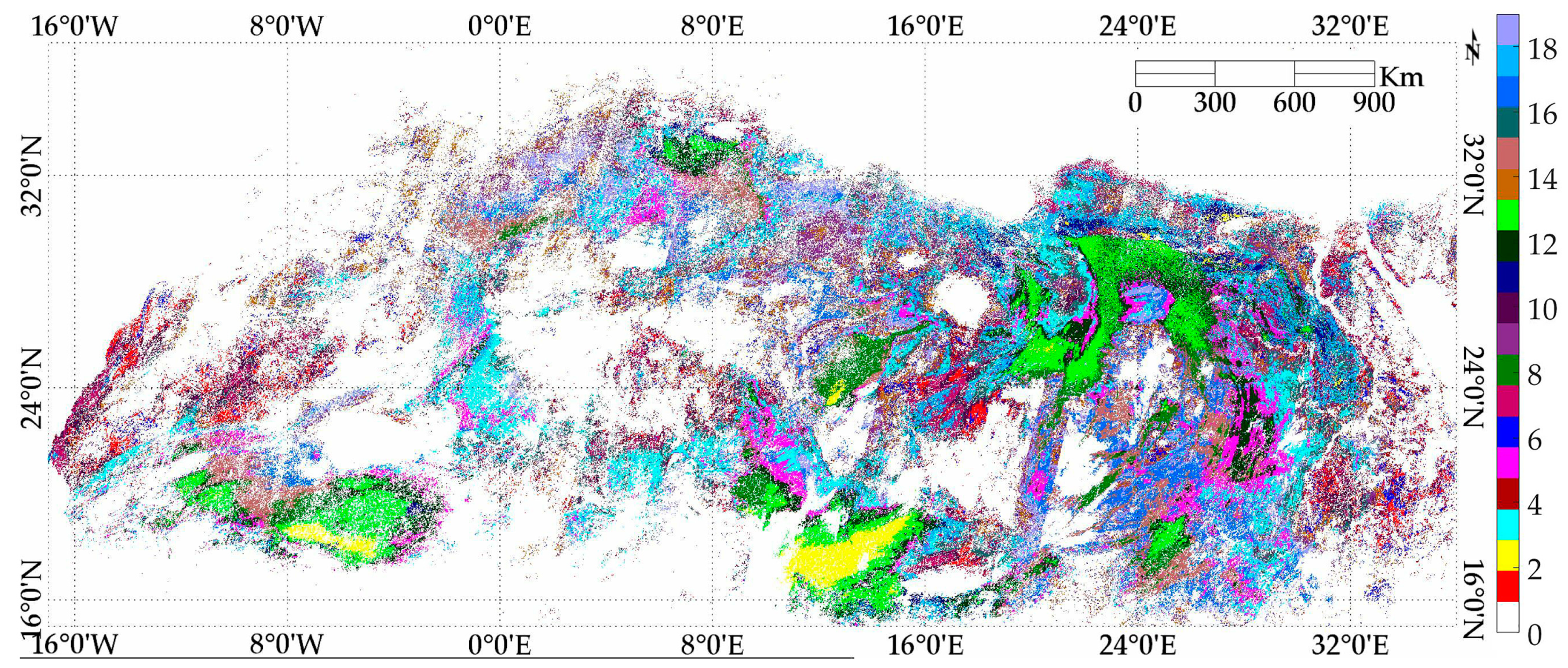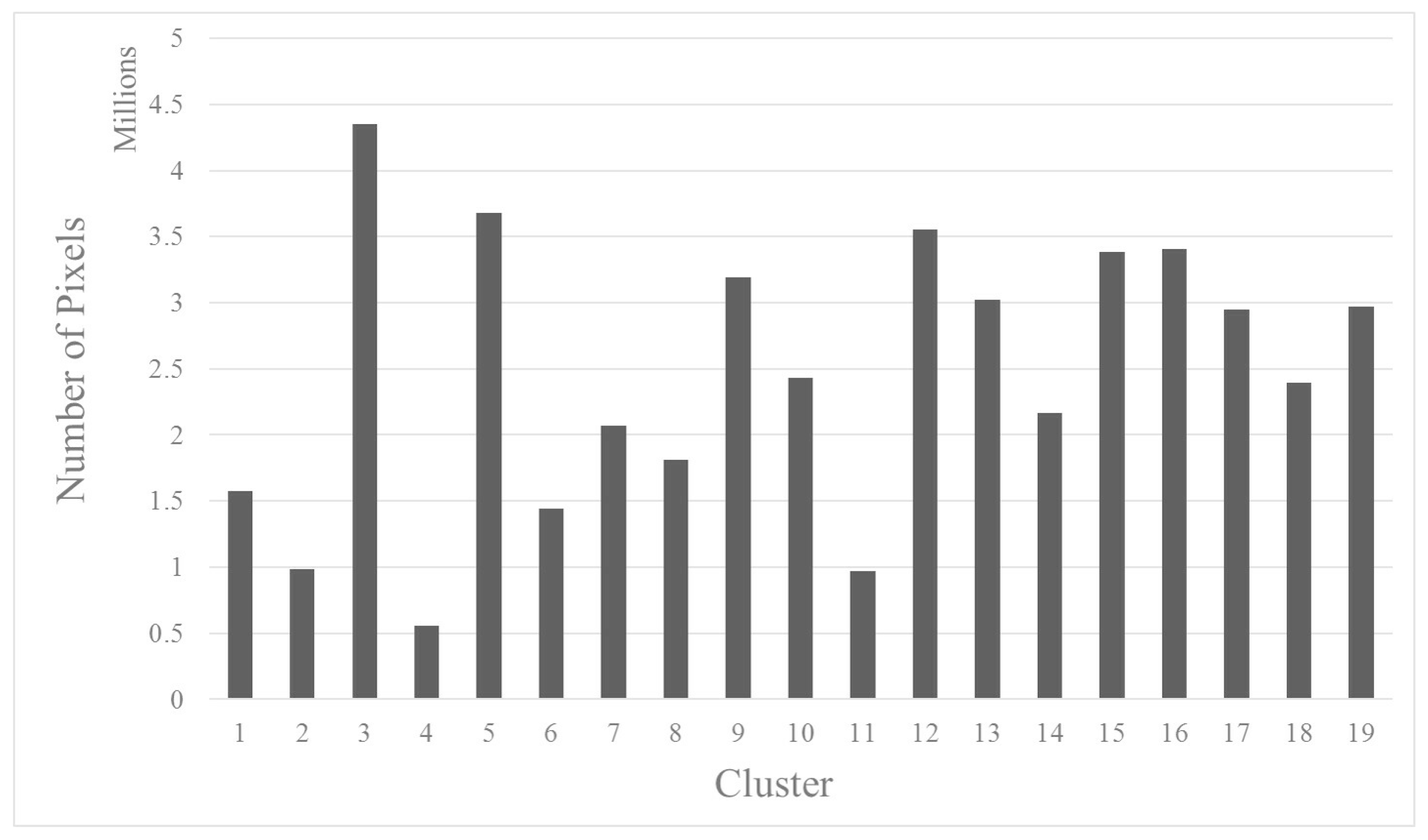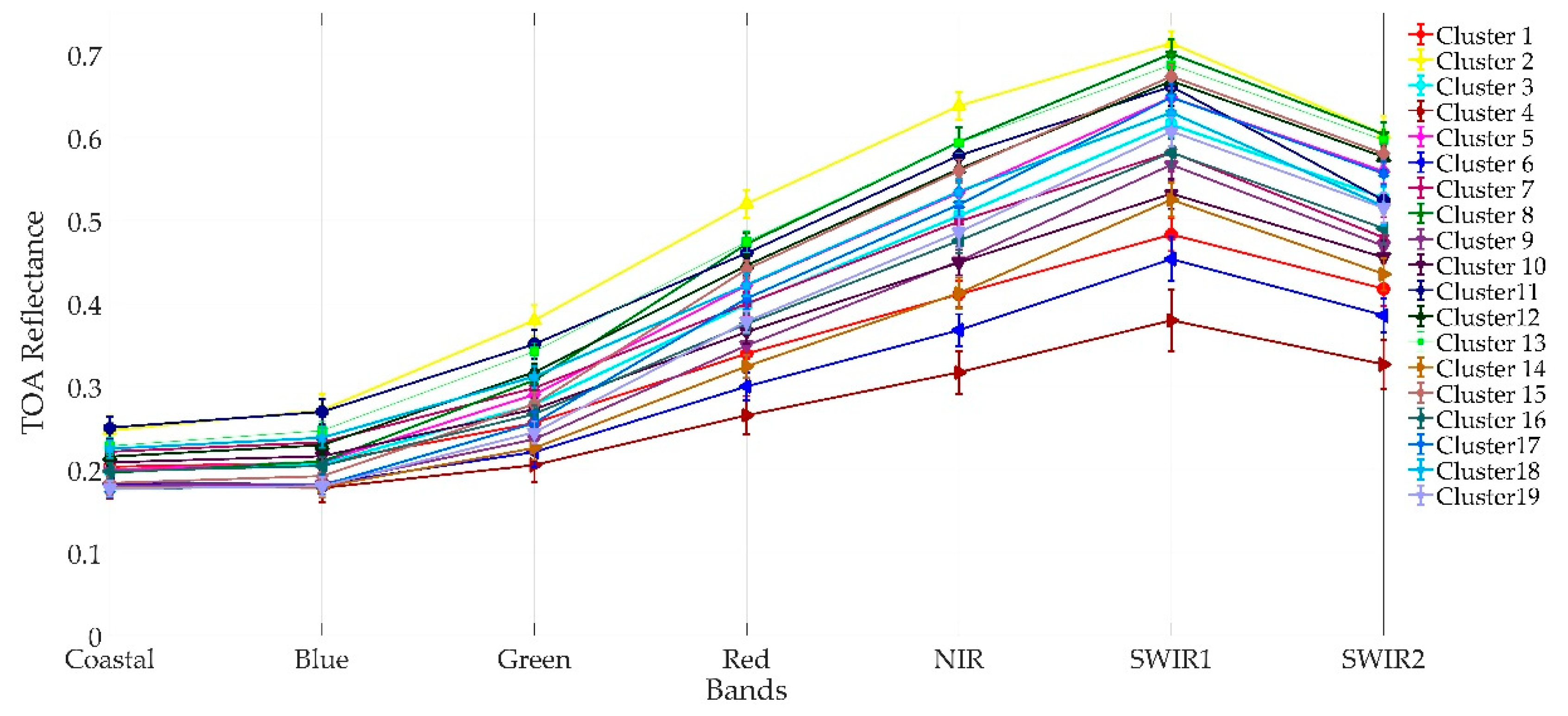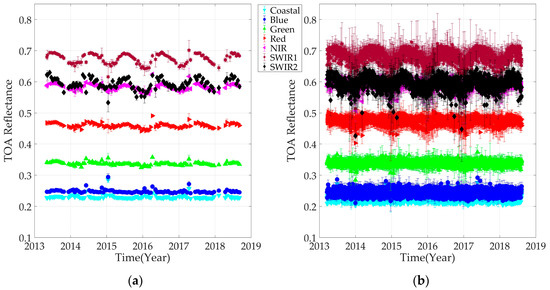 Figure 6. Comparison between traditional PICS (Libya 4) (a) and Cluster 13 (b) behavior. Figures (a,b) show the trending of Libya 4 and Cluster 13, as a function of time since launch to August 2018, using Landsat 8 OLI.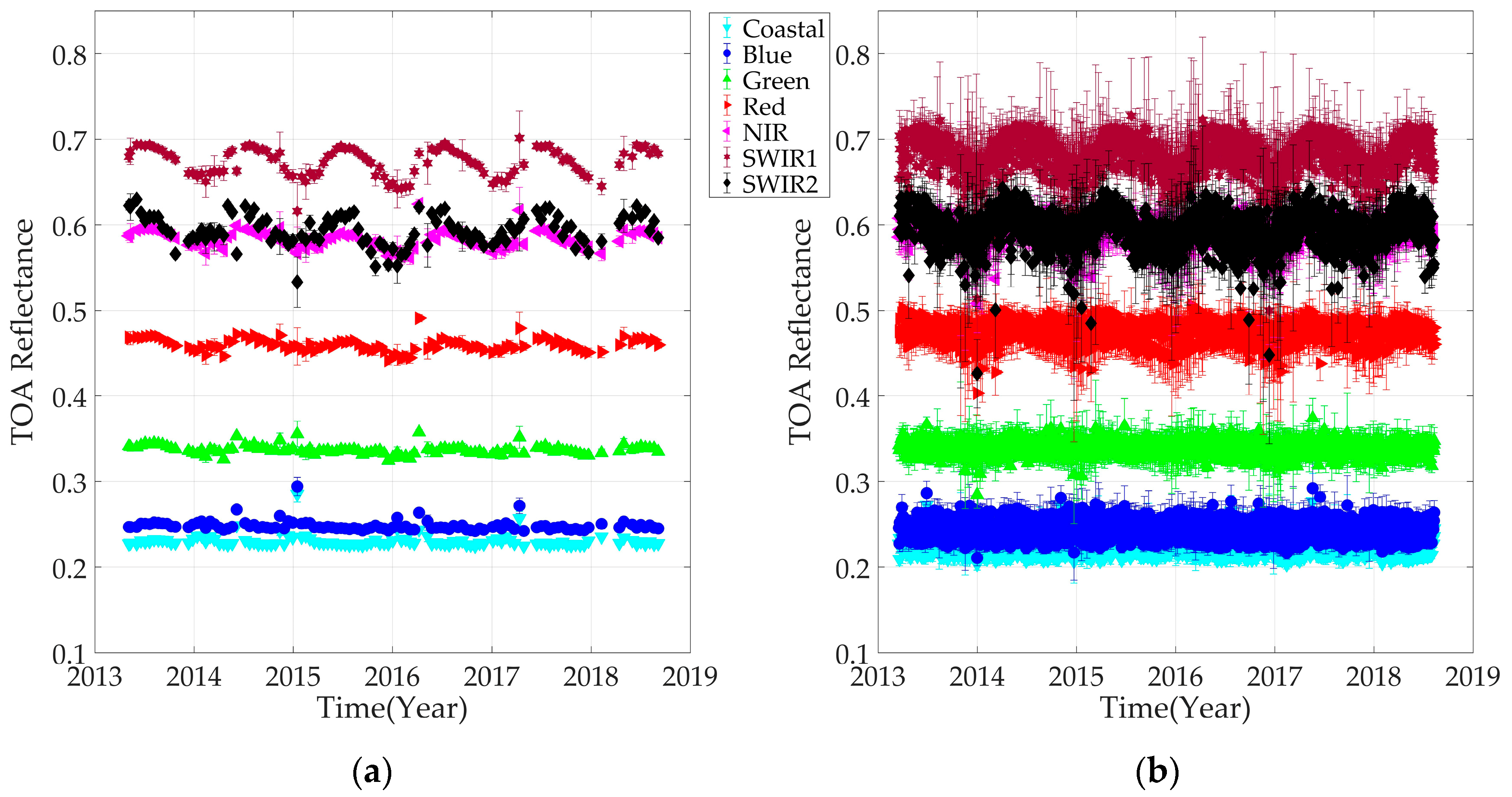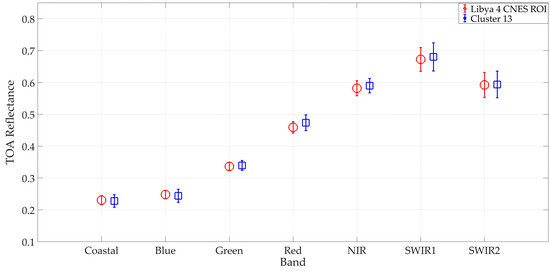 Figure 7. Comparison between the temporal mean and its standard deviation between traditional PICS (Libya 4 CNES ROI) and Cluster 13. Red and Blue symbols represent the temporal mean of Libya 4 CNES ROI and Cluster 13 respectively.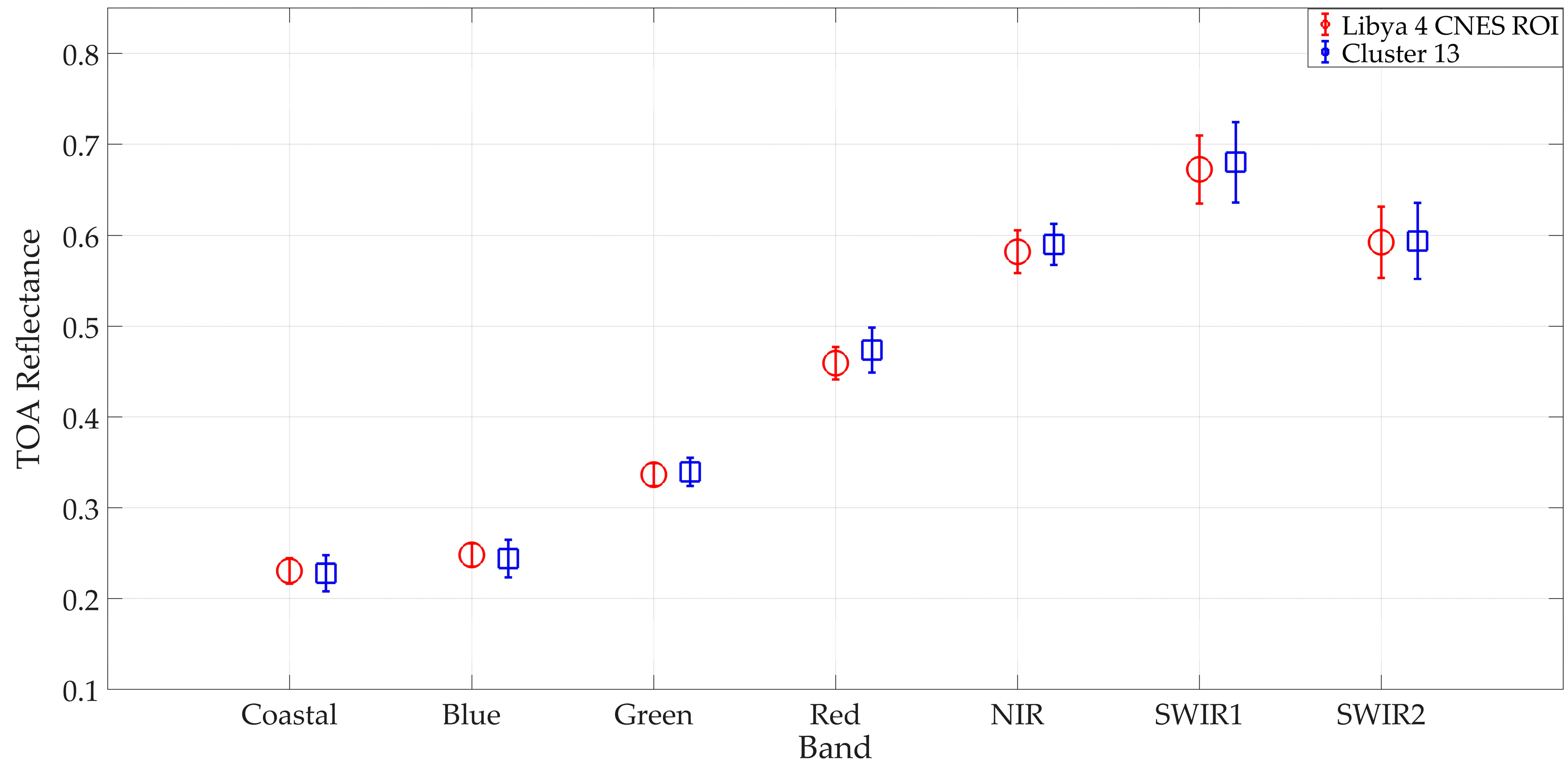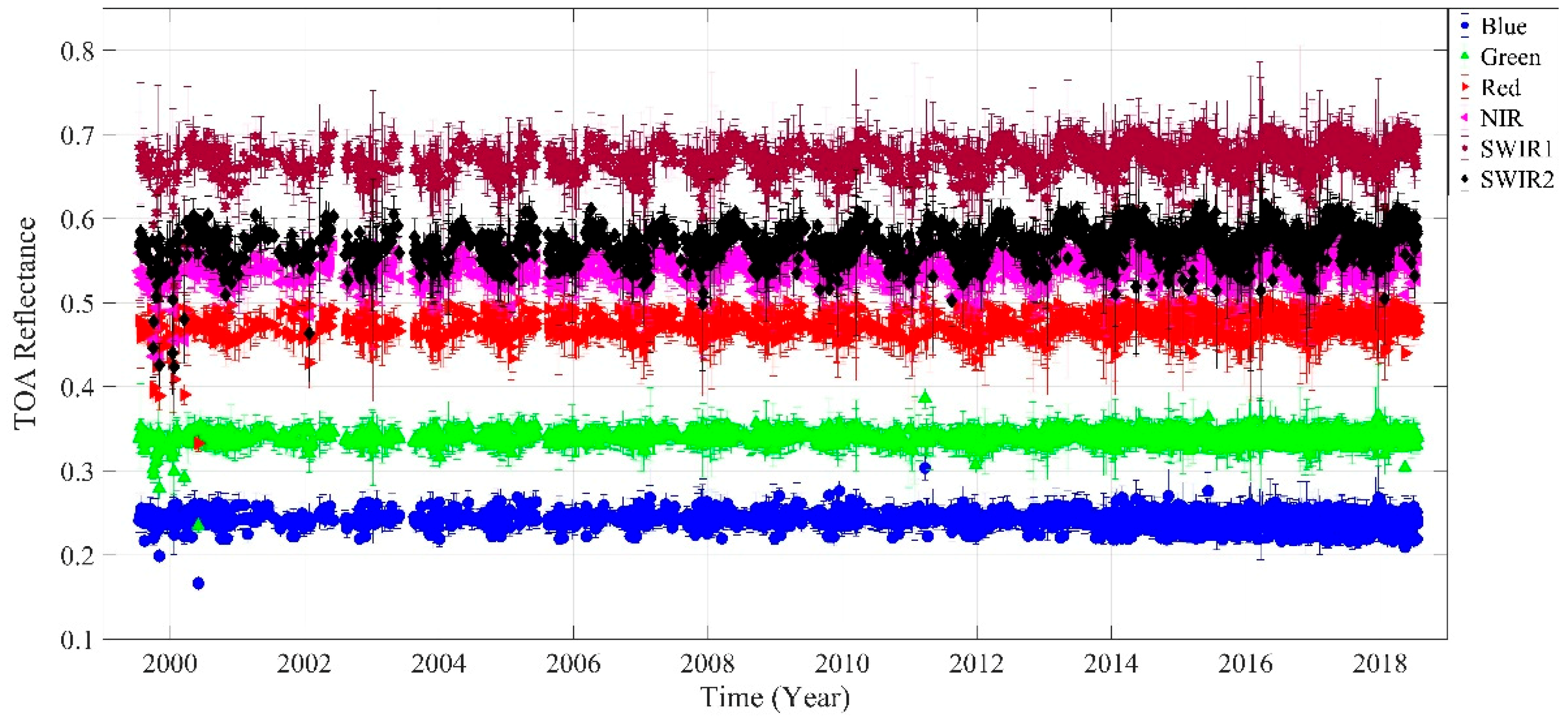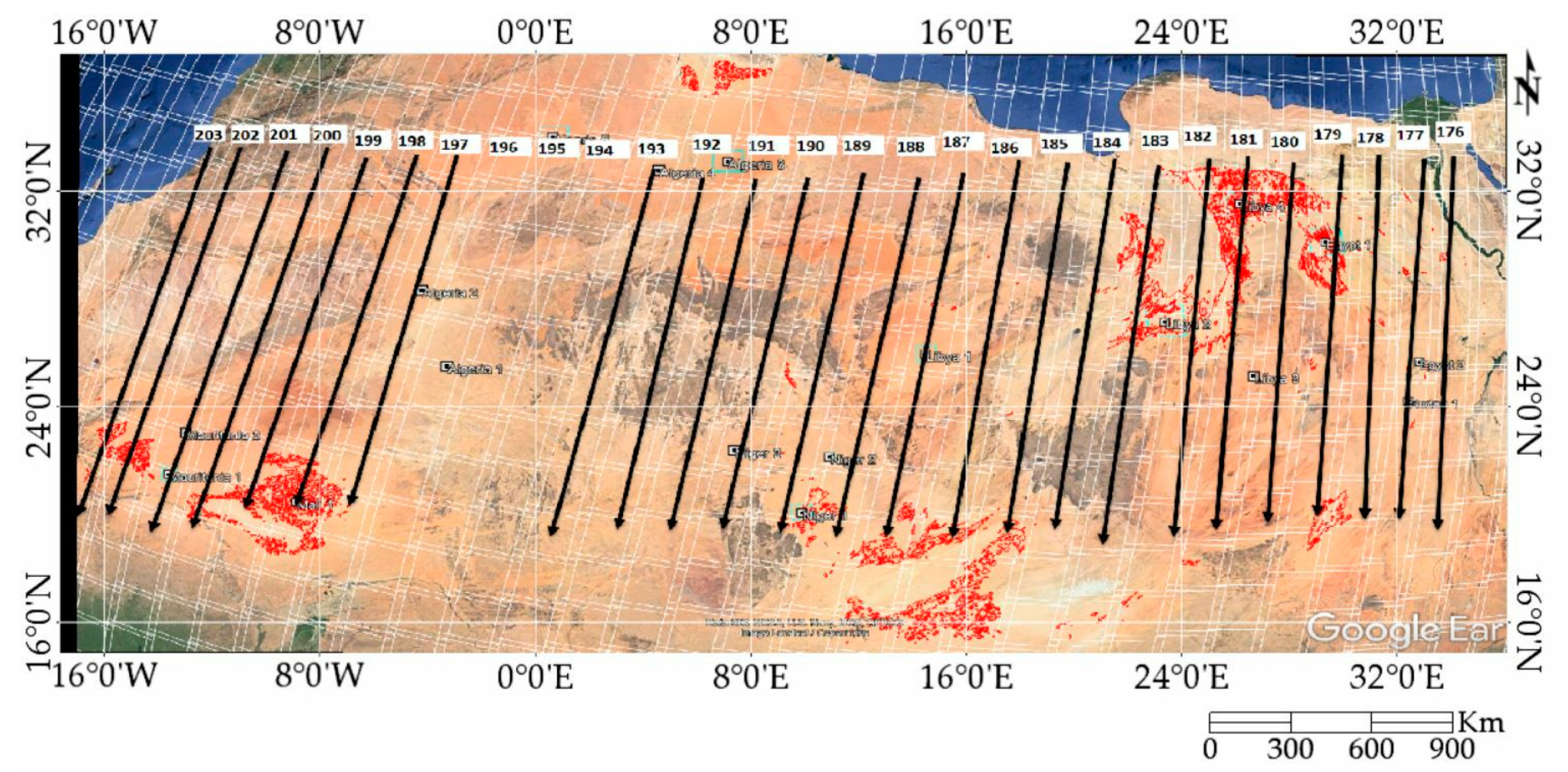 | Wavelength Range | Band Number | Center Wavelength (nm) | Bandwidth (nm) | Spatial Resolution (m) |
| --- | --- | --- | --- | --- |
| Coastal | 1 | 443 | 16 | 30 |
| Blue | 2 | 492 | 60 | 30 |
| Green | 3 | 561 | 57 | 30 |
| Red | 4 | 654 | 37 | 30 |
| NIR | 5 | 865 | 28 | 30 |
| Cirrus | 9 | 1373 | 20 | 30 |
| SWIR1 | 6 | 1609 | 85 | 30 |
| SWIR2 | 7 | 2201 | 187 | 30 |
| Panchromatic | 8 | 590 | 172 | 15 |
Spatial Uncertainty of Each Cluster of North Africa
Cluster
Coastal
Blue
Green
Red
NIR
SWIR1
SWIR2
1
5.73
6.31
5.37
3.88
3.87
4.14
4.86
2
7.19
7.27
4.83
3.24
2.60
2.06
3.54
3
4.95
5.31
3.94
2.89
2.78
2.36
3.27
4
8.31
9.66
9.82
8.77
8.10
9.67
9.16
5
4.57
4.75
3.44
2.69
2.47
2.23
2.57
6
7.75
8.94
8.03
5.51
5.27
5.89
5.19
7
5.49
5.85
4.68
3.50
3.35
4.05
5.13
8
5.35
5.89
5.03
2.84
2.93
2.54
2.38
9
5.93
6.71
5.67
3.61
3.73
3.19
4.30
10
5.91
6.46
5.21
3.87
3.38
3.37
4.61
11
5.36
5.77
5.07
4.05
3.33
3.45
6.13
12
4.79
5.05
3.34
2.62
2.23
2.03
2.66
13
4.59
4.80
3.08
2.71
2.11
1.78
2.62
14
5.95
6.88
6.38
4.38
4.49
3.87
4.48
15
5.20
5.91
5.16
2.48
2.46
2.15
1.96
16
4.71
5.03
4.02
3.28
2.99
2.95
3.99
17
5.58
6.25
5.28
3.23
3.15
2.53
2.61
18
4.71
4.94
4.14
3.15
2.70
3.15
4.56
19
5.43
6.15
5.39
3.31
3.79
2.88
3.59
Cluster 13
K Means Algorithm
Selected Landsat 7 Scenes
Band
Mean
Spatial Uncertainty (%)
Temporal Uncertainty (%)
Mean
Spatial Uncertainty (%)
Temporal Uncertainty (%)
Coastal
0.23
4.59
5.00
N/A
N/A
N/A
Blue
0.25
4.80
5.00
0.25
4.82
3.96
Green
0.34
3.08
5.00
0.34
4.30
2.22
Red
0.47
2.71
5.00
0.47
4.13
2.86
NIR
0.59
2.11
5.00
0.60
4.07
2.88
SWIR1
0.69
1.78
5.00
0.69
4.09
2.85
SWIR2
0.60
2.62
5.00
0.60
4.41
3.65

© 2019 by the authors. Licensee MDPI, Basel, Switzerland. This article is an open access article distributed under the terms and conditions of the Creative Commons Attribution (CC BY) license (http://creativecommons.org/licenses/by/4.0/).