Estimation of Winter Wheat Residue Coverage Using Optical and SAR Remote Sensing Images
1
School of Geography and Ocean Science, Nanjing University, Nanjing 210023, China
2
Jiangsu Center for Collaborative Innovation in Geographical Information Resource Development and Application, Nanjing 210023, China
3
Collaborative Innovation Center of South China Sea Studies, Nanjing University, Nanjing 210023, China
4
Department of Civil and Environmental Engineering, Yonsei University, Seoul 03722, Korea
5
Lancaster Environment Centre, Lancaster University, Lancaster LA1 4YQ, UK
*
Author to whom correspondence should be addressed.
Received: 1 March 2019 / Revised: 16 April 2019 / Accepted: 7 May 2019 / Published: 15 May 2019
Abstract
As an important part of the farmland ecosystem, crop residues provide a barrier against water erosion, and improve soil quality. Timely and accurate estimation of crop residue coverage (CRC) on a regional scale is essential for understanding the condition of ecosystems and the interactions with the surrounding environment. Satellite remote sensing is an effective way of regional CRC estimation. Both optical remote sensing and microwave remote sensing are common means of CRC estimation. However, CRC estimation based on optical imagery has the shortcomings of signal saturation in high coverage areas and susceptibility to weather conditions, while CRC estimation using microwave imagery is easily influenced by soil moisture and crop types. Synergistic use of optical and microwave remote sensing information may have the potential to improve estimation accuracy. Therefore, the objectives of this study were to: (i) Analyze the correlation between field measured CRC and satellite derived variables based on Sentinel-1 and Sentinel-2, (ii) investigate the relationship of CRC with new indices (OCRI-RPs) which combine optical crop residues indices (OCRIs) and radar parameters (RPs), and (iii) to estimate CRC in Yucheng County based on OCRI-RPs by optimal subset regression. The correlations between field measured CRC and satellite derived variables were evaluated by coefficient of determination (R
2
) and root mean square error (RMSE). The results showed that the normalized difference tillage index (NDTI) and radar indices 2 (RI2) had relatively higher correlations with field measured CRC in OCRIs and RPs (R
2
= 0.570, RMSE = 6.560% and R
2
= 0.430, RMSE = 7.052%, respectively). Combining OCRIs with RPs by multiplying each OCRI with each RP could significantly improve the ability of indices to estimate CRC, as NDTI × RI2 had the highest R
2
value of 0.738 and lowest RMSE value of 5.140%. The optimal model for CRC estimation by optimal subset regression was constructed by NDI71 ×
and NDTI ×
, with a R
2
value of 0.770 and a RMSE value of 4.846%, which had a great improvement when compared with the best results in OCRIs and RPs. The results demonstrated that the combination of optical remote sensing information and microwave remote sensing information could improve the accuracy of CRC estimation.
View Full-Text
►

▼

Figures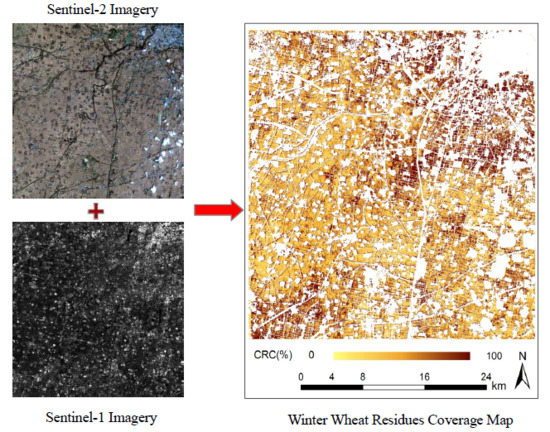 Graphical abstract
This is an open access article distributed under the
Creative Commons Attribution License
which permits unrestricted use, distribution, and reproduction in any medium, provided the original work is properly cited (CC BY 4.0).

Share & Cite This Article
MDPI and ACS Style
Cai, W.; Zhao, S.; Wang, Y.; Peng, F.; Heo, J.; Duan, Z. Estimation of Winter Wheat Residue Coverage Using Optical and SAR Remote Sensing Images. Remote Sens. 2019, 11, 1163.
Note that from the first issue of 2016, MDPI journals use article numbers instead of page numbers. See further details here.
Related Articles
Comments
[Return to top]