Performance of the NPP-VIIRS and aqua-MODIS Aerosol Optical Depth Products over the Yangtze River Basin
1
School of Resource and Environmental Science, Wuhan University, Wuhan 430079, China
2
Laboratory of Critical Zone Evolution, School of Earth Sciences, China University of Geosciences, Wuhan 430074, China
3
School of Marine Sciences, Nanjing University of Information Science and Technology, Nanjing, 210044, China
4
Institute of Space and Earth Information Science, The Chinese University of Hong Kong, Hong Kong, China
*
Authors to whom correspondence should be addressed.
Received: 2 December 2017 / Revised: 11 January 2018 / Accepted: 13 January 2018 / Published: 16 January 2018
Abstract
The visible infrared imaging radiometer suite (VIIRS) environmental data record aerosol product (VIIRS_EDR) and the aqua-moderate resolution imaging spectroradiometer (MYD04) collection 6 (C6) aerosol optical depth (AOD) products are validated against the Cimel sun–photometer (CE318) AOD measurements during different air quality conditions over the Yangtze river basin (YRB) from 2 May 2012 to 31 December 2016. For VIIRS_EDR, the AOD observations are obtained from the scientific data set (SDS) "aerosol optical depth at 550 nm" at 6 km resolution, and for aqua-MODIS, the AOD observations are obtained from the SDS "image optical depth land and ocean" at 3 km (DT3K) and 10 km (DT10K) resolutions, "deep blue aerosol optical depth 550 land" at 10 km resolution (DB10K), and "AOD 550 dark target deep blue combined" at 10 km resolution (DTB10K). Results show that the high-quality (QF = 3) DTB10K performs the best against the CE318 AOD observations, along with a higher R (0.85) and more retrievals within the expected error (EE) ± (0.05 + 15%) (55%). Besides, there is a 10% overestimation, but the positive bias does not exhibit obvious seasonal variations. Similarly, the DT3K and DT10K products overestimate AOD retrievals by 23% and 15%, respectively, all over the year, but the positive biases become larger in spring and summer. For the DB10K AOD retrievals, there is an overestimation (underestimation) in autumn and winter (spring and summer). Compared to the aqua-MODIS AOD products, the VIIRS_EDR AOD retrievals are less correlated (R = 0.73) and only 44% of the retrievals fall within EE. Meanwhile, the VIIRS_EDR shows larger bias than the aqua-MODIS C6 retrievals, and tends to overestimate AOD retrievals in summer and underestimate in winter. Additionally, there is an underestimation for the VIIRS_EDR AOD retrievals over the regions during high aerosol loadings. These indicate that the VIIRS_EDR retrieval algorithm needs to be improved in further applications over the YRB.
View Full-Text
►

▼

Figures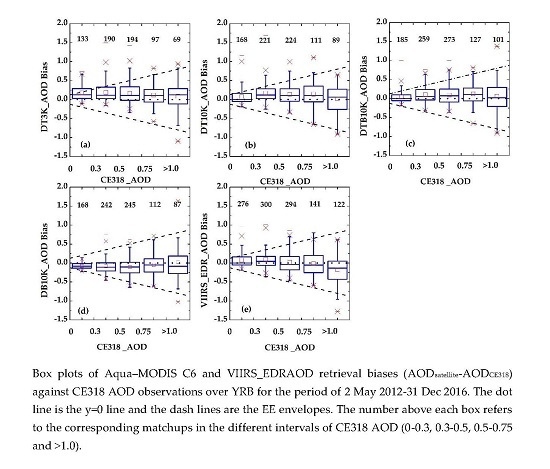 Graphical abstract
This is an open access article distributed under the
Creative Commons Attribution License
which permits unrestricted use, distribution, and reproduction in any medium, provided the original work is properly cited (CC BY 4.0).

Share & Cite This Article
MDPI and ACS Style
He, L.; Wang, L.; Lin, A.; Zhang, M.; Bilal, M.; Wei, J. Performance of the NPP-VIIRS and aqua-MODIS Aerosol Optical Depth Products over the Yangtze River Basin. Remote Sens. 2018, 10, 117.
Note that from the first issue of 2016, MDPI journals use article numbers instead of page numbers. See further details here.
Related Articles
Comments
[Return to top]