Open Access This article is
freely available
re-usable
Article
Sustainable Entrepreneurial Orientation: A Business Strategic Approach for Sustainable Development
1
Department of Business Management, University of Castilla-La Mancha, 16071 Cuenca, Spain
2
Department of Marketing, University of Valencia, 46022 Valencia, Spain
3
Department of Economics and Business, University of Almería, 04120 Almería, Spain
*
Author to whom correspondence should be addressed.
Received: 31 July 2017 / Accepted: 14 September 2017 / Published: 19 September 2017
Abstract
:
This paper proposes sustainable entrepreneurial orientation (SEO) as a multidimensional construct that offers researchers the possibility of empirically testing their theoretical proposals in the sustainable entrepreneurship field. The authors propose an integration of different theories. In accordance with the dynamic capabilities view, SEO is approached under an organizational paradigm of strategic orientations delimited by competitive culture and multiple orientation perspectives. Furthermore, SEO's nature is conceived at a firm-based entrepreneurship level and is based on an integrated triple bottom line sustainability. This approach is conceptualized using a categorization scheme and defined in accordance with the organizational predisposition perspective. Several research lines are proposed, all based on relational models with SEO as the key concept.
Keywords:
sustainable entrepreneurship; strategic orientation; sustainable development; dynamic capabilities; multiple orientation; organizational predisposition
1. Introduction
From an organizational strategic orientation approach, the study of a strategic orientation for sustainable entrepreneurship is scarce and vague. Considering this, the paper aims to cover the following research gaps regarding the construct of sustainable entrepreneurial orientation (hereafter, SEO). As a first research gap, we consider that there is a lack of a clear conceptualization and operationalization of the SEO construct. A second research gap detected is the lack of relationship models including SEO antecedents and consequences.
Thus, the main purpose of this manuscript is to provide a theoretical proof of SEO as a business strategic orientation. We look forward to contributing to its conceptualization and definition and, therefore, to its consolidation as a construct of reference in sustainable entrepreneurship research.
Moreover, this paper proposes SEO as a construct that provides the basis for empirically testing the assertions that arise in sustainable entrepreneurship studies. Considering several contributions of researchers in the areas of entrepreneurship and sustainability at an organizational level, we propose some research questions for future proposals, all based on relational models with SEO as the key concept.
Regarding the structure, after a comprehensive review of the subarea of knowledge revolving around sustainable entrepreneurship, this paper continues with a review of SEO in the literature. This entails an examination of its conceptual description and contextualizes it within the dynamic capabilities approach. It then proposes a number of findings on the dimensionality of SEO to set up the foundations of its empirical validation. Finally, it concludes with several research lines revolving around the SEO concept.
2. Towards a Sustainable Entrepreneurship Framework: Contributions from Literature Research
3. The Convergence of Sustainability and Entrepreneurial Orientations from a Dynamic Capabilities View
4. Results
4.1. SEO Construct: Nature and Contextualization from a Multiple Orientation Perspective
4.2. SEO Categorization and Dimensionality
5. Discussion
Although SEO has not been treated as such in the literature, in the intersection of the two strategic orientations of EO and SO, there are distinct contributions in the academic literature. Spence et al. [
53
] points out that a sustainable firm has a high EO. The commitment to sustainable development principles can be understood as a proactive act [
60
,
66
] which generally leads to innovation [
133
]—also called sustainable innovation, green innovation or eco-innovation [
14
,
134
]—encouraging an organization's adoption and integration of sustainability-oriented practices. This sustainable entrepreneurship entails risk taking, given the long period in which the scope and return of actions undertaken are projected [
53
,
135
]. However, in this regard, there is no consensus among academics. While Rodgers [
95
] found that firms with SEO have a risk tolerance over any other entrepreneurial firm, Spence et al. [
53
] and Gawel [
1
] indicate that risk taking exists but is calculated and limited, and Lumpkin et al. [
41
] argue that, in this type of firm, risks tend to be avoided. In any case, as stressed by Murillo-Luna et al. [
136
], a proactive strategy towards sustainable development involves the implementation of new processes, technologies and systems, and this always carries a certain risk due to the uncertainty of its eventual impact on organizational performance. The lack of agreement in this regard signals that further research is required to determine the role of sustainable entrepreneurship at the strategic business level.
From the literature on strategic management, business, marketing, entrepreneurship, organization, strategy, business ethics, and sustainability, on the whole it can be gauged that EO and SO have been approached with antecedent, moderating, mediating and consequent variables in order to understand the role of these strategic orientations in the dynamic and changing environment of organizations. Since SEO is considered as a general high-order strategic orientation, researchers have the opportunity to test its relationship with the variables that allow them to be better familiarized with organizational behavior in a specific environment and in consideration of variables previously used in literature. Besides theoretical approaches to sustainable entrepreneurship, there is a need for more contributions based on empirical models that provide validity and reliability for these conceptual proposals. We offer a proposal of variables for empirical testing research in sustainable entrepreneurship with SEO as the key concept (
Figure 3
).
There are some research questions that arise from the literature that could be approached through this model.
●

What effects do company size, age or sector have on the adoption of a SEO? How does CEO gender affect the relationship between SEO and performance? Is it possible to adopt SEO once you are established or it is only possible for startup companies?

●

Is social capital an antecedent or a consequence of SEO? How do they relate with stakeholder engagement? How can SEO create value for different stakeholders? What is the effect of cultural context on SEO?

●

What is the role of different organizational resources and capabilities in fostering SEO? Is SEO an antecedent that creates other resources and capabilities?

●

What is the relationship between SEO and other strategic orientations? How do they behave in an international context?
6. Conclusions
A review of the literature in the field establishes that there are three main approaches between authors in understanding sustainable entrepreneurship: environmental, social and integrated sustainable entrepreneurship. In this paper we adopted the latter approach, considering sustainable entrepreneurship from a holistic perspective that integrates the three dimensions of sustainability.
From a managerial viewpoint, the pressure for organizations to adopt measures according to sustainable development principles can be minimized by promoting SEO as a strategic asset that allows companies to integrate economic, environmental and social objectives into their corporate culture. Organizations with an SEO are identified as being creative in both problem resolution and the implementation of new market strategies, even if these initiatives can entail some calculated risks. This kind of firm is constantly seeking changes in order to be ahead and leverage new opportunities. They do not see uncertainty as a threat but as a favorable opportunity. They are conscious of and motivated towards sustainability as an important part of their culture. Sustainability is an investment, a duty and an opportunity to grow and remain in the long-run. Moreover, it should be noted that SEO is everywhere in such an organization, in each member, each process, each technique, and each product or service.
Regarding the limitations of this study, they are mainly due to the inherent choice of different theoretical approaches. According to this, further research around the SEO concept and measurement could elucidate more understanding of the better perspectives to employ in its study and SEO behavior as an antecedent or consequence in regard to other strategic constructs.
Acknowledgments
The authors express their gratitude for the support given by the university chair Cátedra Ciudad de Valencia 2013, the InnDEA Foundation of the Valencian local government, and the University of Valencia for their research funding.
Author Contributions
A.C.-G., A.C.-T. and M.-A.I.-B. have equally contributed to the work in this research. This paper is part of a research project directed by A.C.-T.
Conflicts of Interest
The authors declare no conflicts of interest whatsoever.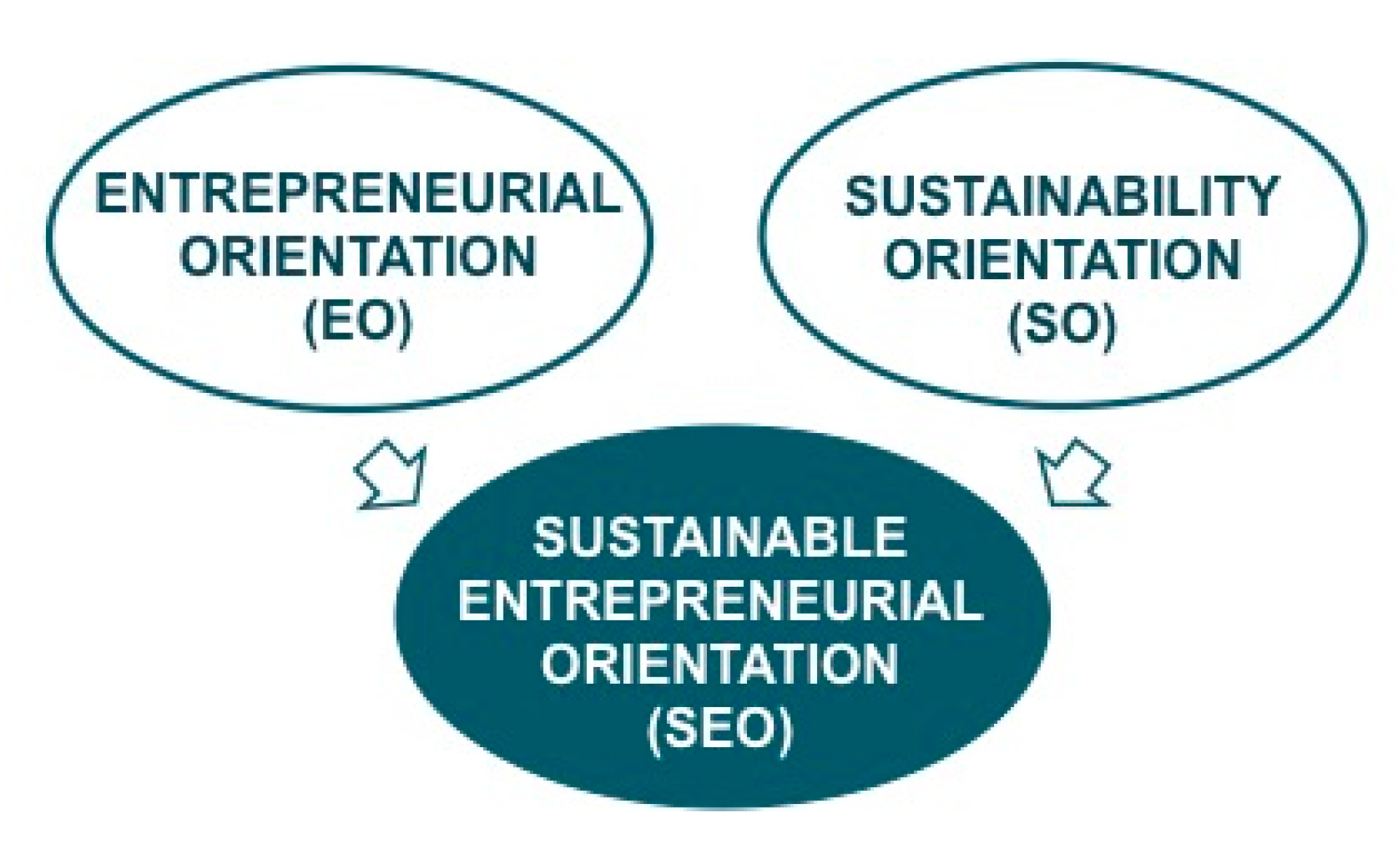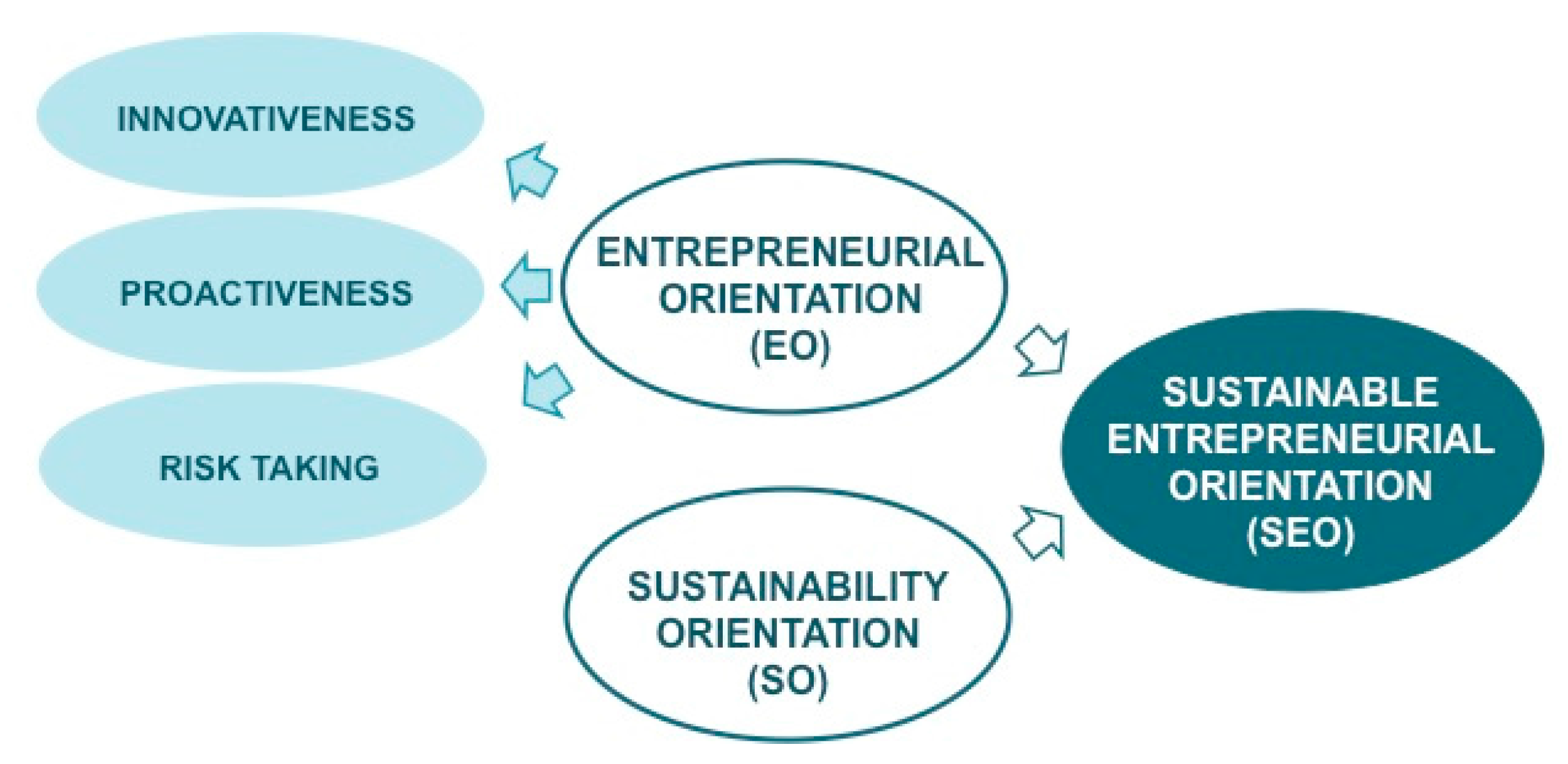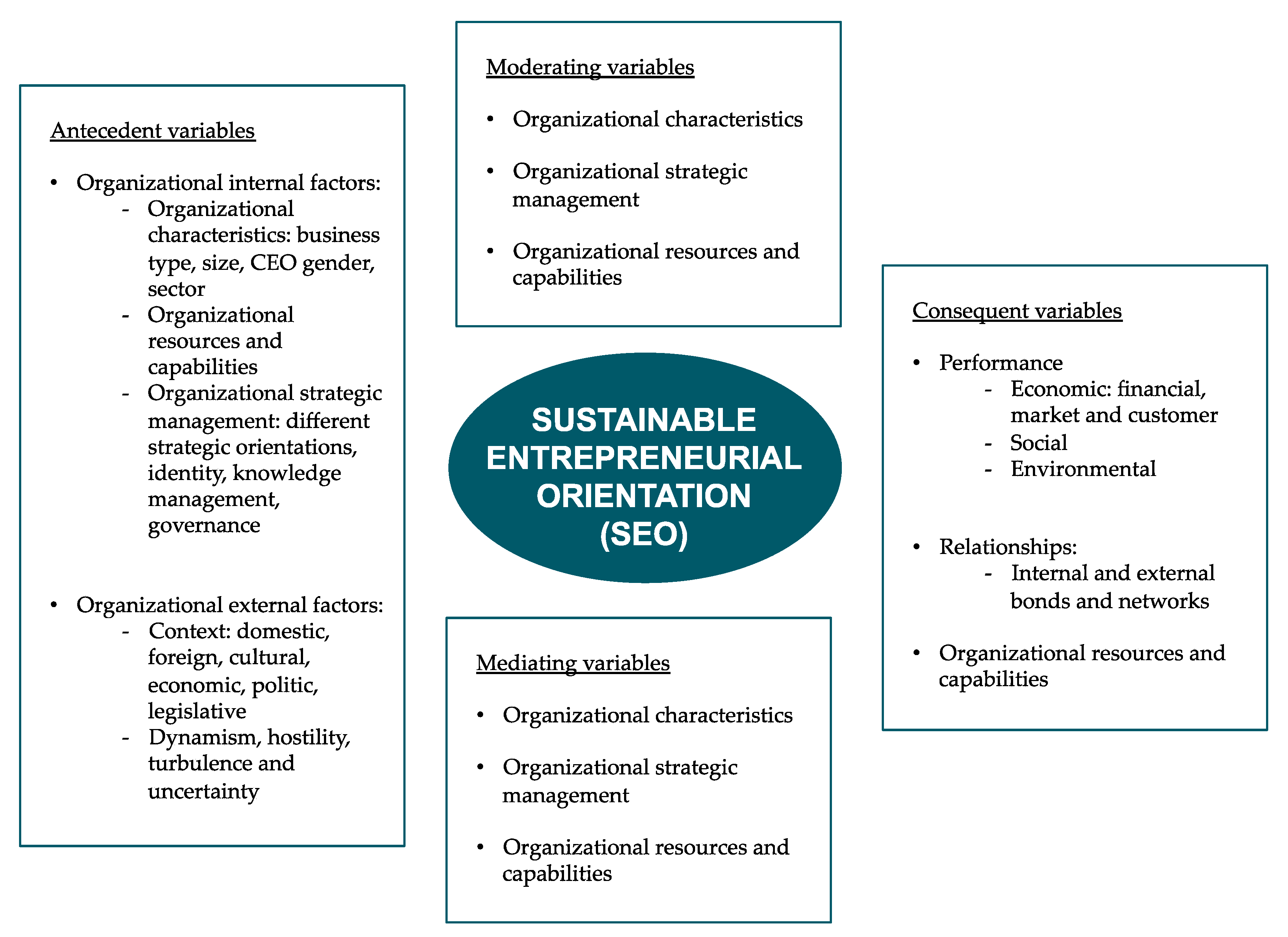 | Authors | Definition |
| --- | --- |
| Gerlach [43] (p. 3) | "Innovative behaviour of single actors or organisations operating in the private business sector who are seeing environmental or social issues as a core objective and competitive advantage". |
| Crals and Vereeck [50] (p. 1) | "The continuing commitment by business to behave ethically and contribute to economic development, while improving the quality of life of the workforce, their families, local communities, the society and the world at large, as well as future generations". |
| O'Neill et al. [51] (p. 34) | "(…) a process of venture creation that links the activities of entrepreneurs to the emergence of value-creating enterprises that contribute to the sustainable development of the social-ecological system". |
| Schlange [17] (p. 18) | "A venture qualifies [sic] as sustainability-driven if it combines opportunities and intentions to simultaneously create value from an economic, social and ecological perspective". |
| Cohen and Winn [24] (p. 35) | "The examination of how opportunities to bring into existence 'future' goods and services are discovered, created and exploited, by whom, and with what economic, psychological, social and environmental consequences". |
| Dean and McMullen [25] (p. 58) | "The process of discovering, evaluating, and exploiting economic opportunities that are present in market failures which detract from sustainability, including those that are environmentally relevant". |
| Katsikis and Kyrgidou [28] (p. 1) | "The teleological process aiming at the achievement of sustainable development, by discovering, evaluating and exploiting opportunities and creating value that produces economic prosperity, social cohesion and environmental protection". |
| De Palma and Dobes [54] (p. 1807) | "Entrepreneurship, which encompasses social, economic and environmental concerns of relevant internal and external stakeholders". |
| Hockerts and Wüstenhagen [10] (p. 482) | "The discovery and exploitation of economic opportunities through the generation of market disequilibria that initiate the transformation of a sector towards an environmentally and socially more sustainable state". |
| Kuckertz and Wagner [8] (p. 525) | "Those entrepreneurial activities, which contribute positively to sustainable development and the objectives derived from it". |
| Schaltegger and Wagner [44] (p. 226) | "An innovative, market-oriented and personality driven form of creating economic and societal value by means of break-through environmentally or socially beneficial market or institutional innovations". |
| Shepherd and Patzelt [46] (p. 142) | A focus "on the preservation of nature, life support, and community in the pursuit of perceived opportunities to bring into existence future products, processes, and services for gain, where gain is broadly construed to include economic and non-economic gains to individuals, the economy, and society". |
| Spence et al. [53] (p. 335) | "For a convinced entrepreneur, it consists of the ability to demonstrate responsible creativity while achieving viable, liveable, and equitable development through the integration and management of natural and human resources in business". |
Theories
Ecological modernization theory [49]
Entrepreneurship theory [53]
Dynamic capabilities view [60,61]
Game theory [55]
Institutional theory [59]
Management theory [53]
Neo-institutional theory [53]
Resource-based view [60,62]
Stakeholder theory [58]
Terms
Corporate social responsibility [46]
Corporate sustainable entrepreneurship [2,10]
Ecopreneurship [30,95]
Environmental corporate entrepreneurship [96]
Environmental entrepreneurship [22,59]
Enviropreneurial marketing [34]
Enviropreneurship [96]
Green entrepreneurship [22]
Macro-entrepreneurship [97]
Social entrepreneurship [22]
Sustainability entrepreneur [47]
Sustainable development innovation [98]
Sustainable entrepreneurship [10,25,47,90,99]
Sustainable intrapreneurship [100]
Sustainopreneurship [47]
Categories
Components
Primary category
EO
Innovativeness
Pro-activeness
Risk taking
Secondary category
SEO
Innovativeness
Pro-activeness
Risk taking
SO
Social EO 2
Innovativeness
Pro-activeness
Risk taking
Social O 3
IEO 4
Innovativeness
Pro-activeness
Risk taking
IO 5
1 Adapted from George and Marino [127] (p. 996). 2 Social Entrepreneurial Orientation. 3 Social Orientation. 4 International Entrepreneurial Orientation. 5 International Orientation.

© 2017 by the authors. Licensee MDPI, Basel, Switzerland. This article is an open access article distributed under the terms and conditions of the Creative Commons Attribution (CC BY) license (http://creativecommons.org/licenses/by/4.0/).