Hi-sAFe: A 3D Agroforestry Model for Integrating Dynamic Tree–Crop Interactions
1
INRA (UMR-SYSTEM), University of Montpellier, 34090 Montpellier, France
2
IRD (UMR-AMAP), University of Montpellier, 34090 Montpellier, France
3
ICRAF, Bogor 16001, Indonesia
4
INRA (UR ASTRO 1231) Centre Antilles-Guyane, Petit-Bourg, 97170 Guadeloupe, France
5
CEH, NERC, Wallingford OX10 8BB, UK
6
INRA (UMR-PIAF), Université Clermont Auvergne, 63000 Clermont-Ferrand, France
7
Centre d'étude de la forêt, Université du Quebec, Montreal H2X 3Y5, Canada
*
Author to whom correspondence should be addressed.
†
Hervé Sinoquet passed away.
Received: 28 March 2019 / Revised: 11 April 2019 / Accepted: 15 April 2019 / Published: 16 April 2019
Abstract
Agroforestry, the intentional integration of trees with crops and/or livestock, can lead to multiple economic and ecological benefits compared to trees and crops/livestock grown separately. Field experimentation has been the primary approach to understanding the tree–crop interactions inherent in agroforestry. However, the number of field experiments has been limited by slow tree maturation and difficulty in obtaining consistent funding. Models have the potential to overcome these hurdles and rapidly advance understanding of agroforestry systems. Hi-sAFe is a mechanistic, biophysical model designed to explore the interactions within agroforestry systems that mix trees with crops. The model couples the pre-existing STICS crop model to a new tree model that includes several plasticity mechanisms responsive to tree–tree and tree–crop competition for light, water, and nitrogen. Monoculture crop and tree systems can also be simulated, enabling calculation of the land equivalent ratio. The model's 3D and spatially explicit form is key for accurately representing many competition and facilitation processes. Hi-sAFe is a novel tool for exploring agroforestry designs (e.g., tree spacing, crop type, tree row orientation), management strategies (e.g., thinning, branch pruning, root pruning, fertilization, irrigation), and responses to environmental variation (e.g., latitude, climate change, soil depth, soil structure and fertility, fluctuating water table). By improving our understanding of the complex interactions within agroforestry systems, Hi-sAFe can ultimately facilitate adoption of agroforestry as a sustainable land-use practice.
View Full-Text
►

▼

Figures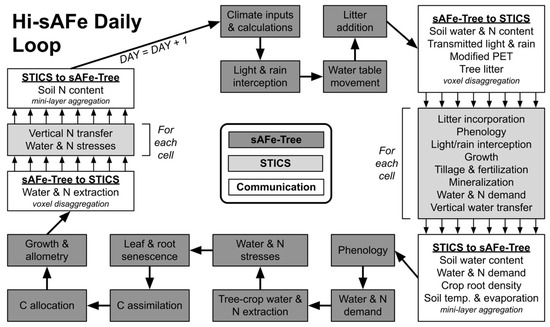 Figure 1
This is an open access article distributed under the
Creative Commons Attribution License
which permits unrestricted use, distribution, and reproduction in any medium, provided the original work is properly cited (CC BY 4.0).

Share & Cite This Article
MDPI and ACS Style
Dupraz, C.; Wolz, K.J.; Lecomte, I.; Talbot, G.; Vincent, G.; Mulia, R.; Bussière, F.; Ozier-Lafontaine, H.; Andrianarisoa, S.; Jackson, N.; Lawson, G.; Dones, N.; Sinoquet, H.; Lusiana, B.; Harja, D.; Domenicano, S.; Reyes, F.; Gosme, M.; Van Noordwijk, M. Hi-sAFe: A 3D Agroforestry Model for Integrating Dynamic Tree–Crop Interactions. Sustainability 2019, 11, 2293.
Note that from the first issue of 2016, MDPI journals use article numbers instead of page numbers. See further details here.
Related Articles
Comments
[Return to top]