Open Access This article is
freely available
re-usable
Article
Double-Edged Effects of Socially Responsible Human Resource Management on Employee Task Performance and Organizational Citizenship Behavior: Mediating by Role Ambiguity and Moderating by Prosocial Motivation
1
School of Management, Huazhong University of Science and Technology, Wuhan 430074, China
2
Rennes School of Business, 2 rue Robert d'Arbrissel CS 76522, 35065 Rennes CEDEX, France
*
Author to whom correspondence should be addressed.
Received: 22 January 2019 / Accepted: 8 April 2019 / Published: 16 April 2019
Abstract
:
Previous literature has explored the positive effects of socially responsible human resource management (SRHRM) on employees, leaving potential dark sides largely ignored. By integrating situational-strength theory and motivation literature, this study investigates the double-edged effects of SRHRM on employee performance. Based on a sample of 314 employee–supervisor dyads from three companies, we found that SRHRM could increase employees' organizational citizenship behavior (OCB) while decreasing their task performance through role-ambiguity mediation. Interestingly, prosocial motivation serves as a significant moderator in strengthening the positive relationship between SRHRM and OCB and the negative association between SRHRM and task performance. Finally, we discuss the theoretical and practical implications of how managers should conduct SRHRM practices among employees.
Keywords:
double-edged effects; SRHRM; employ performance; OCB; role ambiguity; prosocial motivation
2. Theory and Hypothesis Development
3. Materials and Methods
3.1. Sample and Procedure
We tested our hypothesis based on a sample of 314 employee–supervisor dyads from three enterprises in the manufacturing, service, and banking industries of Southeast China. To guarantee the validity of samples, we considered the following factors when selecting the companies. First, we checked the company websites and communicated with executives to make sure the company established HRM practices concerning CSR. Second, any company whose primary business was not closely related to CSR was not be considered. Third, companies with fewer than 500 employees were not considered, as they may not have sufficient resources to build up an SRHRM system.
Our data-collection procedures were as below. We communicated with human resource managers to introduce this study, including the research purpose, guidelines of the operation process, and what we need from them, such as identifying line managers for participation. Second, human resource managers connected with line managers and asked them, with a list of names, to randomly select one–four subordinates who could participate. Line managers were also asked to evaluate the selected employees' performance in the supervisor questionnaire. After that, we obtained a list of all employees who could participate in the survey. Third, with the help of human resource managers, all participants convened in a conference room. They were informed of the purpose of the survey and assured of the confidentiality of their responses.
Employees provided data for their demographic variables, SRHRM, role ambiguity, and prosocial motivation, while their supervisors were asked to rate their subordinates' task performance and OCBs. We assigned an identification number to each questionnaire in order to match subordinates with their supervisors' evaluations. We also provided each participant with an envelope in which to seal the finished questionnaire for the purpose of response confidentiality and reliability. We controlled the process in order to ensure that all participants completed the survey voluntarily and anonymously. We conducted all of these procedures according to the ethical standards of the Declaration of Helsinki. Furthermore, our research was approved by the Human Research Ethics Committee (HREC) at Hua Zhong University of Science and Technology.
In sum, we sent 400 questionnaires to 112 line managers and obtained 314 valid questionnaires from 105 line managers and their 314 subordinate employees, with a response rate of 78.5% from employees and 93.8% from line managers. In the 314 employees, 51.6% were men, while 48.4% were women. In terms of age, 74.7% were aged 30 or below, 24% between 30 and 40, and 1.3% were aged 40 or above. Regarding education, 10.5% had only finished high school, 61.5% had a college degree, and 28.1% held a bachelor or above degree.
3.3. Estimation Method
We first conducted the confirmatory factor analysis (CFA), a method used in data analysis to examine the expected causal connections between variables [
73
], to evaluate the discriminant validity of the key variables. Then, we tested our hypotheses by structural equation modeling (SEM) analysis with the Mplus 7 software package, with all latent variables indicated by their observed items. SEM analysis allowed us to simultaneously test the effects of the independent variables, mediator, and moderator in the context of comprehensive models, as suggested by Edwards and Lambert [
74
]. In particular, the direct effects of SRHRM on the two performance outcomes and the mediator were tested by structural equation analysis. For testing the indirect effects, a Monte Carlo method simulation computed with 95% confidence intervals was applied. To model interactions with latent variables, we implemented the latent moderated structural equation approach [
75
]. This approach provided unbiased estimates of interaction effects between latent variables that are corrected for measurement errors.
5. Discussion
Despite the potential benefits of SRHRM in promoting social warfare and sustainable development, few studies have paid attention to its possible negative consequences. To address this research gap, our study examined whether, why, and under which circumstances SRHRMR may have double-edged effects on organization. Our findings indicated that SRHRM can enhance employee OCBs but decrease their task performance through the mediating effects of role ambiguity. Additionally, we found that the association between role ambiguity, and task performance and OCBs is strengthened by prosocial motivation. As we describe below, these findings offer several implications for future research and practice.
5.1. Theoretical Implication
This study broadly contributes to the SRHRM literature in the following aspects. First, this study advances the SRHRM literature by exploring its double-edged impact on employee performance. Although prior research primarily highlighted how SRHRM could stimulate positive employee consequences, sparse research has considered the possibility that SRHRM may have a dark side, such as causing unclear work goals and content. Given that, the current research fills this critical gap by proposing and examining SRHRM's double-edged effects. In particular, our study contends that SRHRM may distract employees from business-oriented task performance to society-oriented OCBs through blurring the boundaries and scopes of work expectations. By doing so, this study draws a more comprehensive picture of both the positive and negative side of SRHRM in the workplace. In addition, this finding confirms the argument [
12
] that, although organizational practices are generally designed to have a positive impact, they may also have negative consequences. Relatedly, this finding is also consistent with the view that, in certain circumstances, employees must harm one party in order to benefit another [
77
].
Second, this study introduced a situational-strength framework as the theoretical basis to explain how SRHRM may have a double-edged impact on employee performance. Previous studies noted the possible double-edged influence of SRHRM, while few went deeper to discuss its mechanisms. To address this gap, our study developed and tested a novel theoretical model with empirical evidence on the enabling and constraining effects of role ambiguity on employee performance. Particularly, role ambiguity caused by SRHRM may divert employees from business-oriented performance, such as task performance, to more society-oriented work, such as OCBs, resulting in an enabling effect on OCBs and a constraining effect on task performance. By assessing the differentiated mediation of role ambiguity between SRHRM and task performance as well as OCBs, our findings complement the existing focus on the positive mechanism of SRHRM impact. By doing so, this study also provides a broader application of situational-strength theory in an organizational context.
Third, our study identified prosocial motivation as a critical contingency for how role ambiguity affects employee outcomes. Our research shows that individuals with high prosocial motivation are more likely to engage in OCB under role ambiguity. Consistent with our expectations, our research reveals the surprising finding that prosocial motivation might distract employees from their task performance under role ambiguity. One possible explanation may be that people fueled by high prosocial motivation appear to pay more attention to others' needs rather than to their own interests. Our findings provide novel insights into the different roles of prosocial motivation in guiding individuals' behaviors under role ambiguity. We also responded to calls for greater attention to individual characteristics as moderators of SRHRM effects [
4
].
In addition to the SRHRM literature, our research also contributed to the areas of sustainability psychology and sustainable development. As the prior literature has shown, SRHRM serves as a set of organizational practices aimed at promoting individual welfare, as well as sustainable development in the long run. By exploring the psychological process of SRHRM practices in an organizational context, this research provides fresh insight and empirical support to the role of individual psychological factors in promoting sustainability. Therefore, our research responds to Di Fabio [
78
] to recognize and adopt the value of psychology and the psychological approach in promoting sustainable development. Together, our research results take an important step toward understanding the complex factors that contribute to human well-being, and healthy organization and sustainability with a transdisciplinary framework [
43
,
79
].
5.2. Practical Implications
This study has important practical implications for companies in today's business world. It has long been recognized that taking part in CSR would lead to positive outcomes for both society and organizations. Nevertheless, our research finds that engaging employees in CSR initiatives with human resource management practices could lead to role ambiguity, which in turn promotes employee OCBs and decreases their task performance. More interestingly, the opposite effects between task performance and OCBs are more remarkable among those who have high prosocial motivations. How, then, does one handle the double-edged effects of SRHRM in practice?
First, managers should be much clearer about their SRHRM. Although there are benefits to engaging in SRHRM, managers need to be aware that encouraging employees to engage in organizational CSR initiatives may inadvertently give rise to work-expectation ambiguity. To eliminate potential confusion from employees, caring and responsible values should be promoted, rather than specific forms of CSR activities. Therefore, managers should encourage employees to translate this idea of responsibility into their attitudes and, more importantly, to the creative actions in their position, such as developing environmentally friendly products, and researching energy-saving and emission-reduction technologies.
Second, it would be wiser for an organization to carry out CSR activities related to their main business. Our findings showed that focusing on the prosocial impact of their work may divert the focus of employees from their task performance to OCBs. To reconcile this contradiction between business-oriented and society-oriented performance, organizations should connect CSR activities with the main business to develop a competitive advantage. For example, organizations in energy-domain projects, such as poverty alleviation, may develop through modern energy and the renovation of clean stoves. In this way, an organization can align social welfare with business development.
5.3. Limitations and Future Research
Like other studies, our work has several limitations that should be addressed in future research. First, we asked employees to evaluate the extent to which SRHRM is conducted in their organizations. It is important to note that this approach assesses perceptions regarding SRHRM policies rather than actual practices. As such, the rating of SRHRM perceptions may be biased by various unobserved factors.
Second, to explore the double-edged effects of SRHRM, we only examined two kinds of employee outcomes: business-oriented performance, operationalized as task performance, and society-oriented performance, operationalized as OCBs. However, this does not address the full potential range of the potential negative outcomes of SRHRM. For example, some researchers contended that employees could engage in subsequent deviant behaviors when required to perform good deeds, as they may feel a moral-license effect.
Third, we proposed and tested the mediating mechanisms of role ambiguity on the relationship between SRHRM and employee outcomes. However, other processes that we did not disentangle may also exist. For example, too many CSR policies may lead to an emotional response, such as anxiety or even emotional exhaustion.
Fourth, although prosocial motivation was theoretically identified as the boundary condition between role ambiguity and employee performance, there are other relevant individual characteristics that may also need to be considered. For example, it would be interesting to explore whether individual employees with specific types of traits (e.g., time-management skills and other personal characteristics) would more positively respond to SRHRM.
In addition, our study offers several possible avenues for future research, in particular for those focusing on further understanding the effect and underlying mechanisms of SRHRM. First, despite our individual-level research providing insights for the current SRHRM literature, we encourage future scholars to adopt cross-level analysis to deeply unpack the influence and underlying mechanism of SRHRM with both macro-situational and micro-individual factors. Second, as a kind of organizational practice combining social and business performance, SRHRM may have diverse effects on employee outcomes, both inside and outside organizations. Thus, it would be interesting for future research to investigate the relationship between SRHRM and employee outcomes, such as volunteering out of organizations and deviant behaviors at home. Third, given that our research explored the cognitive mechanism of SRHRM, future work can extend our study by testing whether emotional factors may be the mediating mechanisms in explaining the negative side of SRHRM. Overall, the current work is expected to contribute to uncovering the positive and negative consequences of engaging employees in CSR with human resource management practices.
6. Conclusions
The purpose of this research was to examine the double-edged effects of SRHRM. We found that SRHRM could increase employee OCBs while decreasing their task performance through the mediating influence of role ambiguity. Moreover, the relationship between role ambiguity and task performance, as well as OCBs, was strengthened by prosocial motivation. Therefore, it is of great importance for managers to find a balance between business and social performance when guiding employees to engage in SRHRMR practices. This is particularly the case for those with certain predispositions (e.g., prosocial motivation). Overall, our research serves as a first step toward a more complete understanding of the effects of SRHRM in both theory and practice.
Author Contributions
D.S. developed the research model and co-drafted the manuscript. E.Z. contributed to the research problem. P.G. provided constructive suggestions to improve the quality of research, and edited and co-drafted the manuscript. L.L. reviewed and edited the manuscript. J.X. revised the manuscript.
Acknowledgments
This research was supported by the National Natural Science Foundation of China under grants No. 71772072, 71772142, and 71801104, and the National Social Science Foundation of China under grant no. 16ZDA013.
Conflicts of Interest
This study has no conflict of interest.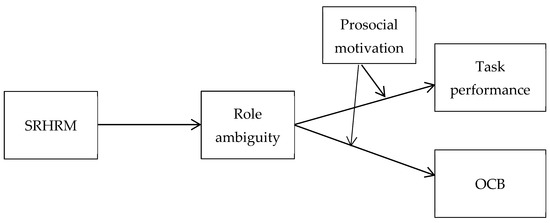 Figure 1. Proposed conceptual model of the relationship between Socially Responsible Human Resource Management (SRHRM) and employee organizational and social performance.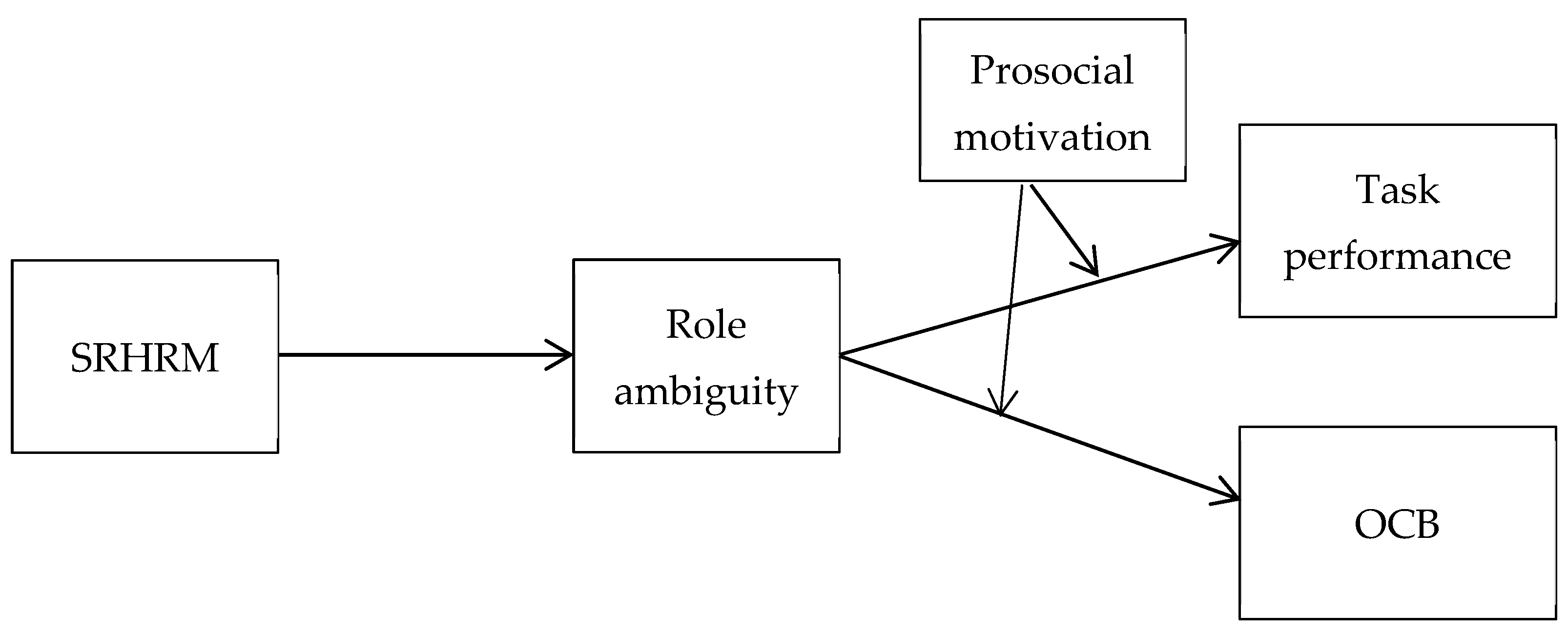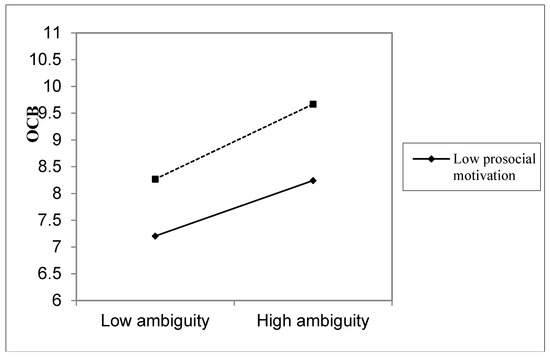 Figure 2. Effect of role ambiguity on organizational citizenship behavior (OCB) at low and high levels of prosocial motivation.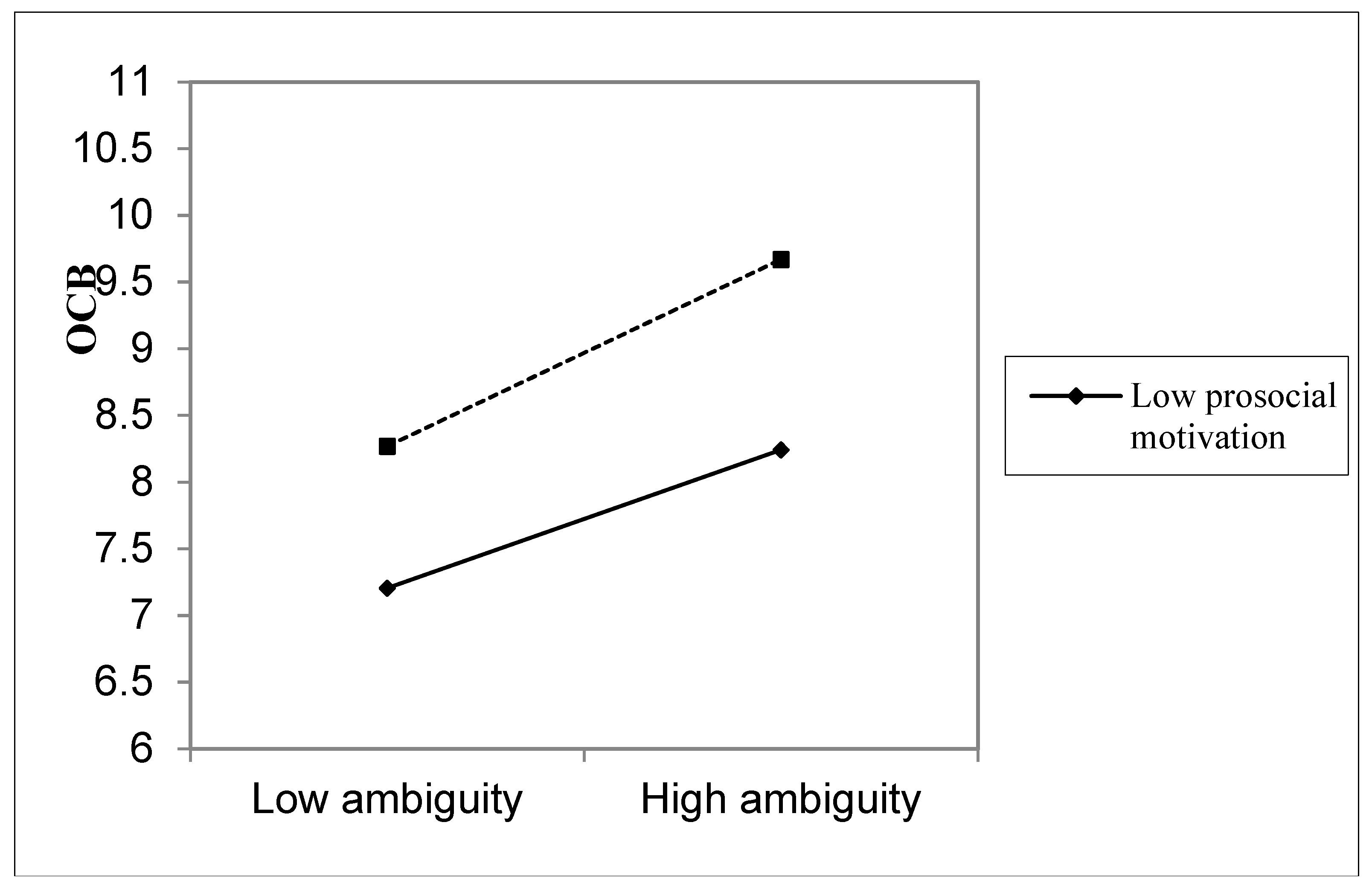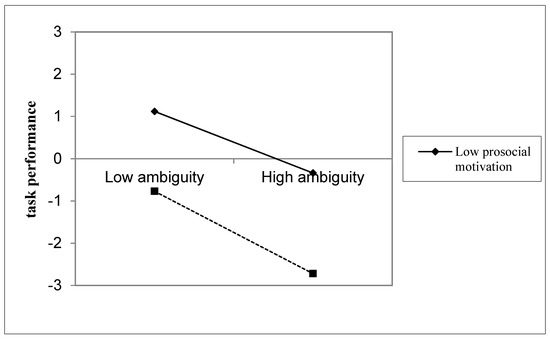 Figure 3. Effect of role ambiguity on task performance at low and high levels of prosocial motivation.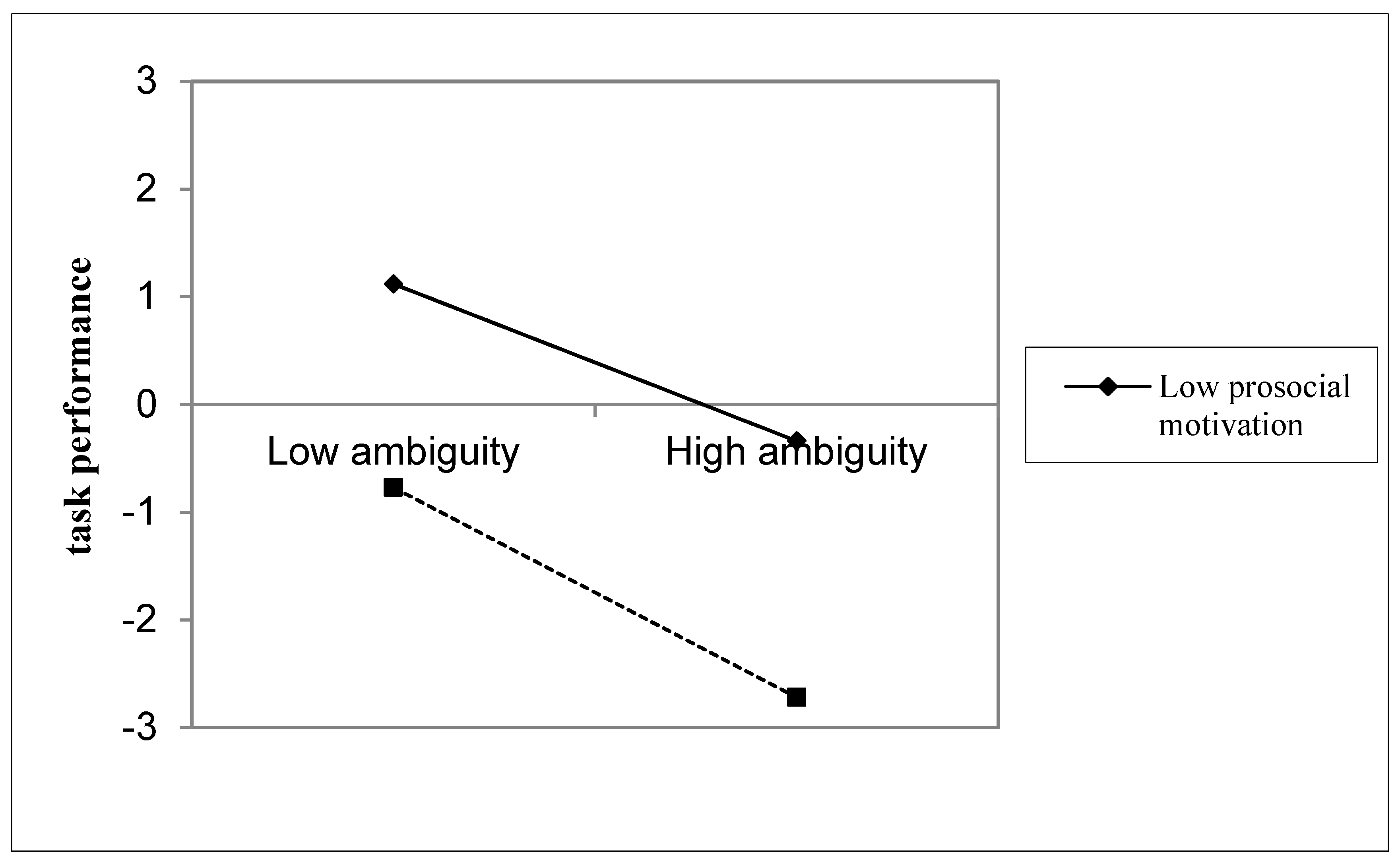 | Variables | M | SD | 1 | 2 | 3 | 4 | 5 | 6 |
| --- | --- | --- | --- | --- | --- | --- | --- | --- |
| Age | 28.71 | 3.87 | | | | | | |
| Gender | 1.42 | 0.49 | −0.03 | | | | | |
| SRHRM | 5.24 | 0.99 | 0.04 | 0.23 ** | | | | |
| Ambiguity | 5.50 | 0.97 | 0.00 | 0.21 ** | 0.21 ** | | | |
| Task performance | 4.93 | 1.17 | 0.01 | −0.04 | −0.15 * | −0.14 * | | |
| OCB | 5.54 | 0.82 | 0.00 | −0.09 | 0.08 | 0.15 ** | 0.05 | |
| Prosocial motivation | 5.44 | 1.01 | 0.14 * | −0.07 | 0.14 | 0.40 * | −0.07 | 0.15 ** |
Notes. N = 314. *

p

< 0.05; **

p

< 0.01; and ***

p

< 0.001. Consistent with our expectations, SRHRM was positively correlated with role ambiguity (r = 0.21,

p

< 0.01). Role ambiguity was positively correlated with OCBs (r = 0.15,

p

< 0.01), and negatively correlated with task performance (r = −0.28,

p

< 0.05).
| Model | χ2 | df | χ2/df | CFI | TFI | RMSEA |
| --- | --- | --- | --- | --- | --- | --- |
| Five factors | 962.73 | 395 | 2.44 | 0.89 | 0.88 | 0.07 |
| Four factors | 1813.87 | 399 | 4.59 | 0.73 | 0.70 | 0.11 |
| Three factors | 2745.82 | 402 | 6.83 | 0.55 | 0.51 | 0.14 |
| Two factors | 3592.12 | 404 | 8.89 | 0.39 | 0.34 | 0.16 |
| One factor | 4330.64 | 415 | 10.44 | 0.25 | 0.21 | 0.17 |
Notes. Five factors: SRHRM; role ambiguity; task performance; OCB; prosocial motivation. Four factors: combined SRHRM and role ambiguity; task performance; OCB; prosocial motivation. Three factors: combined SRHRM and role ambiguity; combined task performance and OCB; prosocial motivation. Two factors: combined SRHRM and role ambiguity; combined task performance, OCB, and prosocial motivation. One factor: all variables combined.
| Variable | Role Ambiguity | Task Performance | OCB |
| --- | --- | --- | --- |
| Gender | 0.35 ** (0.10) | 0.08 (0.14) | −0.22 * (0.09) |
| Age | 0.00 (−0.01) | 0.12 (0.02) | 0.00 (0.01) |
| SRHRM | 0.18 * (0.08) | −0.18 (0.11) | 0.04 (0.07) |
| Role ambiguity | | −0.20 * (0.08) | 0.17 ** (0.06) |
| Role ambiguity × prosocial motivation | | −0.17 * (0.08) | 0.16 * (0.07) |

© 2019 by the authors. Licensee MDPI, Basel, Switzerland. This article is an open access article distributed under the terms and conditions of the Creative Commons Attribution (CC BY) license (http://creativecommons.org/licenses/by/4.0/).