Multi-Objective Sustainable Truck Scheduling in a Rail–Road Physical Internet Cross-Docking Hub Considering Energy Consumption
1
LAMIH, UMR CNRS 8201, Université Polytechnique Hauts-de-France, Le Mont Houy, 59313 Valenciennes, France
2
RSAID, ENSATe, University of Abdelmalek Essaadi, Tétouan 93000, Morocco
*
Author to whom correspondence should be addressed.
Received: 15 May 2019 / Revised: 28 May 2019 / Accepted: 29 May 2019 / Published: 3 June 2019
Abstract
In the context of supply chain sustainability, Physical Internet (PI or
) was presented as an innovative concept to create a global sustainable logistics system. One of the main components of the Physical Internet paradigm consists in encapsulating products in modular and standardized PI-containers able to move via PI-nodes (such as PI-hubs) using collaborative routing protocols. This study focuses on optimizing operations occurring in a Rail–Road PI-Hub cross-docking terminal. The problem consists of scheduling outbound trucks at the docks and the routing of PI-containers in the PI-sorter zone of the Rail–Road PI-Hub cross-docking terminal. The first objective is to minimize the energy consumption of the PI-conveyors used to transfer PI-containers from the train to the outbound trucks. The second objective is to minimize the cost of using outbound trucks for different destinations. The problem is formulated as a Multi-Objective Mixed-Integer Programming model (MO-MIP) and solved with CPLEX solver using Lexicographic Goal Programming. Then, two multi-objective hybrid meta-heuristics are proposed to enhance the computational time as CPLEX was time consuming, especially for large size instances: Multi-Objective Variable Neighborhood Search hybridized with Simulated Annealing (MO-VNSSA) and with a Tabu Search (MO-VNSTS). The two meta-heuristics are tested on 32 instances (27 small instances and 5 large instances). CPLEX found the optimal solutions for only 23 instances. Results show that the proposed MO-VNSSA and MO-VNSTS are able to find optimal and near optimal solutions within a reasonable computational time. The two meta-heuristics found optimal solutions for the first objective in all the instances. For the second objective, MO-VNSSA and MO-VNSTS found optimal solutions for 7 instances. In order to evaluate the results for the second objective, a one way analysis of variance ANOVA was performed.
View Full-Text
►

▼

Figures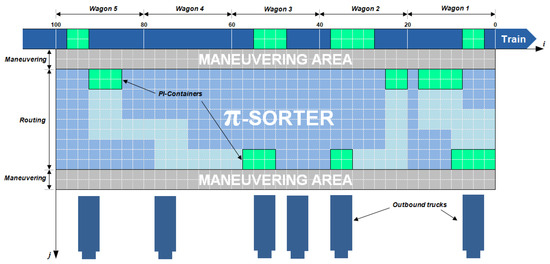 Figure 1
This is an open access article distributed under the
Creative Commons Attribution License
which permits unrestricted use, distribution, and reproduction in any medium, provided the original work is properly cited (CC BY 4.0).

Share & Cite This Article
MDPI and ACS Style
Chargui, T.; Bekrar, A.; Reghioui, M.; Trentesaux, D. Multi-Objective Sustainable Truck Scheduling in a Rail–Road Physical Internet Cross-Docking Hub Considering Energy Consumption. Sustainability 2019, 11, 3127.
Note that from the first issue of 2016, MDPI journals use article numbers instead of page numbers. See further details here.
Related Articles
Comments
[Return to top]