Open Access This article is
freely available
re-usable
Article
Biofuel Production and Phosphorus Recovery through an Integrated Treatment of Agro-Industrial Waste
1
Department of Environmental and Chemical Engineering, University of Calabria, Via P. Bucci cubo 44B, 87036 Arcavacata di Rende (CS), Italy
2
Department of Sustainability; Italian National Agency for New Technologies, Energy and Sustainable Economic Development (ENEA), P. Enrico Fermi 1, 80055 Portici (NA), Italy
3
Department of Engineering; University of Campania "Luigi Vanvitelli", Via Roma 29, 81031 Aversa (CE), Italy
4
Department of Informatics, Modelling, Electronics and Systems Engineering, University of Calabria, Via P. Bucci cubo 39C, 87036 Arcavacata di Rende (CS), Italy
*
Author to whom correspondence should be addressed.
Received: 30 October 2018 / Accepted: 18 December 2018 / Published: 21 December 2018
Abstract
:
The present study aimed to develop an integrated treatment of agro-industrial waste for biofuel (biogas and syngas) production and for phosphorus recovery. In the first step, an anaerobic digestion (AD) process was carried out on two different mixtures of raw agro-industrial residues. Specifically, a mixture of asparagus and tomato wastes (mixture-1) and a mixture of potatoes and kiwifruit residues (mixture-2) were investigated. The results proved that the properties of mixtures notably affect the evolution of the digestion process. Indeed, despite the lower organic load, the maximum biogas yield, of about 0.44 L/gCODremoved, was obtained for mixture-1. For mixture-2, the digestion process was hindered by the accumulation of acidity due to the lack of alkalinity in respect to the amount of volatile fatty acids. In the second step, the digestates from AD were utilized for syngas production using supercritical water gasification (SCWG) at 450 °C and 250 bar. Both the digestates were rapidly converted into syngas, which was mainly composed of H2, CO2, CH4, and CO. The maximum values of global gasification efficiency, equal to 56.5 g/kgCOD, and gas yield, equal to 1.8 mol/kgTS, were detected for mixture-2. The last step of the integrated treatment aimed to recover the phosphorus content, in the form of MgKPO4ˑ6H2O, from the residual liquid fraction of SCWG. The experimental results proved that at pH = 10 and Mg/P = 1 it is possible to obtain almost complete phosphorus removal. Moreover, by using the scanning electronic microscopy, it was demonstrated that the produced precipitate was effectively composed of magnesium potassium phosphate crystals.
Keywords:
anaerobic digestion; biogas; biomass; magnesium potassium phosphate; supercritical water gasification
1. Introduction
In the present paper, in order to define a suitable method to efficiently exploit the agro-industrial residues, an integrated treatment based on AD, SCWG, and MPP precipitation has been developed. This treatment represents a new approach because there have not been published works combining all the above techniques. Through conducted experiments, the factors affecting the production of biogas, from co-digestion of agro-wastes, and of syngas, from gasification of digestate, were identified. Moreover, the application modality of MPP precipitation for the treatment of the liquid phase of SCWG was determined. In particular, this process, in comparison to conventional applications, guarantees a reduction of chemicals consumption.
The developed integrated treatment is advantageous because, in addition to biofuel production and recovery of a valuable phosphorus compound, it can obtain a residual effluent characterized by a very low amount of organic matter and nutrient compounds.
2. Materials and Methods
The first phase of research aimed to define a co-digestion process of agricultural residues of typical cultivations of Southern Italy. Subsequently, the digestates produced from the anaerobic processes have been treated by SCWG for syngas production. Finally, a precipitation process for the recovery of phosphors from SCWG residual liquid phase was developed.
Figure 1
shows the scheme of the developed integrated treatment.
2.1. Co-Digestion Tests
The co-digestion tests were carried out by using four types of fruit and vegetable by-products. In particular, residues of tomatoes, potatoes, asparagus and kiwifruit were selected. Moreover, settled cattle manure and centrifuged activated sludge were exploited. The fruit and vegetable by-products were collected from an agro-industrial company located near Castrovillari (Calabria Region, Italy), the cattle manure was withdrawn from the storage tank of a cattle farm sited near Cosenza, while the activated sludge was taken from the recirculation line of the wastewater treatment plant of Lamezia Terme (Calabria Region, Italy). The six samples were stored in 15 L tanks at 4 °C.
Two different co-substrates mixtures were subjected to the digestion process. Specifically, a mixture with by-products of spring–summer vegetables, asparagus (30%
w/w
) and tomatoes (30%
w/w
) (mixture-1), and a mix with residues of summer–autumn cultivations, potatoes (30%
w
/
w
) and kiwifruit (30%
w
/
w
) (mixture-2), were prepared. Settled cattle manure (10%
w
/
w
), as an additional co-substrate, was added. The samples were ground with a commercial blender (SINOTECH,350 W) obtaining semi-fluid compounds. Afterward, centrifuged activated sludge (30%
w
/
w
), as inoculum, was added (Table 2). For each mixture, an overall amount of about 300 g was prepared to carry out the digestion tests (Table 2). In
Figure 2
some aliquots of mixtures are shown. In order to avoid initial acidic conditions, which can block the start of the digestion process, the mixtures' pH was set to around 7–7.5 using KHCO
3
. This compound was selected because it can also supply the potassium required for the subsequent treatment for phosphorus recovery. No further external compounds were added to control other operating parameters.
The digestion tests were conducted in batch mode in 1 L dark glass bottles. The containers were insulated with a sheath made of expanded polyethylene and equipped with hermetic closing caps, which were connected to volumetric gasometers by means of HDPE (high-density polyethylene) pipes.The bottles were fed with the prepared digestion test mixtures and flushed with N2 for 5 min to reach anaerobic conditions and then tightly closed and connected to gasometers. The bottles were mixed and temperature controlled at 35 °C using a heating magnetic stirrer (VELP AREX, 650 W), suitable for the mixing of concentrated wastes, provided with a bulb thermostat. The anaerobic digestion was carried out for 90 days for complete digestion of organics. The biogas production was monitored daily by measuring the liquid displacement into gasometers. The CH4 percentage was periodically detected after the neutralization of CO2 and other acid gases by means of NaOH beads. At the end of tests, the digested samples were completely characterized.
2.2. SCWG Reactor and Procedure for SCWG Tests
The SCWG process was carried out in a 450 mL tubular reactor (Parr Instrument Co., Moline, IL, USA) with an internal diameter of 25 mm, an external diameter of 48 mm, and a total length of 1120 mm. 150 mL of digestates from anaerobic digestion were used to carry out SCWG tests at 250 bar and at 450 °C for 50 min. The process parameters were monitored by means a manometer and a thermocouple for the temperature, which, in turn, controls the electrical heater. The autoclave was pressurized using syringe pump (Pump 500D, Teledyne Isco
®
, Lincoln, NB, USA). The syngas was quantified using a flow meter (GILMONT Instruments, Barrington, IL, USA) and analyzed in terms of composition every 3 min, through an on-line gas chromatograph (Hewlett Packard 6890, Palo Alto, CA, USA) equipped with a thermal conductivity detector. The global gasification efficiency (GGE) and the gas yield were calculated by means of the following equations:
After the SCWG tests, the remaining liquid samples were characterized with respect to their main physical–chemical parameters.
2.3. Precipitation Tests for Phosphorus Recovery
The residual aqueous phases from the SCWG treatment were subjected to a precipitation treatment to recover phosphorus in the form of magnesium potassium phosphate hexahydrate (MPP, MgKPO4⋅6H2O). In these tests, industrial grade MgCl2⋅6H2O was used as a magnesium source to promote the MPP formation. No feeding of potassium compounds was provided. Indeed, the initial KHCO3 addition to the mixtures subjected to digestion tests made the supply of further potassium sources for MPP generation unnecessary. The experiments were conducted to identify the optimal values of pH and reactant amounts. Specifically, Mg/P molar ratio (RMP) of 1, 1.2 and 1.4 and pH values of 9, 10, 11, and 12 were tested. Each test was performed in batch mode at room temperature (20–22 °C).
The reaction mixtures were prepared by adding proper volumes of a magnesium concentrated solution (1M) to 10 mL of liquid samples from SCWG, up to reach the stoichiometric ratios set for the experiments. After the reactant feeding, the pH was adjusted to the planned values by means of NaOH 0.5 N and HCl 0.1 N. The samples, placed in vials of 15 mL capacity, were stirred for 30 min at 150 rpm by using a rotary shaker. After the reaction time, the samples were left to settle for 30 min to allow the separation of the produced solid compounds. The liquid phases were withdrawn and filtered through a 0.45 μm filter before their chemical characterization. The precipitate recovered from the samples treatment was washed with deionized water, filtered, and dried at room temperature.
2.4. Analytical Methods
The salinity and pH were measured by bench instruments; total solids (TS) and volatile solids (VS) by weighing analysis after drying the samples at 105 °C and 550 °C, respectively; the chemical oxygen demand (COD) and alkalinity (ALK) by titrimetric methods; total Kjeldahl nitrogen (TKN) and ammonium nitrogen by Kjeldahl procedures; reactive phosphorus and sulfates by UV spectrophotometry; volatile fatty acids (VFA) by the distillation method, potassium, calcium, and magnesium by means of atomic adsorption spectrophotometry [
49
].The precipitate recovered from MPP precipitation tests was analyzed by scanning electron microscopy (SEM-EDS).
Measurements were executed three times, and the mean value was considered. The results of the efficiencies reported were representative of the actual removal or production of the compounds. Thus, the values were not affected by dilution because of reactant additions in the various processes.
3. Results and Discussion
The results of co-digestion, supercritical water gasification, and precipitation tests are reported and discussed in the following subsections.
4. Conclusions
In the present work, a new integrated treatment was defined for the production of biofuels and the recovery of phosphorus compounds from agro-industrial residues. First of all, anaerobic co-digestion was carried out to produce biogas by exploiting raw waste mixtures. Afterward, the residual digestates were converted to syngas using SCWG. Finally, the liquid phases from SCWG were treated to recover the phosphorus content as MgKPO4⋅6H2O crystals.
The results of digestion tests proved the importance of properly selecting and mixing the substrates to achieve efficient biogas production. The excessive organic load and VFA/ALK ratio of mixture-2 negatively affected the digestion process. In this mixture, a low biogas yield of about 0.22L/gCODremoved was obtained, with a COD abatement only of 51%. On the contrary, the balanced properties of mixture-1 enable a remarkable level of biogas production, equal to 0.44 L/gCODremoved, with a high methane fraction of 74% and a COD removal of about 70%.
The results of SCWG tests demonstrated the feasibility of the direct gasification of the digestate. The gas composition was similar for both samples and the main gas constituents were H2, CH4, CO2 and CO. The feedstock load had an important role in syngas production. The gasification of the digestate from test mixture-2 showed higher efficiencies with a GGE = 56.5 g/kgCOD and a gas yield of 1.8 mol/kgTS. The complex and refractory organic compounds of the digestate of mixture-1, probably, reduced the SCWG performance. Regardless, satisfactory values of GGE = 31.0 g/kgCOD and a gas yield = 0.7 mol/kgTS were detected in this sample.
The results of precipitation tests defined a suitable process to efficiently recover the phosphorus content from the residual liquid phase of SCWG. With the identified operating conditions (pH = 10, Mg/P = 1), almost complete P removal and recovery were obtained. This process is particularly favorable because the alkaline pH of liquid from SCWG avoids the need for pH correction. Moreover, the addition of potassium sources was also unnecessary. These aspects notably reduce chemicals consumption. Finally, it was proven that the produced precipitate was composed of MgKPO4⋅6H2O crystals, a compound potentially reusable as slow-release fertilizer.
Therefore, the proposed integrated treatment could be a suitable approach to exploit agro-wastes because it can produce biofuels and valuable chemicals and generates a residual effluent with a very low polluting load. Regardless, the applicability of the overall process at full-scale plant and the economic evaluation require further investigations. Indeed, some aspects, such as the benefits that could be derived from the MPP production and from the exploitation of biofuels, must be examined.
Author Contributions
A.S. planned the work and the experiments and wrote the part concerning AD and phosphorus recovery; C.L. carried out the experiments of AD and phosphorus recovery; S.M. carried out the experiments and wrote the part of SCWG; A.M. conceived the experiments and supervised the work; V.C. revised the manuscript.
Funding
This research received no external funding.
Conflicts of Interest
The authors declare no conflicts of interest.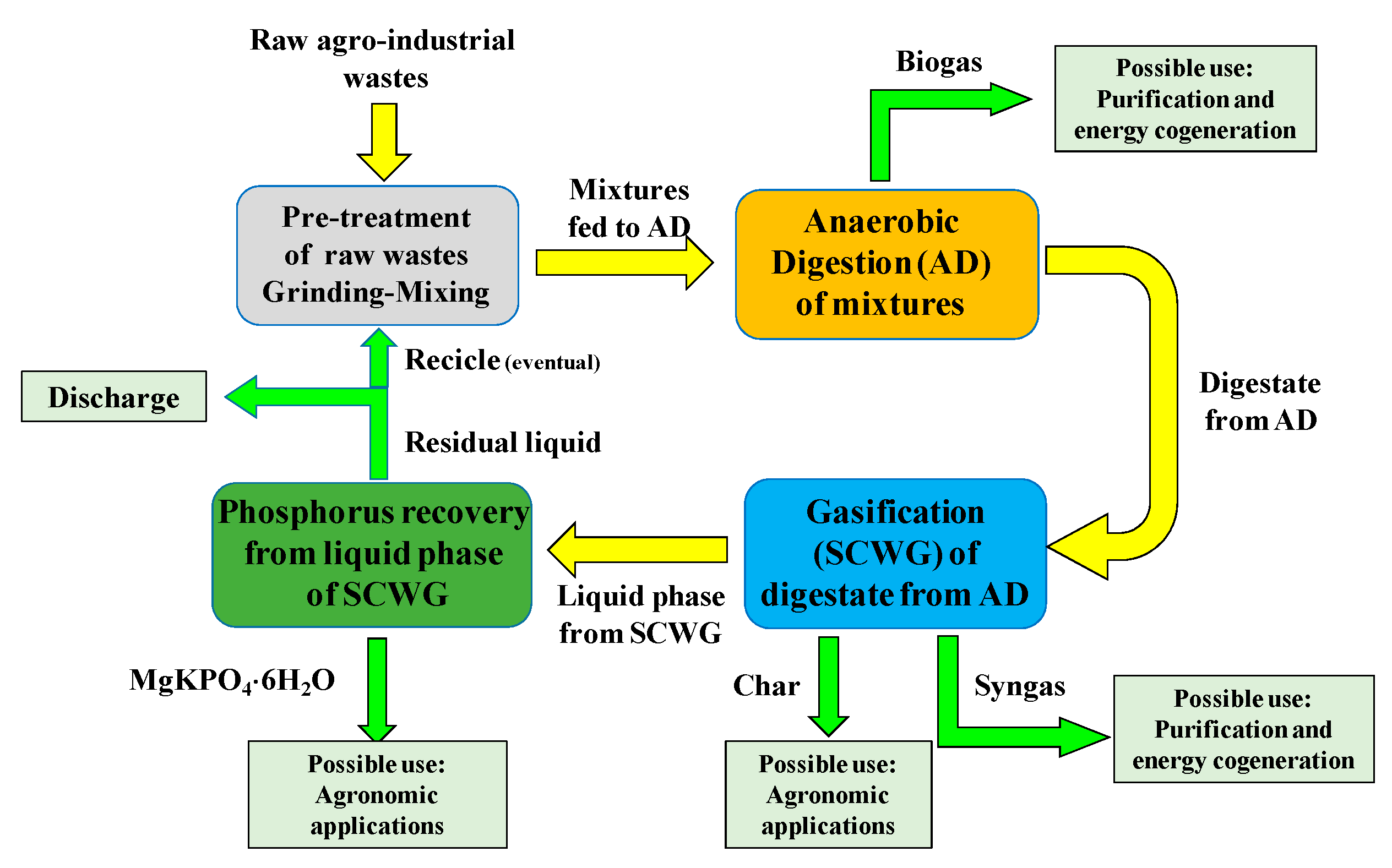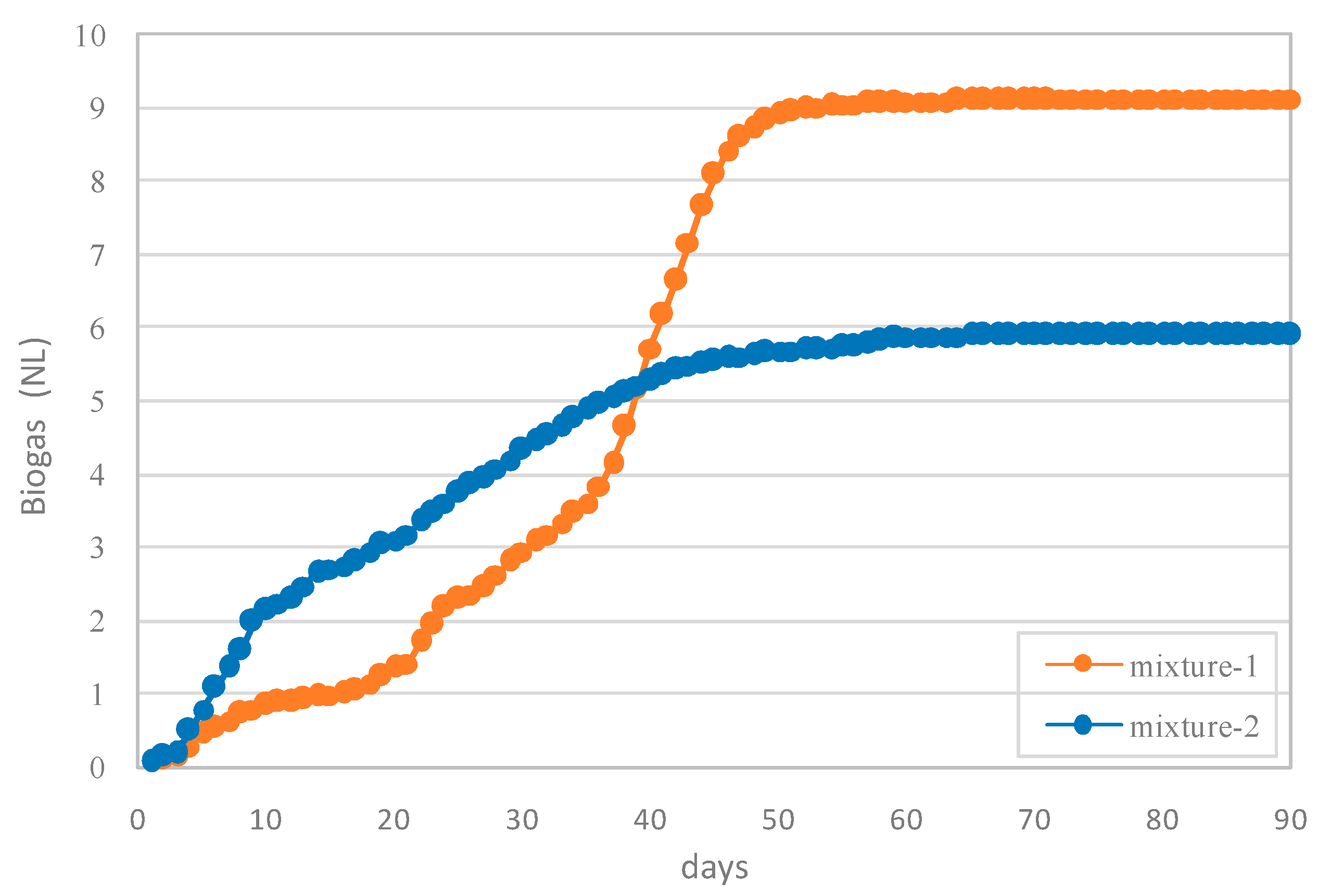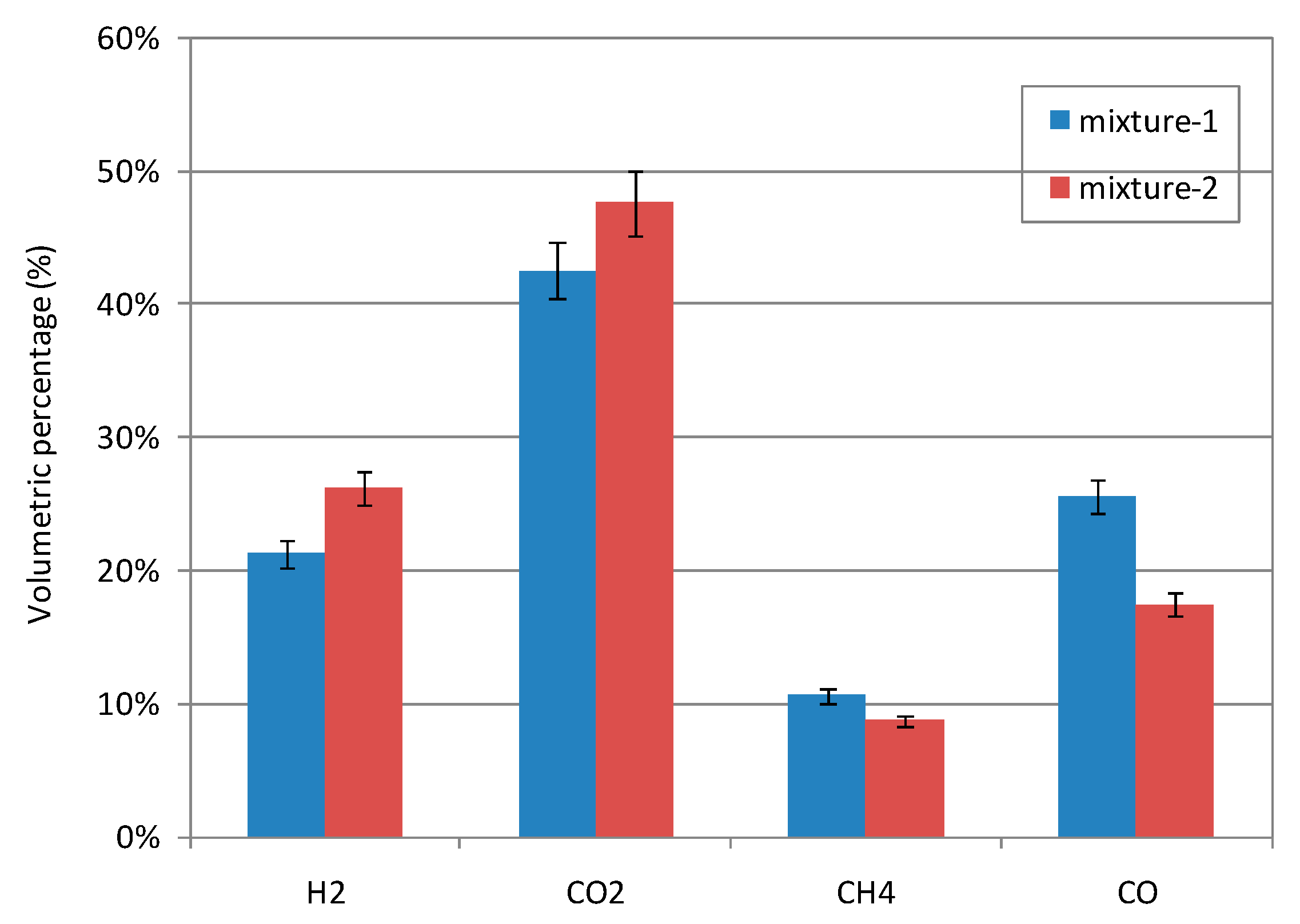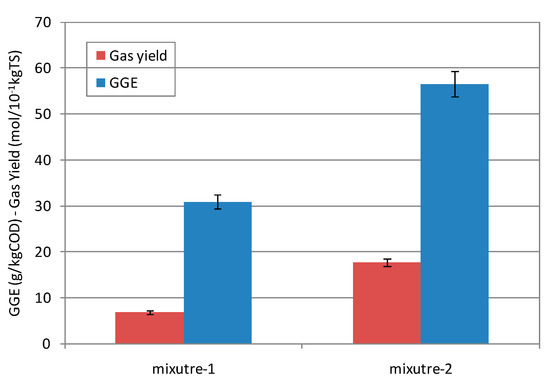 Figure 6. Global gasification efficiency and total gas yield detected in digestates of mixture-1 and mixture-2.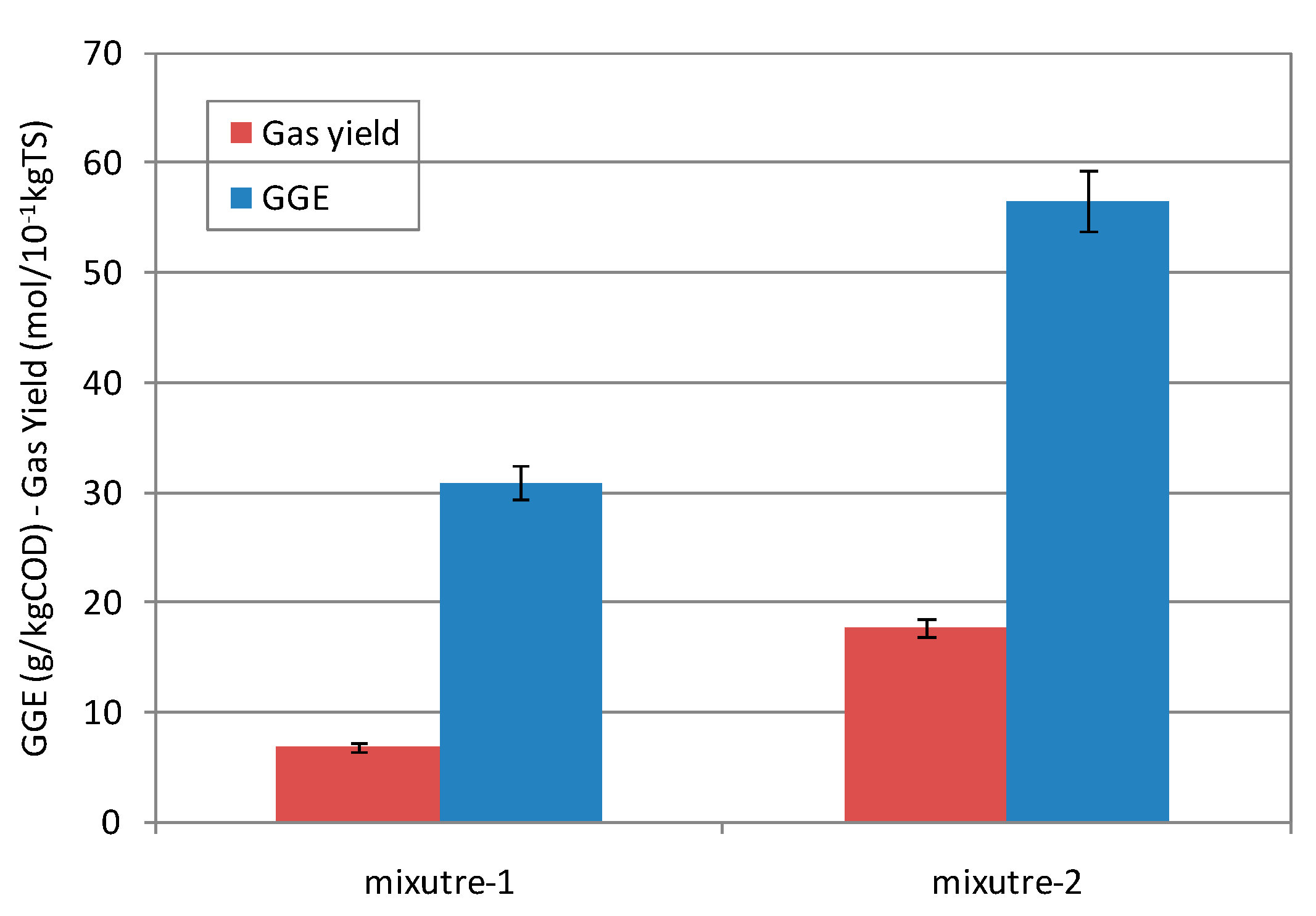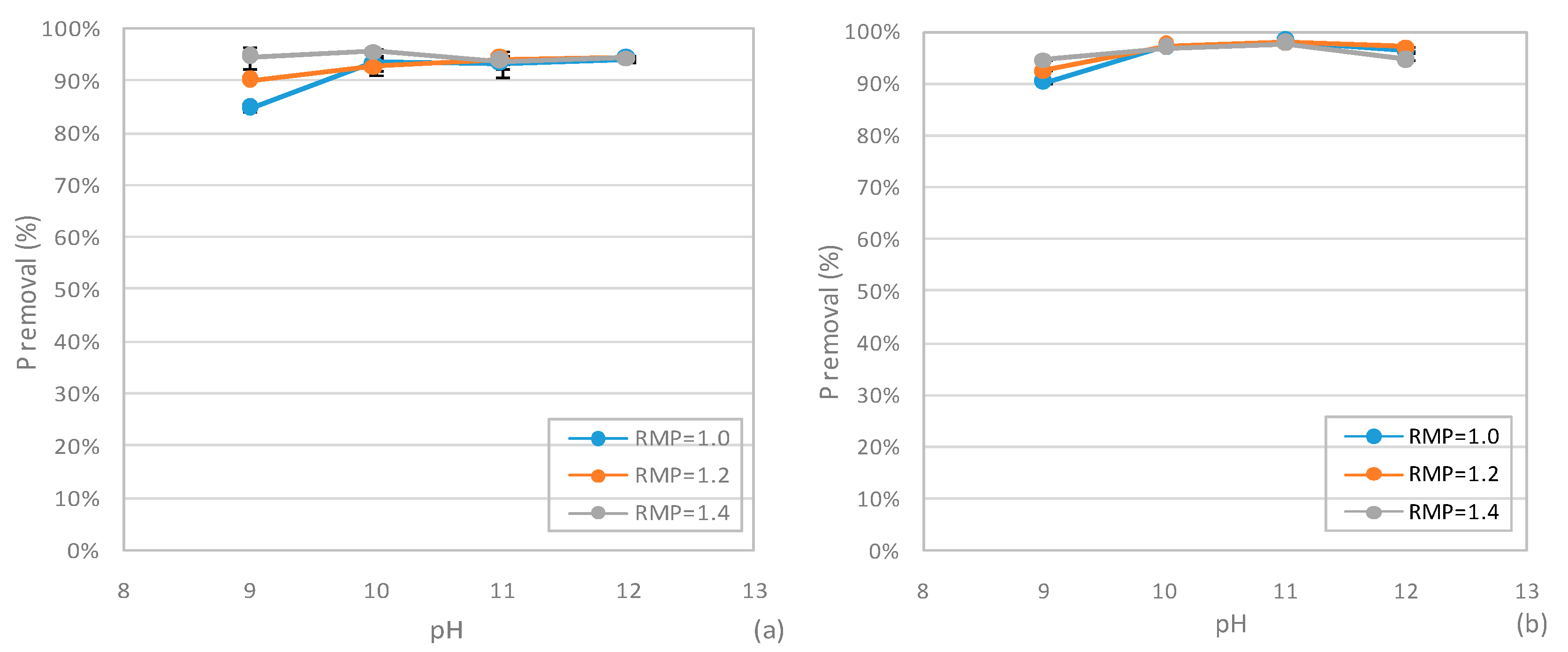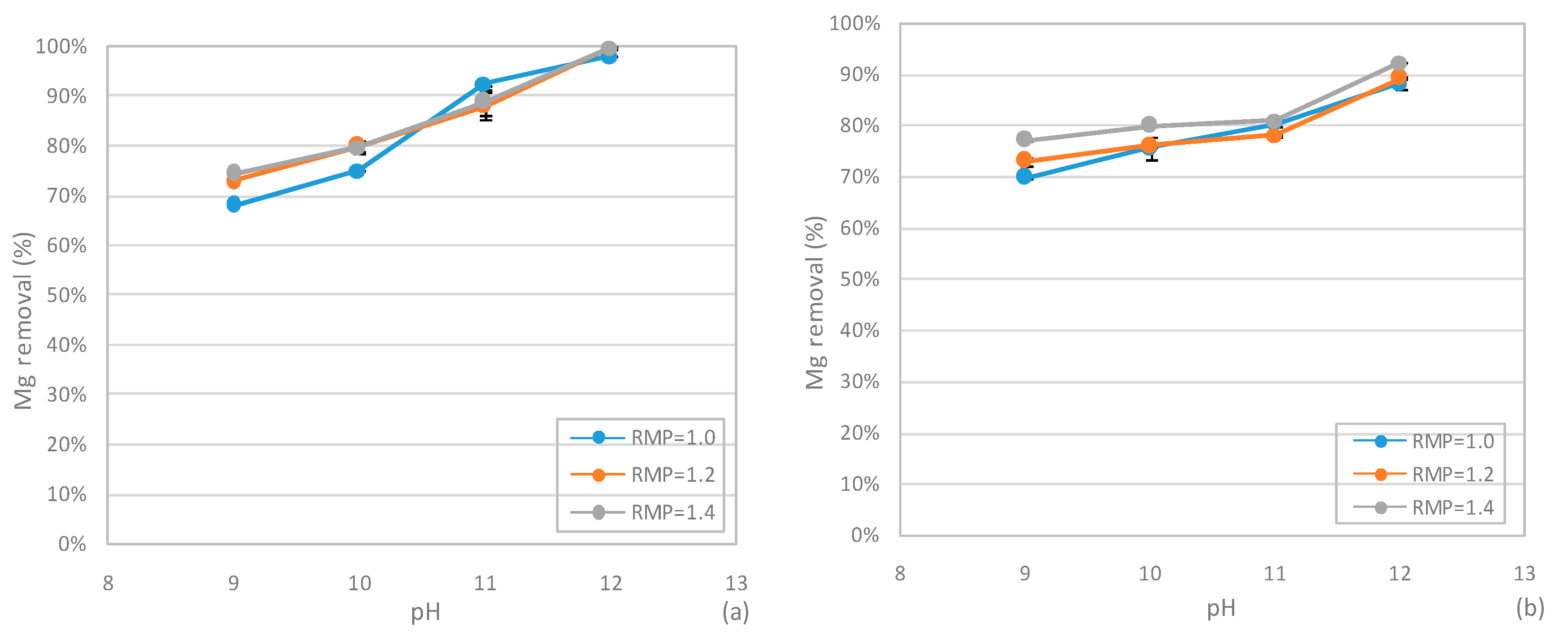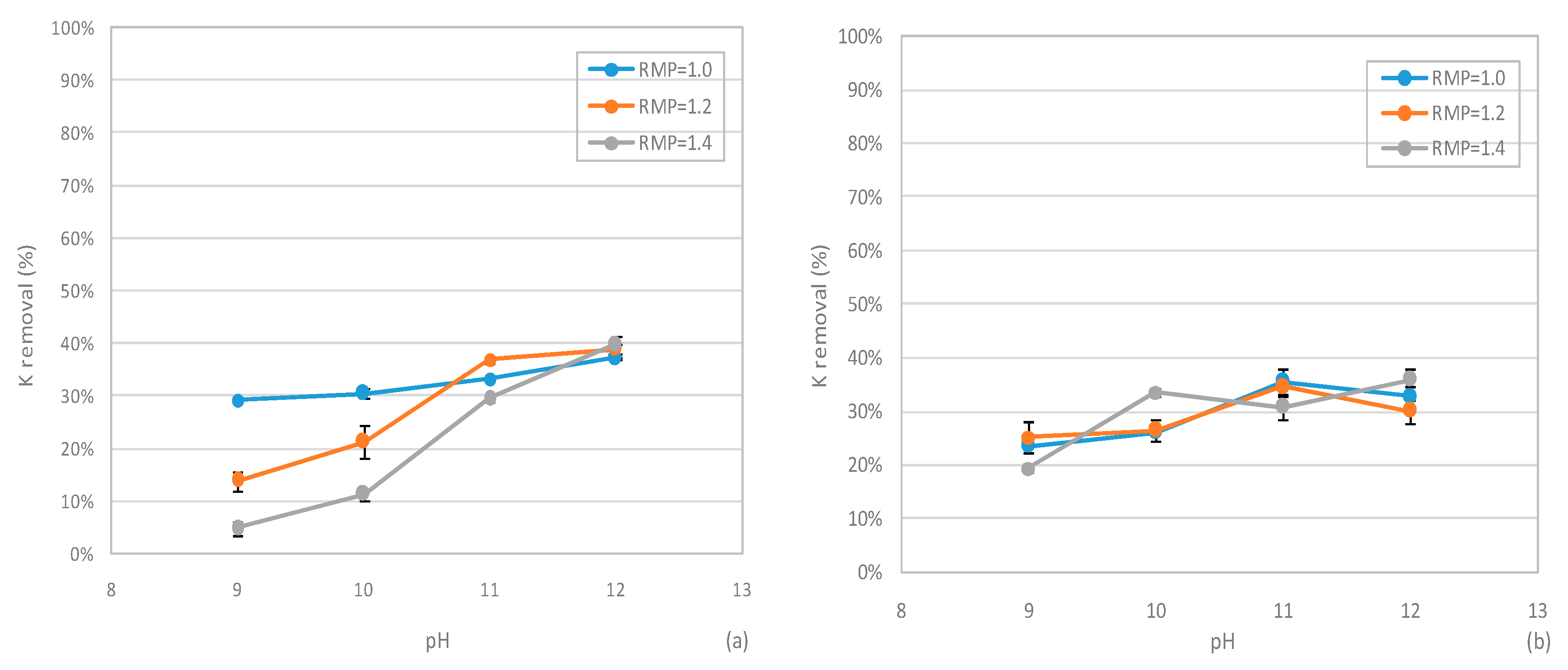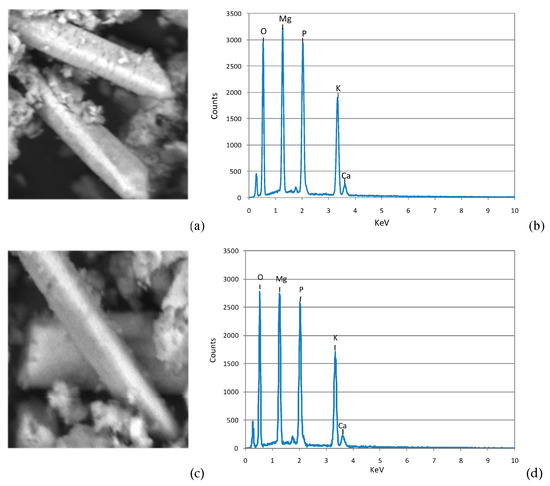 Figure 10. SEM images of precipitate from mixture-1 (a) and mixture-2 (c); EDS spectrum of precipitate from mixture-1 (b) and mixture-2 (d).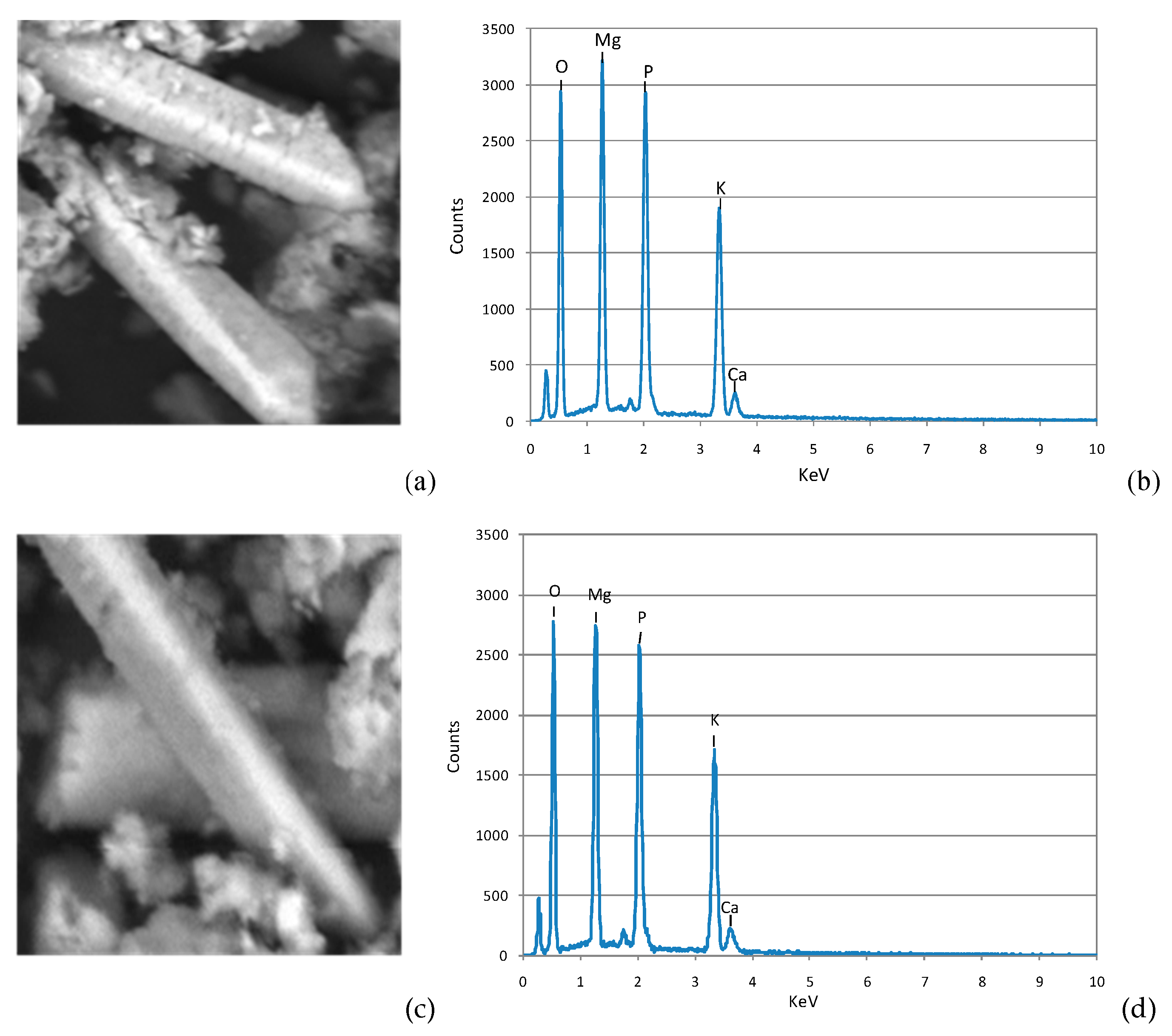 Parameter
Type and Characteristics of Agro-Industrial Wastes
Tomato Waste
Kiwifruit Waste
Asparagus Waste
Potato Waste
Cattle Manure
Activated Sludge
pH
4.4
3.2
6.4
6.0
7.2
6.7
Conductivity [mS/cm]
8.4
14.4
17.8
13.8
34.1
2.2
COD [g/L]
88.0
236.9
105.9
208.9
104.8
115.4
TS [g/L]
87.5
222.9
81.4
180.8
93.1
98.9
VS [g/L]
78.0
204.5
74.3
170.1
73.9
81.3
TS [%TQ]
8.75
22.3
8.1
18.1
9.3
9.9
VS [%TQ]
7.8
20.4
7.4
17.0
7.4
8.1
VS [%TS]
89.1
91.7
91.3
94
79.3
82.2
TKN [g/L]
1.67
3.10
4.51
3.54
4.92
1.63
N-NH4+ [g/L]
0.342
0.360
0.424
0.588
1.259
0.693
P-PO43− [g/L]
0.574
0.697
1.174
0.380
0.908
0.702
SO42− [g/L]
0.480
0.317
1.575
0.254
3.135
1.207
Alkalinity [gCaCO3/L]
6.205
5.160
9.292
14.777
28.055
1.506
VFA [g CH3COOH/L]
4.055
4.049
7.442
16.806
17.814
2.962
VFA/Alkalinity
0.65
0.78
0.8
1.13
0.0.63
1.97
COD/N
52.7
76.4
23.5
59.0
21.3
70.67
N/P
2.9
4.4
3.8
9.3
5.4
2.3
Note: Measurements were executed three times, and the mean value was considered. The relative standard deviation was less than 5% in all measurements.

Table 2. Initial and final chemical composition of test mixtures subjected to anaerobic digestion (AD) and supercritical wet gasification (SCWG).
Parameter
Mixture 1
Mixture 2
Mixture fed to AD
Digestate from AD
Liquid from SCWG
Mixture fed to AD
Digestate from AD
Liquid from SCWG
pH
7.2
8.2
11.9
7.5
5.0
11.88
Conductivity [mS/cm]
11.5
16.3
31.7
12.4
18.2
34.5
COD [g/L]
100.8
30.4
0.150
170.1
82.5
0.181
TS [g/L]
89.7
45.9
28.5
151.5
95.1
30.7
VS [g/L]
81.4
20.5
0.14
135.1
57.3
0.17
TS [%TQ]
8.9
4.6
2.85
15.15
9.5
3.07
VS [%TQ]
8.14
2.0
0.014
13.5
5.7
0.017
VS [%TS]
90.7
44.5
0.5
89.2
60.25
0.55
TKN [g/L]
2.54
2.25
-
2.876
2.68
-
N-NH4+ [g/L]
0.58
1.468
-
0.576
1.196
-
P-PO43− [g/L]
0.826
1.128
0.462
0.604
0.988
0.503
SO42− [g/L]
1.373
1.310
0.592
0.767
0.602
0.534
K+ [g/L]
1.64
1.71
1.81
2.58
2.61
2.82
Mg2+ [g/L]
0.39
0.32
0.036
0.38
0.41
0.028
Ca2+ [g/L]
0.44
0.37
0.07
0.49
0.55
0.08
Alkalinity [gCaCO3/L]
20.171
17.693
18.48
14.843
15.130
19.33
VFA [gCH3COOH/L]
6.144
3.489
-
8.260
61.461
-
VFA/ALK
0.30
0.19
-
0.55
4.06
-
COD/N
39.87
13.51
-
59.1
30.8
-
N/P
3.07
2.0
-
4.76
2.71
-
Note Measurements were executed three times, and the mean value was considered. The relative standard deviation was less than 5% in all measurements.

© 2018 by the authors. Licensee MDPI, Basel, Switzerland. This article is an open access article distributed under the terms and conditions of the Creative Commons Attribution (CC BY) license (http://creativecommons.org/licenses/by/4.0/).