Assessment of Benefits of Conservation Agriculture on Soil Functions in Arable Production Systems in Europe
1
Department of Plant and Environmental Sciences, University of Copenhagen, Højbakkegård Alle 30, 2630 Taastrup, Denmark
2
Department of Technical and Soil Sciences, University of Agricultural Sciences and Veterinary Medicine Cluj-Napoca, 400372 Cluj-Napoca, Romania
3
Department of Soil Health and Plant Nutrition, Austrian Agency for Health and Food Safety (AGES), Spargelfeldstrasse 191, A-1220 Vienna, Austria
4
Department of Chemistry, Life Sciences and Environmental Sustainability, University of Parma, Parco Area delle Scienze 11/A, 43124 Parma, Italy
5
Teagasc Agriculture and Food Development Authority, Environment Research Centre, Johnstown Castle, Co., Wexford Y35 Y521, Ireland
6
UniLaSalle Campus Rouen, AGHYLE UP 2018-C1013 Rue du Tronquet, 76130 Mont-Saint-Aignan, France
7
Department of Agroforestry Sciences, University of Sevilla, Ctra Utrera km 1, 41013 Sevilla, Spain
8
USDA-ARS, Northern Great Plains Research Laboratory, P.O. Box 459, Mandan, ND 58554-0459, USA
9
Ecosystem management research group, Department of Biology, University of Antwerp, Universiteitsplein 1c, B2610 Antwerpen, Belgium
10
Department of Soil Science and Agricultural Chemistry, Szent Istvan University, 2100 Gödöllő, Hungary
11
Office for Pedologic and Agrochemical Studies, Cluj, 1 Fagului Street, 400483 Cluj-Napoca, Romania
*
Author to whom correspondence should be addressed.
Received: 4 December 2017 / Revised: 8 March 2018 / Accepted: 10 March 2018 / Published: 13 March 2018
Abstract
Conventional farming (CONV) is the norm in European farming, causing adverse effects on some of the five major soil functions, viz. primary productivity, carbon sequestration and regulation, nutrient cycling and provision, water regulation and purification, and habitat for functional and intrinsic biodiversity. Conservation agriculture (CA) is an alternative to enhance soil functions. However, there is no analysis of CA benefits on the five soil functions as most studies addressed individual soil functions. The objective was to compare effects of CA and CONV practices on the five soil functions in four major environmental zones (Atlantic North, Pannonian, Continental and Mediterranean North) in Europe by applying expert scoring based on synthesis of existing literature. In each environmental zone, a team of experts scored the five soil functions due to CA and CONV treatments and median scores indicated the overall effects on five soil functions. Across the environmental zones, CONV had overall negative effects on soil functions with a median score of 0.50 whereas CA had overall positive effects with median score ranging from 0.80 to 0.83. The study proposes the need for field-based investigations, policies and subsidy support to benefit from CA adoption to enhance the five soil functions.
View Full-Text
►

▼

Figures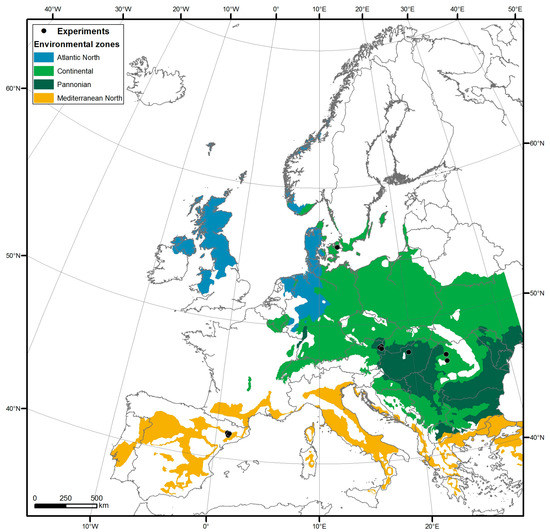 Figure 1
This is an open access article distributed under the
Creative Commons Attribution License
which permits unrestricted use, distribution, and reproduction in any medium, provided the original work is properly cited (CC BY 4.0).

Share & Cite This Article
MDPI and ACS Style
Ghaley, B.B.; Rusu, T.; Sandén, T.; Spiegel, H.; Menta, C.; Visioli, G.; O'Sullivan, L.; Gattin, I.T.; Delgado, A.; Liebig, M.A.; Vrebos, D.; Szegi, T.; Michéli, E.; Cacovean, H.; Henriksen, C.B. Assessment of Benefits of Conservation Agriculture on Soil Functions in Arable Production Systems in Europe. Sustainability 2018, 10, 794.
Note that from the first issue of 2016, MDPI journals use article numbers instead of page numbers. See further details here.
Related Articles
Comments
[Return to top]