Open Access This article is
freely available
re-usable
Article
Planning & Open-Air Demonstrating Smart City Sustainable Districts
1
DITEN—Department of Naval, Electrical, Electronic and Telecommunication Engineering, University of Genoa, 16126 Genova, Italy
2
CENS—Management Center of Savona Campus, University of Genoa-Savona Campus, 17100 Savona, Italy
*
Author to whom correspondence should be addressed.
Received: 30 October 2018 / Accepted: 4 December 2018 / Published: 6 December 2018
Abstract
:
The article is focused on the "demonstration" activities carried out by the University of Genoa at Savona Campus facilities in order to implement the "Living Lab Smart City". The idea is to transform the Savona Campus in a Living Lab of the City of the Future: smart technologies in Information and Communication Technology (ICT) and energy sectors were installed in order to show a real application of the Smart City concept to population and external stakeholders. Moreover, special attention was given to the environment, personal wellbeing, and social equalities. The sustainable energy Research Infrastructures (RIs) of Savona Campus allowed enhancement of the applied research in degree programs and the collaboration with several companies. In particular, an important partnership with the Italian electric Distribution System Operator (DSO), ENEL S.p.A., started in 2017 to test the capability of these RIs to operate disconnected from the National Grid, relying only on the supply of renewables and storage systems. The "Living Lab Smart City" is an important action to reduce the carbon footprint of the Savona Campus and to increase the awareness of students, teachers and researchers towards Sustainable Development in Higher Education Institutes.
Keywords:
smart city; living lab; sustainability; sustainable energy; sustainable environment; wellbeing
Author Contributions
Conceptualization ad project administration, F.D. and S.B.; methodology, writing—original draft preparation, P.L.; formal analysis, P.L. and A.M.; engineering modeling, A.M.; data curation, P.L. and S.B.; writing—review and editing, S.B., F.D. and A.M.; supervision and funding acquisition, F.D.
Funding
These researches were funded by the Italian Ministry of Education and Research, the Italian Ministry of the Environment and Protection of Land and Sea, Liguria Region authority and University of Genoa.
Conflicts of Interest
The authors declare no conflict of interest.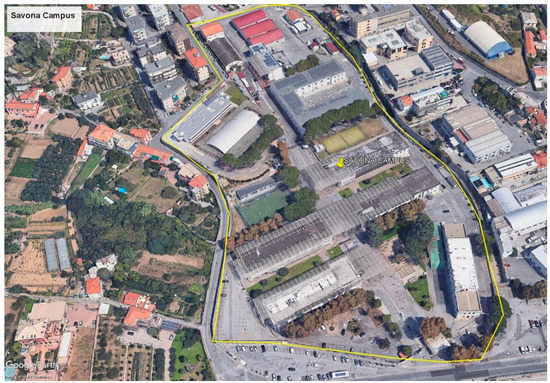 Figure 1.
Satellite map of Savona Campus area from Google Earth 2018 (Google Earth V 7.3.2.5491. (23 July 2018). Savona Campus—University of Genoa, Savona, Italy. 44°17′54′′ N, 8°27′01′′ E, Eye Alt 215 m. Available online:
https://earth.google.com/web/
). The yellow line represents the Campus wall.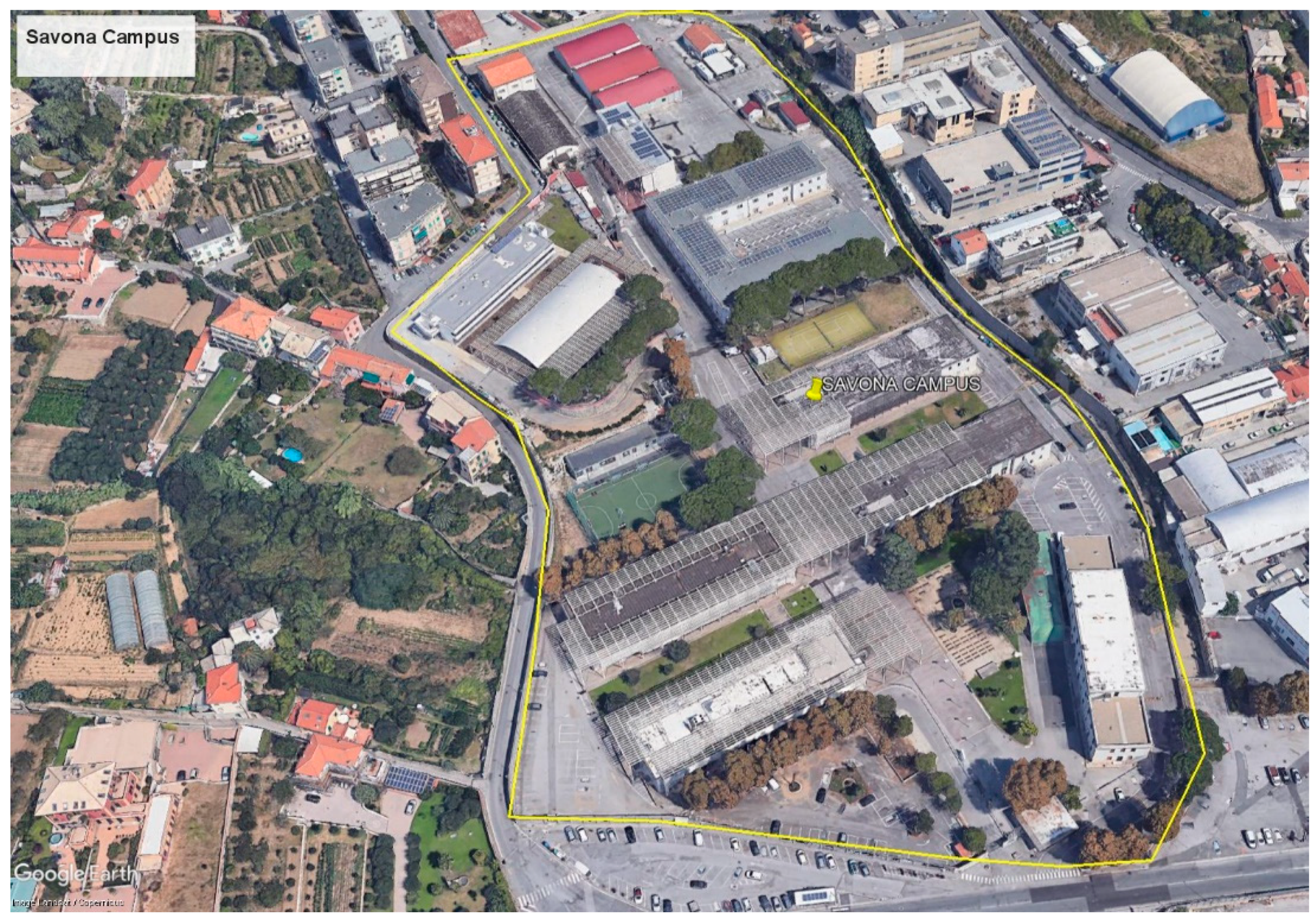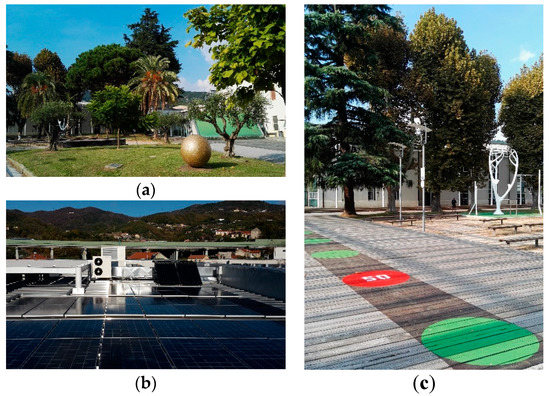 Figure 2. The figure shows some photos of Savona Campus: (a) the garden near the canteen and students accommodations; (b) the photovoltaic plant and the solar thermal collectors above the Smart Energy Building; (c) part of U-trail, a 1 km outdoor fitness trail, with one training station at the top right of the photo.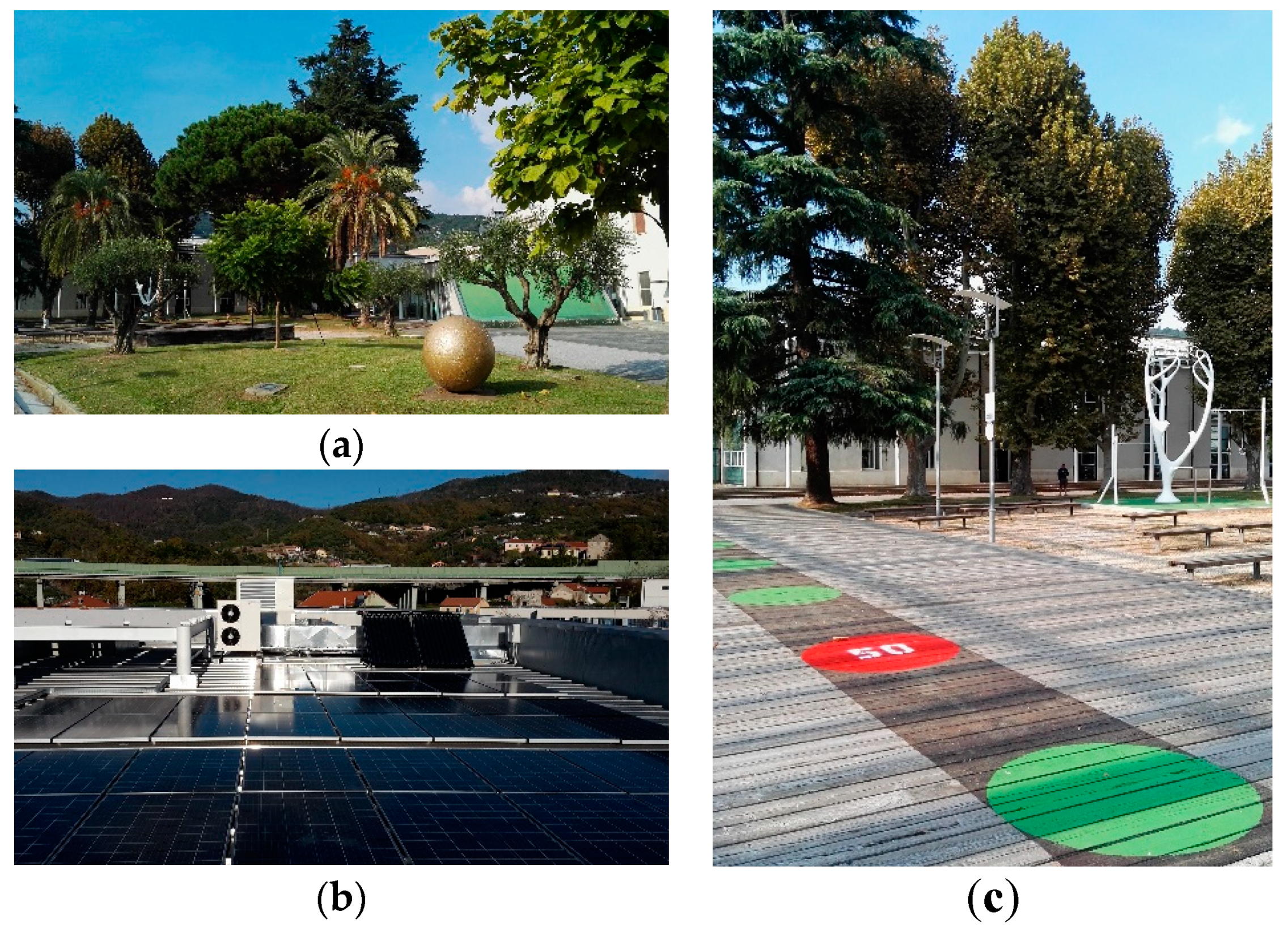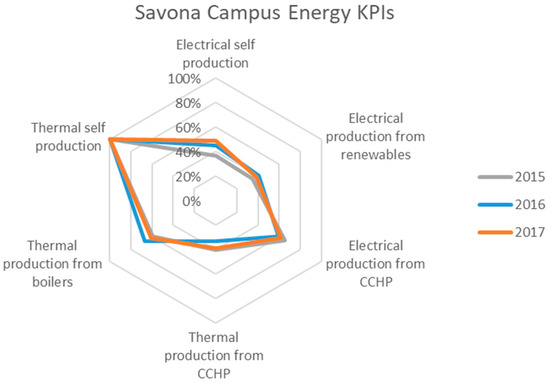 Figure 3. The spider diagram summarizes the values of the six Energy Key Performance Indicators of Savona Campus RIs. The performances were evaluated for three different years: 2015 (grey line), 2016 (blue line) and 2017 (orange line).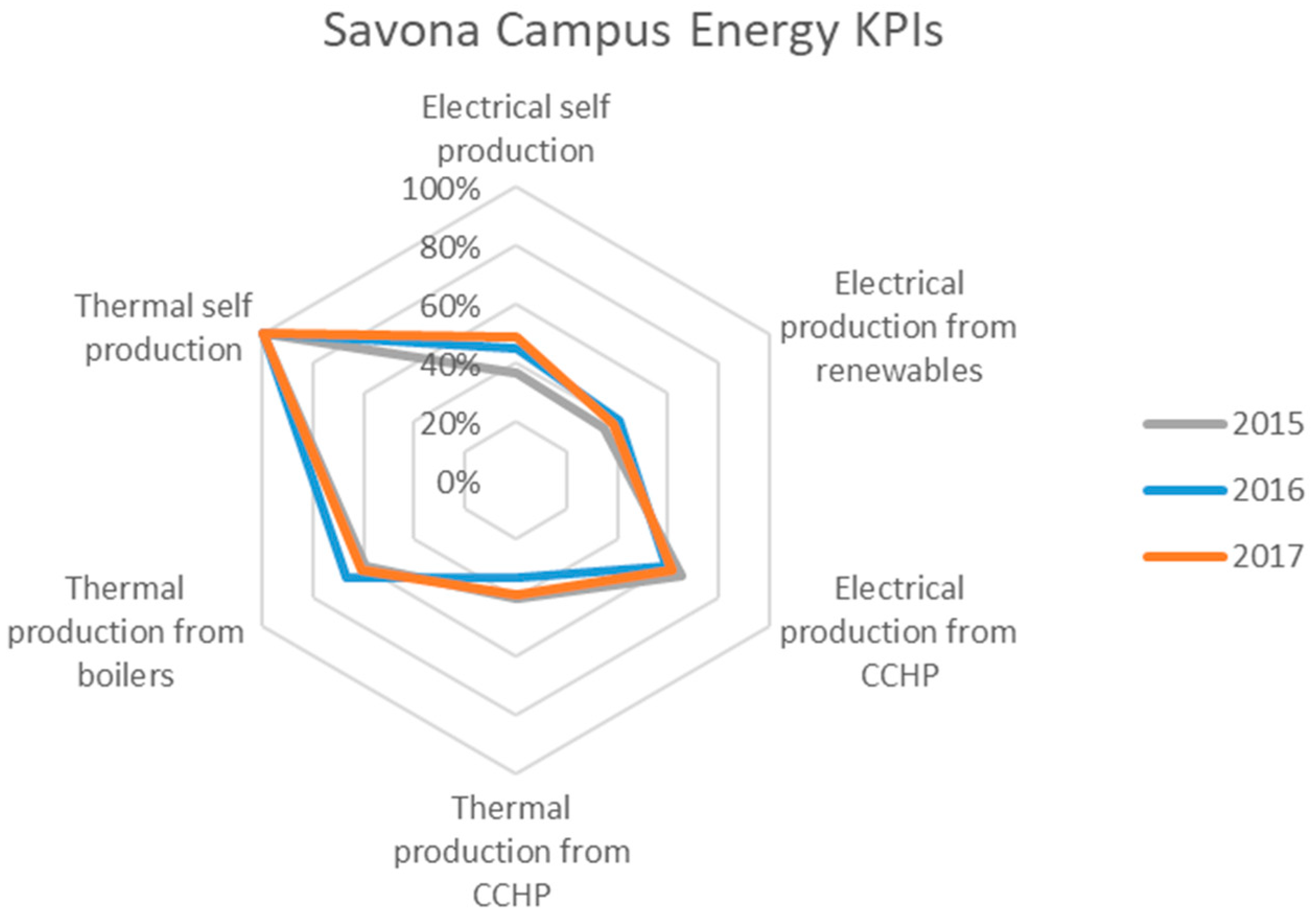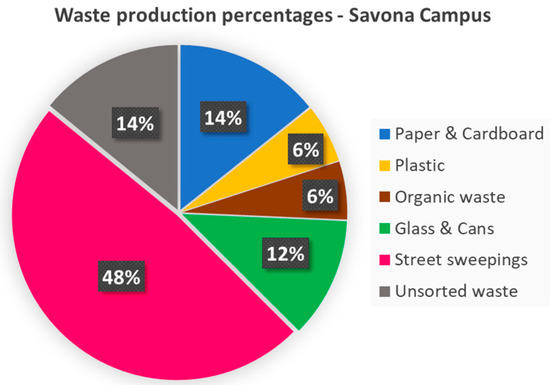 Figure 4. The pie chart shows the percentages of production relative to different types of waste: paper & cardboard, plastic, organic waste, glass & cans, street sweepings and unsorted waste.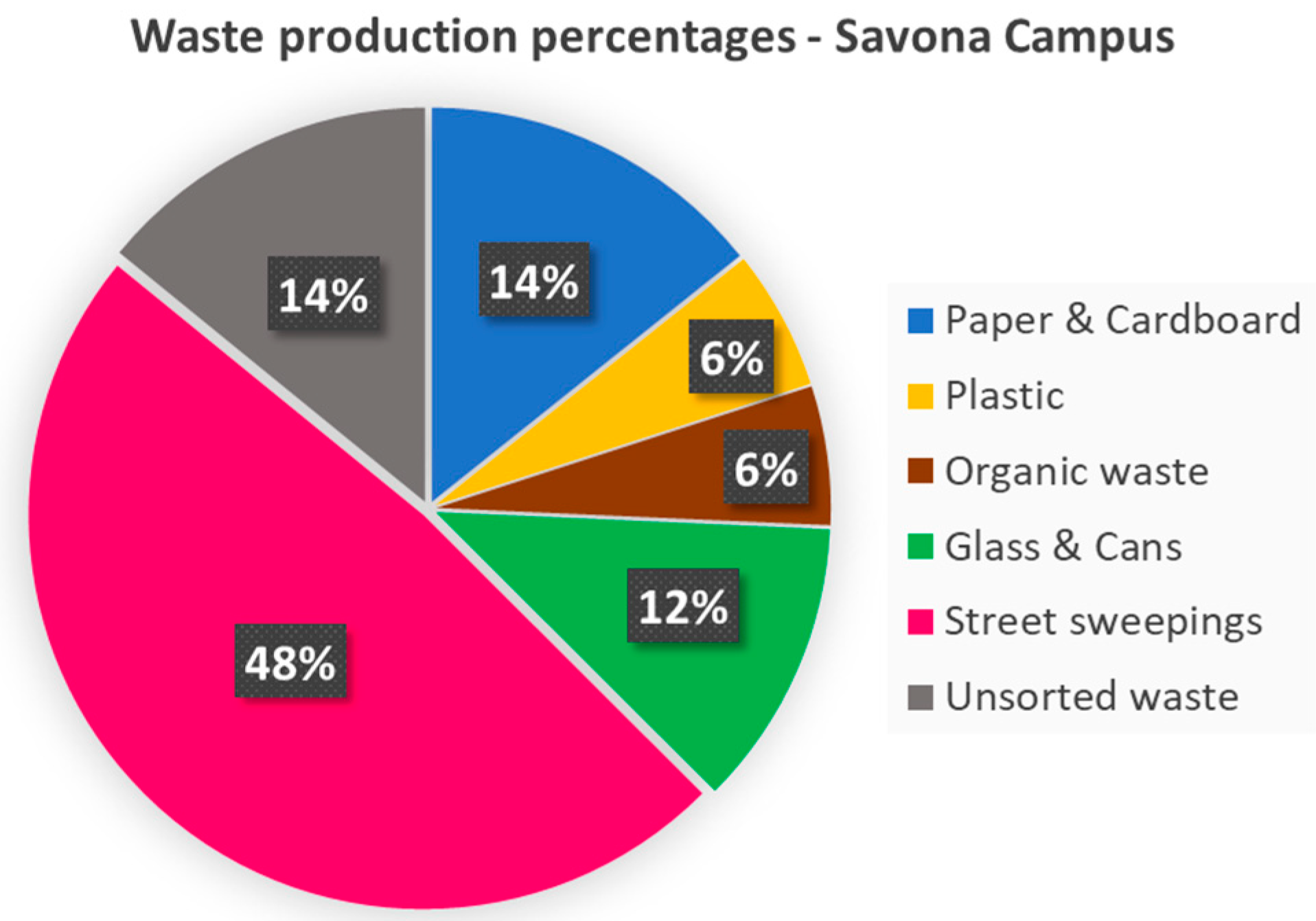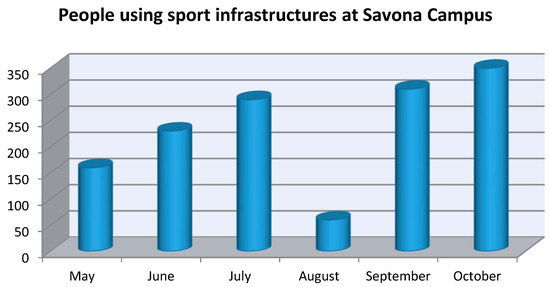 Figure 5. The graph shows the number of people (students, workers and local schools) per month, who used the sport facilities of Savona Campus from May to October 2018.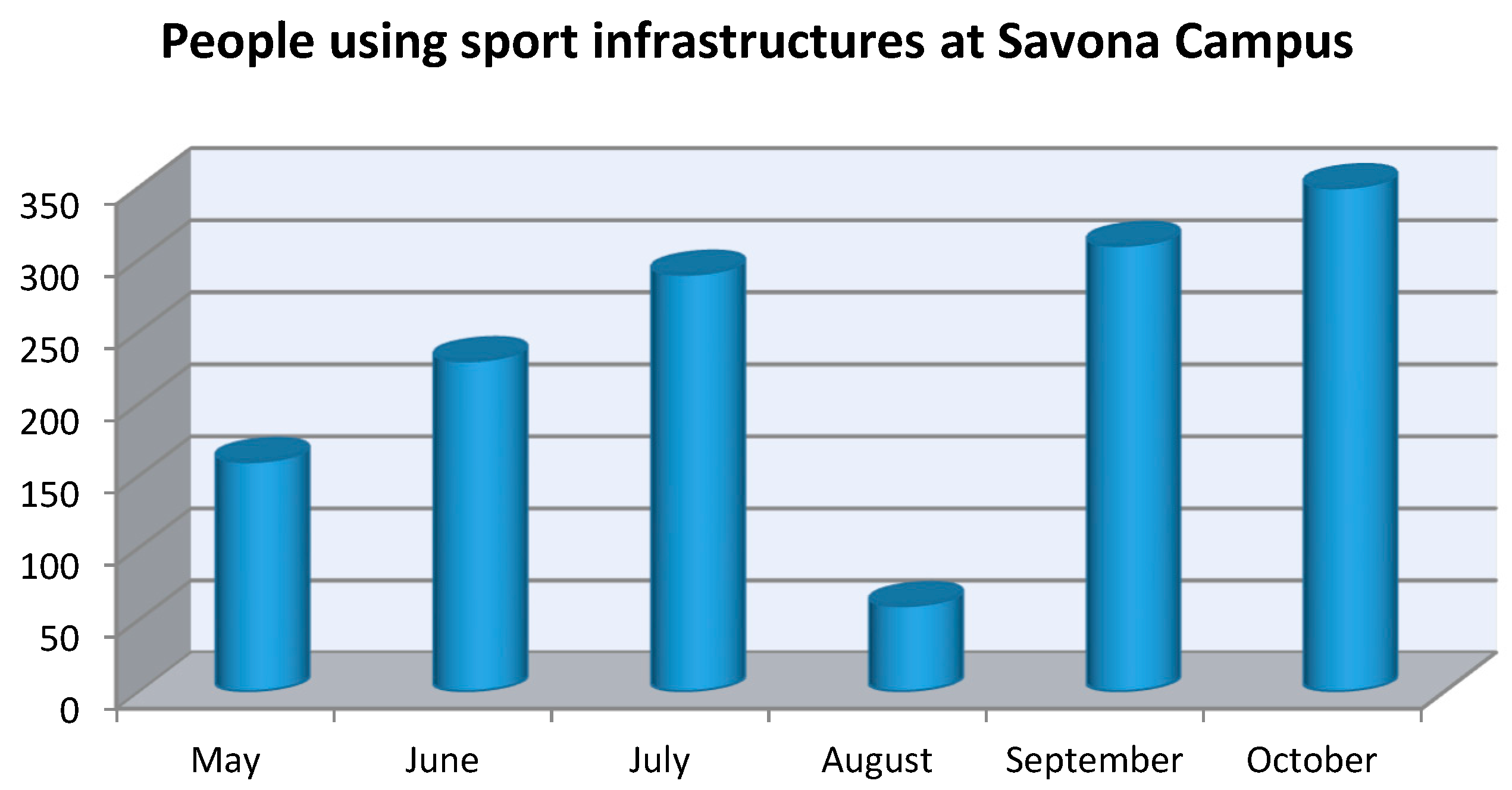 Smart City Sector
Achievements of Savona Campus
Sustainable Energy

Creation of a Smart Microgrid managed by an Energy Management System

Energy production from renewable sources and cogenerating units

Energy-efficiency interventions in public buildings

Smart Mobility

4 charging stations (2 Grid to Vehicle and 2 Vehicle to Grid)

4 electric vehicles (2 bikes and 2 cars)

73 bike parking lots

Smart Buildings

Construction of a Smart Energy Building managed by a Building Management System

Automatic light and presence sensor systems in all the buildings

Sustainable Environment

Improvement of green areas and biodiversity

Vertical hydroponic garden

Smart garden irrigation system

Rainwater collection

Improvement of waste collection

Health, Wellbeing and Social Integration

Creation of a technological gym with some instruments able to produce electricity

Creation of an outdoor fitness trail

Projects, at the design phase, to enhance the actual football field and to create a National Sport Hub for sea and water activities

Planning for special programs for the sport training of disabled people
Energy Production/Storage
Installed Power/Storage Capacity
Electricity
120 kW (PV plants)
130 kW (Cogeneration units)
Thermal energy
900 kW (Boilers)
224 kW (Thermal power – cogeneration units)
220 kW (Cooling power– absorption chillers)
45 kW (Geothermal heat pump)
2 kW (Solar Thermal collectors)
Electrical storage
140 kWh

© 2018 by the authors. Licensee MDPI, Basel, Switzerland. This article is an open access article distributed under the terms and conditions of the Creative Commons Attribution (CC BY) license (http://creativecommons.org/licenses/by/4.0/).