Biocultural Restoration of Traditional Agriculture: Cultural, Environmental, and Economic Outcomes of Lo'i Kalo Restoration in He'eia, O'ahu
1
University of Hawai'i Economic Research Organization, University of Hawai'i at Mānoa, Honolulu, HI 96822, USA
2
Water Resource Research Center, University of Hawai'i at Mānoa, Honolulu, HI 96822, USA
3
The Nature Conservancy, Hawai'i Marine Program, Honolulu, HI 96817, USA
4
Department of Natural Resources and Environmental Management, University of Hawai'i at Mānoa, Honolulu, HI 96822, USA
5
Kāko'o 'Ōiwi, Kāne'ohe, HI 96744, USA
6
Social Science Research Institute, University of Hawai'i at Mānoa, Honolulu, HI 96822, USA
7
Hawai'inuiākea, School for Hawaiian Knowledge, University of Hawai'i at Mānoa, Honolulu, HI 96822, USA
8
Botany Department, University of Hawai'i at Mānoa, Honolulu, HI 96822, USA
*
Author to whom correspondence should be addressed.
Received: 31 July 2018 / Revised: 24 November 2018 / Accepted: 25 November 2018 / Published: 29 November 2018
Abstract
There are growing efforts around the world to restore biocultural systems that produce food while also providing additional cultural and ecological benefits. Yet, there are few examples of integrated assessments of these efforts, impeding understanding of how they can contribute to multi-level sustainability goals. In this study, we collaborated with a community-based non-profit in He'eia, O'ahu to evaluate future scenarios of traditional wetland and flooded field system agriculture (lo'i kalo; taro fields) restoration in terms of locally-relevant cultural, ecological, and economic outcomes as well as broader State of Hawai'i sustainability goals around food, energy, and water. Families participating in the biocultural restoration program described a suite of community and cultural benefits stemming from the process of restoration, including enhanced social connections, cultural (re)connections to place, and physical and mental well-being, which inspired their sustained participation. We also found benefits in terms of local food production that have the potential to provide economic returns and energy savings over time, particularly when carried out through a hybrid non-profit and family management model. These benefits were coupled with potential changes in sediment and nutrient retention with implications for water quality and the health of an important downstream fish pond (loko i'a) and coral reef social-ecological system. Compared with the current land cover (primarily invasive grasses), results suggest that full restoration of lo'i kalo would decrease sediment export by ~38%, but triple nitrogen export due to organic fertilizer additions. However, compared with an urban scenario, there were clear benefits of agricultural restoration in terms of reduced nitrogen and sediment runoff. In combination, our results demonstrate that a biocultural approach can support the social and financial sustainability of agricultural systems that provide multiple benefits valued by the local community and non-profit while also contributing to statewide sustainability goals.
View Full-Text
►

▼

Figures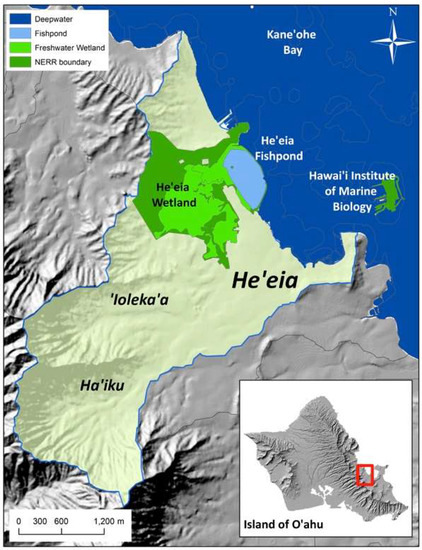 Figure 1
This is an open access article distributed under the
Creative Commons Attribution License
which permits unrestricted use, distribution, and reproduction in any medium, provided the original work is properly cited (CC BY 4.0).

Share & Cite This Article
MDPI and ACS Style
Bremer, L.L.; Falinski, K.; Ching, C.; Wada, C.A.; Burnett, K.M.; Kukea-Shultz, K.; Reppun, N.; Chun, G.; Oleson, K.L.; Ticktin, T. Biocultural Restoration of Traditional Agriculture: Cultural, Environmental, and Economic Outcomes of Lo'i Kalo Restoration in He'eia, O'ahu. Sustainability 2018, 10, 4502.
Note that from the first issue of 2016, MDPI journals use article numbers instead of page numbers. See further details here.
Related Articles
Comments
[Return to top]