Development of Hybrid Vehicle Energy Consumption Model for Transportation Applications—Part II: Traction Force-Speed Based Energy Consumption Modeling†
1
Graduate School of Environmental Studies, Nagoya University, Furo-cho, Chikusa-ku, Nagoya 464-8603, Aichi, Japan
2
Institutes of Innovation for Future Society, Nagoya University, Furo-cho, Chikusa-ku, Nagoya 464-8603, Aichi, Japan
*
Author to whom correspondence should be addressed.
†
Presented at EVS 31& EVTeC 2018, The 31st International Electric Vehicle Symposium and Exhibition International Electric Vehicle Technology Conference, Kobe, Japan, 30 September–3 October 2018.
Received: 18 April 2019 / Revised: 25 April 2019 / Accepted: 5 May 2019 / Published: 9 May 2019
Abstract
In the transportation sector, the fuel consumption model is a fundamental tool for vehicles' energy consumption and emission analysis. Over the past decades, vehicle-specific power (VSP) has been enormously adopted in a number of studies to estimate vehicles' instantaneous driving power. Then, the relationship between the driving power and fuel consumption is established as a fuel consumption model based on statistical approaches. This study proposes a new methodology to improve the conventional energy consumption modeling methods for hybrid vehicles. The content is organized into a two-paper series. Part I captures the driving power equation development and the coefficient calibration for a specific vehicle model or fleet. Part II focuses on hybrid vehicles' energy consumption modeling, and utilizes the equation obtained in Part I to estimate the driving power. Also, this paper has discovered that driving power is not the only primary factor that influences hybrid vehicles' energy consumption. This study introduces a new approach by applying the fundamental of hybrid powertrain operation to reduce the errors and drawbacks of the conventional modeling methods. This study employs a new driving power estimation equation calibrated for the third generation Toyota Prius from Part I. Then, the Traction Force-Speed Based Fuel Consumption Model (TFS model) is proposed. The combination of these two processes provides a significant improvement in fuel consumption prediction error compared to the conventional VSP prediction method. The absolute maximum error was reduced from 57% to 23%, and more than 90% of the predictions fell inside the 95% confidential interval. These validation results were conducted based on real-world driving data. Furthermore, the results show that the proposed model captures the efficiency variation of the hybrid powertrain well due to the multi-operation mode transition throughout the variation of the driving conditions. This study also provides a supporting analysis indicating that the driving mode transition in hybrid vehicles significantly affects the energy consumption. Thus, it is necessary to consider these unique characteristics to the modeling process.
View Full-Text
►

▼

Figures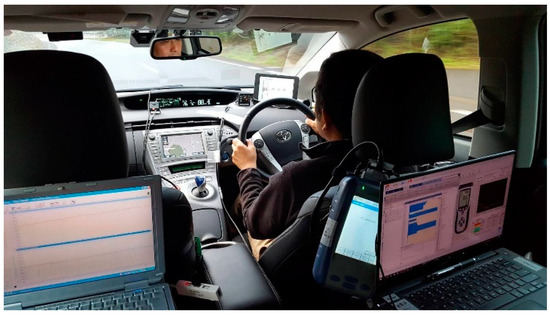 Figure 1
This is an open access article distributed under the
Creative Commons Attribution License
which permits unrestricted use, distribution, and reproduction in any medium, provided the original work is properly cited (CC BY 4.0).

Share & Cite This Article
MDPI and ACS Style
Pitanuwat, S.; Aoki, H.; IIzuka, S.; Morikawa, T. Development of Hybrid Vehicle Energy Consumption Model for Transportation Applications—Part II: Traction Force-Speed Based Energy Consumption Modeling. World Electr. Veh. J. 2019, 10, 22.
Note that from the first issue of 2016, MDPI journals use article numbers instead of page numbers. See further details here.
Comments
[Return to top]