Open Access This article is
freely available
re-usable
Review
Biofilms: Novel Strategies Based on Antimicrobial Peptides
1
Department of Biology, University of Naples Federico II, Via Cinthia, 80126 Naples, Italy
2
Department of Pharmacy, University of Naples Federico II, Via Mezzocannone 16, 80134 Naples, Italy
3
Department of Agricultural Sciences, University of Naples Federico II, Via Università 100, 80055 Portici, Italy
*
Author to whom correspondence should be addressed.
Received: 21 May 2019 / Accepted: 6 July 2019 / Published: 10 July 2019
Abstract
:
The problem of drug resistance is very worrying and ever increasing. Resistance is due not only to the reckless use of antibiotics but also to the fact that pathogens are able to adapt to different conditions and develop self-defense mechanisms such as living in biofilms; altogether these issues make the search for alternative drugs a real challenge. Antimicrobial peptides appear as promising alternatives but they have disadvantages that do not make them easily applicable in the medical field; thus many researches look for solutions to overcome the disadvantages and ensure that the advantages can be exploited. This review describes the biofilm characteristics and identifies the key features that antimicrobial peptides should have. Recalcitrant bacterial infections caused by the most obstinate bacterial species should be treated with a strategy to combine conventional peptides functionalized with nano-tools. This approach could effectively disrupt high density infections caused by biofilms. Moreover, the importance of using in vivo non mammalian models for biofilm studies is described. In particular, here we analyze the use of amphibians as a model to substitute the rodent model.
Keywords:
anti-biofilms peptides; biofilm in vitro; biofilm in vivo; nanotechnology
1. Introduction
The growing number of nosocomial infections associated to the emergence of microorganisms resistant to conventional antibiotics has been recognized as one of the major concerns affecting modern healthcare.
It has been estimated that less than 0.1% of the total microbial population is in the planktonic mode of growth (isolated bacteria cells). Instead, the majority of the bacteria are organized in more complex structures known as biofilms. Accordingly, more than 80% of all bacterial infections are due to microorganisms in their biofilm mode of growth [
1
].
Biofilms can form in any host tissue causing pulmonary infections in patients with cystic fibrosis, infections in diabetic patients, recurrent urinary tract infections, or colonization of abiotic surfaces such as central venous or urinary catheters, heart valves, intrauterine devices, and dental implants. Formation of biofilms is not the only aspect responsible of chronic infections, which are difficult to diagnose and treat with conventional antibiotic treatments, but also current antimicrobial therapy practices have produced a rapid growth of drug-resistant infections [
2
,
3
]. Moreover, mass use (both for humans and animals) and easy access of the antibiotics has led to further development of resistance, making the problem even more serious for our society from both an economical and health perspective.
In their biofilm form, bacteria adhere on a surface and grow while being surrounded by a self-produced matrix of extracellular polymeric substances (EPS) such as polysaccharides, proteins, and extracellular DNA (eDNA) that protect biofilm inhabitants against the host immune system and antimicrobial treatments [
2
,
4
].
Defeating bacteria within the biofilm matrix is challenging not only because the matrix functions as a protecting screen but also because bacteria assume a dormant state (persisters) which can significantly compromise the efficacy of currently available antibiotics, since their mechanisms of action interfere with bacterial metabolism or proliferation. In their biofilm state, bacteria can also be resistant towards the host's innate and adaptive immune and inflammatory defense systems. Hence, a global interest is directed towards the need to solve the problem of bacterial resistance.
Biofilms are less susceptible to antimicrobial treatment and to the host immune system than planktonic cells, thus it could be important to develop an ideal strategy to combat chronic biofilm related infections strengthening the search for new antimicrobials.
2. Understanding Biofilm Properties
Properties of biofilm lifestyle have to be considered when peptide strategies are proposed for the prevention of its formation or in general to design promising anti-biofilm agents. Biofilms develop in three phases: initial adhesion, maturation, and dispersion. The first phase is mediated by some host molecules such as albumin, lipids, complements, fibronectins, and by the interactions of some bacterial surface structures such as pili, fimbriae, but is also influenced by the environment, the micro-organisms properties, the material surfaces, and the flow conditions [
5
,
6
].
The maturation is especially associated with the EPS production, which allows the stabilization of the biofilm. The last phase, the dispersion, corresponds to the release of cells that colonize new sites. Mature biofilms change microenvironment conditions such as pH, oxygen level, and weaken the activity of antibiotics as well as create particular conditions to induce the state of dormant and non-dividing cells called "persisters" that are believed to play an important role in resistance.
The formation of
P. aeruginosa
biofilms is very frequent in patients with cystic fibrosis, while
S. aureus
is frequently correlated with wounds and the multi-species biofilms with urinary catheter or cardiovascular devices.
Recently, it has been reported that the diseases caused by
Candida albicans
and non-albicans
Candida
(NAC) spp., such as
C. glabrata, C. tropicalis, C. krusei, C. dubliensis
, or
C. parapsilosis
are associated with biofilm growth and, in late stages, their biofilms are more resistant to antifungal drugs.
Candida
biofilm formation is characterized by three development phases which are the early adhesion phase (0–11 h), intermediate phase (12–30 h), and maturation phase (31–72 h). In order to colonize and form biofilms, cells must attach to the surface or host cells becoming more resistant; new formulations, new agents, and combination therapies are urgently needed to prevent adherence and biofilm development [
7
].
An effective anti-biofilm agent should act in different environmental niches in order to reach cells in different growth rate, and also persisters. For very resistant biofilms, a combination of an agent acting on metabolic active cells and another one able to act on persisters could represent a valid strategy.
EPS is the major component of biofilms; it produces an appropriate environment for the bacteria, favors the adhesion cell-to-cell and cell-to-surface but also constitutes a barrier that interferes with the action of antimicrobial agents decreasing their bioactive concentrations. Therefore, good anti-biofilm agents should be able to penetrate the matrix or inhibit the accumulation on the surface. As cells in biofilms can communicate through secretion of molecules known as auto-inducers that control the quorum sensing (QS), a promising anti-biofilm agent could interfere with QS signals favoring biofilm inhibition or dispersion.
3. Antimicrobial Peptides as Anti-Biofilm Agents
Here we list some amphibian AMPs isolated in recent years.
Most anti-biofilm peptides work at concentrations equal or higher than their MIC but there are some peptides that showed their action also at concentration much lower than MIC interfering with the biofilm life-style and displaying that the optimal antimicrobial activity against planktonic cells does not necessarily coincide with an optimal anti-biofilm effect. In other words, anti-biofilm activity is not necessarily correlated to antimicrobial activity.
Despite their promising properties, AMPs are not used in clinical settings because of their potential toxicity at efficacious doses, instability in human fluids, as well as ecological toxicity, which is under analysis.
4. Nanoparticles Coated with AMPs
Both the multidrug resistance and protective character of biofilms could make common antibiotics thousands-fold less potent. Despite the initial enthusiasm for AMPs as alternative candidates to antibiotics, disadvantages have limited their development and clinical use. Thanks to nanotechnology, many nanomaterials (1–100 nm) have been developed with powerful capability of delivering drugs. Among them, NPs are widely exploited in different fields. According to the application, the NP composition can vary and for biomedical applications, various biocompatible materials have been exploited. Many NPs have been demonstrated to have anti-biofilm activities by themselves, but nonetheless, they can carry antimicrobial agents such as AMPs and show enhanced properties.
Silver NPs, gold NPs, quantum dots (QD) NPs have anti-biofilm activities even though their toxicity remain a serious issue which prevents their full application.
5. In Vivo Models for Biofilms
6. Conclusions
The antibiotic resistant pathogens are increasing and the capacity of new antimicrobial compounds to control bacterial infections is diminishing. Antimicrobial peptides represent an alternative to classical antibiotics to control and fight bacterial infections. This review analyses the potentially most suited features of peptides to combat not only bacteria in their planktonic mode of life but also effective against already formed biofilms (eradication). In vivo studies could be performed to enhance the activity of antimicrobial peptides to treat infections caused by multidrug-resistant Gram-positive and Gram-negative bacteria and the development of suitable models is extremely important. Clearly, strategies to improve protease susceptibilities of AMPs while still attaining an active nanosystems with enhanced proteolytic resistance constitute an added value for therapeutic applications. NPs can be exploited to favor this proteolic stability and produce supramolecular peptide-based platforms with potent antibacterial activity, improved functionalities, and enhanced biocompatibility compared to other antimicrobial molecules. Peptide-based nanosystems could serve also as an important class of novel antibacterial compounds for the treatment of intracellular microbial infections. To further improve antibiofilm properties, AMP NPs can be also combined with conventional antibiotics and allow to decrease the effective concentration of the active molecules, as well as to extend their spectrum of action, thereby reducing the spread of resistance, which is often linked to monotherapy regimens.
Promisingly, in vivo studies often showed effects that significantly improved clearance of bacterial isolates from the infection site, regardless of the peptides mode of action including enhancement of penetration and potential disruption of the stringent stress response.
Thus, it remains a major challenge to translate in vitro findings into in vivo efficacy because often compounds that show excellent in vitro activity work poorly when tested under in vivo conditions.
Author Contributions
Conceptualization, A.F. and E.G.; Investigation, L.L., G.L., M.G. and R.C.; Writing—original draft preparation, A.F., E.G., L.L., G.L., M.G. and R.C.; Writing—review and editing, M.G., A.F. and E.G.
Funding
This research received no external funding.
Conflicts of Interest
The authors declare no conflict of interest.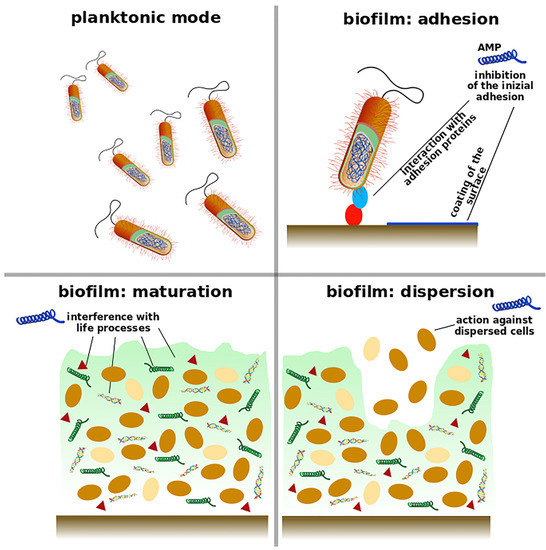 Figure 1. Biofilms develop in three phases: initial adhesion, maturation, and dispersion. A good anti-biofilm agent (blue peptide) can be involved in all the biofilm phases. AMPs may inhibit the accumulation of bacteria on the surface by interacting with their adhesion proteins (red and light blue) or coating the surface to protect from bacterial attack. Antimicrobial peptides can display an action against bacteria in their active state in the biofilm (brown); they can also defeat bacteria in the persisters models (yellow) or interfere with life processes such as synthesis of EPS (light green matrix), signaling compounds (triangle), extracellular DNA, and proteins (green helix).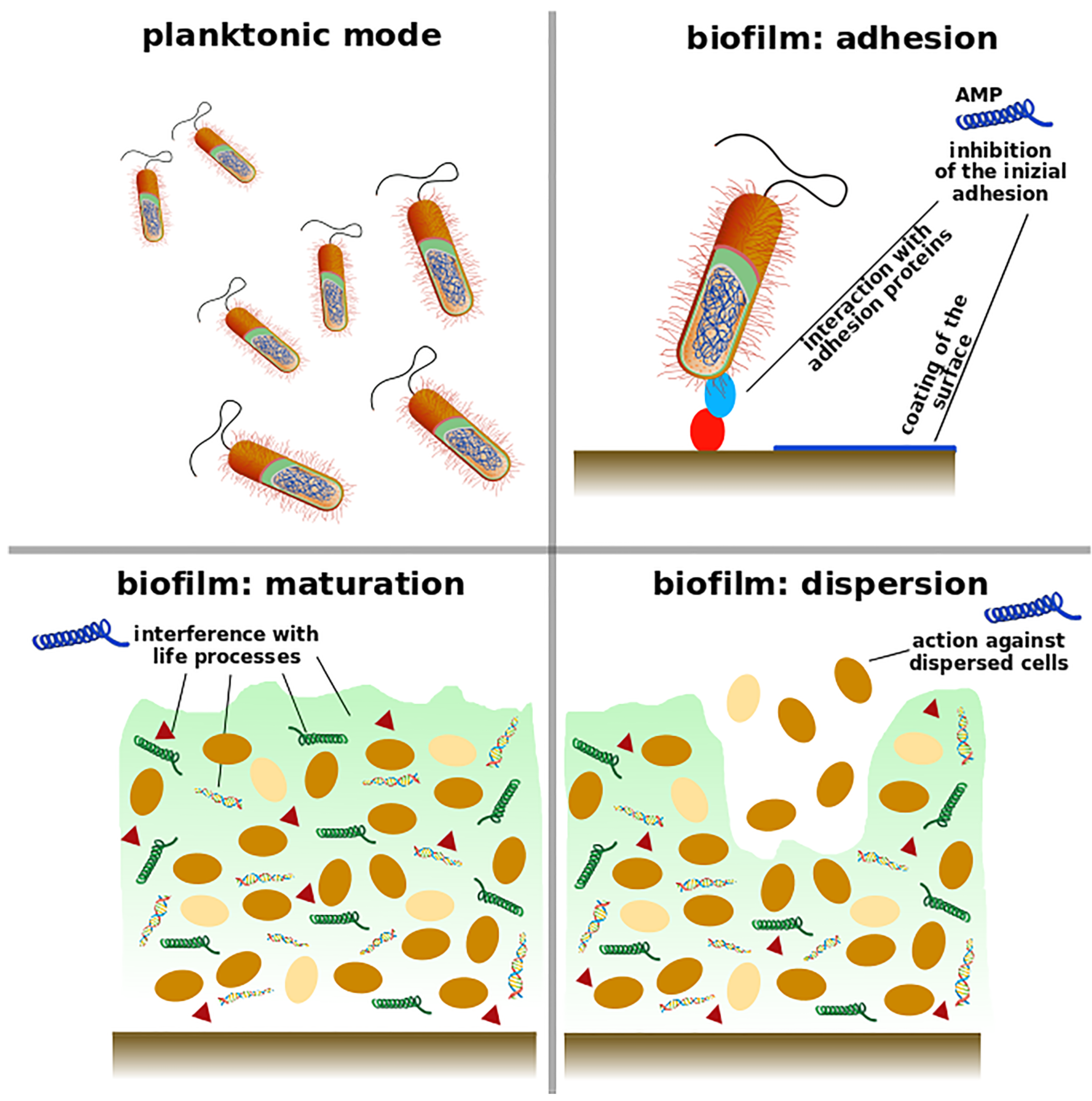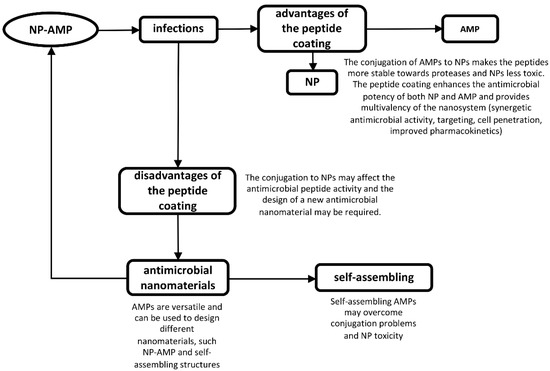 Figure 2. Coating of nanoparticles with antimicrobial peptides is a promising strategy to overcome the drawbacks of the nanoparticles and peptides themselves and improve their action with a synergistic effect. Moreover, the conjugation may affect the peptide properties and the design of new antimicrobial nanomaterials is required.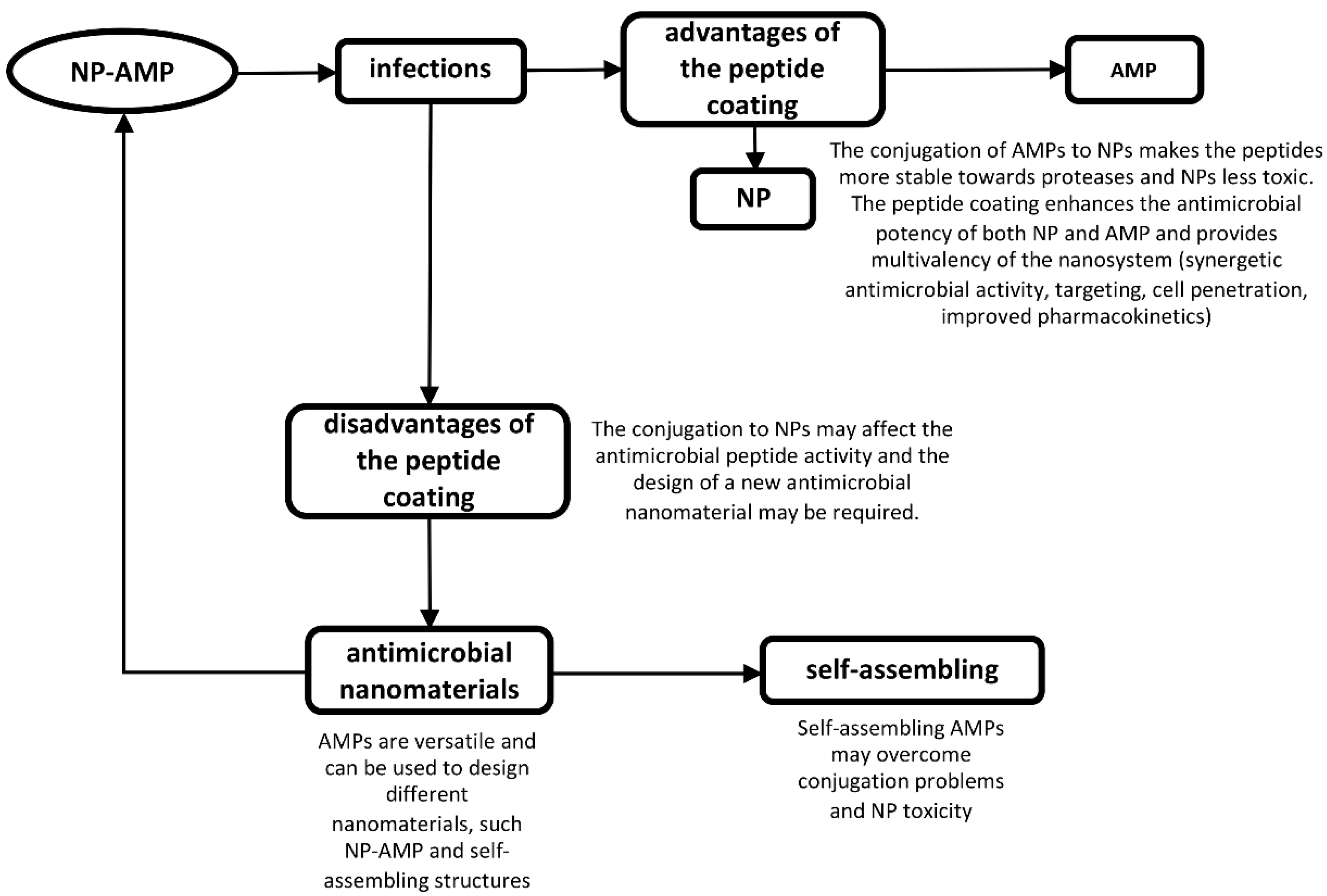 Amphibian AMPs Production
Species
Family
Peptide
Effects
Pathogens

X. laevis

pipidae
XLAsp-P1
haemolytic activity, destruction of the membrane
Gram-positive and Gram-negative

L. infrafrenata

Hylidae
frenatin 4.1 frenatin 4.2. frenatin 4.2a
antimicrobial activities
all bacteria tested

P. hypochondrialis

Hylidae
Dermaseptin-PH
inhibition of the growth
Gram-negative and Gram-positive

Candida albicans

P. tarsius




P. hypochondrialis

Hylidae
phylloseptin-PTa and phylloseptin-PHa
antimicrobial activities

S. aureus

,

E. faecalis

P. kl. esculentus

Ranidae
temporin-PE
antimicrobial activities
antimicrobial activities

A. davidianus

Cryptobranchidae
andricin B
antimicrobial activities
all bacteria tested and some fungi

Staphylococcus aureus

L. fujianensis

Dicroglossidae
Japonicin-2LF
membrane permeabilization

S. aureus

and MRSA

© 2019 by the authors. Licensee MDPI, Basel, Switzerland. This article is an open access article distributed under the terms and conditions of the Creative Commons Attribution (CC BY) license (http://creativecommons.org/licenses/by/4.0/).