Novel Population Pharmacokinetic Approach to Explain the Differences between Cystic Fibrosis Patients and Healthy Volunteers via Protein Binding
1
Department of Pharmacotherapy and Translational Research, College of Pharmacy, University of Florida, Orlando, FL 32827, USA
2
IBMP—Institute for Biomedical and Pharmaceutical Research, Nürnberg-Heroldsberg 90562, Germany
3
Drug Delivery, Disposition and Dynamics, Monash Institute of Pharmaceutical Sciences, Monash University, Parkville, VIC 3052, Australia
4
Institute of Clinical Hygiene, Medical Microbiology and Infectiology, Klinikum Nürnberg, Paracelsus Medical University, Nürnberg 90419, Germany
5
Institute for Pharmacy and Food Chemistry, University of Würzburg, Würzburg 97074, Germany
6
Department of Pharmacology, University of Regensburg, Regensburg 93053, Germany
7
Department of Pharmacology, University of Duisburg, Essen 47057, Germany
*
Authors to whom correspondence should be addressed.
Received: 31 March 2019 / Revised: 16 May 2019 / Accepted: 17 May 2019 / Published: 18 June 2019
Abstract
The pharmacokinetics in patients with cystic fibrosis (CF) has long been thought to differ considerably from that in healthy volunteers. For highly protein bound β-lactams, profound pharmacokinetic differences were observed between comparatively morbid patients with CF and healthy volunteers. These differences could be explained by body weight and body composition for β-lactams with low protein binding. This study aimed to develop a novel population modeling approach to describe the pharmacokinetic differences between both subject groups by estimating protein binding. Eight patients with CF (lean body mass [LBM]: 39.8 ± 5.4kg) and six healthy volunteers (LBM: 53.1 ± 9.5kg) received 1027.5 mg cefotiam intravenously. Plasma concentrations and amounts in urine were simultaneously modelled. Unscaled total clearance and volume of distribution were 3% smaller in patients with CF compared to those in healthy volunteers. After allometric scaling by LBM to account for body size and composition, the remaining pharmacokinetic differences were explained by estimating the unbound fraction of cefotiam in plasma. The latter was fixed to 50% in male and estimated as 54.5% in female healthy volunteers as well as 56.3% in male and 74.4% in female patients with CF. This novel approach holds promise for characterizing the pharmacokinetics in special patient populations with altered protein binding.
View Full-Text
►

▼

Figures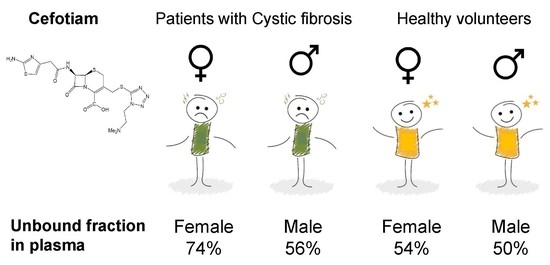 Graphical abstract
This is an open access article distributed under the
Creative Commons Attribution License
which permits unrestricted use, distribution, and reproduction in any medium, provided the original work is properly cited (CC BY 4.0).

Share & Cite This Article
MDPI and ACS Style
Shah, N.R.; Bulitta, J.B.; Kinzig, M.; Landersdorfer, C.B.; Jiao, Y.; Sutaria, D.S.; Tao, X.; Höhl, R.; Holzgrabe, U.; Kees, F.; Stephan, U.; Sörgel, F. Novel Population Pharmacokinetic Approach to Explain the Differences between Cystic Fibrosis Patients and Healthy Volunteers via Protein Binding. Pharmaceutics 2019, 11, 286.
Note that from the first issue of 2016, MDPI journals use article numbers instead of page numbers. See further details here.
Related Articles
Comments
[Return to top]