Open Access This article is
freely available
re-usable
Review
Transcriptional and Epigenetic Regulatory Mechanisms Affecting HTLV-1 Provirus
International Research Center for Medical Sciences, Center for AIDS Research, Priority Organization for Innovation and Excellence, Kumamoto University, Kumamoto 860-0811, Japan
*
Author to whom correspondence should be addressed.
Academic Editor: Louis Mansky
Received: 3 May 2016 / Accepted: 9 June 2016 / Published: 16 June 2016
Abstract
:
Human T-cell leukemia virus type 1 (HTLV-1) is a retrovirus associated with human diseases, such as adult T-cell leukemia (ATL) and HTLV-1-associated myelopathy/Tropic spastic paraparesis (HAM/TSP). As a retrovirus, its life cycle includes a step where HTLV-1 is integrated into the host genomic DNA and forms proviral DNA. In the chronic phase of the infection, HTLV‑1 is known to proliferate as a provirus via the mitotic division of the infected host cells. There are generally tens of thousands of infected clones within an infected individual. They exist not only in peripheral blood, but also in various lymphoid organs. Viral proteins encoded in HTLV-1 genome play a role in the proliferation and survival of the infected cells. As is the case with other chronic viral infections, HTLV-1 gene expression induces the activation of the host immunity against the virus. Thus, the transcription from HTLV-1 provirus needs to be controlled in order to evade the host immune surveillance. There should be a dynamic and complex regulation
in vivo
, where an equilibrium between viral antigen expression and host immune surveillance is achieved. The mechanisms regulating viral gene expression from the provirus are a key to understanding the persistent/latent infection with HTLV-1 and its pathogenesis. In this article, we would like to review our current understanding on this topic.
Keywords:
HTLV-1 2; provirus 3; retroviral latency
Acknowledgments
This work was supported by grants from the JSPS KAKENHI Grant Number 26461428 (Y.S.), Takeda Science Foundation (Y.S.), the Japan Science of Technology Agency (Y.S.), and JSPS KAKENHI Grant Number 16K19580 (H.K.).
Author Contributions
P.M. and Y.S. wrote the paper; M.M. and H.K. contributed with helpful discussions.
Conflicts of Interest
The authors declare no conflict of interest.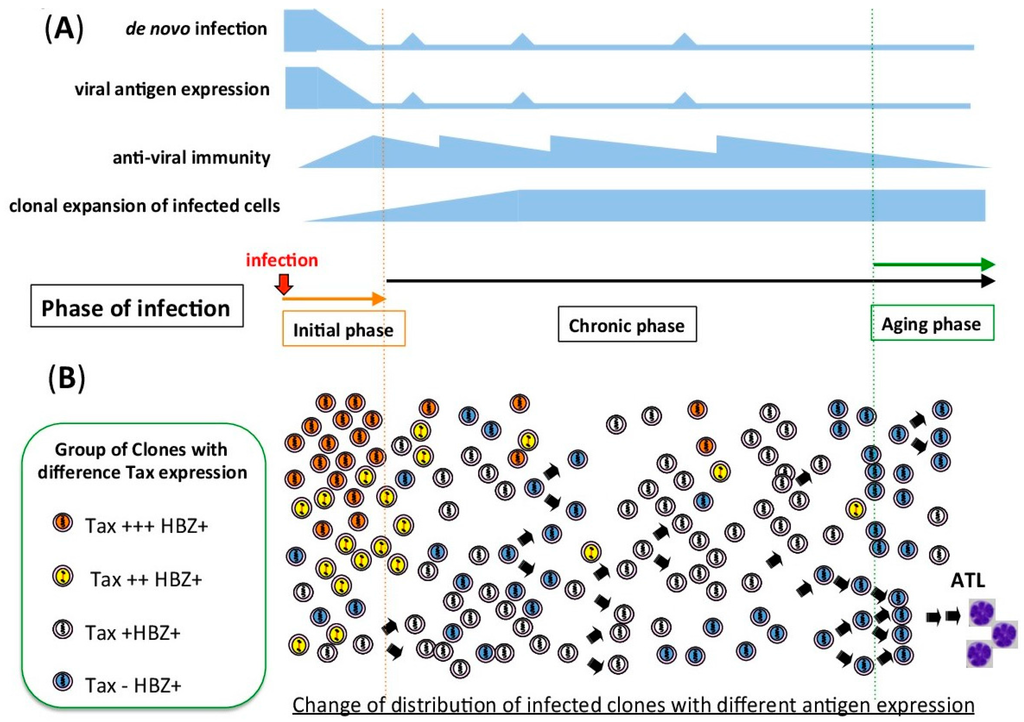 Figure 1.
Schematic figure of Human T-cell leukemia virus type 1 (HTLV-1) infection from the initial to the chronic phase of infection. (
A
) During the initial phase of infection, before an anti-virus immunity has been established,
de novo
infection should be more dominant than the clonal expansion of infected cells. In the chronic phase of infection, antiviral immunity removes infected cells with high viral antigen expression. HTLV-1 increases the viral copy number by clonal expansion of the infected cells. There is sporadic viral antigen expression, which should maintain the activity of the anti-viral immunity. (
B
) Change in the distribution of infected clones with different antigen expression. In the initial phase, the proportion of infected clones with high Tax expression is high, because there is little anti-viral immunity. After the establishment of an anti-viral immunity, clones with high antigen expression are eliminated by the host immune system.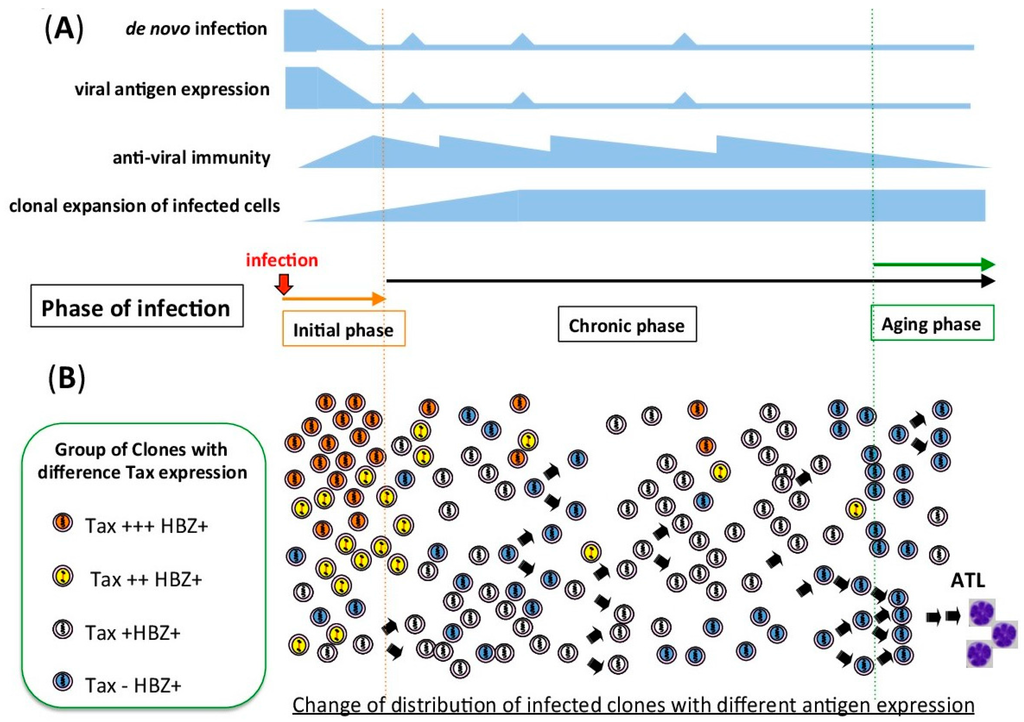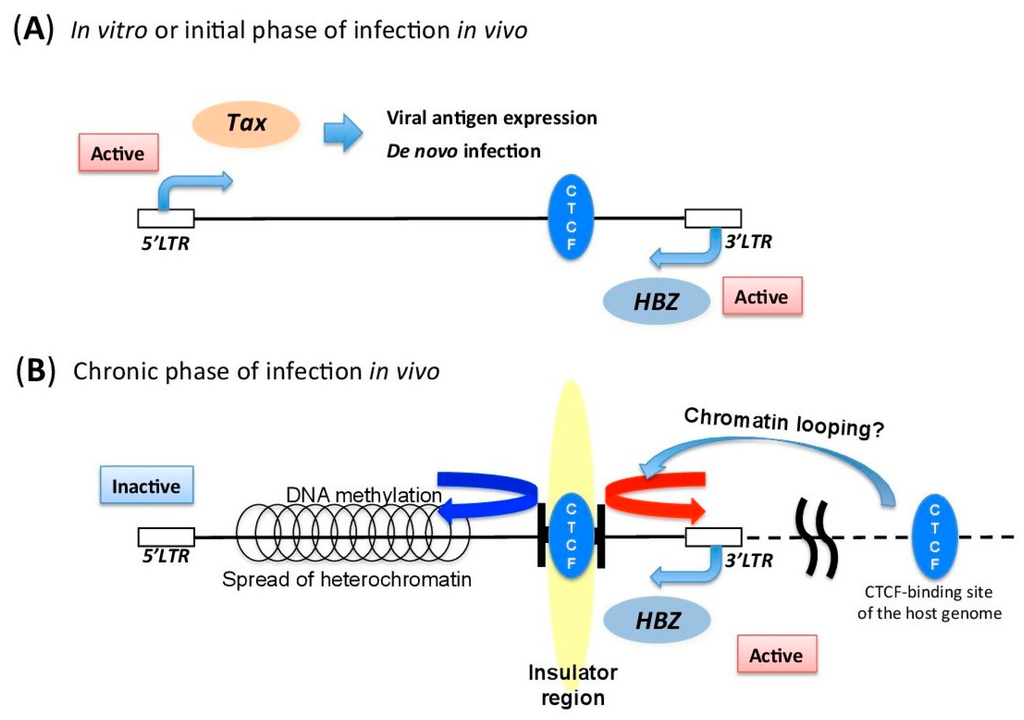 Figure 2.
Schematic figure of mechanisms regulating HTLV-1 provirus,
in vitro
and
in vivo
. (
A
) Schematic figure of HTLV-1 provirus
in vitro
or during the initial phase of infection
in vivo.
Tax and viral structural proteins can be expressed, because there is little immune surveillance against the viral antigens. (
B
) Schematic figure of HTLV-1 provirus during the chronic phase of infection
in vivo
. HTLV-1 maintains a distinct transcription pattern between 5′ long terminal repeat (LTR) and 3′-LTR by recruiting the host insulator protein CTCF. The insulator region of HTLV-1 provirus is thought to prevent the spread of heterochromatin from 5′-LTR to 3′-LTR. This could also induce chromatin looping with the host's CTCF-binding sites.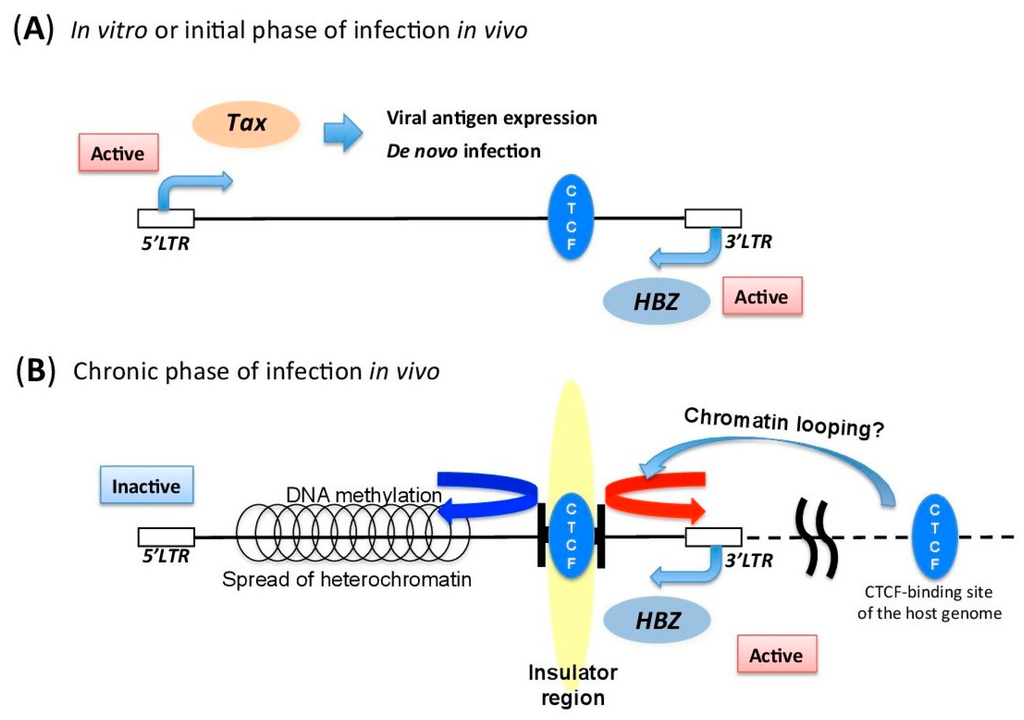 © 2016 by the authors; licensee MDPI, Basel, Switzerland. This article is an open access article distributed under the terms and conditions of the Creative Commons Attribution (CC-BY) license (http://creativecommons.org/licenses/by/4.0/).