HTLV-1 Infection and Adult T-Cell Leukemia/Lymphoma—A Tale of Two Proteins: Tax and HBZ
1
Department of Microbiology and Immunology, Uniformed Services University of the Health Sciences, 4301 Jones Bridge Rd., Bethesda, MD 20814, USA
2
Department of Microbiology and Molecular Cell Biology, The Leroy T. Canoles Jr Cancer Research Center, Eastern Virginia Medical School, Norfolk, VA 23501, USA
*
Author to whom correspondence should be addressed.
Academic Editor: Louis M. Mansky
Received: 30 March 2016 / Revised: 31 May 2016 / Accepted: 1 June 2016 / Published: 16 June 2016
Abstract
HTLV-1 (Human T-cell lymphotropic virus type 1) is a complex human delta retrovirus that currently infects 10–20 million people worldwide. While HTLV-1 infection is generally asymptomatic, 3%–5% of infected individuals develop a highly malignant and intractable T-cell neoplasm known as adult T-cell leukemia/lymphoma (ATL) decades after infection. How HTLV-1 infection progresses to ATL is not well understood. Two viral regulatory proteins, Tax and HTLV-1 basic zipper protein (HBZ), encoded by the sense and antisense viral transcripts, respectively, are thought to play indispensable roles in the oncogenic process of ATL. This review focuses on the roles of Tax and HBZ in viral replication, persistence, and oncogenesis. Special emphasis is directed towards recent literature on the mechanisms of action of these two proteins and the roles of Tax and HBZ in influencing the outcomes of HTLV-1 infection including senescence induction, viral latency and persistence, genome instability, cell proliferation, and ATL development. Attempts are made to integrate results from cell-based studies of HTLV-1 infection and studies of HTLV-1 proviral integration site preference, clonality, and clonal expansion based on high throughput DNA sequencing. Recent data showing that Tax hijacks key mediators of DNA double-strand break repair signaling—the ubiquitin E3 ligase, ring finger protein 8 (RNF8) and the ubiquitin E2 conjugating enzyme (UBC13)—to activate the canonical nuclear factor kappa-light-chain-enhancer of activated B-cells (NF-κB) and other signaling pathways will be discussed. A perspective on how the Tax-RNF8 signaling axis might impact genomic instability and how Tax may collaborate with HBZ to drive oncogenesis is provided.
View Full-Text
►

▼

Figures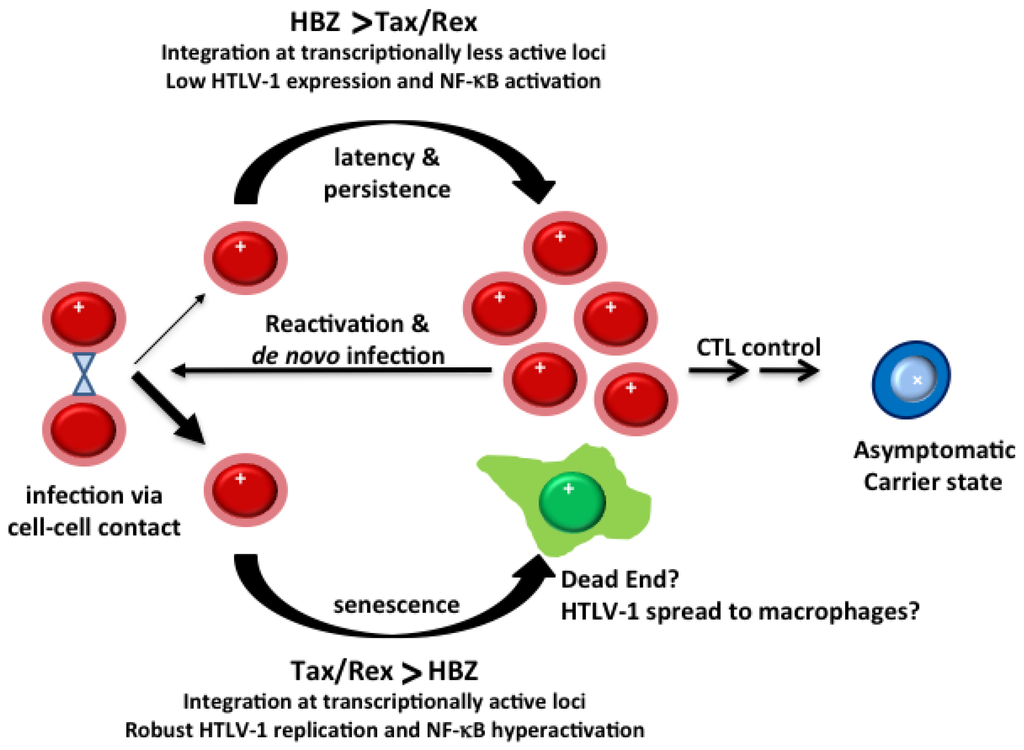 Figure 1
This is an open access article distributed under the
Creative Commons Attribution License
which permits unrestricted use, distribution, and reproduction in any medium, provided the original work is properly cited (CC BY 4.0).

Share & Cite This Article
MDPI and ACS Style
Giam, C.-Z.; Semmes, O.J. HTLV-1 Infection and Adult T-Cell Leukemia/Lymphoma—A Tale of Two Proteins: Tax and HBZ. Viruses 2016, 8, 161.
Note that from the first issue of 2016, MDPI journals use article numbers instead of page numbers. See further details here.
Related Articles
Comments
[Return to top]