Generation of Virus- and dsRNA-Derived siRNAs with Species-Dependent Length in Insects
1
Research Group of Molecular Developmental Physiology and Signal Transduction, KU Leuven, 3000 Leuven, Belgium
2
Laboratory of Agrozoology, Department of Plants and Crops, Faculty of Bioscience Engineering, Ghent University, 9000 Ghent, Belgium
3
Laboratory of Pharmaceutical Biotechnology, Faculty of Pharmaceutical Sciences, Ghent University, 9000 Ghent, Belgium
4
Insect Molecular Genetics and Biotechnology Group, Institute of Biosciences and Applications, National Center for Scientific Research "Demokritos", 15310 Athens, Greece
*
Author to whom correspondence should be addressed.
Received: 15 July 2019 / Revised: 7 August 2019 / Accepted: 8 August 2019 / Published: 11 August 2019
Abstract
Double-stranded RNA (dsRNA) molecules of viral origin trigger a post-transcriptional gene-silencing mechanism called RNA interference (RNAi). Specifically, virally derived dsRNA is recognized and cleaved by the enzyme Dicer2 into short interfering RNAs (siRNAs), which further direct sequence-specific RNA silencing, ultimately silencing replication of the virus. Notably, RNAi can also be artificially triggered by the delivery of gene-specific dsRNA, thereby leading to endogenous gene silencing. This is a widely used technology that holds great potential to contribute to novel pest control strategies. In this regard, research efforts have been set to find methods to efficiently trigger RNAi in the field. In this article, we demonstrate the generation of dsRNA- and/or virus-derived siRNAs—the main RNAi effectors—in six insect species belonging to five economically important orders (Lepidoptera, Orthoptera, Hymenoptera, Coleoptera, and Diptera). In addition, we describe that the siRNA length distribution is species-dependent. Taken together, our results reveal interspecies variability in the (antiviral) RNAi mechanism in insects and show promise to contribute to future research on (viral-based) RNAi-triggering mechanisms in this class of animals.
View Full-Text
►

▼

Figures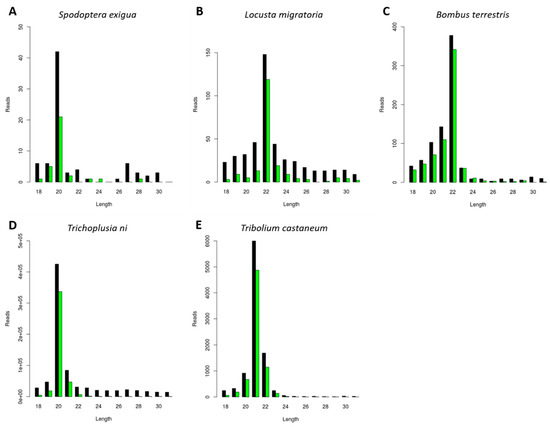 Figure 1
This is an open access article distributed under the
Creative Commons Attribution License
which permits unrestricted use, distribution, and reproduction in any medium, provided the original work is properly cited (CC BY 4.0).

Share & Cite This Article
MDPI and ACS Style
Santos, D.; Mingels, L.; Vogel, E.; Wang, L.; Christiaens, O.; Cappelle, K.; Wynant, N.; Gansemans, Y.; Van Nieuwerburgh, F.; Smagghe, G.; Swevers, L.; Vanden Broeck, J. Generation of Virus- and dsRNA-Derived siRNAs with Species-Dependent Length in Insects. Viruses 2019, 11, 738.
Note that from the first issue of 2016, MDPI journals use article numbers instead of page numbers. See further details here.
Related Articles
Comments
[Return to top]