Evidence for West Nile Virus and Usutu Virus Infections in Wild and Resident Birds in Germany, 2017 and 2018
1
Friedrich-Loeffler Insitut (FLI), Federal Research Institute for Animal Health, Institute of Novel and Emerging Infectious Diseases, Südufer 10, D-17493 Greifswald-Insel Riems, Germany
2
German Centre for Infection Research (DZIF), Partner Site Hamburg-Luebeck-Borstel, 17493 Greifswald-Insel Riems, Germany
3
Institute of Virology (Faculty of veterinary medicine), Leipzig University, An den Tierkliniken 29, D-04103 Leipzig, Germany
4
Clinic for Birds, Reptiles, Amphibians and Fish, Justus Liebig University Giessen, Frankfurter Straße 91, D-35392 Giessen, Germany
5
Clinic for Small Mammals, Reptiles and Birds, University of Veterinary Medicine Hannover, Foundation, Bünteweg 9, D-30559 Hannover, Germany
6
Clinic for Birds and Reptiles (Faculty of veterinary medicine), Leipzig University, An den Tierkliniken 17, D-04103 Leipzig, Germany
7
Seehundstation Nationalpark-Haus Norden-Norddeich, Dörper Weg 24, D-26506 Norden, Germany
8
Clinic for Birds, Small Mammals, Reptiles and Ornamental Fish, Centre for Clinical Veterinary Medicine, Ludwig Maximilians University Munich, Sonnenstraße 18, D-85764 Oberschleißheim, Germany
9
Birds of Prey Rehab Center Rhineland (Greifvogelhilfe Rheinland)/Tierarztpraxis Sudhoff, Hehnerholt 105, D-41069 Mönchengladbach, Germany
10
Department of Veterinary Medicine, Small Animal Clinic, Freie Universität Berlin, Oertzenweg 19 b, D-14163 Berlin, Germany
11
Wildpark Schwarze Berge GmbH & Co. KG, Am Wildpark 1, D-21224 Rosengarten, Germany
12
Tiermedizin am Rothenbaum, Rothenbaumchaussee 195, D-20149 Hamburg, Germany
13
Bernhard-Nocht-Institute for Tropical Medicine, WHO Collaborating Centre for Arbovirus and Hemorrhagic Fever Reference and Research, Bernhardt-Nocht Straße 74, D-20359 Hamburg, Germany
14
Friedrich-Loeffler-Institut (FLI), Federal Research Institute for Animal Health, Institute of Epidemiology, Südufer 10, D-17493 Greifswald-Insel Riems, Germany
*
Author to whom correspondence should be addressed.
Received: 27 June 2019 / Revised: 18 July 2019 / Accepted: 19 July 2019 / Published: 23 July 2019
Abstract
Wild birds play an important role as reservoir hosts and vectors for zoonotic arboviruses and foster their spread. Usutu virus (USUV) has been circulating endemically in Germany since 2011, while West Nile virus (WNV) was first diagnosed in several bird species and horses in 2018. In 2017 and 2018, we screened 1709 live wild and zoo birds with real-time polymerase chain reaction and serological assays. Moreover, organ samples from bird carcasses submitted in 2017 were investigated. Overall, 57 blood samples of the live birds (2017 and 2018), and 100 organ samples of dead birds (2017) were positive for USUV-RNA, while no WNV-RNA-positive sample was found. Phylogenetic analysis revealed the first detection of USUV lineage Europe 2 in Germany and the spread of USUV lineages Europe 3 and Africa 3 towards Northern Germany. USUV antibody prevalence rates were high in Eastern Germany in both years. On the contrary, in Northern Germany, high seroprevalence rates were first detected in 2018, with the first emergence of USUV in this region. Interestingly, high WNV-specific neutralizing antibody titers were observed in resident and short-distance migratory birds in Eastern Germany in 2018, indicating the first signs of a local WNV circulation.
View Full-Text
►

▼

Figures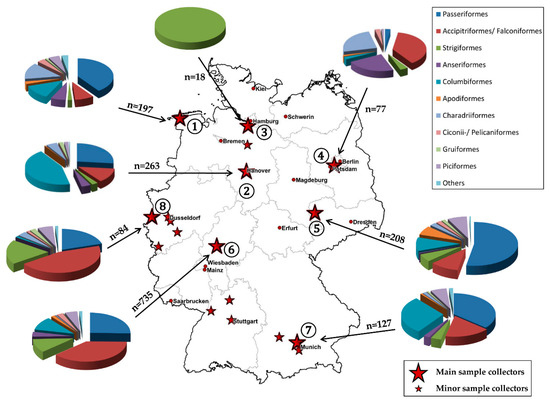 Figure 1
This is an open access article distributed under the
Creative Commons Attribution License
which permits unrestricted use, distribution, and reproduction in any medium, provided the original work is properly cited (CC BY 4.0).

Share & Cite This Article
MDPI and ACS Style
Michel, F.; Sieg, M.; Fischer, D.; Keller, M.; Eiden, M.; Reuschel, M.; Schmidt, V.; Schwehn, R.; Rinder, M.; Urbaniak, S.; Müller, K.; Schmoock, M.; Lühken, R.; Wysocki, P.; Fast, C.; Lierz, M.; Korbel, R.; Vahlenkamp, T.W.; Groschup, M.H.; Ziegler, U. Evidence for West Nile Virus and Usutu Virus Infections in Wild and Resident Birds in Germany, 2017 and 2018. Viruses 2019, 11, 674.
Note that from the first issue of 2016, MDPI journals use article numbers instead of page numbers. See further details here.
Related Articles
Comments
[Return to top]