Starvation-Induced Differential Virotherapy Using an Oncolytic Measles Vaccine Virus
1
Department of Internal Medicine VIII, University Hospital Tuebingen, Otfried-Mueller-Strasse 10, D-72076 Tuebingen, Germany
2
German Cancer Consortium (DKTK), DKFZ Partner Site Tuebingen, Otfried-Mueller-Strasse 10, D-72076 Tuebingen, Germany
*
Author to whom correspondence should be addressed.
Received: 23 May 2019 / Revised: 27 June 2019 / Accepted: 1 July 2019 / Published: 5 July 2019
Abstract
Starvation sensitizes tumor cells to chemotherapy while protecting normal cells at the same time, a phenomenon defined as differential stress resistance. In this study, we analyzed if starvation would also increase the oncolytic potential of an oncolytic measles vaccine virus (MeV-GFP) while protecting normal cells against off-target lysis. Human colorectal carcinoma (CRC) cell lines as well as human normal colon cell lines were subjected to various starvation regimes and infected with MeV-GFP. The applied fasting regimes were either short-term (24 h pre-infection) or long-term (24 h pre- plus 96 h post-infection). Cell-killing features of (i) virotherapy, (ii) starvation, as well as (iii) the combination of both were analyzed by cell viability assays and virus growth curves. Remarkably, while long-term low-serum, standard glucose starvation potentiated the efficacy of MeV-mediated cell killing in CRC cells, it was found to be decreased in normal colon cells. Interestingly, viral replication of MeV-GFP in CRC cells was decreased in long-term-starved cells and increased after short-term low-glucose, low-serum starvation. In conclusion, starvation-based virotherapy has the potential to differentially enhance MeV-mediated oncolysis in the context of CRC cancer patients while protecting normal colon cells from unwanted off-target effects.
View Full-Text
►

▼

Figures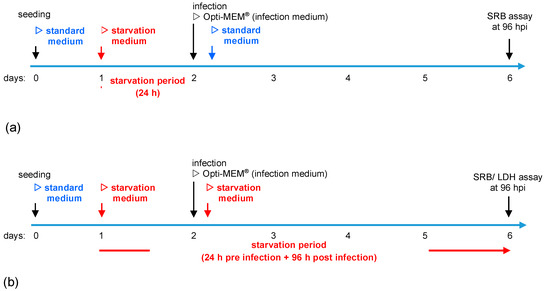 Figure 1
This is an open access article distributed under the
Creative Commons Attribution License
which permits unrestricted use, distribution, and reproduction in any medium, provided the original work is properly cited (CC BY 4.0).

Share & Cite This Article
MDPI and ACS Style
Scheubeck, G.; Berchtold, S.; Smirnow, I.; Schenk, A.; Beil, J.; Lauer, U.M. Starvation-Induced Differential Virotherapy Using an Oncolytic Measles Vaccine Virus. Viruses 2019, 11, 614.
Note that from the first issue of 2016, MDPI journals use article numbers instead of page numbers. See further details here.
Related Articles
Comments
[Return to top]