BK Virus Replication in the Glomerular Vascular Unit: Implications for BK Virus Associated Nephropathy
1
Department of Internal Medicine, Meharry Medical College, Nashville, TN 37208-3599, USA
2
Department of Microbiology, Immunology and Physiology, Center for AIDS Health Disparities Research, 1005 Dr. D.B. Todd Jr. Blvd., Nashville, TN 37208-3599, USA
3
Department of Obstetrics and Gynecology, Meharry Medical College, School of Medicine, 1005 Dr. D.B. Todd Jr. Blvd., Nashville, TN 37208-3599, USA
*
Author to whom correspondence should be addressed.
Received: 3 April 2019 / Revised: 10 June 2019 / Accepted: 25 June 2019 / Published: 27 June 2019
Abstract
Background: BK polyomavirus (BKV) reactivates from latency after immunosuppression in renal transplant patients, resulting in BKV-associated nephropathy (BKVAN). BKVAN has emerged as an important cause of graft dysfunction and graft loss among transplant patients. BKV infection in kidney transplant patients has increased over recent decades which correlates with the use of more potent immunosuppressive therapies. BKV infection of the Glomerular Vascular Unit (GVU) consisting of podocytes, mesangial cells, and glomerular endothelial cells could lead to glomerular inflammation and contribute to renal fibrosis. The effects of BKV on GVU infectivity have not been reported. methods: We infected GVU cells with the Dunlop strain of BKV. Viral infectivity was analyzed by microscopy, immunofluorescence, Western blot analysis, and quantitative RT-PCR (qRT-PCR). The expression of specific proinflammatory cytokines induced by BKV was analyzed by qRT-PCR. Results: BKV infection of podocytes, mesangial cells, and glomerular endothelial cells was confirmed by qRT-PCR and positive staining with antibodies to the BKV VP1 major capsid protein, or the SV40 Large T-Antigen. The increased transcriptional expression of interferon gamma-induced protein 10 (CXCL10/IP-10) and interferon beta (IFNβ) was detected in podocytes and mesangial cells at 96 h post-infection. conclusions: All cellular components of the GVU are permissive for BKV replication. Cytopathic effects induced by BKV in podocytes and glomerular endothelial cells and the expression of CXCL10 and IFNβ genes by podocytes and mesangial cells may together contribute to glomerular inflammation and cytopathology in BKVAN.
View Full-Text
►

▼

Figures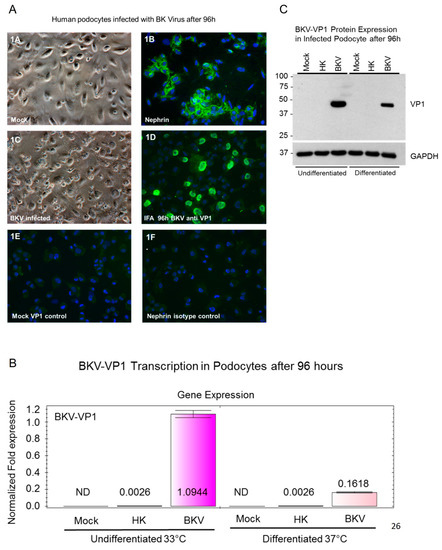 Figure 1
This is an open access article distributed under the
Creative Commons Attribution License
which permits unrestricted use, distribution, and reproduction in any medium, provided the original work is properly cited (CC BY 4.0).

Share & Cite This Article
MDPI and ACS Style
Popik, W.; Khatua, A.K.; Fabre, N.F.; Hildreth, J.E.K.; Alcendor, D.J. BK Virus Replication in the Glomerular Vascular Unit: Implications for BK Virus Associated Nephropathy. Viruses 2019, 11, 583.
Note that from the first issue of 2016, MDPI journals use article numbers instead of page numbers. See further details here.
Related Articles
Comments
[Return to top]