Bioluminescent Ross River Virus Allows Live Monitoring of Acute and Long-Term Alphaviral Infection by In Vivo Imaging
1
Immunology of Viral Infections and Autoimmune Diseases, IDMIT Department, IBFJ, CEA, Université Paris Sud, INSERM U1184, 92265 Fontenay-aux-Roses, France
2
Arbovirus group, Environment and Infectious Risks unit, Pasteur Institute, 75015 Paris, France
3
Epidemiology and Physiopathology of Oncogenic Viruses Unit, Virology department, Pasteur Institute, 75015 Paris, France
4
Université de la Réunion, INSERM U1187, CNRS UMR 9192, IRD UMR 249, Unité Mixte Processus Infectieux en Milieu Insulaire Tropical, Plateforme Technologique CYROI, 97491 Sainte Clotilde, La Réunion, France
*
Authors to whom correspondence should be addressed.
†
Both authors contributed equally to this work.
Received: 14 June 2019 / Accepted: 25 June 2019 / Published: 27 June 2019
Abstract
Arboviruses like chikungunya and Ross River (RRV) are responsible for massive outbreaks of viral polyarthritis. There is no effective treatment or vaccine available against these viruses that induce prolonged and disabling arthritis. To explore the physiopathological mechanisms of alphaviral arthritis, we engineered a recombinant RRV expressing a NanoLuc reporter (RRV-NLuc), which exhibited high stability, near native replication kinetics and allowed real time monitoring of viral spread in an albino mouse strain. During the acute phase of the disease, we observed a high bioluminescent signal reflecting viral replication and dissemination in the infected mice. Using Bindarit, an anti-inflammatory drug that inhibits monocyte recruitment, we observed a reduction in viral dissemination demonstrating the important role of monocytes in the propagation of the virus and the adaptation of this model to the
in vivo
evaluation of treatment strategies. After resolution of the acute symptoms, we observed an increase in the bioluminescent signal in mice subjected to an immunosuppressive treatment 30 days post infection, thus showing active in vivo replication of remnant virus. We show here that this novel reporter virus is suitable to study the alphaviral disease up to the chronic phase, opening new perspectives for the evaluation of therapeutic interventions.
View Full-Text
►

▼

Figures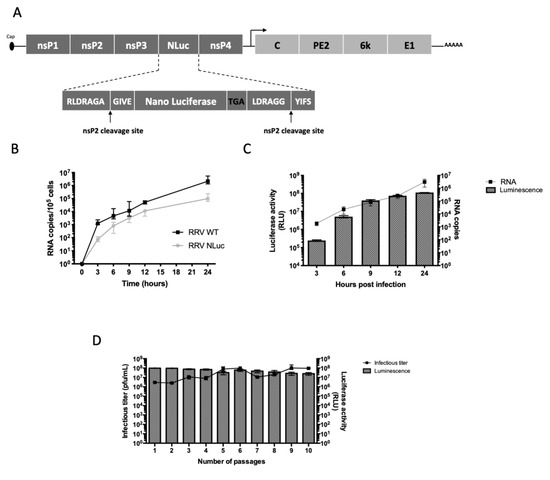 Figure 1
This is an open access article distributed under the
Creative Commons Attribution License
which permits unrestricted use, distribution, and reproduction in any medium, provided the original work is properly cited (CC BY 4.0).

Share & Cite This Article
MDPI and ACS Style
Belarbi, E.; Legros, V.; Basset, J.; Desprès, P.; Roques, P.; Choumet, V. Bioluminescent Ross River Virus Allows Live Monitoring of Acute and Long-Term Alphaviral Infection by In Vivo Imaging. Viruses 2019, 11, 584.
Note that from the first issue of 2016, MDPI journals use article numbers instead of page numbers. See further details here.
Related Articles
Comments
[Return to top]