Novel Victorivirus from a Pakistani Isolate of
Alternaria alternata

Lacking a Typical Translational Stop/Restart Sequence Signature

1

Institute of Plant Science and Resources, Okayama University, Chuou 2-20-1, Kurashiki, Okayama 710-0046, Japan

2

Crop Diseases Research Institute, National Agricultural Research Centre, Park Road, Islamabad 45500, Pakistan

*

Authors to whom correspondence should be addressed.

Received: 4 June 2019 / Revised: 19 June 2019 / Accepted: 21 June 2019 / Published: 25 June 2019
Abstract
The family
Totiviridae
currently contains five genera
Totivirus
,
Victorivirus
,
Leishmavirus
,
Trichomonasvirus
, and
Giardiavirus
. Members in this family generally have a set of two-open reading frame (ORF) elements in their genome with the 5′-proximal ORF (ORF1) encoding a capsid protein (CP) and the 3′-proximal one (ORF2) for RNA-dependent RNA polymerase (RdRp). How the downstream open reading frames (ORFs) are expressed is genus-specific. All victoriviruses characterized thus far appear to use the stop/restart translation mechanism, allowing for the expression of two separate protein products from bicitronic genome-sized viral mRNA, while the totiviruses use a −1 ribosomal frame-shifting that leads to a fusion product of CP and RdRp. We report the biological and molecular characterization of a novel victorivirus termed Alternaria alternata victorivirus 1 (AalVV1) isolated from
Alternaria alternata
in Pakistan. The phylogenetic and molecular analyses showed AalVV1 to be distinct from previously reported victoriviruses. AalVV1 appears to have a sequence signature required for the −1 frame-shifting at the ORF1/2 junction region, rather than a stop/restart key mediator. By contrast, SDS–polyacrylamide gel electrophoresis and peptide mass fingerprinting analyses of purified virion preparations suggested the expression of two protein products, not a CP-RdRp fusion product. How these proteins are expressed is discussed in this study. Possible effects of infection by this virus were tested in two fungal species:
A. alternata
and RNA silencing proficient and deficient strains of
Cryphonectria parasitica
, a model filamentous fungus. AalVV1 showed symptomless infection in all of these fungal strains, even in the RNA silencing deficient
C. parasitica
strain.
View Full-Text
►

▼

Figures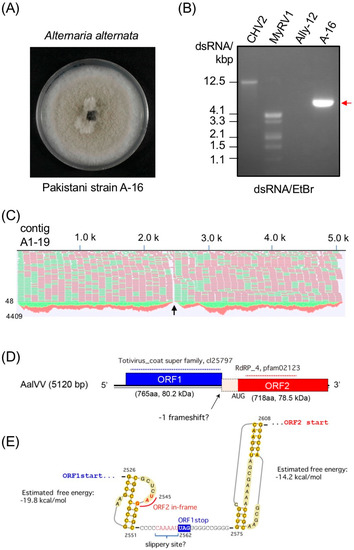 Figure 1
This is an open access article distributed under the
Creative Commons Attribution License
which permits unrestricted use, distribution, and reproduction in any medium, provided the original work is properly cited (CC BY 4.0).

Share & Cite This Article
MDPI and ACS Style
Jamal, A.; Sato, Y.; Shahi, S.; Shamsi, W.; Kondo, H.; Suzuki, N. Novel Victorivirus from a Pakistani Isolate of Alternaria alternata Lacking a Typical Translational Stop/Restart Sequence Signature. Viruses 2019, 11, 577.
Note that from the first issue of 2016, MDPI journals use article numbers instead of page numbers. See further details here.
Related Articles
Comments
[Return to top]