Open Access This article is
freely available
re-usable
Article
Recombinant Strains of Human Parechovirus in Rural Areas in the North of Brazil
1
Instituto de Ciências Biológicais, Universidade Federal do Pará, Pará 66075-000, Brazil
2
Laboratório de Doenças Entéricas, Centro de Virologia, Instituto Adolfo Lutz, São Paulo 01246-000, Brazil
3
LIM/46, Faculdade de Medicina, Universidade de São Paulo, São Paulo 01246-903, Brazil
4
Secretaria de Saúde do Tocantins, Tocantins 77453-000, Brazil
5
Instituto de Ciências Biológicais, Universidade Federal do Tocantins, Tocantins 77001-090, Brazil
6
Laboratório Central de Saúde Pública do Tocantins (LACEN/TO), Tocantins 77016-330, Brazil
7
Faculdade de Medicina do ABC, Santo André 09060-870, Brazil
8
Laboratório de Retrovirologia, Universidade Federal de São Paulo, São Paulo 04023-062, Brazil
9
Instituto de Medicina Tropical, Universidade de São Paulo, São Paulo 05403-000, Brazil
10
Department of Obstetrics and Gynecology, Weill Cornell Medicine, 1300 York Avenue New York, NY 10065, USA
11
Blood Systems Research Institute, San Francisco, CA 94143, USA
12
Department Laboratory Medicine, University of California San Francisco, San Francisco, CA 94143, USA
*
Author to whom correspondence should be addressed.
Received: 7 April 2019 / Accepted: 3 May 2019 / Published: 29 May 2019
Abstract
:
We characterized the 24 nearly full-length genomes of human parechoviruses (PeV) from children in the north of Brazil. The initial phylogenetic analysis indicated that 17 strains belonged to genotype 1, 5 to genotype 4, and 1 to genotype 17. A more detailed analysis revealed a high frequency of recombinant strains (58%): A total of 14 of our PeV-As were chimeric, with four distinct recombination patterns identified. Five strains were composed of genotypes 1 and 5 (Rec1/5); five strains shared a complex mosaic pattern formed by genotypes 4, 5, and 17 (Rec4/17/5); two strains were composed of genotypes 1 and 17 (Rec1/17); and two strains were composed of genotype 1 and an undetermined strain (Rec1/und). Coalescent analysis based on the
Vp1
gene, which is free of recombination, indicated that the recombinant strains most likely arose in this region approximately 30 years ago. They are present in high frequencies and are circulating in different small and isolated cities in the state of Tocantins. Further studies will be needed to establish whether the detected recombinant strains have been replacing parental strains or if they are co-circulating in distinct frequencies in Tocantins.
Keywords:
parechovirus; picornavirus; virome; recombination; coalescent; Brazil
Author Contributions
Conceptualization: A.C.d.C., A.L., F.A.d.P.M., S.V.K., D.E.G., M.C.A.B.S.L., R.B., R.T.d.C., M.d.F.N.d.S.A., C.V.d.D.A.S., X.D., E.C.S., and E.D.; Sequence processing: A.C.d.C. and A.L.; Phylogenetic analysis: É.L. and F.V.; Data Investigation: A.C.d.C., A.L., F.A.d.P.M., S.V.K., D.E.G., M.C.A.B.S.L., R.B., R.T.d.C., M.d.F.N.d.S.A., C.V.d.D.A.S., and E.C.S.; Supervision: E.C.S. and A.C.d.C.; Writing original draft: A.C.d.C., A.L., D.E.G., S.S.W., and É.L.
Funding
This study was supported by FAPESP #2016/01735-2 and CNPq #400354/2016-0. Antônio Charlys da Costa is funded by FAPESP #2017/00021-9 and Adriana Luchs is funded by FAPESP #2015/12944-9.
Acknowledgments
We thank Luciano Monteiro da Silva and Maria da Aparecida R. Teles for support. We thank the Sage Science Inc, Zymo Research Corporation and Promega Biotecnologia do Brasil for the donation of reagents for this project. We also thank Pró-reitoria de pesquisa e pós-graduação of UFPA for supporting the publication costs.
Conflicts of Interest
All the authors declare that the research was conducted in the absence of any commercial or financial relationships that could be construed as a potential conflict of interest.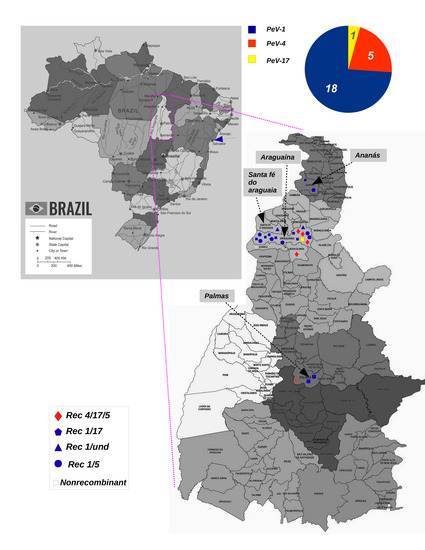 Figure 1. Location of PeV-A strains detected in Brazil. The map of Brazil is shown at the top of the figure to illustrate the region (magenta rectangle) in Tocantins state where samples were collected. A diagram shows the proportions of genotypes detected in this study (top-right). The magnified image of the region shows the cities (indicated by arrows) and the location of each PeV-A isolate. Distinct recombinant strains are represented by different shapes, as is indicated in the panel (bottom-left). Colors indicate distinct PeV-A genotypes. The blue arrows indicate the city (Salvador) where PeV-A strains were detected previously in Brazil.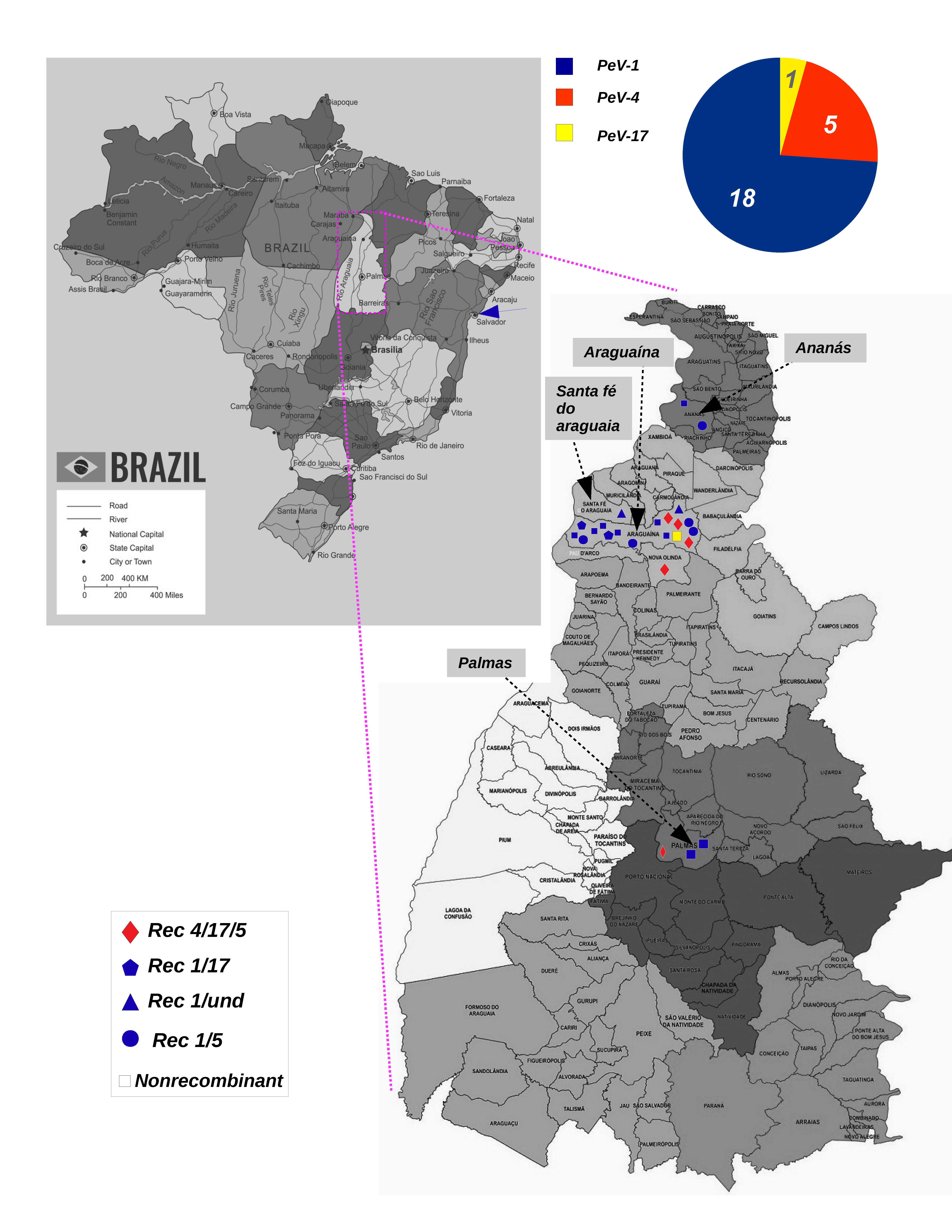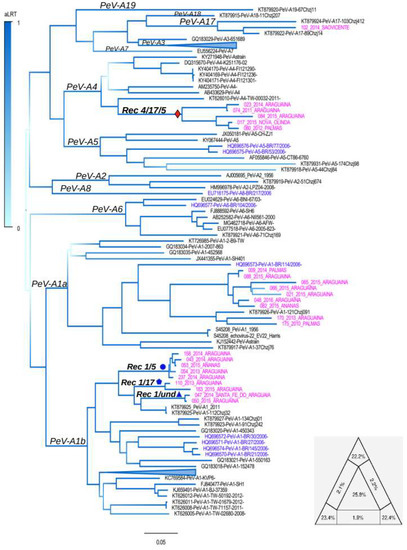 Figure 2.
Maximum likelihood tree constructed using near-full length genome of PeV-A. The Brazilian strains described in the present study (diamonds) and from previous studies (arrows) are indicated in the tree. A colored scale indicating the statistical support of each node, calculated using aLRT, is shown in the tree. Phylogenetic groups corresponding to main genotypes (only the genotypes in which full length genomes were available) are indicated. The scale bar under the tree represents the nucleotide substitutions per site. |A maximum likelihood tree was inferred assuming the GTR+gamma model and was constructed using the software FastTree [
24
]. The triangle in the base of the tree is the likelihood map and it shows 25.9% of unresolved trees in the PeV-A genome alignment. Likelihood mapping was obtained using the software Tree-puzzle, version 5.3 [
26
], assuming the GTR model and the rate of heterogeneity for the evolutionary model. Analyses were performed using 1000 replications.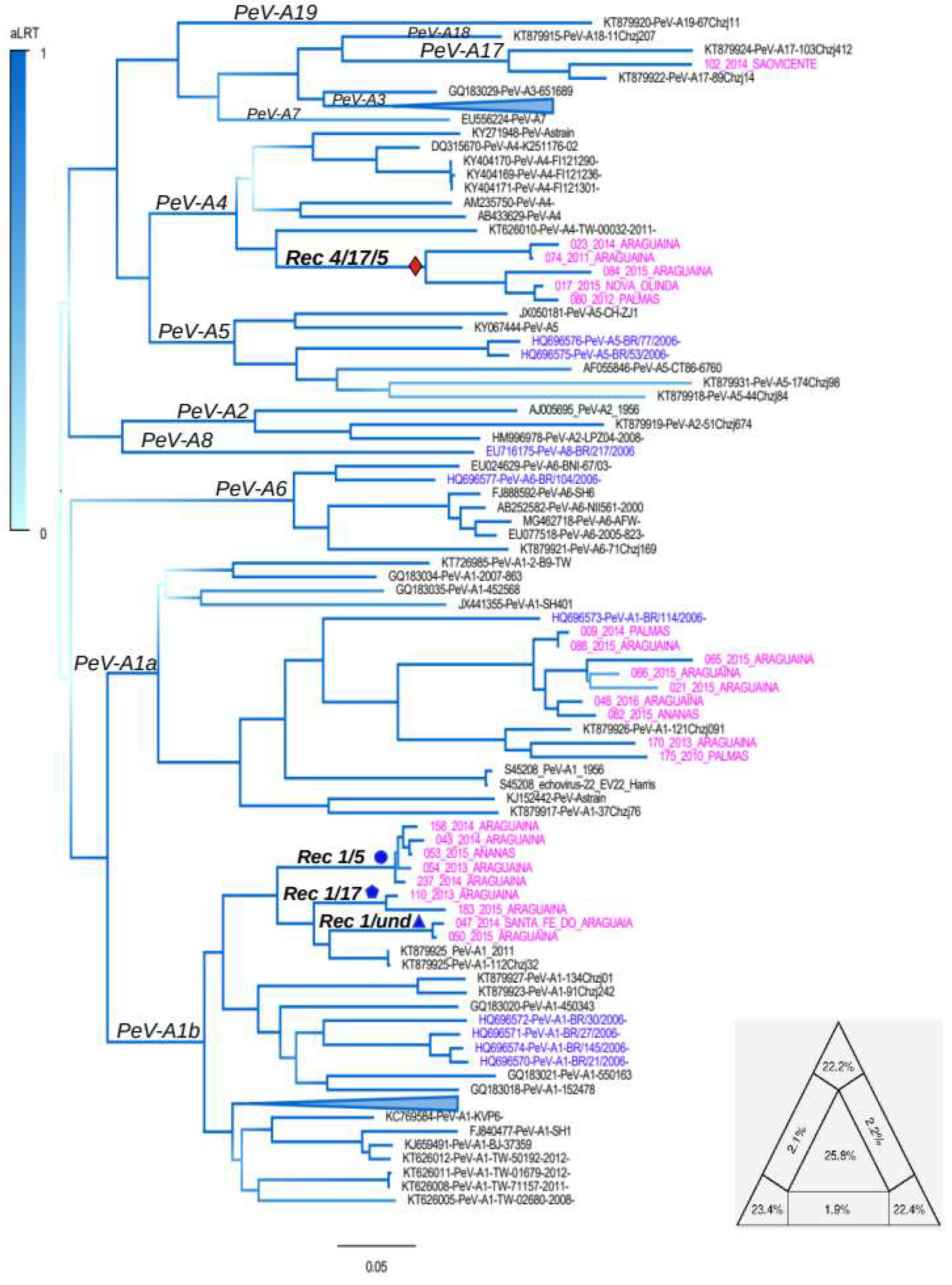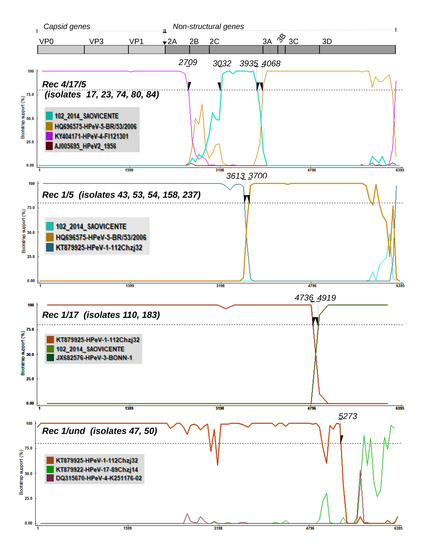 Figure 3.
Recombination pattern of chimera strains of PeV-A from regions in northern Brazil. The bootscanning method was used to determine the parental genotypes that compose the recombinant PeV-A strain. Colored lines represent the probability (given in bootstrap value) of genomic regions belonging to a certain parental genotype. The x-axis represents the sequence length in base pairs (bp). The y-axis represents the statistical support (bootstrap) based on 500 replicates. In the upper region of the figure, a diagram shows the genome map of PeV-A. Each plotted line refers to a certain genotype (see the sequence code color in the gray panel). Each plot indicates the breakpoints in the polyprotein region of the following four categories of PeV-A recombinants: Rec1/5, Rec1/17, Rec1/und, and Rec4/17/5. Isolates that belong to a certain recombinant category are listed within parenthesis. The evolutionary model (Felsenstein, 1984) plus the estimated transition/transversions (ts/tv = 2.7) were used. Window sizes of 100 to 650, stepping of 60–150 nt, as well as χ2 correction, with
p
-values of 0.05 and 0.001, were utilized. All these analyses were performed using the RDP v4 software [
27
].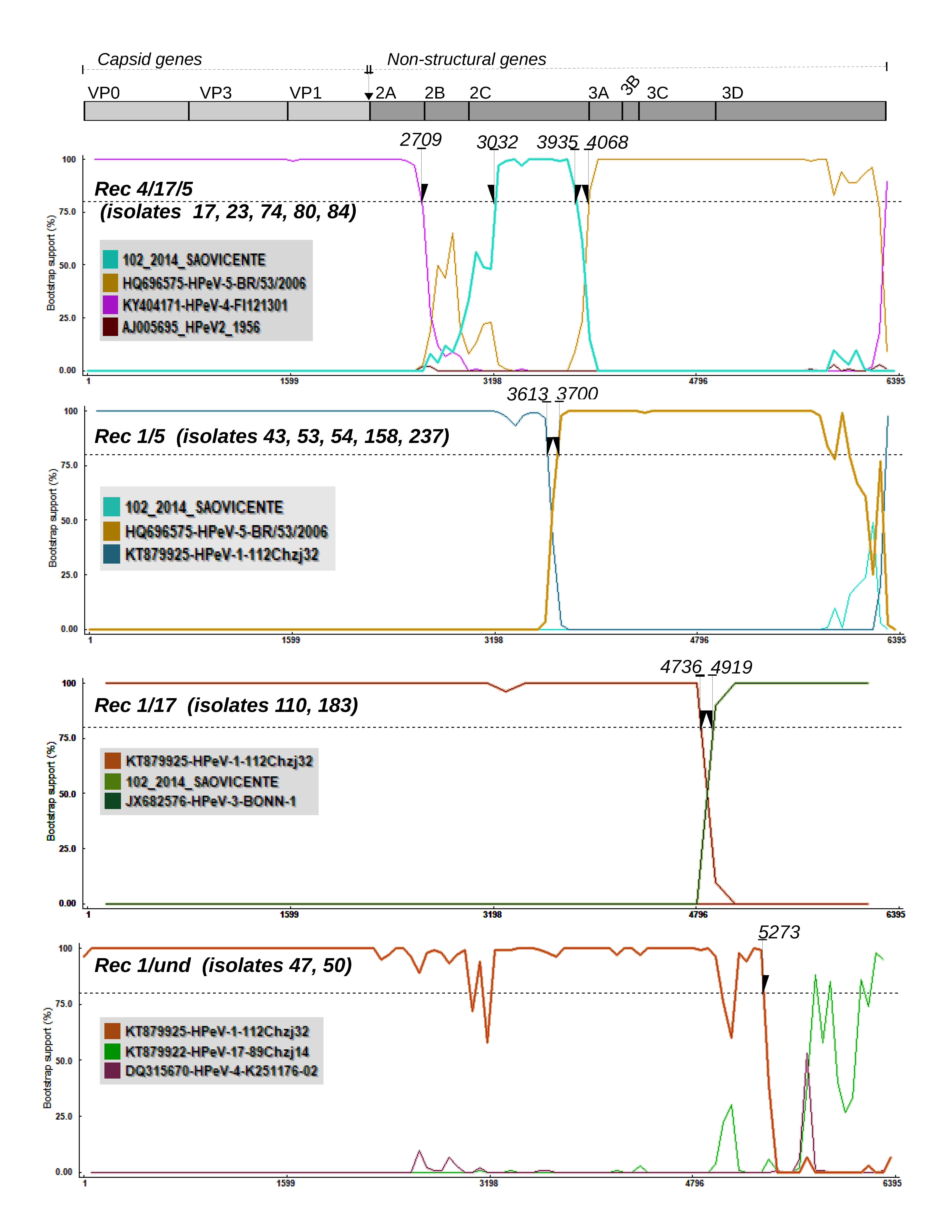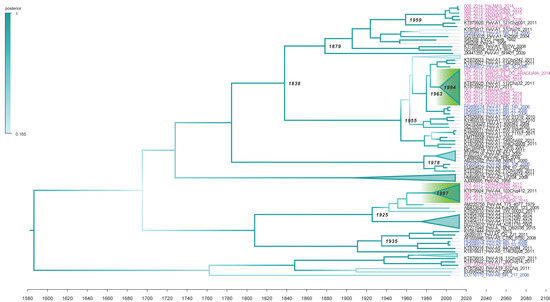 Figure 4.
Maximum clade credibility tree based on the
Vp1
gene of PeV-A. The Bayesian time-scaled tree maximum clade credibility tree was inferred using the relaxed molecular clock and the constant population size model. The x-axis represents chronological time, expressed in years. Sequences generated in the current study are indicated in magenta and Brazilian strains from a previous study are indicated in blue. Clades containing recombinant strains described in this study are indicated by green areas in the tree. The tree also shows (numbers at nodes) the divergence times of lineages, expressed in mean posterior estimate, of ages calibrated in years from the tMRCA. The branch color indicates the posterior probability as indicated by the scale in the left region of the figure. The main genotypes are indicated above the branches. PeV-A3 strains were collapsed in the tree. The tree was summarized using TreeAnnotator software. All these analyses were performed with the BMCMC approaches implemented in the BEAST package, version 1.10.4 [
34
]. Vp1 gene

(

n

= 122, l = 556)
Coalescent Model
MLE
Substitution Rates *
tMRCA *
Constant size
−16,618.29
2.2 × 10−3(1.6 × 10−3–2.7 × 10−3)
1552 (1270–1760)
Exponential growth
−16,696.69
1.8 × 10−3(1.1 × 10–2.5 × 10−3)
1489 (1143–1747)
BSL
−17,212.22
1.7 × 10−3(1.0 × 10−3–2.5 × 10−3)
1482 (1248–1780)
BSL = Bayesian skyline, MLE = Marginal likelihood estimates. * 95% lower and. upper bounds of the highest probability density intervals in parentheses.

© 2019 by the authors. Licensee MDPI, Basel, Switzerland. This article is an open access article distributed under the terms and conditions of the Creative Commons Attribution (CC BY) license (http://creativecommons.org/licenses/by/4.0/).