Parvovirus B19 Uncoating Occurs in the Cytoplasm without Capsid Disassembly and It Is Facilitated by Depletion of Capsid-Associated Divalent Cations
1
Department of Chemistry and Biochemistry, University of Bern, Freiestrasse 3, 3012 Bern, Switzerland
2
Department of Medicine, Pennsylvania State University College of Medicine, Hershey, PA 17033, USA
3
Department of Biochemistry and Molecular Biology, Pennsylvania State University, University Park, PA 16802, USA
*
Author to whom correspondence should be addressed.
†
Present address: Department of Diagnostic, Interventional and Pediatric Radiology, University Hospital, University of Bern, 3010 Bern, Switzerland.
Received: 17 April 2019 / Revised: 7 May 2019 / Accepted: 9 May 2019 / Published: 10 May 2019
Abstract
Human parvovirus B19 (B19V) traffics to the cell nucleus where it delivers the genome for replication. The intracellular compartment where uncoating takes place, the required capsid structural rearrangements and the cellular factors involved remain unknown. We explored conditions that trigger uncoating in vitro and found that prolonged exposure of capsids to chelating agents or to buffers with chelating properties induced a structural rearrangement at 4 °C resulting in capsids with lower density. These lighter particles remained intact but were unstable and short exposure to 37 °C or to a freeze-thaw cycle was sufficient to trigger DNA externalization without capsid disassembly. The rearrangement was not observed in the absence of chelating activity or in the presence of MgCl
2
or CaCl
2
, suggesting that depletion of capsid-associated divalent cations facilitates uncoating. The presence of assembled capsids with externalized DNA was also detected during B19V entry in UT7/Epo cells. Following endosomal escape and prior to nuclear entry, a significant proportion of the incoming capsids rearranged and externalized the viral genome without capsid disassembly. The incoming capsids with accessible genomes accumulated in the nuclear fraction, a process that was prevented when endosomal escape or dynein function was disrupted. In their uncoated conformation, capsids immunoprecipitated from cytoplasmic or from nuclear fractions supported in vitro complementary-strand synthesis at 37 °C. This study reveals an uncoating strategy of B19V based on a limited capsid rearrangement prior to nuclear entry, a process that can be mimicked in vitro by depletion of divalent cations.
View Full-Text
►

▼

Figures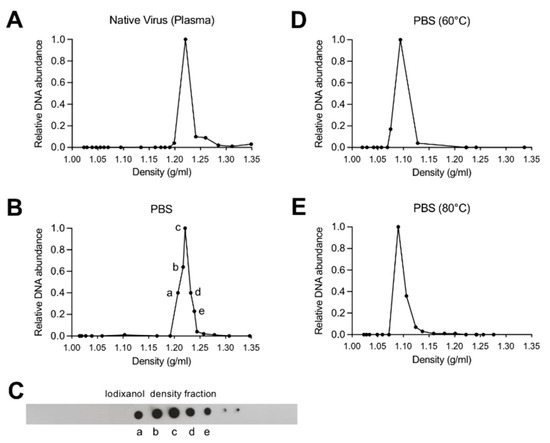 Figure 1
This is an open access article distributed under the
Creative Commons Attribution License
which permits unrestricted use, distribution, and reproduction in any medium, provided the original work is properly cited (CC BY 4.0).

Share & Cite This Article
MDPI and ACS Style
Caliaro, O.; Marti, A.; Ruprecht, N.; Leisi, R.; Subramanian, S.; Hafenstein, S.; Ros, C. Parvovirus B19 Uncoating Occurs in the Cytoplasm without Capsid Disassembly and It Is Facilitated by Depletion of Capsid-Associated Divalent Cations. Viruses 2019, 11, 430.
Note that from the first issue of 2016, MDPI journals use article numbers instead of page numbers. See further details here.
Related Articles
Comments
[Return to top]