Histone Deacetylase Inhibitors Enhance Cell Killing and Block Interferon-Beta Synthesis Elicited by Infection with an Oncolytic Parainfluenza Virus
Burnett School of Biomedical Sciences, College of Medicine, University of Central Florida, Orlando, FL 32827, USA
*
Author to whom correspondence should be addressed.
Received: 22 April 2019 / Revised: 8 May 2019 / Accepted: 9 May 2019 / Published: 10 May 2019
Abstract
Previous results have shown that infection with the cytoplasmic-replicating parainfluenza virus 5 mutant P/V-CPI- sensitizes cells to DNA damaging agents, resulting in the enhanced killing of airway cancer cells. Here, we have tested the hypothesis that histone deacetylase (HDAC) inhibitors can also act with P/V-CPI- infection to enhance cancer cell killing. Using human small cell lung cancer and laryngeal cancer cell lines, 10 HDAC inhibitors were tested for their effect on viability of P/V-CPI- infected cells. HDAC inhibitors such as scriptaid enhanced caspase-3/7, -8 and -9 activity induced by P/V-CPI- and overall cell toxicity. Scriptaid-mediated enhanced killing was eliminated in lung cancer cells that were engineered to express a protein which sequesters double stranded RNA. Scriptaid also enhanced cancer cell killing by two other negative strand RNA viruses – the La Crosse virus and vesicular stomatitis virus. Scriptaid treatment enhanced the spread of the P/V-CPI- virus through a population of cancer cells, and suppressed interferon-beta induction through blocking phosphorylation and nuclear translocation of Interferon Regulatory Factor 3 (IRF-3). Taken together, these data support a role for combinations of a cytoplasmic-replicating RNA virus such as the P/V-CPI- mutant along with chemotherapeutic agents.
View Full-Text
►

▼

Figures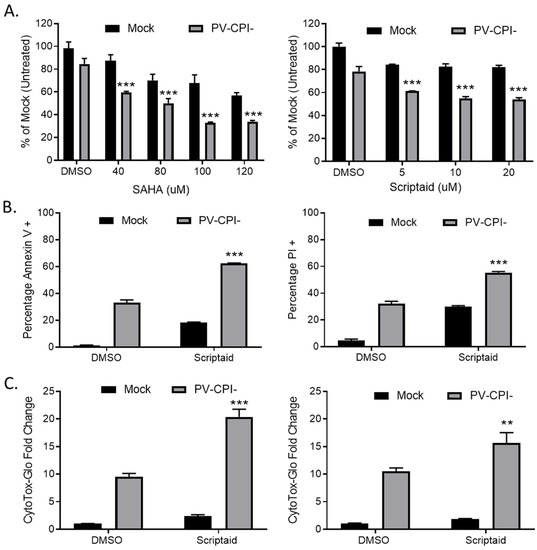 Figure 1
This is an open access article distributed under the
Creative Commons Attribution License
which permits unrestricted use, distribution, and reproduction in any medium, provided the original work is properly cited (CC BY 4.0).

Share & Cite This Article
MDPI and ACS Style
Fox, C.R.; Parks, G.D. Histone Deacetylase Inhibitors Enhance Cell Killing and Block Interferon-Beta Synthesis Elicited by Infection with an Oncolytic Parainfluenza Virus. Viruses 2019, 11, 431.
Note that from the first issue of 2016, MDPI journals use article numbers instead of page numbers. See further details here.
Related Articles
Comments
[Return to top]