Broad Bactericidal Activity of the
Myoviridae

Bacteriophage Lysins LysAm24, LysECD7, and LysSi3 against Gram-Negative ESKAPE Pathogens

1

N.F. Gamaleya Federal Research Centre for Epidemiology and Microbiology, Ministry of Health of the Russian Federation, 123098 Moscow, Russia

2

Lomonosov Moscow State University, 119991 Moscow, Russia

3

Center for Strategic Planning of the Ministry of Health of the Russian Federation, 119435 Moscow, Russia

*

Author to whom correspondence should be addressed.

Received: 20 December 2018 / Revised: 18 March 2019 / Accepted: 19 March 2019 / Published: 21 March 2019
Abstract
The extremely rapid spread of multiple-antibiotic resistance among Gram-negative pathogens threatens to move humankind into the so-called "post-antibiotic era" in which the most efficient and safe antibiotics will not work. Bacteriophage lysins represent promising alternatives to antibiotics, as they are capable of digesting bacterial cell wall peptidoglycans to promote their osmotic lysis. However, relatively little is known regarding the spectrum of lysin bactericidal activity against Gram-negative bacteria. In this study, we present the results of in vitro activity assays of three putative and newly cloned
Myoviridae
bacteriophage endolysins (LysAm24, LysECD7, and LysSi3). The chosen proteins represent lysins with diverse domain organization (single-domain vs. two-domain) and different predicted mechanisms of action (lysozyme vs. peptidase). The enzymes were purified, and their properties were characterized. The enzymes were tested against a panel of Gram-negative clinical bacterial isolates comprising all Gram-negative representatives of the ESKAPE group. Despite exhibiting different structural organizations, all of the assayed lysins were shown to be capable of lysing
Pseudomonas aeruginosa
,
Acinetobacter baumannii
,
Klebsiella pneumoniae
,
Escherichia coli
, and
Salmonella typhi
strains. Less than 50 μg/mL was enough to eradicate growing cells over more than five orders of magnitude. Thus, LysAm24, LysECD7, and LysSi3 represent promising therapeutic agents for drug development.
View Full-Text
►

▼

Figures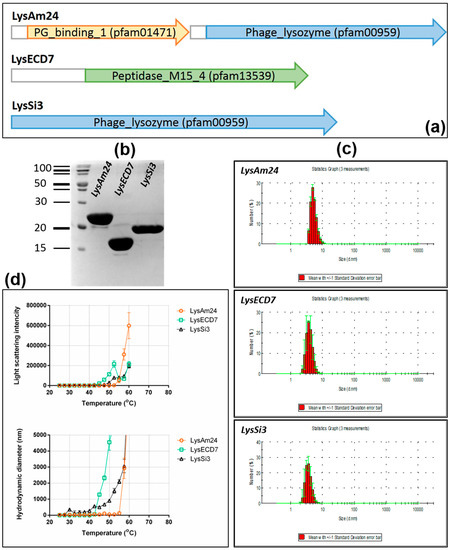 Figure 1
This is an open access article distributed under the
Creative Commons Attribution License
which permits unrestricted use, distribution, and reproduction in any medium, provided the original work is properly cited (CC BY 4.0).

Share & Cite This Article
MDPI and ACS Style
Antonova, N.P.; Vasina, D.V.; Lendel, A.M.; Usachev, E.V.; Makarov, V.V.; Gintsburg, A.L.; Tkachuk, A.P.; Gushchin, V.A. Broad Bactericidal Activity of the Myoviridae Bacteriophage Lysins LysAm24, LysECD7, and LysSi3 against Gram-Negative ESKAPE Pathogens. Viruses 2019, 11, 284.
Note that from the first issue of 2016, MDPI journals use article numbers instead of page numbers. See further details here.
Related Articles
Comments
[Return to top]