RNA Back and Forth: Looking through Ribozyme and Viroid Motifs
1
Sorbonne Université, Museum National d'Histoire Naturelle, CNRS MNHN UMR 7205, Institut de Systématique, Evolution, Biodiversité, ISYEB, F-75005 Paris, France
2
Institute for Integrative Biology of the Cell (I2BC), CNRS, CEA, Université Paris Sud, F-91198 Gif-sur-Yvette, France
3
Institut de Biologie Structurale CNRS-CEA-UGA, F-380447 Grenoble, France, and Institut Laue Langevin, 71 Avenue des Martyrs, F-38042 Grenoble, France
*
Authors to whom correspondence should be addressed.
Received: 27 February 2019 / Revised: 14 March 2019 / Accepted: 18 March 2019 / Published: 21 March 2019
Abstract
Current cellular facts allow us to follow the link from chemical to biochemical metabolites, from the ancient to the modern world. In this context, the "RNA world" hypothesis proposes that early in the evolution of life, the ribozyme was responsible for the storage and transfer of genetic information and for the catalysis of biochemical reactions. Accordingly, the hammerhead ribozyme (HHR) and the hairpin ribozyme belong to a family of endonucleolytic RNAs performing self-cleavage that might occur during replication. Furthermore, regarding the widespread occurrence of HHRs in several genomes of modern organisms (from mammals to small parasites and elsewhere), these small ribozymes have been regarded as living fossils of a primitive RNA world. They fold into 3D structures that generally require long-range intramolecular interactions to adopt the catalytically active conformation under specific physicochemical conditions. By studying viroids as plausible remains of ancient RNA, we recently demonstrated that they replicate in non-specific hosts, emphasizing their adaptability to different environments, which enhanced their survival probability over the ages. All these results exemplify ubiquitous features of life. Those are the structural and functional versatility of small RNAs, ribozymes, and viroids, as well as their diversity and adaptability to various extreme conditions. All these traits must have originated in early life to generate novel RNA populations.
View Full-Text
►

▼

Figures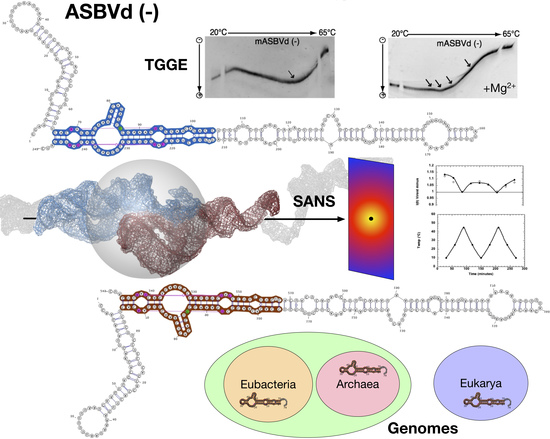 Graphical abstract
This is an open access article distributed under the
Creative Commons Attribution License
which permits unrestricted use, distribution, and reproduction in any medium, provided the original work is properly cited (CC BY 4.0).

Share & Cite This Article
MDPI and ACS Style
Maurel, M.-C.; Leclerc, F.; Vergne, J.; Zaccai, G. RNA Back and Forth: Looking through Ribozyme and Viroid Motifs. Viruses 2019, 11, 283.
Note that from the first issue of 2016, MDPI journals use article numbers instead of page numbers. See further details here.
Related Articles
Comments
[Return to top]