The Oxysterol 7-Ketocholesterol Reduces Zika Virus Titers in Vero Cells and Human Neurons
1
Department of Infectious Diseases, College of Veterinary Medicine, University of Georgia, Athens, GA 30602, USA
2
Department of Animal and Dairy Science, Regenerative Bioscience Center, College of Agriculture and Environmental Science, University of Georgia, Athens, GA 30602, USA
3
Department of Infectious Diseases, Department of Population Health, Center for Vaccines and Immunology, College of Veterinary Medicine, University of Georgia, Athens, GA 30602, USA
*
Author to whom correspondence should be addressed.
Received: 13 November 2018 / Revised: 22 December 2018 / Accepted: 29 December 2018 / Published: 30 December 2018
Abstract
Zika virus (ZIKV) is an emerging flavivirus responsible for a major epidemic in the Americas beginning in 2015. ZIKV associated with maternal infection can lead to neurological disorders in newborns, including microcephaly. Although there is an abundance of research examining the neurotropism of ZIKV, we still do not completely understand the mechanism by which ZIKV targets neural cells or how to limit neural cell infection. Recent research suggests that flaviviruses, including ZIKV, may hijack the cellular autophagy pathway to benefit their replication. Therefore, we hypothesized that ZIKV replication would be impacted when infected cells were treated with compounds that target the autophagy pathway. We screened a library of 94 compounds known to affect autophagy in both mammalian and insect cell lines. A subset of compounds that inhibited ZIKV replication without affecting cellular viability were tested for their ability to limit ZIKV replication in human neurons. From this second screen, we identified one compound, 7-ketocholesterol (7-KC), which inhibited ZIKV replication in neurons without significantly affecting neuron viability. Interestingly, 7-KC induces autophagy, which would be hypothesized to increase ZIKV replication, yet it decreased virus production. Time-of-addition experiments suggest 7-KC inhibits ZIKV replication late in the replication cycle. While 7-KC did not inhibit RNA replication, it decreased the number of particles in the supernatant and the relative infectivity of the released particles, suggesting it interferes with particle budding, release from the host cell, and particle integrity.
View Full-Text
►

▼

Figures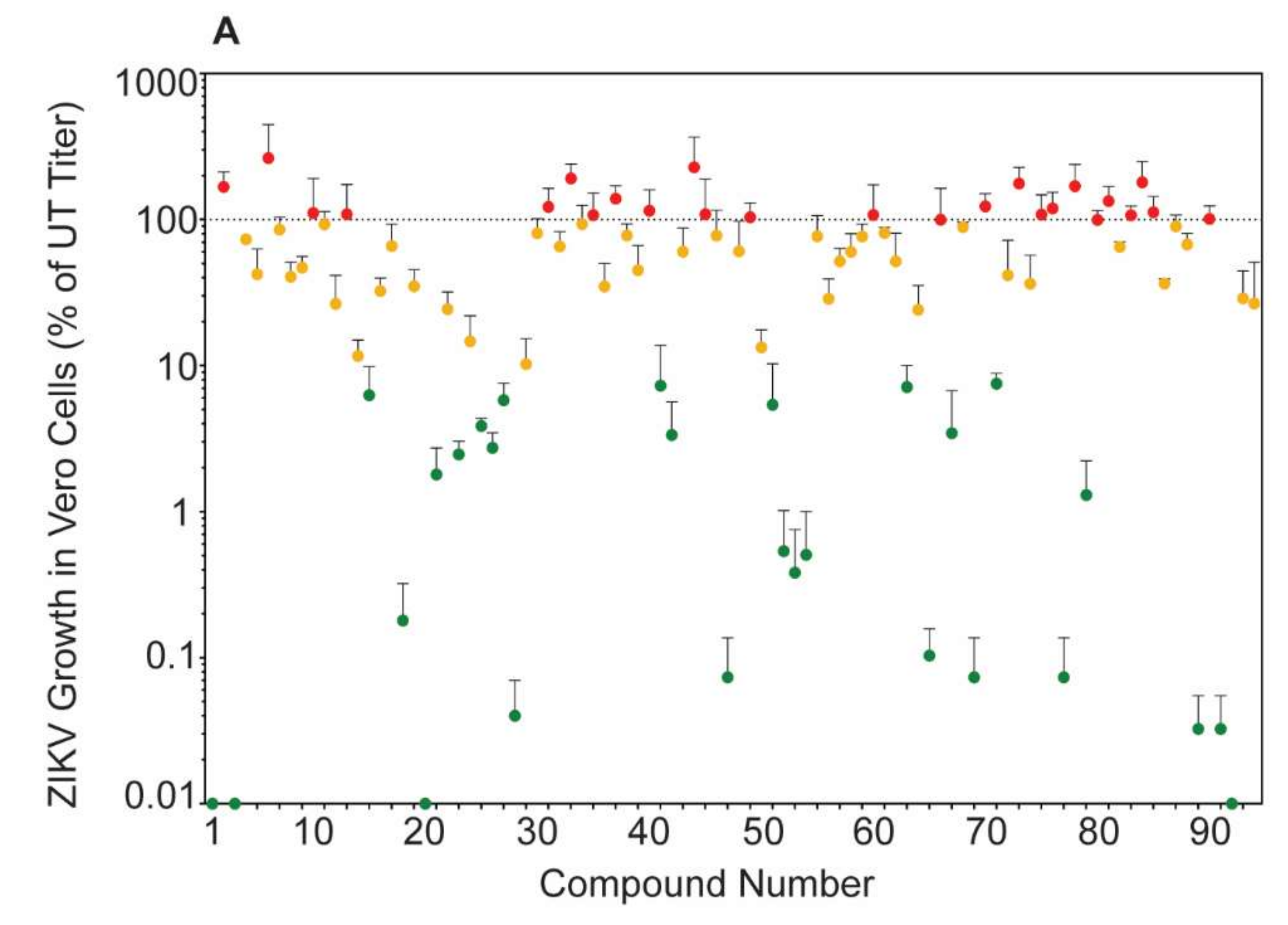 Figure 1
This is an open access article distributed under the
Creative Commons Attribution License
which permits unrestricted use, distribution, and reproduction in any medium, provided the original work is properly cited (CC BY 4.0).

Share & Cite This Article
MDPI and ACS Style
Willard, K.A.; Elling, C.L.; Stice, S.L.; Brindley, M.A. The Oxysterol 7-Ketocholesterol Reduces Zika Virus Titers in Vero Cells and Human Neurons. Viruses 2019, 11, 20.
Note that from the first issue of 2016, MDPI journals use article numbers instead of page numbers. See further details here.
Related Articles
Comments
[Return to top]