The Hard Way towards an Antibody-Based HIV-1 Env Vaccine: Lessons from Other Viruses
1
Georg-Speyer-Haus, Institute for Tumor Biology and Experimental Therapy, 60596 Frankfurt, Germany
2
Centre d'Immunologie et des Maladies Infectieuses (CIMI-Paris), Sorbonne Université, UPMC Univ Paris 06, INSERM U1135, CNRS ERL8255, 75013 Paris, France
3
Department of Chemistry and Pharmacy, University of Erlangen-Nurnberg, 91058 Erlangen, Germany
4
Laboratory for Infection Biology & Gene Transfer, Institute of Experimental Hematology, Hannover Medical School, 30625 Hannover, Germany
5
German Center for Infection Research (DZIF), Partner Site Hannover-Braunschweig, 38124 Braunschweig, Germany
*
Author to whom correspondence should be addressed.
Received: 16 March 2018 / Revised: 5 April 2018 / Accepted: 13 April 2018 / Published: 15 April 2018
Abstract
Although effective antibody-based vaccines have been developed against multiple viruses, such approaches have so far failed for the human immunodeficiency virus type 1 (HIV-1). Despite the success of anti-retroviral therapy (ART) that has turned HIV-1 infection into a chronic disease and has reduced the number of new infections worldwide, a vaccine against HIV-1 is still urgently needed. We discuss here the major reasons for the failure of "classical" vaccine approaches, which are mostly due to the biological properties of the virus itself. HIV-1 has developed multiple mechanisms of immune escape, which also account for vaccine failure. So far, no vaccine candidate has been able to induce broadly neutralizing antibodies (bnAbs) against primary patient viruses from different clades. However, such antibodies were identified in a subset of patients during chronic infection and were shown to protect from infection in animal models and to reduce viremia in first clinical trials. Their detailed characterization has guided structure-based reverse vaccinology approaches to design better HIV-1 envelope (Env) immunogens. Furthermore, conserved Env epitopes have been identified, which are promising candidates in view of clinical applications. Together with new vector-based technologies, considerable progress has been achieved in recent years towards the development of an effective antibody-based HIV-1 vaccine.
View Full-Text
►

▼

Figures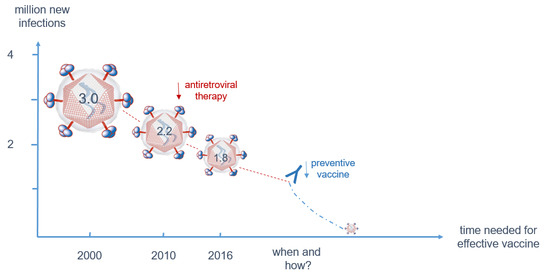 Graphical abstract
This is an open access article distributed under the
Creative Commons Attribution License
which permits unrestricted use, distribution, and reproduction in any medium, provided the original work is properly cited (CC BY 4.0).

Share & Cite This Article
MDPI and ACS Style
Ringel, O.; Vieillard, V.; Debré, P.; Eichler, J.; Büning, H.; Dietrich, U. The Hard Way towards an Antibody-Based HIV-1 Env Vaccine: Lessons from Other Viruses. Viruses 2018, 10, 197.
Note that from the first issue of 2016, MDPI journals use article numbers instead of page numbers. See further details here.
Related Articles
Comments
[Return to top]