The Amino-Terminal Region of Hepatitis E Virus ORF1 Containing a Methyltransferase (Met) and a Papain-Like Cysteine Protease (PCP) Domain Counteracts Type I Interferon Response
1
Anses, UMR 1161 Virologie, Laboratoire de Santé Animale, 94700 Maisons-Alfort, France
2
INRA, UMR 1161 Virologie, 94700 Maisons-Alfort, France
3
École Nationale Vétérinaire d'Alfort, UMR 1161 Virologie, 94700 Maisons-Alfort, France
4
CNRS-UMR3569, Unité de Génomique Virale et Vaccination, Institut Pasteur, 75015 Paris, France
†
These authors contributed equally to this work.
‡
Current address: UMR CNRS 5290, IRD 224, Université de Montpellier, 34394 Montpellier, France.
*
Author to whom correspondence should be addressed.
Received: 26 September 2018 / Revised: 7 December 2018 / Accepted: 13 December 2018 / Published: 18 December 2018
Abstract
Hepatitis E virus (HEV) is responsible for large waterborne epidemics of hepatitis in endemic countries and is an emerging zoonotic pathogen worldwide. In endemic regions, HEV-1 or HEV-2 genotypes are frequently associated with fulminant hepatitis in pregnant women, while with zoonotic HEV (HEV-3 and HEV-4), chronic cases of hepatitis and severe neurological disorders are reported. Hence, it is important to characterize the interactions between HEV and its host. Here, we investigated the ability of the nonstructural polyprotein encoded by the first open reading frame (
ORF1
) of HEV to modulate the host early antiviral response and, in particular, the type I interferon (IFN-I) system. We found that the amino-terminal region of HEV-3 ORF1 (MetYPCP), containing a putative methyltransferase (Met) and a papain-like cysteine protease (PCP) functional domain, inhibited IFN-stimulated response element (ISRE) promoter activation and the expression of several IFN-stimulated genes (ISGs) in response to IFN-I. We showed that the MetYPCP domain interfered with the Janus kinase (JAK)/signal transducer and activator of the transcription protein (STAT) signalling pathway by inhibiting STAT1 nuclear translocation and phosphorylation after IFN-I treatment. In contrast, MetYPCP had no effect on STAT2 phosphorylation and a limited impact on the activation of the JAK/STAT pathway after IFN-II stimulation. This inhibitory function seemed to be genotype-dependent, as MetYPCP from HEV-1 had no significant effect on the JAK/STAT pathway. Overall, this study provides evidence that the predicted MetYPCP domain of HEV ORF1 antagonises STAT1 activation to modulate the IFN response.
View Full-Text
►

▼

Figures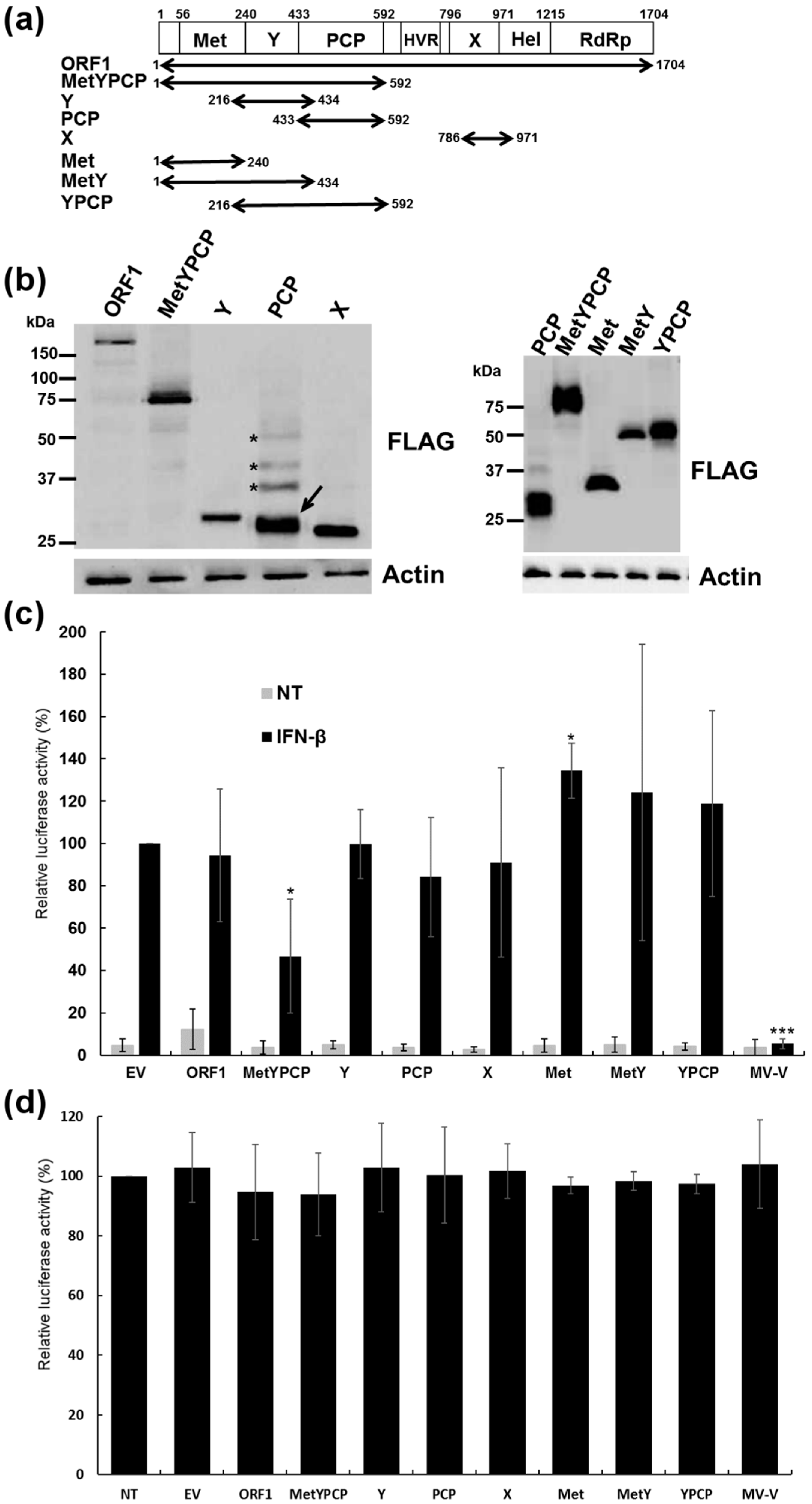 Figure 1
This is an open access article distributed under the
Creative Commons Attribution License
which permits unrestricted use, distribution, and reproduction in any medium, provided the original work is properly cited (CC BY 4.0).

Share & Cite This Article
MDPI and ACS Style
Bagdassarian, E.; Doceul, V.; Pellerin, M.; Demange, A.; Meyer, L.; Jouvenet, N.; Pavio, N. The Amino-Terminal Region of Hepatitis E Virus ORF1 Containing a Methyltransferase (Met) and a Papain-Like Cysteine Protease (PCP) Domain Counteracts Type I Interferon Response. Viruses 2018, 10, 726.
Note that from the first issue of 2016, MDPI journals use article numbers instead of page numbers. See further details here.
Related Articles
Comments
[Return to top]