Environmental Controls on the Seasonal Variation in Gas Exchange and Water Balance in a Near-Coastal Mediterranean
Pinus halepensis

Forest

1

Forest Research Institute, Hellenic Agricultural Organization Demeter, 57006 Vassilika, Thessaloniki, Greece

2

Institute of Mediterranean and Forest Ecosystems, Hellenic Agricultural Organization Demeter, P. O. Box 14180, Terma Alkmanos, 11528 Ilisia, Athens, Greece

3

LSCE/IPSL, CEA-CNRS-UVSQ, Université Paris-Saclay, Orme des Merisiers, 91191 Gif-sur-Yvette, France

4

Department of Forestry & Management of the Environment & Natural Resources, Democritus University of Thrace, Pantazidou 193, 68200 Nea Orestiada, Greece

5

School of Natural Resources, University of Nebraska, 807 Hardin Hall, 3310 Holdrege Street, Lincoln, NE 68583-0968, USA

6

Chair of Environmental Meteorology, Faculty of Environment and Natural Resources, University of Freiburg, Werthmannstr. 10, D-79085 Freiburg, Germany

7

Research Center Human Biometeorology, German Meteorological Service, D-79104 Freiburg, Germany

*

Author to whom correspondence should be addressed.

Received: 22 February 2019 / Revised: 22 March 2019 / Accepted: 3 April 2019 / Published: 5 April 2019
Abstract
Aleppo pine (
Pinus halepensis
Mill.) is widespread in most countries of the Mediterranean area. In Greece, Aleppo pine forms natural stands of high economic and ecological importance. Understanding the species' ecophysiological traits is important in our efforts to predict its responses to ongoing climate variability and change. Therefore, the aim of this study was to assess the seasonal dynamic in Aleppo pine gas exchange and water balance on the leaf and canopy levels in response to the intra-annual variability in the abiotic environment. Specifically, we assessed needle gas exchange, water potential and δ
13
C ratio, as well as tree sap flow and canopy conductance in adult trees of a mature near-coastal semi-arid Aleppo pine ecosystem, over two consecutive years differing in climatic conditions, the latter being less xerothermic. Maximum photosynthesis (A
max
), stomatal conductance (g
s
), sap flow per unit leaf area (Q
l
), and canopy conductance (G
s
) peaked in early spring, before the start of the summer season. During summer drought, the investigated parameters were negatively affected by the increasing potential evapotranspiration (PET) rate and vapor pressure deficit (VPD). Aleppo pine displayed a water-saving, drought avoidance (isohydric) strategy via stomatal control in response to drought. The species benefited from periods of high available soil water, during the autumn and winter months, when other environmental factors were not limiting. Then, on the leaf level, air temperature had a significant effect on A
max
, while on the canopy level, VPD and net radiation affected Q
l
. Our study demonstrates the plasticity of adult Aleppo pine in this forest ecosystem in response to the concurrent environmental conditions. These findings are important in our efforts to predict and forecast responses of the species to projected climate variability and change in the region.
View Full-Text
►

▼

Figures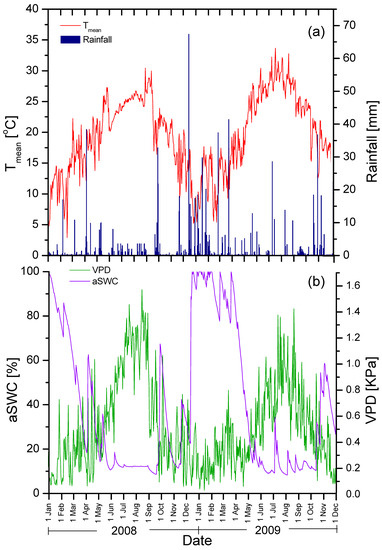 Figure 1
This is an open access article distributed under the
Creative Commons Attribution License
which permits unrestricted use, distribution, and reproduction in any medium, provided the original work is properly cited (CC BY 4.0).

Share & Cite This Article
MDPI and ACS Style
Fotelli, M.N.; Korakaki, E.; Paparrizos, S.A.; Radoglou, K.; Awada, T.; Matzarakis, A. Environmental Controls on the Seasonal Variation in Gas Exchange and Water Balance in a Near-Coastal Mediterranean Pinus halepensis Forest. Forests 2019, 10, 313.
Note that from the first issue of 2016, MDPI journals use article numbers instead of page numbers. See further details here.
Related Articles
Comments
[Return to top]