Charged Triazole Cross-Linkers for Hyaluronan-Based Hybrid Hydrogels
1
Institut für Organische Chemie, Universität Stuttgart, Pfaffenwaldring 55, Stuttgart D-70569, Germany
2
Department of Cellular Biophysics & CSF Biomaterials, Max-Planck Institute for Medical Research, Heidelberg D-69120, Germany
3
Department of Biophysical Chemistry, University of Heidelberg, Im Neuenheimerfeld 253, Heidelberg D-69120, Germany
4
Institut für Grenzflächenverfahrenstechnik und Plasmatechnologie IGVP, Universität Stuttgart, Nobelstr. 12, Stuttgart D-70569, Germany
5
Fraunhofer-Institut für Grenzflächen- und Bioverfahrenstechnik IGB, Nobelstr. 12, Stuttgart D-70569, Germany
*
Authors to whom correspondence should be addressed.
†
These authors contributed equally to this work.
Academic Editor: Franz E. Weber
Received: 28 July 2016 / Revised: 13 September 2016 / Accepted: 23 September 2016 / Published: 30 September 2016
Abstract
Polyelectrolyte hydrogels play an important role in tissue engineering and can be produced from natural polymers, such as the glycosaminoglycan hyaluronan. In order to control charge density and mechanical properties of hyaluronan-based hydrogels, we developed cross-linkers with a neutral or positively charged triazole core with different lengths of spacer arms and two terminal maleimide groups. These cross-linkers react with thiolated hyaluronan in a fast, stoichiometric thio-Michael addition. Introducing a positive charge on the core of the cross-linker enabled us to compare hydrogels with the same interconnectivity, but a different charge density. Positively charged cross-linkers form stiffer hydrogels relatively independent of the size of the cross-linker, whereas neutral cross-linkers only form stable hydrogels at small spacer lengths. These novel cross-linkers provide a platform to tune the hydrogel network charge and thus the mechanical properties of the network. In addition, they might offer a wide range of applications especially in bioprinting for precise design of hydrogels.
View Full-Text
►

▼

Figures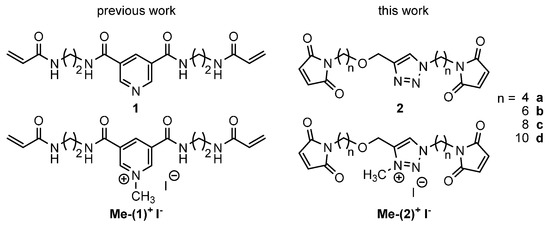 Figure 1
This is an open access article distributed under the
Creative Commons Attribution License
which permits unrestricted use, distribution, and reproduction in any medium, provided the original work is properly cited (CC BY 4.0).

Share & Cite This Article
MDPI and ACS Style
Martini, M.; Hegger, P.S.; Schädel, N.; Minsky, B.B.; Kirchhof, M.; Scholl, S.; Southan, A.; Tovar, G.E.M.; Boehm, H.; Laschat, S. Charged Triazole Cross-Linkers for Hyaluronan-Based Hybrid Hydrogels. Materials 2016, 9, 810.
Note that from the first issue of 2016, MDPI journals use article numbers instead of page numbers. See further details here.
Related Articles
Comments
[Return to top]