Structure Determination of Au on Pt(111) Surface: LEED, STM and DFT Study
1
Department of Physics, University of Warwick, Coventry CV4 7AL, UK
2
Peter Grünberg Institut, Forschungszentrum Jülich, Wilhelm-Johnen-Str., 52425 Jülich, Germany
3
Department of Advanced Materials and Technologies, Faculty of Advanced Technologies and Chemistry, Military University of Technology, Kaliskiego 2 Str., 00-908 Warszawa, Poland
4
Faculty of Chemistry, Warsaw University of Technology, ul. Noakowskiego 3, 00-664 Warsaw, Poland
5
Faculty of Science, SEES, University of Portsmouth, Portsmouth PO1 3QL, UK
*
Author to whom correspondence should be addressed.
Academic Editor: Marco Salerno
Received: 20 January 2015 / Accepted: 8 May 2015 / Published: 27 May 2015
Abstract
Low-energy electron diffraction (LEED), scanning tunneling microscopy (STM) and density functional theory (DFT) calculations have been used to investigate the atomic and electronic structure of gold deposited (between 0.8 and 1.0 monolayer) on the Pt(111) face in ultrahigh vacuum at room temperature. The analysis of LEED and STM measurements indicates two-dimensional growth of the first Au monolayer. Change of the measured surface lattice constant equal to 2.80 Å after Au adsorption was not observed. Based on DFT, the distance between the nearest atoms in the case of bare Pt(111) and Au/Pt(111) surface is equal to 2.83 Å, which gives 1% difference in comparison with STM values. The first and second interlayer spacing of the clean Pt(111) surface are expanded by +0.87% and contracted by −0.43%, respectively. The adsorption energy of the Au atom on the Pt(111) surface is dependent on the adsorption position, and there is a preference for a hollow
fcc
site. For the Au/Pt(111) surface, the top interlayer spacing is expanded by +2.16% with respect to the ideal bulk value. Changes in the electronic properties of the Au/Pt(111) system below the Fermi level connected to the interaction of Au atoms with Pt(111) surface are observed.
View Full-Text
►

▼

Figures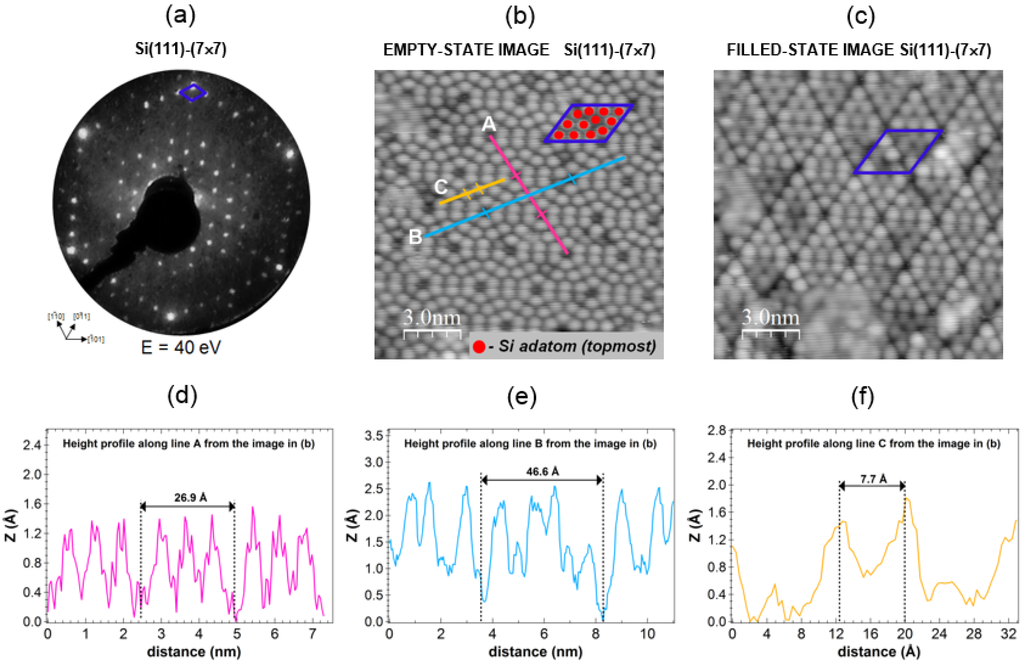 Figure 1
This is an open access article distributed under the
Creative Commons Attribution License
which permits unrestricted use, distribution, and reproduction in any medium, provided the original work is properly cited (CC BY 4.0).

Share & Cite This Article
MDPI and ACS Style
Krupski, K.; Moors, M.; Jóźwik, P.; Kobiela, T.; Krupski, A. Structure Determination of Au on Pt(111) Surface: LEED, STM and DFT Study. Materials 2015, 8, 2935-2952.
Related Articles
Comments
[Return to top]