DNA Adsorption Studies of Poly(4,4′-Cychlohexylidene Bisphenol Oxalate)/Silica Nanocomposites
1
Department of Chemistry, Faculty of Science, Universiti Putra Malaysia, Serdang 43400 UPM, Malaysia
2
Haql College, University of Tabuk, Tabuk 71491, Saudi Arabia
3
Institute of Advanced Technology, Universiti Putra Malaysia, Serdang 43400 UPM, Malaysia
4
Surfactants Research Chair, Chemistry, College of Science, King Saud University, Riyadh 11451, Saudi Arabia
5
Faculty of Biotechnology and Biomolecular Science, Universiti Putra Malaysia, Serdang 43400 UPM, Malaysia
*
Authors to whom correspondence should be addressed.
Received: 27 January 2019 / Revised: 5 March 2019 / Accepted: 6 March 2019 / Published: 11 April 2019
Abstract
The present study deals with the synthesis, characterization, and DNA extraction of poly(4,4′-cyclohexylidene bisphenol oxalate)/silica (Si) nanocomposites (NCs). The effects of varying the monomer/Si (3.7%, 7%, and 13%) ratio towards the size and morphology of the resulting NC and its DNA extraction capabilities have also been studied. For the NC synthesis, two different methods were followed, including the direct mixing of poly(4,4′-cyclohexylidene bisphenol oxalate) with fumed Si, and in situ polymerization of the 4,4′-cyclohexylidene bisphenol monomer in the presence of fumed silica (11 nm). The formed NCs were thoroughly investigated by using different techniques such as scanning electron microscopy (SEM), fourier transform infrared (FTIR) spectroscopy, differential scanning calorimetry (DSC), thermogravimetric analysis (TGA), powdered X-ray diffraction (XRD), and Brunauer–Emmett–Teller (BET) analysis where the results supported that there was the successful formation of poly(4,4′-cyclohexylidene bisphenol oxalate)/Si NC. Within the three different NC samples, the one with 13% Si was found to maintain a very high surface area of 12.237 m
2
/g, as compared to the other two samples consisting of 7% Si (3.362 m
2
/g) and 3.7% Si (1.788 m
2
/g). Further, the solid phase DNA extraction studies indicated that the efficiency is strongly influenced by the amount of polymer (0.2 g > 0.1 g > 0.02 g) and the type of binding buffer. Among the three binding buffers tested, the guanidine hydrochloride/EtOH buffer produced the most satisfactory results in terms of yield (1,348,000 ng) and extraction efficiency (3370 ng/mL) as compared to the other two buffers of NaCl (2 M) and phosphate buffered silane. Based on our results, it can be indicated that the developed poly(4,4′-cyclohexylidene bisphenol oxalate)/Si NC can serve as one of the suitable candidates for the extraction of DNA in high amounts as compared to other traditional solid phase approaches.
View Full-Text
►

▼

Figures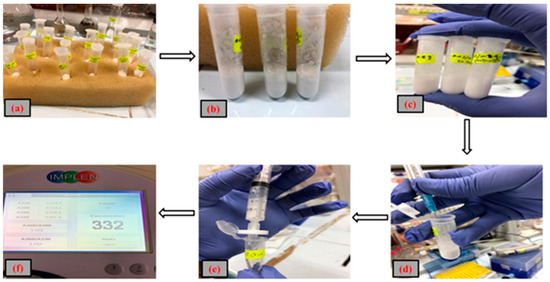 Figure 1
This is an open access article distributed under the
Creative Commons Attribution License
which permits unrestricted use, distribution, and reproduction in any medium, provided the original work is properly cited (CC BY 4.0).

Share & Cite This Article
MDPI and ACS Style
Al balawi, A.N.; Yusof, N.A.; Kamaruzaman, S.; Mohammad, F.; Wasoh, H.; Al-Lohedan, H.A. DNA Adsorption Studies of Poly(4,4′-Cychlohexylidene Bisphenol Oxalate)/Silica Nanocomposites. Materials 2019, 12, 1178.
Note that from the first issue of 2016, MDPI journals use article numbers instead of page numbers. See further details here.
Related Articles
Comments
[Return to top]