Open Access This article is
freely available
re-usable
Article
Effect of Laser Ablation on Microwave Attenuation Properties of Diamond Films
1
Institute for Advanced Materials and Technology, University of Science and Technology Beijing, Beijing 100083, China
2
Institute of Interdisciplinary Information Sciences, Tsinghua University, Beijing 100084, China
*
Authors to whom correspondence should be addressed.
Received: 1 October 2019 / Accepted: 7 November 2019 / Published: 9 November 2019
Abstract
:
Thermal conductivity is required for developing high-power microwave technology. Diamond has the highest thermal conductivity in nature. In this study, a diamond film was synthesized by microwave plasma chemical deposition, and then long and short conductive graphite fibers were introduced to the diamond films by laser ablation. The permittivity of the samples in the K-band was measured using the transmission/reflection method. The permittivity of diamond films with short graphite fibers increased. The increase in real part of permittivity can be attributed to electron polarization, and the increase in the imaginary part can be ascribed to both polarization and electrical conductivity. The diamond films with long graphite fibers exhibited a highly pronounced anisotropy for microwave. The calculation of microwave absorption shows that reflection loss values exceeding −10 dB can be obtained in the frequency range of 21.3–23.5 GHz when the graphite fiber length is 0.7 mm and the sample thickness is 2.5 mm. Therefore, diamond films can be developed into a microwave attenuation material with extremely high thermal conductivity.
Keywords:
diamond films; laser ablation; permittivity; microwave attenuation; high thermal conductivity
1. Introduction
In this paper, graphite was introduced into free-standing diamond films using laser ablation. Microwave properties of these films were measured in the K-band (18–26.5 GHz). Diamond films can be transformed into microwave absorbing material by laser ablation. This discovery suggests that such diamond-based materials with a high thermal conductivity could find applications as microwave attenuation materials.
2. Materials and Methods
2.1. Synthesis of a Free-Standing Diamond Film by MPCVD
A diamond film was deposited on a (100) single crystal silicon substrate of 30 mm in diameter using a MPCVD reactor [
32
]. The silicon substrate was first scratched uniformly with 10-μm diamond powders and then ultrasonically cleaned in acetone and methanol for 10 min sequentially. As process gases, methane and hydrogen were introduced into the reactor using gas mass flow controllers. The deposition conditions and dimension of diamond film are shown in
Table 1
.
After deposition, the diamond film was separated from the silicon substrate by acid etching. Then, the removed film was mechanically polished from both sides mechanically and laser cut into rectangular samples of 10.6 × 4.3 mm2 size. Finally, the samples were acid cleaned to remove possible contaminants.
2.2. Preparation of Diamond Samples Using Laser Ablation
An original Nd:YAP laser system (1.06 μm wavelength, 500 μs pulse duration, 200 Hz pulse repetition rate, 20 W output power) was used in laser ablation experiments. The spatial profile of the laser beam was nearly Gaussian, and the laser radiation was focused on diamond surface into a spot of ~80 µm in size. The laser beam was scanned along a programmed path only one time. Diamond films were placed on a computer-driven X-Y stage and permitted to displace under the laser beam with a scanning velocity of 90 mm min−1.
Because it is possible for lasers to locally heat and ablate diamond material, diverse graphite-based graphics can be introduced into diamond materials such as a line, a flake, or even more complex graphics. For the sake of convenience, only a shape of line graphite was introduced into the diamond material in this study, referred to as graphite fiber (GF), like carbon fiber (CF). Both the GF and CF have high electrical conductivities [
26
,
33
]. Therefore, GF could be studied to some extent in terms of CF.
There are mainly two main types of CF according to the geometry, continuous CF, and short CF [
33
]. Continuous CF is used to improve both the properties of electromagnetism and mechanics, but it exhibits an anisotropy under microwave [
5
,
34
]. However, similar to traditional metallic frequency selective surface (FSS), continuous CFs can be paved perpendicularly crosslinked with each other, which is isotropic for measurements [
34
,
35
]. Unlike continuous CF, a short CF can be sparsely dispersed in a composite and has been extensively studied for microwave absorption [
3
,
4
,
5
,
6
,
7
]. However, it is difficult to form randomly distributed short GFs inside a diamond using laser ablation.
According to the previous discussions about CF, continuous and short GFs were introduced to diamond films using laser ablation. A schematic diagram of laser ablation traces of samples is shown in
Figure 1
.
As shown in
Figure 1
, GFs were periodically arranged on the surface of diamond films, except for sample A, in which no GFs existed. Samples B and C exhibited continuous GFs, but the directions of GFs of these two samples were vertical to each other. Samples D and E used short GFs, and those short GFs formed periodic grids similar to FSS.
Regarding the decision of GF's length, it should be noted that when the microwave length is larger than the grid period, the periodic modulation of material properties can be homogenized using effective material properties [
36
]. The frequency wavelength of K-band was 11.3–16.7 mm, larger than the sample size (10.6 mm × 4.3 mm), and it was impossible to insert FSS structures into the samples. Thus, the microwave scattering of the periodic structures can be ignored and the frequency response of samples was only related to the complex permittivity. Therefore, according to the size of sample, the length of GF was determined as shown in
Figure 1
.
2.3. Characterization of Diamond Films
Surface structure and quality of diamond films were characterized by laser confocal microscopy (Olympus, OLS4000, Tokyo, Japan), scanning electron microscopy (SEM, LEO4500, Jena, Germany), and Raman spectroscopy. Raman spectroscopy was carried out using a Horiba HR-800 Raman spectrometer (Paris, France) with a 532-nm wavelength laser at room temperature. The in-plane thermal conductivity of samples was measured using the photothermal deflection technique, as described in detail in the literature [
37
]. The permittivity of the samples was measured using the transmission/reflection (T/R) technique using an Agilent N5244A vector network analyzer (Palo Alto, CA, USA) [
38
].
The device used for the T/R measurement is schematically shown in
Figure 2
a. The device measures the reflection and transmission of a microwave reference signal when it passes through the material in a waveguide. In the T/R measurement of this study, the surfaces of all samples were ablated by laser faced to the incident wave, as shown in
Figure 2
a. In
Figure 2
b, a practical measurement system is shown.
3. Results and Discussions
3.1. Morphologies and Raman Spectra of Diamond Films
The above results indicate that GFs combined with conductive graphite were successfully introduced to diamond films using laser ablation.
3.2. Dielectric Properties
As shown in Equation (2), the imaginary part of permittivity arose from polarizations and electrical conductivity. The slight increase in the imaginary part of permittivity of sample B indicated that the contribution from electrical conductivity was also weak, even though the GFs were conductive. This was because the GFs of sample B were perpendicular to the incident electric field and these fibers are isolated from each other. It was difficult for free electrons to pass through the gap, as the electrons can only move at the interface of GFs, resulting in a low conductivity.
The permittivity of sample C with almost the same total length of GFs as sample B (0.96:1) could not be measured. This was because of the strong reflection in the T/R measurement.
3.3. Microwave Absorbing Property
4. Conclusions
In summary, with laser ablation, continuous and short GFs can be introduced to diamond films. By measuring the permittivity of these samples in K-band, it was found that the diamond films could be developed into a microwave attenuation material. The results showed that the sample with continuous GFs parallel to the incident electric field exhibited strong reflection characteristics, whereas the sample with continuous GFs vertical to the incident electric field exhibited poor dielectric property. From these results, it can be concluded that the samples with short GFs had better microwave absorbing property than the samples with continuous GFs. In addition, the permittivity of the latter could be modified by changing the length of GFs. Meanwhile, the diamond films after laser ablation also exhibited a high thermal conductivity.
Author Contributions
Conceptualization, W.T.; Data curation, M.D.; Formal analysis, Y.L. and X.L.; Methodology, M.D.; Supervision, W.T.; Writing—original draft, M.D.
Funding
This research received no external funding.
Conflicts of Interest
The authors declare no conflict of interest.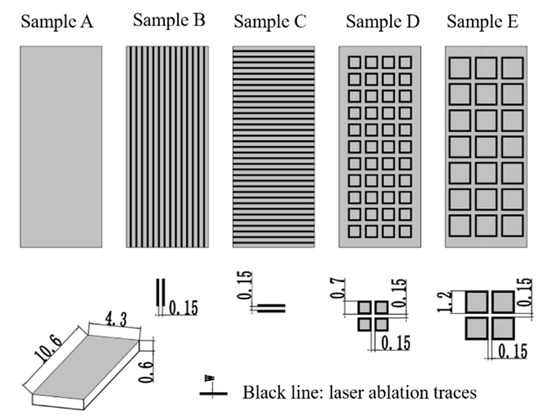 Figure 1. Schematic diagram of laser ablation traces. All samples have the same size of 10.6 × 4.3 × 0.6 mm3. Sample A was not ablated by laser. Samples B–D were ablated by laser but the ablation traces on these samples are different.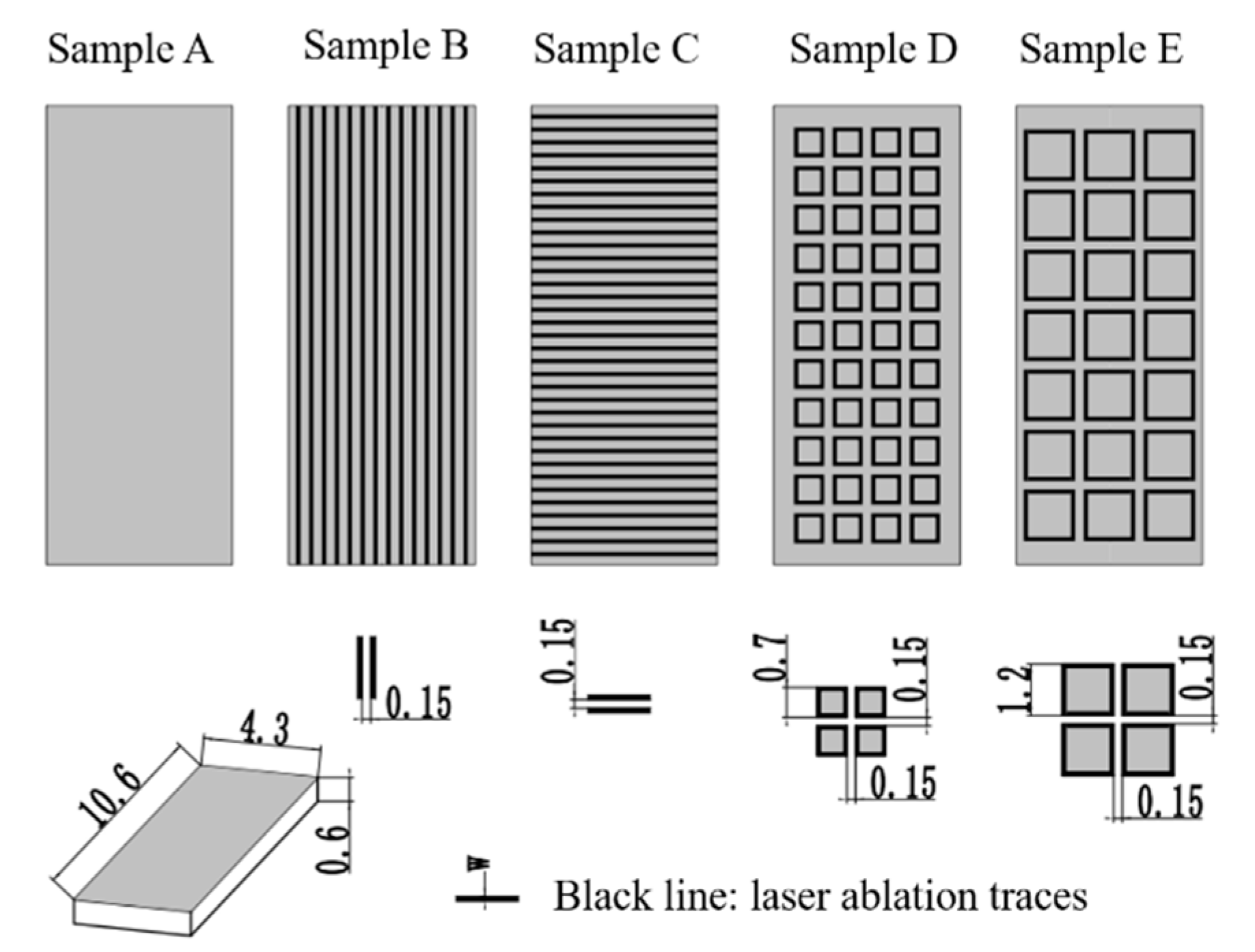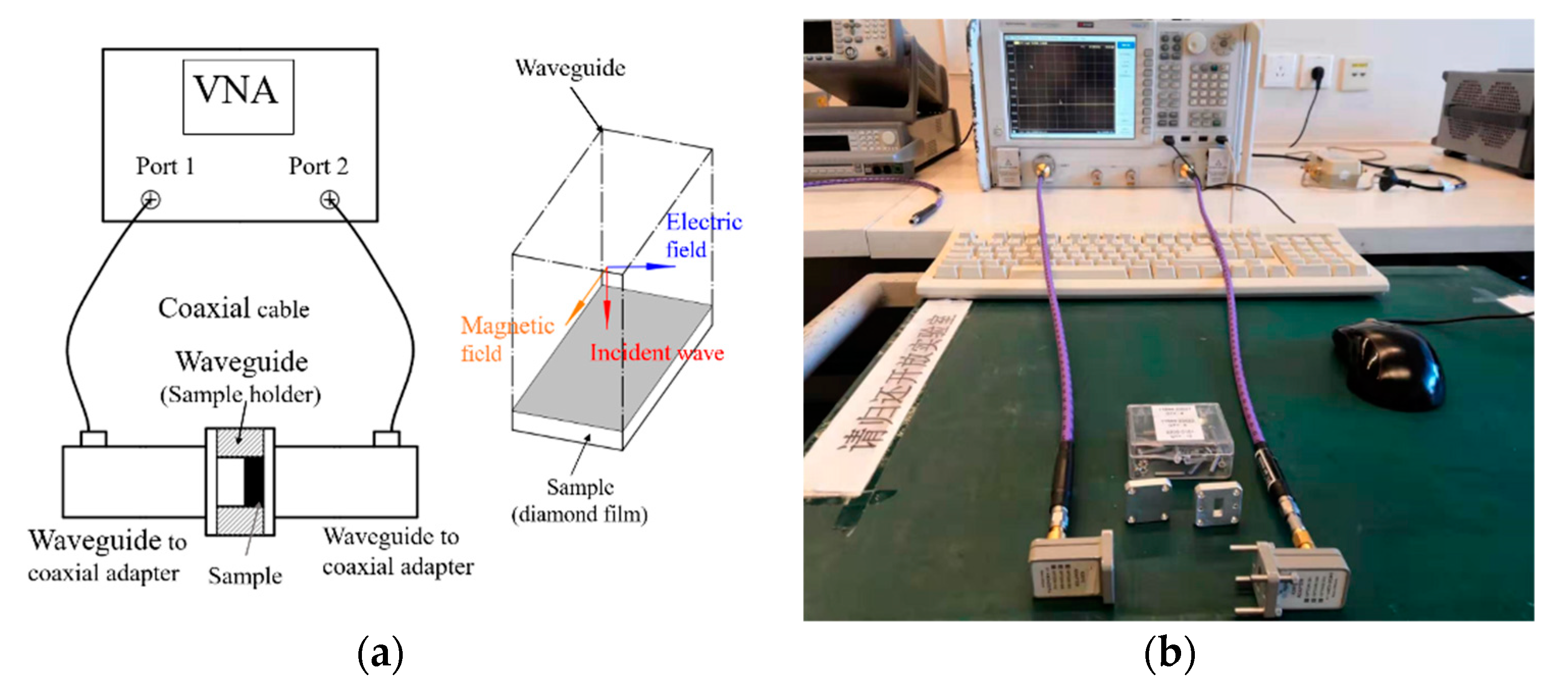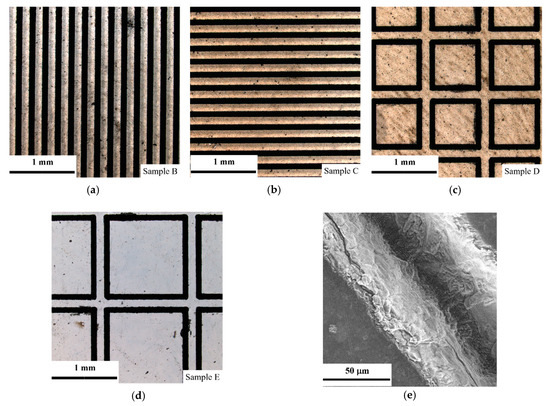 Figure 3. Morphologies of diamond films with graphite fibers (GFs) using an optical microscope: (a) Sample B; (b) sample C; (c) sample D; and (d) sample E. (e) SEM image of a laser-ablated groove.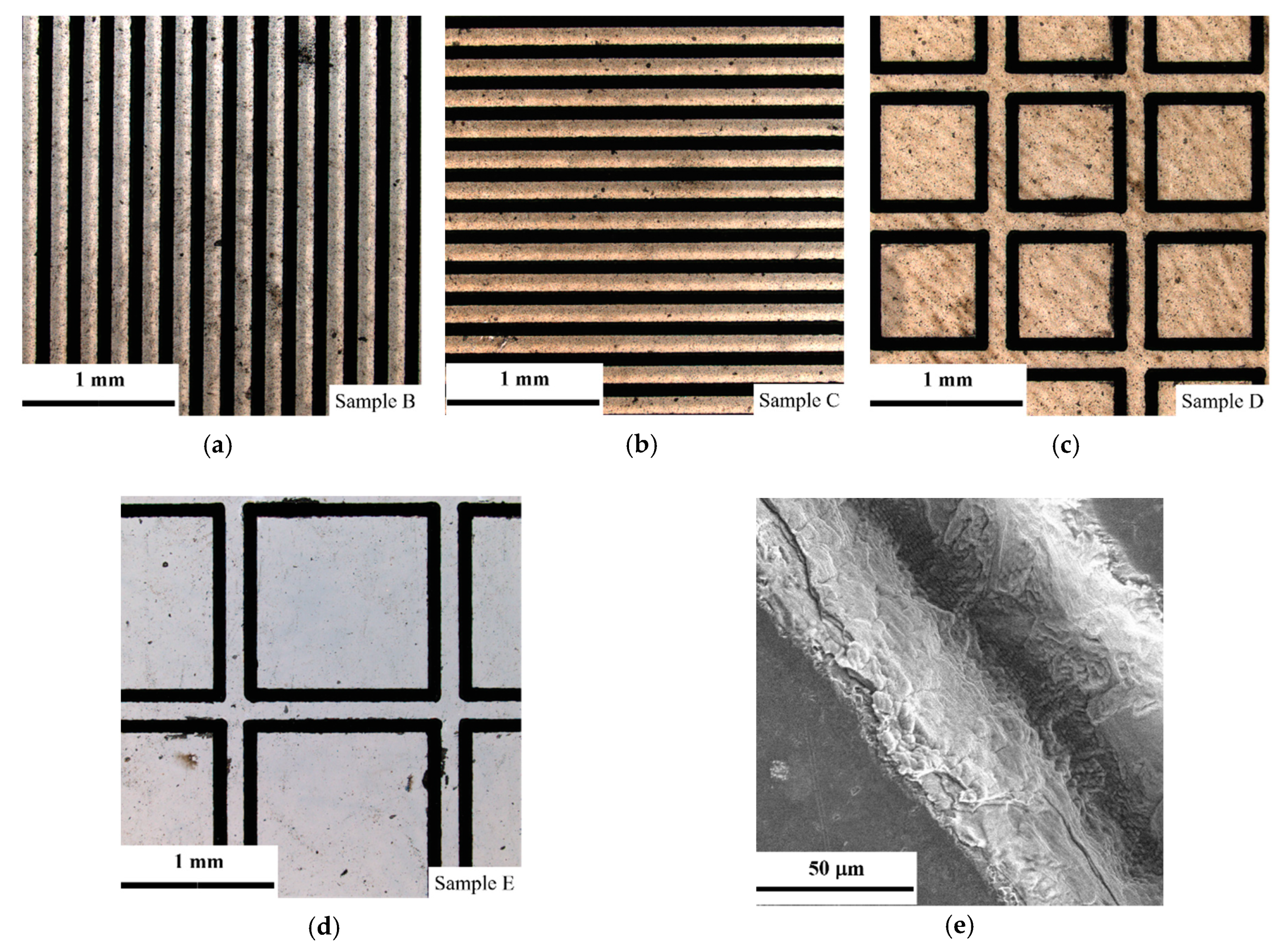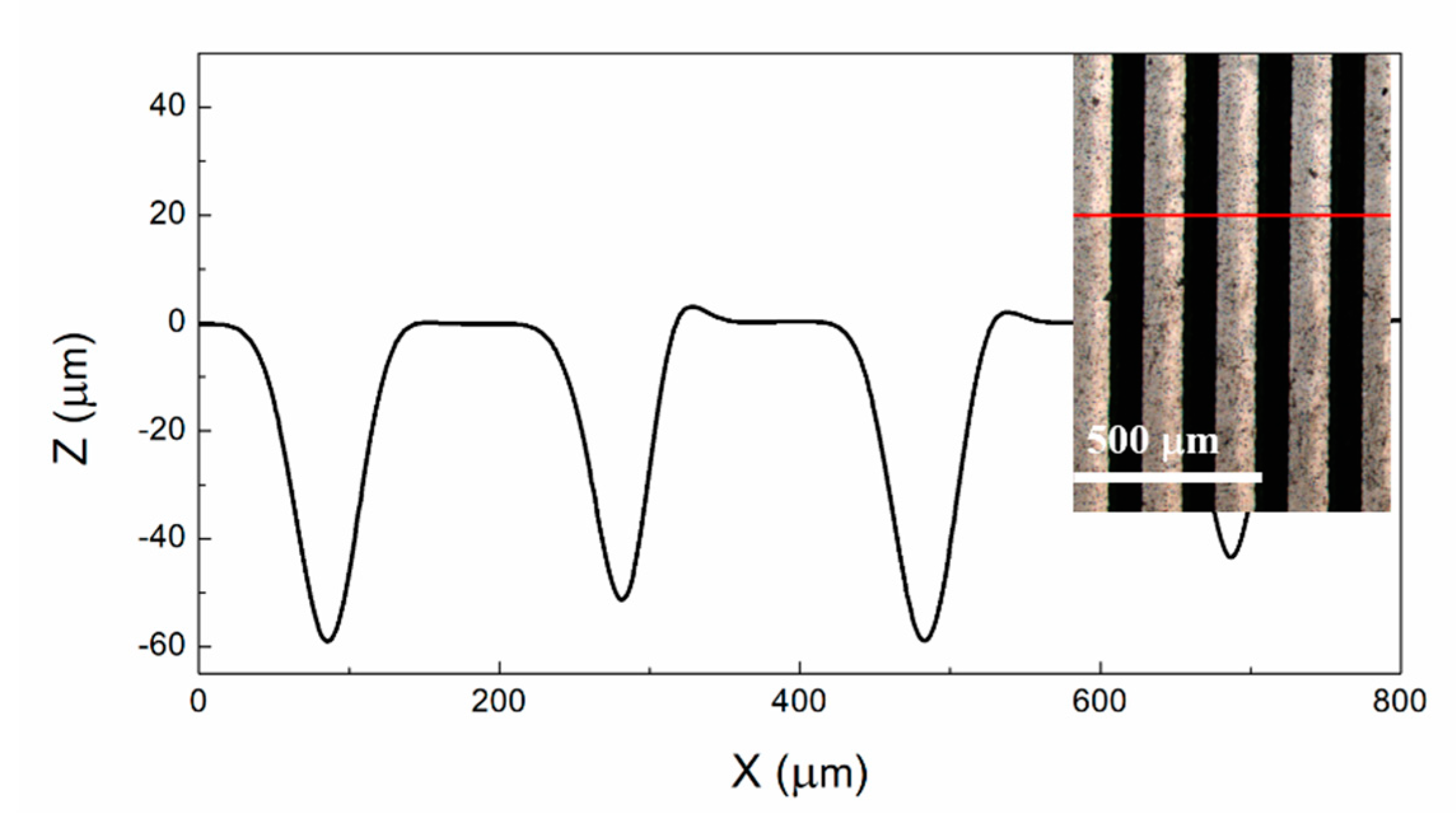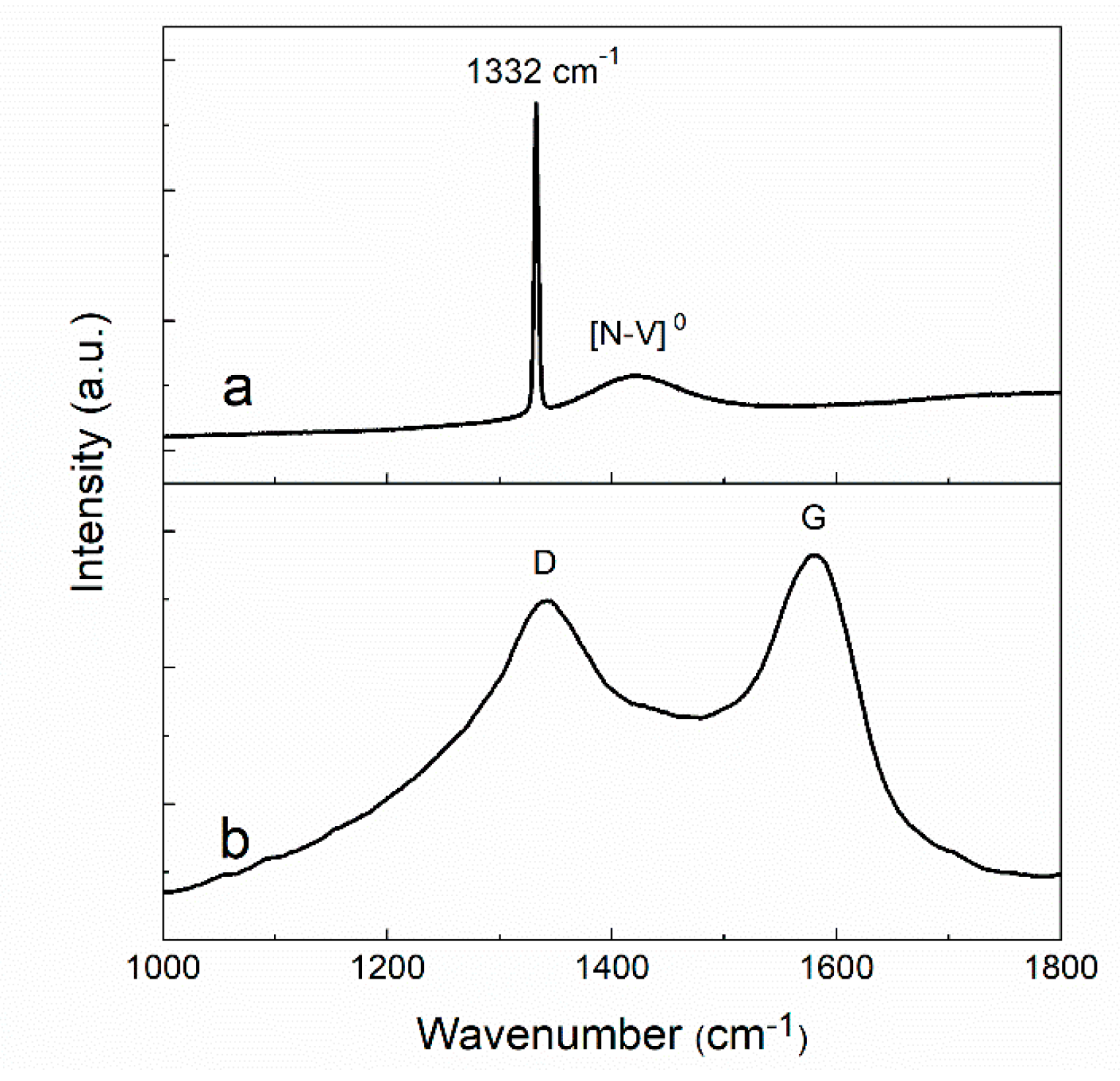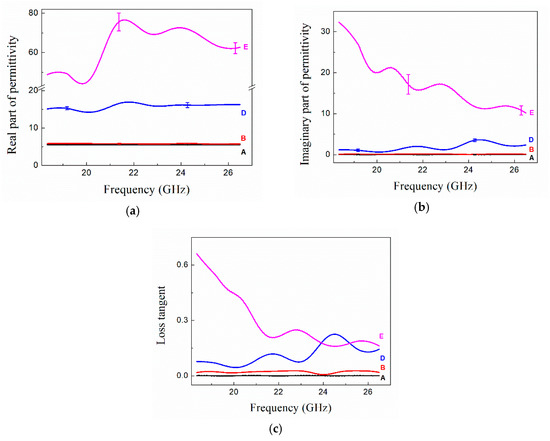 Figure 6. Real part (a) and imaginary part (b) of permittivity and loss tangent (c) of diamond films in the K-band.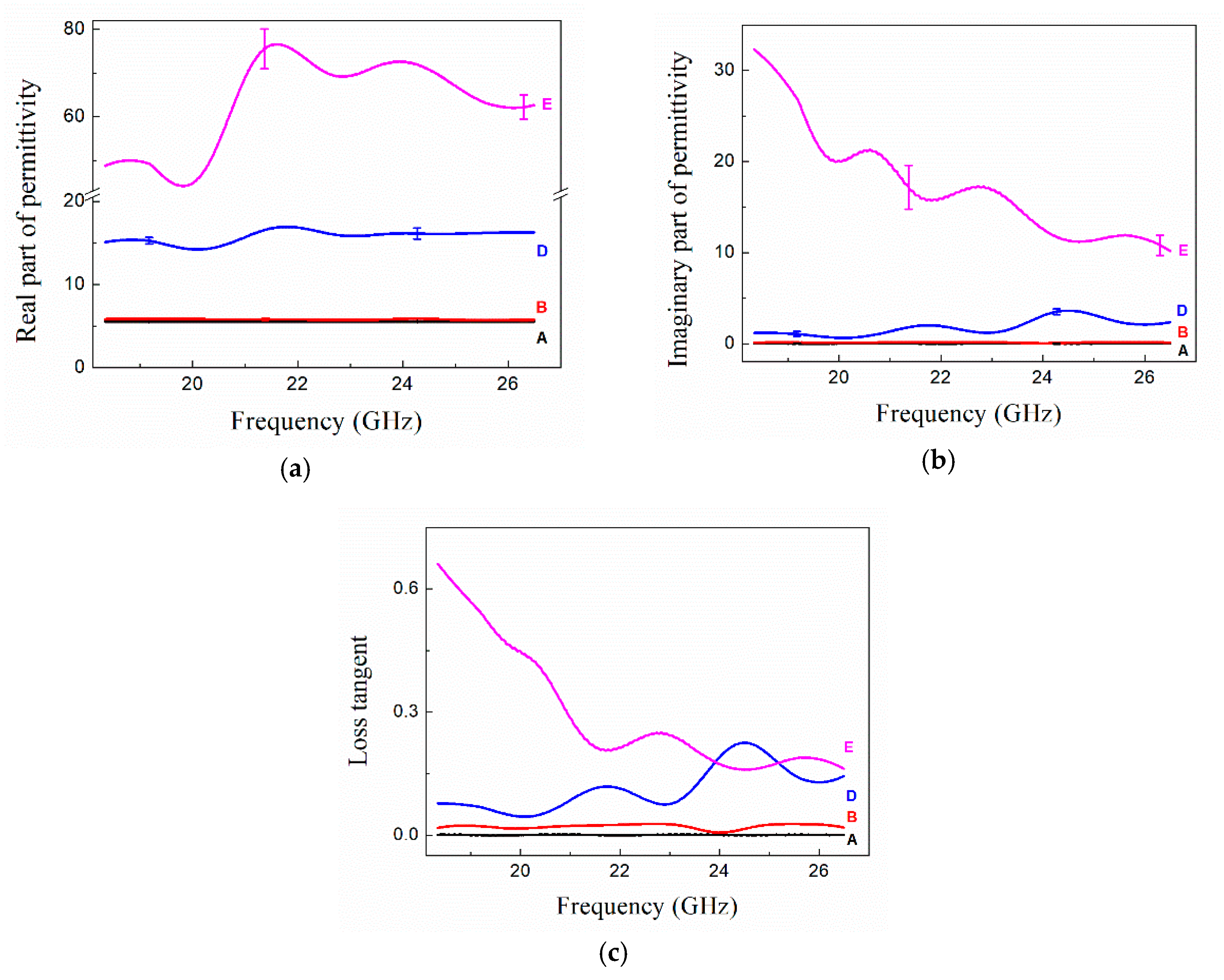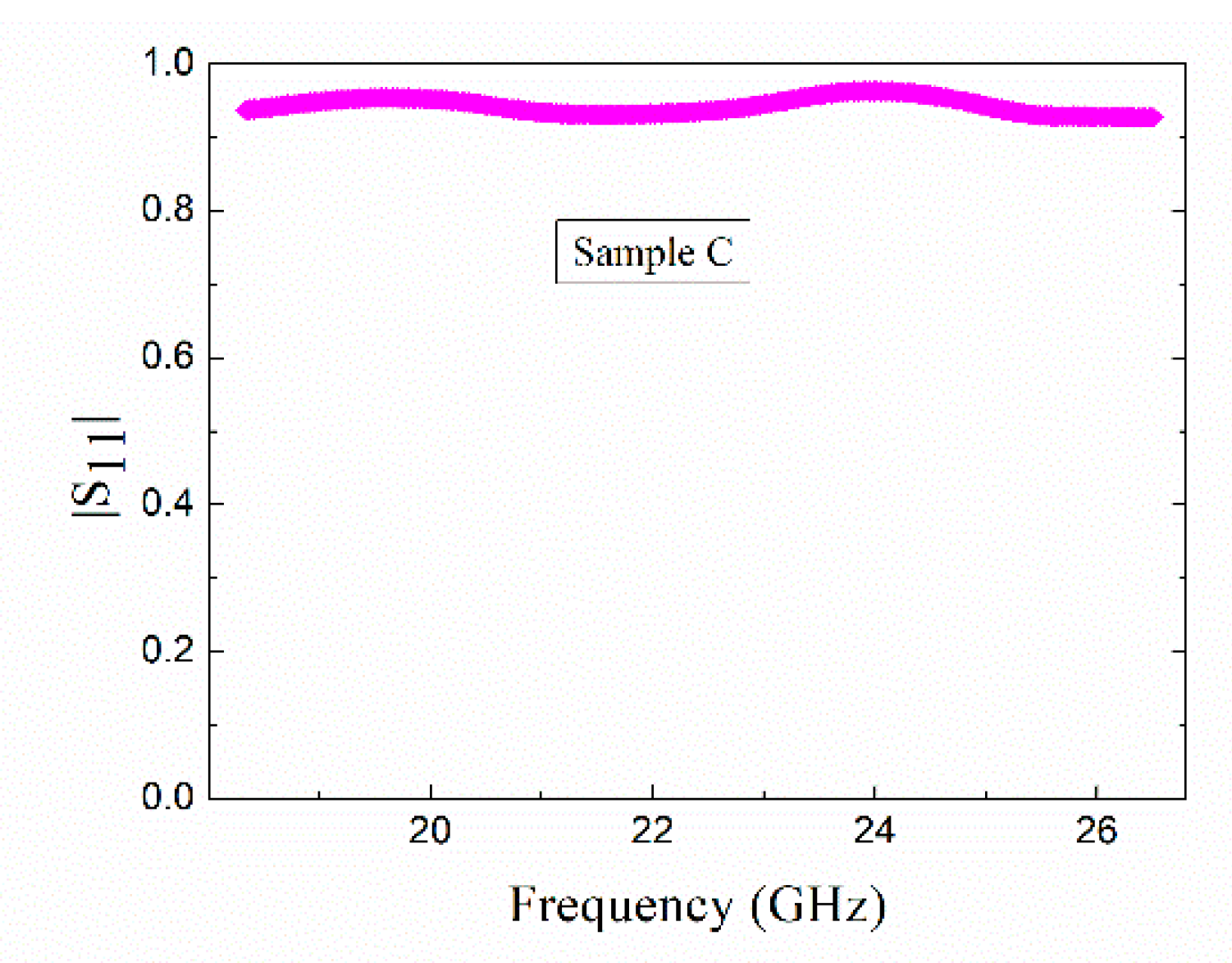 Figure 8. Frequency dependency of the reflection loss (RL) of samples B (a), D (b), and E (c) with different thickness in K-band.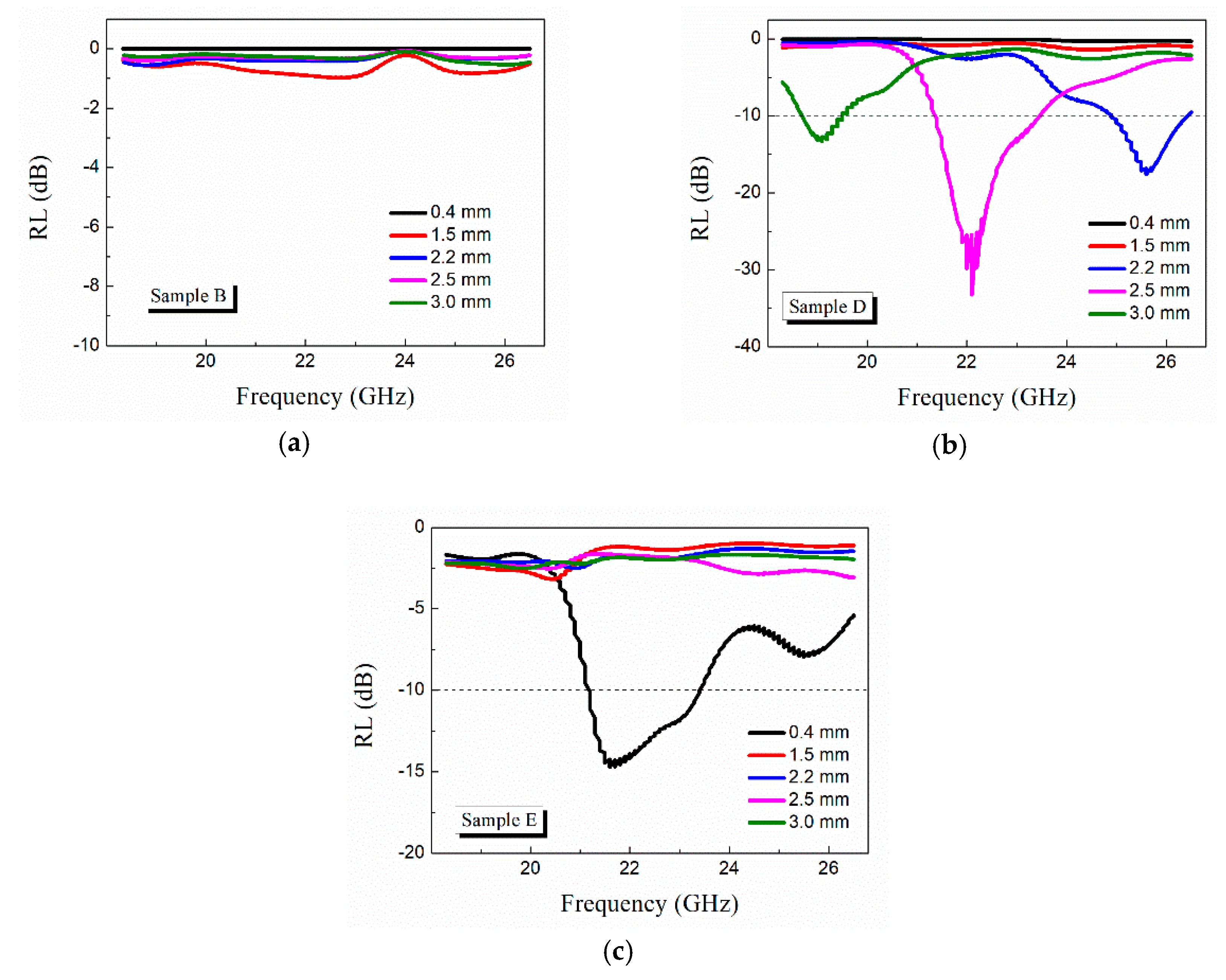 | Power (kW) | CH4/H2 (sccm) | Temperature (°C) | Pressure (kPa) | Thickness after Polishing (mm) | Deposition Rate (μm/h) |
| --- | --- | --- | --- | --- | --- |
| 5.6 | 15/300 | 975 | 20 | 0.6 | 4.8 |

© 2019 by the authors. Licensee MDPI, Basel, Switzerland. This article is an open access article distributed under the terms and conditions of the Creative Commons Attribution (CC BY) license (http://creativecommons.org/licenses/by/4.0/).