Open Access This article is
freely available
re-usable
Article
Emission Enhancement of Cu-Doped InP Quantum Dots through Double Shelling Scheme
Department of Materials Science and Engineering, Hongik University, Seoul 04066, Korea
*
Authors to whom correspondence should be addressed.
Received: 25 June 2019 / Accepted: 11 July 2019 / Published: 15 July 2019
Abstract
:
The doping of transition metal ions, such as Cu+ and Mn2+ into a quantum dot (QD) host is one of the useful strategies in tuning its photoluminescence (PL). This study reports on a two-step synthesis of Cu-doped InP QDs double-shelled with ZnSe inner shell/ZnS outer shell. As a consequence of the double shelling-associated effective surface passivation along with optimal doping concentrations, Cu-doped InP/ZnSe/ZnS (InP:Cu/ZnSe/ZnS) QDs yield single Cu dopant-related emissions with high PL quantum yields of 57–58%. This study further attempted to tune PL of Cu-doped QDs through the variation of InP core size, which was implemented by adopting different types of Zn halide used in core synthesis. As the first application of doped InP QDs as electroluminescent (EL) emitters, two representative InP:Cu/ZnSe/ZnS QDs with different Cu concentrations were then employed as active emitting layers of all-solution-processed, multilayered QD-light-emitting diodes (QLEDs) with the state-of-the-art hybrid combination of organic hole transport layer plus inorganic electron transport layers. The EL performances, such as luminance and efficiencies of the resulting QLEDs with different Cu doping concentrations, were compared and discussed.
Keywords:
Cu doping; InP quantum dots; double shelling; emission enhancement; electroluminescence
1. Introduction
Colloidal semiconductor quantum dots (QDs) have been regarded as promising emitters for the next-generation display and lighting devices in the light-emitting diode (LED) platforms of color-conversion and electroluminescence (EL). Photoluminescence (PL) of QDs with a given composition is systematically tunable by virtue of synthetically controllable size variation. In addition, impurity doping into QDs is another means to modulate their PL, while their band gap remains by and large unaltered. In this regard, doped QD emitters possess an intrinsically large Stokes shift, by which self-absorption can be effectively suppressed. Mn
2+
is one of the most common impurity ions for doping QDs with different host compositions such as CdS [
1
,
2
,
3
], ZnSe [
4
,
5
,
6
,
7
], and ZnS [
8
,
9
]. One principal feature of Mn-doped QDs is the insensitiveness of their PL energy to the composition and size of the QD host, since the radiative recombination of Mn
2+
ion excited through the transfer of exciton energy of host QD is governed by the
d
orbital intrashell electronic transition of
4
T
1
–
6
A
l
. Cu
+
is another popular transition metal ion for doping into various QD hosts including the above II–VI chalcogenides adopted for Mn doping [
10
,
11
,
12
,
13
,
14
]. Distinct from Mn
2+
emissive channel, the radiative transition of Cu
+
dopant results from the recombination of an electron in a conduction band with a hole localized at Cu
+
d
-orbital state. Taking into account that the energetic position of Cu
+
state is pinned in a given host composition relative to a vacuum [
15
] and the energy level of conduction band is movable as a function of QD size, tunable emissivity is expected from Cu-doped QDs, specifically yielding a longer wavelength in PL from a larger QD size.
Further, III–V InP QDs are emerging visible emitters particularly for the application to display devices owing to their low-toxicity (i.e., Cd-free composition) as well as high-quality fluorescent attributes (e.g., high PL quantum yield (QY) and narrow PL bandwidth). II–VI metal chalcogenides with an ionic bonding character may be a better host for Cu doping than III–V InP with a stronger covalent bonding (i.e., weaker bond breaking ability) [
16
]. Nevertheless, successful Cu doping in InP host QDs, albeit limited, has been demonstrated typically by either nucleation doping [
17
] or the surface adsorption-lattice diffusion approach [
16
,
18
,
19
]. Among a few reports on Cu-doped InP (InP:Cu) QDs, Mei et al. claimed that dual emission in a single InP:Cu QD was obtainable from the combined PL of two competitive excitonic and Cu state-related recombinations [
17
]. When the impurity as a luminescent center is properly doped in a certain QD host, however, the complete quenching of excitonic PL is expected with dopant-associated PL exclusively emerging, since the trapping rate of photoexcited charge carrier at dopant state is much faster than the excitonic recombination rate [
7
,
15
]. In this context, dual emission observed in doped QDs alludes to the unwilled coexistence of undoped plus doped QDs in the ensemble. All InP:Cu QDs reported to date possessed a simple core/shell heterostructure with a single shell of either ZnSe [
18
] or ZnS [
16
,
17
]. From the state-of-the-art undoped InP QD systems, however, a single shelling in particular with ZnS is not an ideal scheme in securing high fluorescence, since a large lattice mismatch (ca. 8%) between InP and ZnS induces a considerable interfacial strain at core/shell, deteriorating PL efficiency. Therefore, to relieve the interfacial strain, an intermediate (or inner) shell typically with the compositions of GaP [
20
] and ZnSe [
21
,
22
,
23
] has been inserted prior to ZnS outer shell. In the same context, the introduction of such double shelling scheme to doped QD systems is expected to improve dopant-related PL.
Parallel with synthetic advances of QDs, QD-EL (also called QLED) devices have been intensively explored for last two decades. The device performances of QLEDs with respect to luminance and efficiency are now in close proximity to those of organic LEDs. In such high-performance QLEDs, however, high-toxicity CdSe QDs have been leading materials. On that account, a great deal of effort has been dedicated to the development of high-performance QLEDs based on non-Cd emitters, such as InP [
23
,
24
,
25
], ZnSe [
26
,
27
] and Cu–In–S QDs [
28
,
29
]. To date, the fabrication of QLEDs has been carried out exclusively with undoped QDs regardless of QD composition, while EL work on doped QDs remains nearly unexplored. In this work, the authors report on a two-step synthesis of highly fluorescent InP:Cu QDs, where Cu doping is carried out in the manner of surface adsorption-lattice diffusion and a double shelling scheme of ZnSe inner and ZnS outer shells is applied. The resulting InP:Cu/ZnSe/ZnS QD, the first doped QD system consisting of double shells with different compositions, exhibited the best PL QY of 57–58% at nominal Cu mole fractions of 0.05–0.1. This PL QY is the highest value reported to date among single dopant PL-capable InP:Cu QDs. The doping concentration and InP core size are individually varied to examine their effects on PL properties. The two representative InP:Cu QDs with different doping concentrations are for the first time employed as doped emitters for all-solution processed fabrication of multilayered QLEDs and their EL characteristics are addressed.
2. Materials and Methods
2.1. Synthesis of InP:Cu and InP:Cu/ZnSe/ZnS QDs
For a typical synthesis of InP core QDs, 0.3 mmol of indium iodide (InI
3
), 0.73 mmol of zinc chloride (ZnCl
2
) and 2 mL of oleylamine (OLA) were mixed in a 50 mL flask reactor, followed by degassing at 120 °C for 30 min and heating to 180 °C under N
2
flowing. Then, 0.12 mL of tris(dimethylamino)phosphine (P(DMA)
3
) and 0.22 mL of trioctylphosphine (TOP) were swiftly injected into the above hot mixture and the growth of InP core proceeded at that temperature for 2 min. Further, a certain amount of Zn precursor was introduced in the present synthesis of InP core QDs. This was undertaken since its presence can not only improve size uniformity, but can facilitate the following shell growth [
30
,
31
]. Then, hexane and ethanol were added to precipitate the QDs, followed by centrifugation. These InP core QDs were dispersed in toluene for further use.
For Cu doping and the subsequent growth of double shells of ZnSe/ZnS, 2.2 mmol of ZnCl
2
, 3 mL of OLA, 3 mL of 1-octadecene (ODE) and the purified InP cores in toluene were loaded in a 50 mL flask. After degassing at 120 °C for 30 min to evaporate toluene, the mixture was heated to 130 °C. Furthermore, injected into this mixture was the copper precursor solution, consisting of 0.0067, 0.0167, 0.033 or 0.05 mmol of copper (II) chloride (CuCl
2
) in 3 mL of OLA, corresponding to nominal Cu mole fraction (i.e., Cu/(In + Cu)) of 0.02, 0.05, 0.1, or 0.14, respectively, followed by the reaction at that temperature for 1 min. Then, the reaction temperature was raised to 160 °C for the following shell growth. Anionic and cationic shell precursors were simultaneously injected for a stepwise growth of ZnSe inner shell as follows; Se-TOP solution (0.75 mmol of selenium (Se) dissolved in 0.75 mL of TOP) and Zn-ODE solution (0.79 mmol of zinc stearate dissolved in 2 mL of ODE) were introduced, followed by the reaction at 270 °C for 60 min. Subsequently, the Se-TOP solution (0.45 mmol of Se dissolved in 0.45 mL of TOP) and the same Zn-ODE solution as above were injected, followed by the reaction at 280 °C for 60 min. As the last step of ZnSe inner shelling, Se-TOP solution (0.3 mmol of Se dissolved in 0.3 mL of TOP) and the same Zn-ODE solution as above were injected, followed by the reaction at 290 °C for 60 min. For the consecutive growth of ZnS outer shell, the S-TOP solution (4 mmol of sulfur (S) dissolved in 2 mL of TOP) and the same Zn stock solution as above were added, followed by the reaction at 300 °C for 120 min. After lowering the temperature to 220 °C, 0.75 mL of 1-octanethiol (OTT) was introduced by a dropwise manner, and then the shelling was finalized by adding 1 mmol of Zn acetate dihydrate dissolved in 1 mL of oleic acid (OA) and the reaction was maintained at 190 °C for 120 min. The overall synthetic flow of InP:Cu/ZnSe/ZnS QDs is also provided in
Scheme 1
. After cooling to room temperature, as-synthesized QDs were precipitated by introducing excess ethanol, repeatedly washed with a solvent/nonsolvent combination of hexane/ethanol, and finally redispersed in hexane.
2.2. Preparation of ZnMgO Nanoparticles (NPs)
In a synthesis of ZnMgO NPs, 8.15 mmol of Zn acetate dihydrate and 18.5 mmol of Mg acetate tetrahydrate were dissolved in 40 mL of dimethyl sulfoxide (DMSO). Then, 10 mmol of tetramethylammonium hydroxide (TMAH) in 10 mL of ethanol was added dropwise in the above cationic precursor solution and the reaction was maintained at 4 °C for 1 h. As-synthesized ZnMgO NPs were purified with excess acetone and then re-dispersed in ethanol for the following use.
2.3. Fabrication of QLEDs
The 150 nm-thick indium tin oxide (ITO)-coated glass substrate was ultrasonic-cleaned with acetone and methanol for 20 min respectively, and then subjected to UV-ozone treatment for 20 min. Poly(ethylenedioxythiophene):polystyrenesulfonate (PEDOT:PSS, Al 4083) as a hole injection layer (HIL) was generated by spin-deposition at 3000 rpm for 30 s and baked at 150 °C for 20 min. Using 0.04 g of poly((9,9-dioctylfluorenyl-2,7-diyl)-
co
-(4,4′-(
N
-(4-s-butylphenyl))diphenyl-amine) (TFB) dissolved in 5 mL of chlorobenzene, 25 nm-thick hole transport layer (HTL) was produced by spin-casting at 4000 rpm for 30 s and baked at the same condition as in the above HIL. For the following emitting layer (EML) formation, two QD hexane dispersions of Cu-doped InP/ZnSe/ZnS with 0.05 and 0.1 Cu mole fraction, whose optical densities were adjusted to be 0.55 at 530 and 565 nm, respectively, were individually spin-casted at 2000 rpm for 20 s and baked 70 °C for 10 min. Then, on top of QD EML 40 nm-thick electron transport layer (ETL) was spin-deposited at 3000 rpm for 30 s by using ZnMgO NPs dispersion with a concentration of 38 mg/mL in ethanol and dried at room temperature. All spin-coating and baking processes in the formation from HIL throughout ETL were performed in a N
2
-filled glovebox. Finally, 100 nm-thick Al as a metal cathode was deposited by a vacuum thermal evaporation.
2.4. Characterization
The absorption and PL spectra of QDs were collected by UV-visible spectroscopy (Shimadzu, UV-2450, Kyoto, Japan) and a 500 W Xe lamp-equipped spectrophotometer (PSI Co. Ltd., Darsa Pro-5200, Suwon, Korea), respectively. The PL QY of QDs was evaluated in an integrating hemisphere with an absolute PL QY measurement system (QE-2000, Otsuka, Tokyo, Japan). The excitation wavelength for all PL and PL QY measurements was 450 nm. The transmission electron microscopic (TEM) work was performed using a JEM-2100F (JEOL Ltd., Tokyo, Japan) and a Tecnai G2 F20 (FEI Co. Ltd., Hillsboro, OR, USA) to obtain particle images of QDs and cross-sectional ones from QLED, respectively. The powder x-ray diffraction (XRD) patterns of QDs were collected using an Ultima IV (Rigaku) with Cu Kα radiation. The actual Cu concentrations of doped QDs were analyzed with an inductively coupled plasma optical emission spectrometry (ICP-OES, OPTIMA 8300, PerkinElmer, Waltham, MA, USA). PL decay profiles of undoped and Cu-doped QDs in the form of hexane dispersion were recorded using the time-correlated single-photon counting method employing a spectrophotometer (FS5, Edinburgh Instruments, Livingston, UK) equipped with a picosecond pulsed laser diode (EPL-375). The acquisition of EL data such as EL spectra and luminance-current density-voltage characteristics of QLEDs was carried out with a Konica-Minolta CS-2000 spectroradiometer (Konica-Minolta, Tokyo, Japan) coupled with a Keithley 2400 voltage-current source unit.
3. Results and Discussion
4. Conclusions
This study explored the synthesis of Cu-doped InP QDs with an elaborate double shelling scheme of ZnSe/ZnS. While the lowest Cu doping concentration of 0.02 mole fraction led to the minor appearance of excitonic PL from undoped InP QDs, increasing the Cu concentration to 0.05 mole fraction or higher gave rise to a single Cu dopant-related PL. PL QY reached the maximum values of 57–58% with optimal Cu concentrations of 0.05–0.1 mole fractions and then rapidly decreased to 12% upon a further increase to 0.14 Cu mole fraction. PL became gradually red-shifted in proportion to the Cu concentration, which the authors attributed presumably to the electronic doping effect of Cu+. For an additional effort to tune PL of InP:Cu/ZnSe/ZnS QDs, different-sized InP cores were synthesized by varying Zn halide precursors of ZnCl2, ZnBr2, and ZnI2 in core synthesis. As intended, a more bulky halide ion, i.e., iodide > bromide > chloride ion, produced a smaller-sized InP core, and thus PL of doped QDs exhibited a consistent spectral shift to the blue from ZnCl2 (large-), ZnBr2 (medium-) to ZnI2 (small-sized InP core) at a given Cu concentrations. By exploiting ZnCl2-based two doped QDs with 0.05 and 0.1 Cu mole fraction that showed comparably high PL QYs as EL emitters, all-solution-processed QLEDs were fabricated with a multilayered architecture of ITO // PEDOT:PSS // TFB // QDs // ZnMgO NPs // Al. The QLED with 0.05 Cu mole fraction showed higher EL performances, such as maximum luminance of 861 cd/m2 and EQE of 3.5%, as compared to the 0.1 Cu mole fraction (269 cd/m2, 2.4%). A disparity in EQE between 0.05 versus 0.1 Cu-doped QLEDs was tentatively attributable to a long decaying nature of Cu dopant, by which EL became more sensitive to Cu concentration quenching than PL.
Author Contributions
H.-J.K. and J.-H.J. contributed equally to this work. Conceptualization and methodology, H.-J.K. and J.-H.J.; validation and formal analysis, S.-Y.Y., D.-Y.J.; data curation, H.-S.K.; writing-review and editing, B.P.; writing-original draft preparation, H.Y.
Funding
This work was financially supported by the National Research Foundation of Korea (NRF) grant funded by Ministry of Science, ICT & Future Planning (MSIP) (No. 2017R1A2B3008628, No. 2015M3D1A1069755), Basic Science Research Program through the NRF funded by Ministry of Education (No. 2015R1A6A1A03031833), and the Korea Institute of Energy Technology Evaluation and Planning (KETEP) and the Ministry of Trade, Industry & Energy (MOTIE) (No. 20163030013980).
Conflicts of Interest
The authors declare no conflicts of interest.

Scheme 1. Schematic of synthesis of InP:Cu/ZnSe/ZnS quantum dots (QDs) by a surface adsorption-lattice diffusion strategy.


Figure 1. (a) Absorption; (b) normalized photoluminescence (PL) spectra; and (c) variation of PL QY of InP:Cu/ZnSe/ZnS QDs as a function of doping concentration of 0–0.14 Cu mole fraction. A fluorescent image of a series of QD samples under UV irradiation is shown in the inset of (c).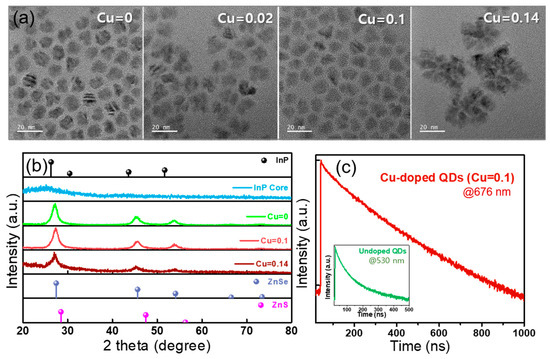 Figure 2. (a) TEM images of undoped and Cu-doped InP/ZnSe/ZnS QDs with 0.02, 0.1, and 0.14 Cu mole fraction. The scale bars are 20 nm for all; (b) XRD patterns of pure InP core, undoped and Cu-doped InP/ZnSe/ZnS QDs with 0.1 and 0.14 Cu mole fraction; (c) PL decay profiles of Cu-doped InP/ZnSe/ZnS QDs with 0.1 mole fraction and undoped QDs (inset) with detected wavelengths of 676 and 530 nm, respectively.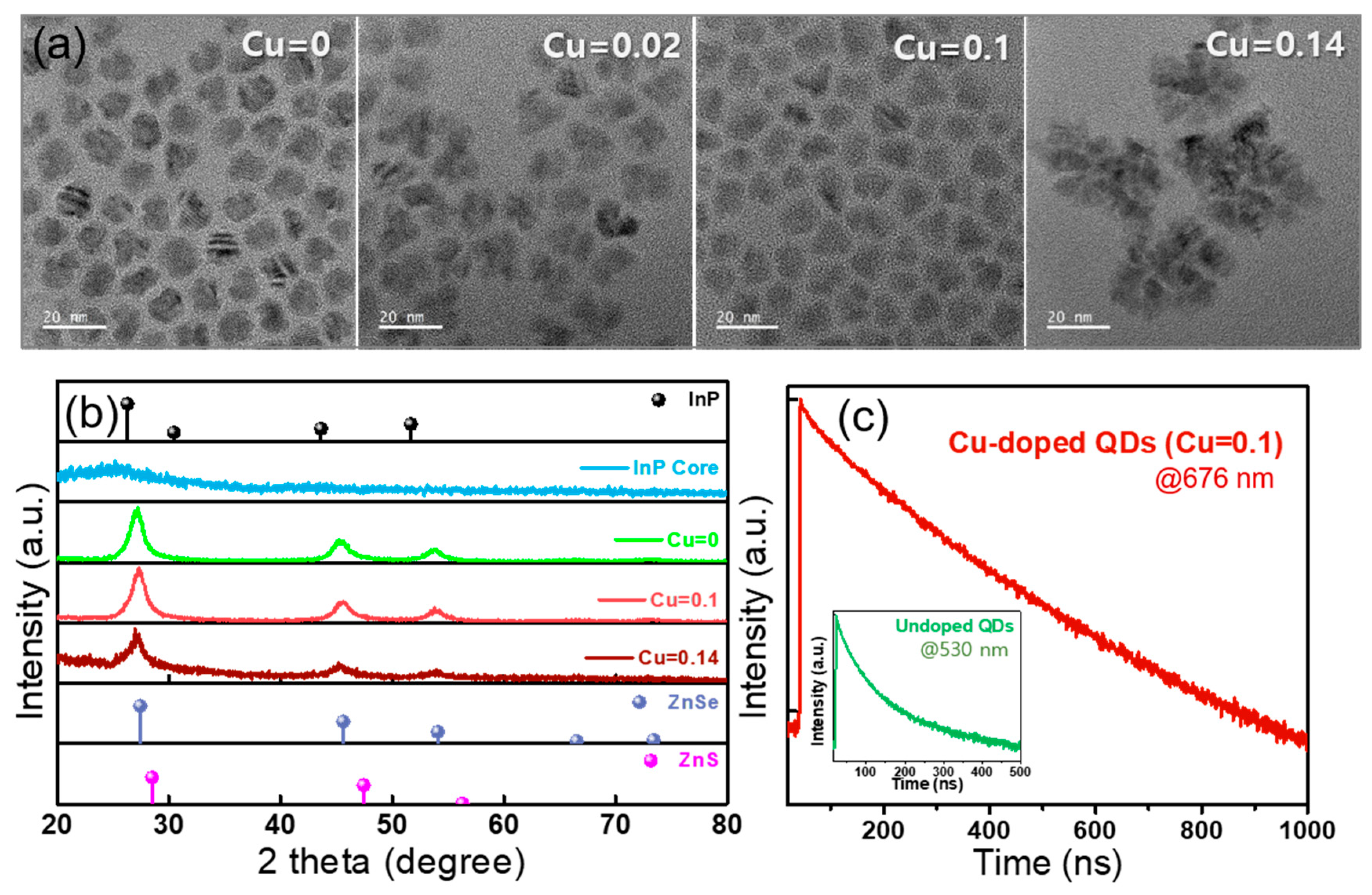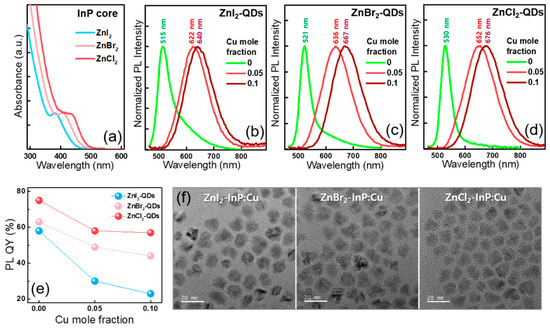 Figure 3. (a) Absorption spectra of InP cores synthesized with different Zn halide precursors of ZnI2, ZnBr2, and ZnCl2. The normalized PL spectra of undoped and Cu-doped QDs with 0.05 and 0.1 mole fraction based on InP cores synthesized with (b) ZnI2; (c) ZnBr2; and (d) ZnCl2; (e) The variations of PL QYs of a series of samples in (b–d); (f) TEM images of Cu-doped InP/ZnSe/ZnS QDs synthesized with ZnI2, ZnBr2, and ZnCl2 with the same Cu concentration of 0.05 mole fraction. The scale bars are 20 nm for all.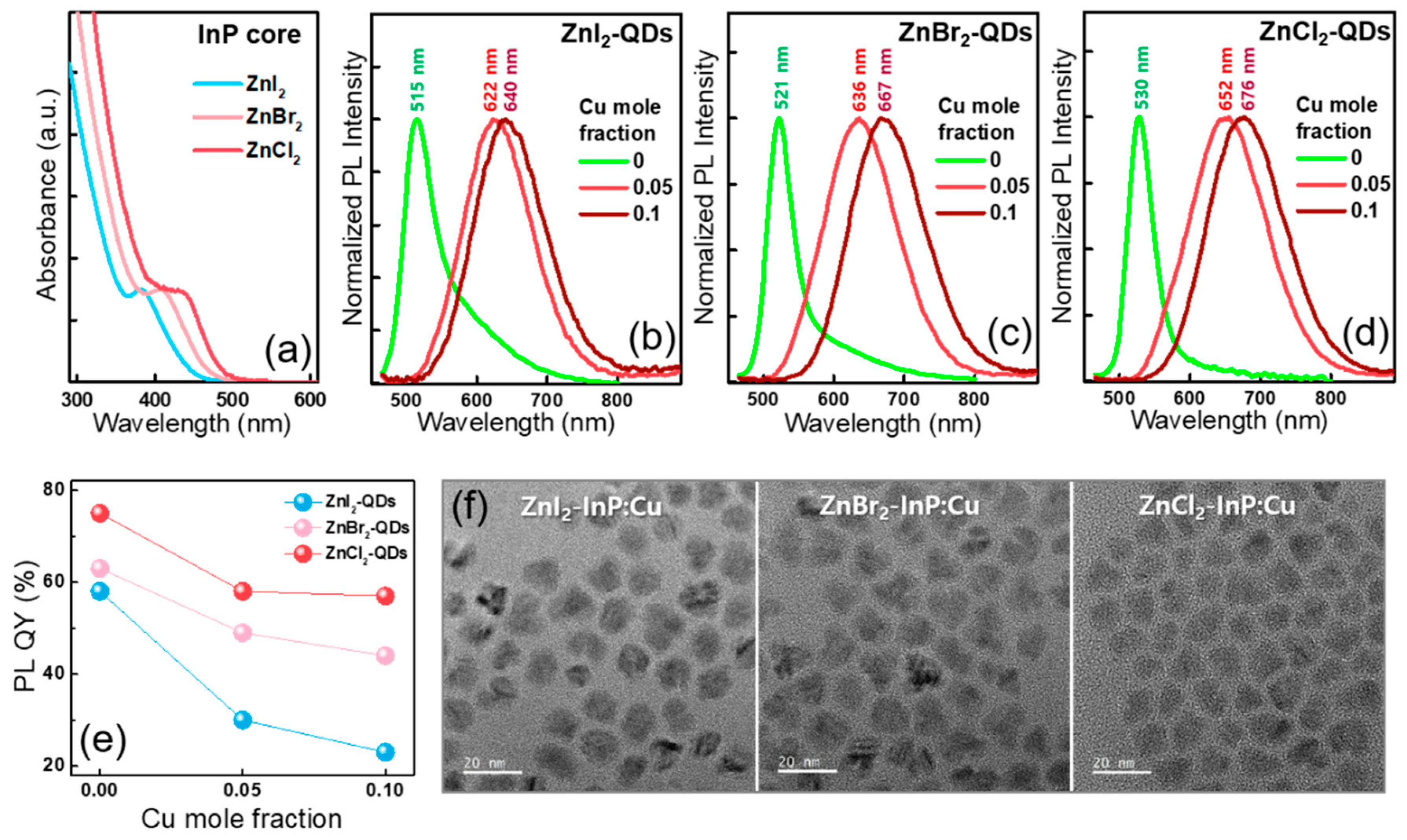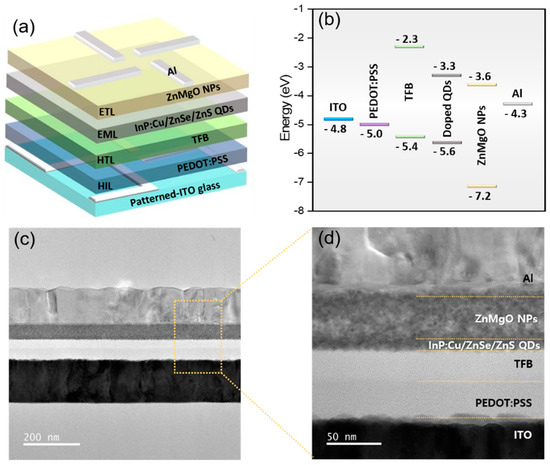 Figure 4. (a) Device schematic; (b) energy levels of individual layers; (c) low- and (d) higher-magnification cross-sectional TEM images of a multilayered quantum dot-light-emitting diodes (QLED). The scale bars in (c,d) are 200 and 50 nm, respectively.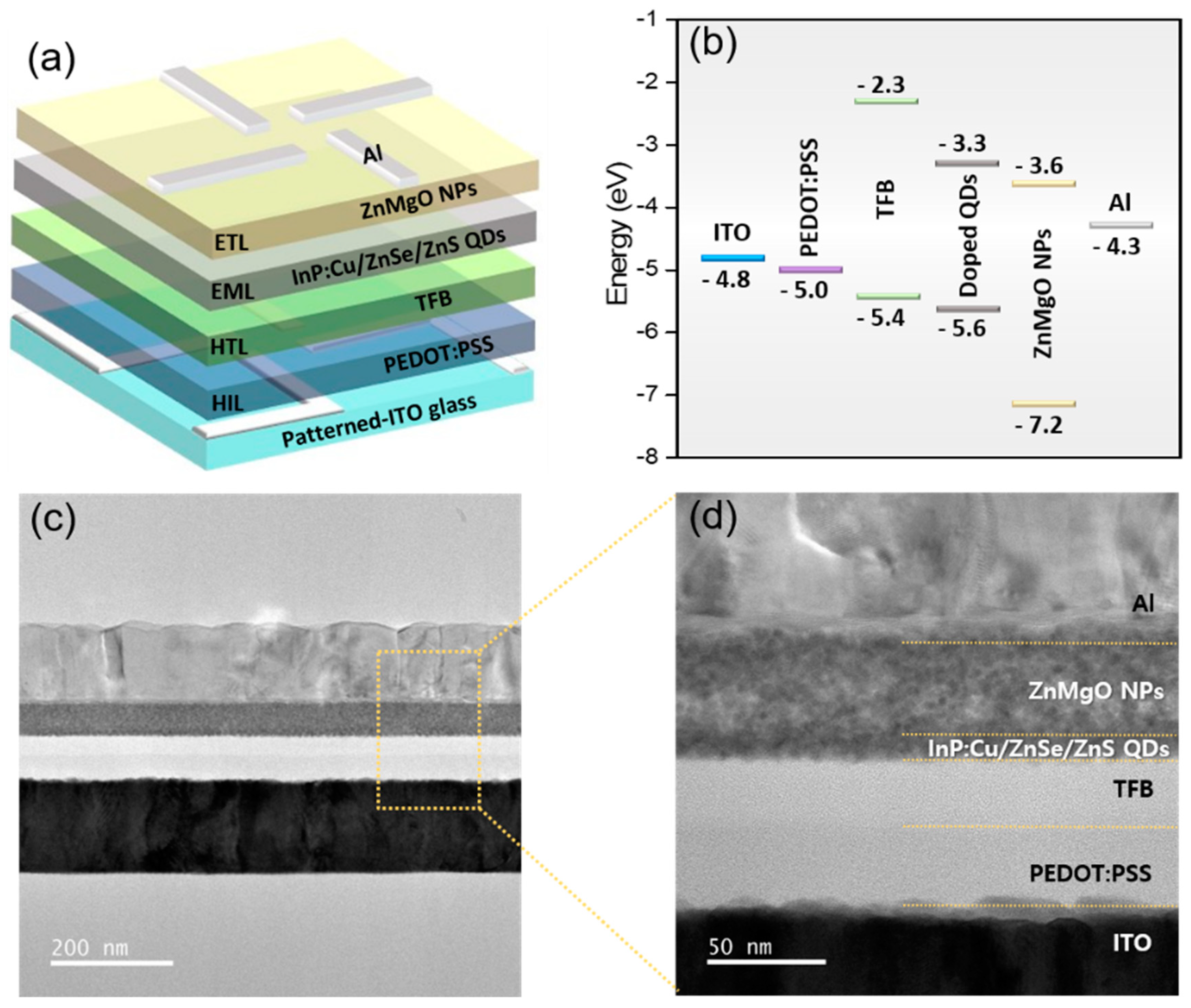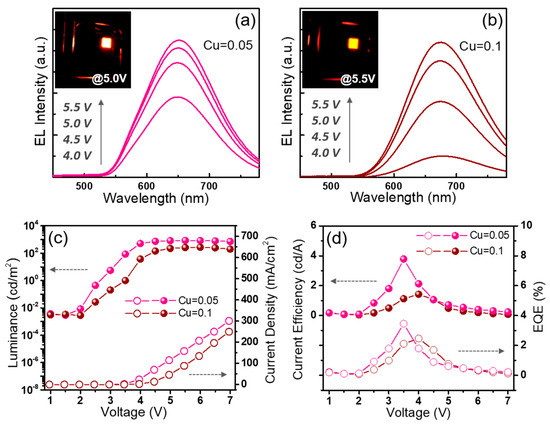 Figure 5. Voltage-dependent electroluminescence (EL) spectral evolutions along with representative EL images (insets) of QLEDs with Cu-doped QDs with (a) 0.05 and (b) 0.1 mole fraction. Voltage-dependent variations of (c) luminance and current density and (d) current efficiency and EQE of the same devices as in (a,b).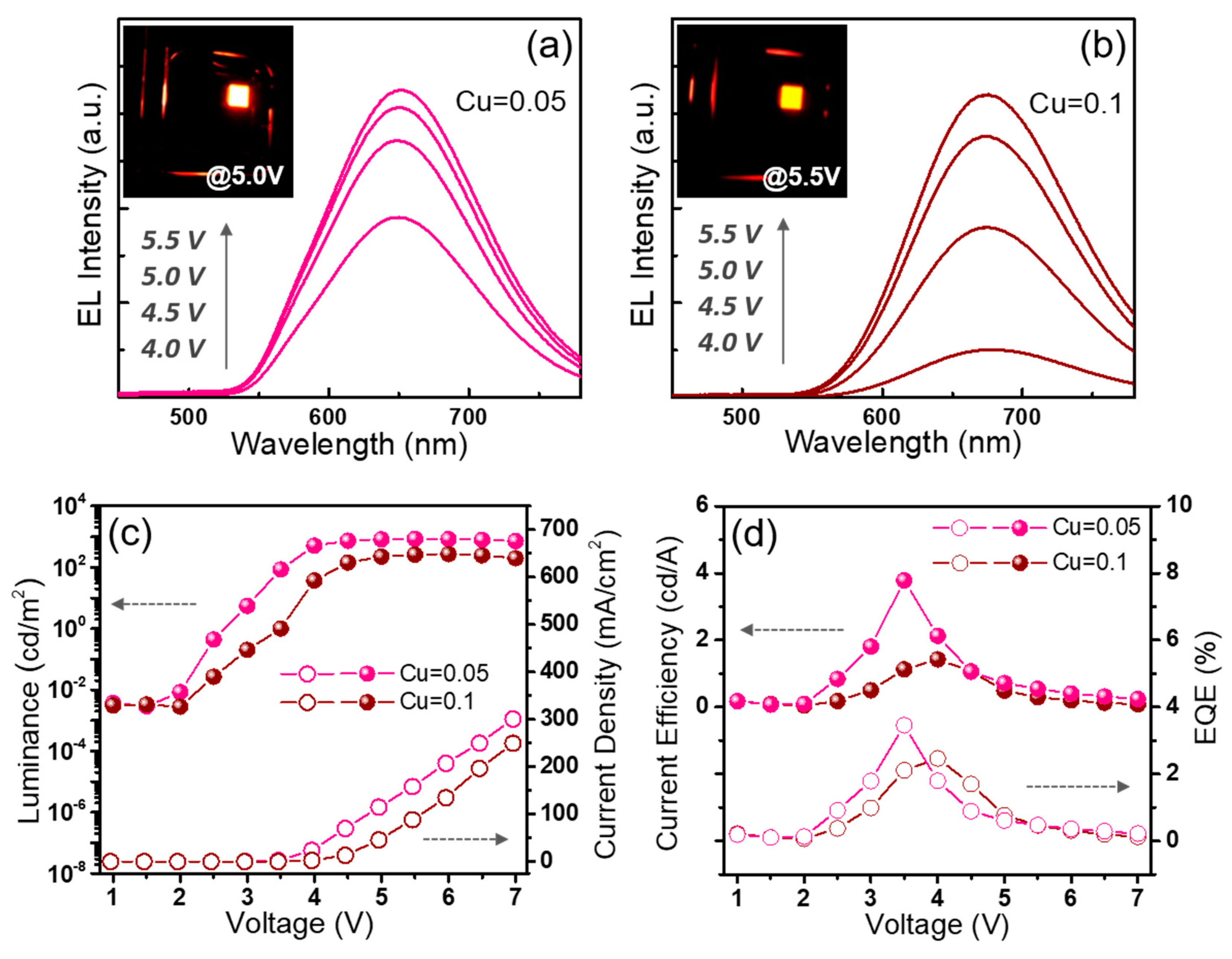 © 2019 by the authors. Licensee MDPI, Basel, Switzerland. This article is an open access article distributed under the terms and conditions of the Creative Commons Attribution (CC BY) license (http://creativecommons.org/licenses/by/4.0/).