Tissue Constructs with Human Adipose-Derived Mesenchymal Stem Cells to Treat Bone Defects in Rats
1
Department of Internal Medicine, Ribeirão Preto Medical School, University of São Paulo (USP), Ribeirão Preto 14040-900, SP, Brazil
2
Graduate Program in Biomedical Sciences, University Centre of Hermínio Ometto Foundation, Araras 13607339, SP, Brazil
3
School of Mechanical, Aerospace and Civil Engineering, University of Manchester, Manchester M13 9PL, UK
4
Department of Ophthalmology, Otolaryngology and Head and Neck Surgery, Ribeirão Preto Medical School, University of São Paulo (USP), Ribeirão Preto 14040-900, SP, Brazil
5
Department of Chemistry, College of Science, King Saud University, Riyadh 11451, Saudi Arabia
6
Department of Chemistry, Faculty of Science, Tanta University, Tanta 31527, Egypt
*
Author to whom correspondence should be addressed.
Received: 28 March 2019 / Revised: 11 July 2019 / Accepted: 11 July 2019 / Published: 15 July 2019
Abstract
The use of porous scaffolds created by additive manufacturing is considered a viable approach for the regeneration of critical-size bone defects. This paper investigates the xenotransplantation of polycaprolactone (PCL) tissue constructs seeded with differentiated and undifferentiated human adipose-derived mesenchymal stem cells (hADSCs) to treat calvarial critical-sized defect in Wistar rats. PCL scaffolds without cells were also considered. In vitro and in vivo biological evaluations were performed to assess the feasibility of these different approaches. In the case of cell seeded scaffolds, it was possible to observe the presence of hADSCs in the rat tissue contributing directly (osteoblasts) and indirectly (stimulation by paracrine factors) to tissue formation, organization and mineralization. The presence of bone morphogenetic protein-2 (BMP-2) in the rat tissue treated with cell-seeded PCL scaffolds suggests that the paracrine factors of undifferentiated hADSC cells could stimulate BMP-2 production by surrounding cells, leading to osteogenesis. Moreover, BMP-2 acts synergistically with growth factors to induce angiogenesis, leading to higher numbers of blood vessels in the groups containing undifferentiated and differentiated hADSCs.
View Full-Text
►

▼

Figures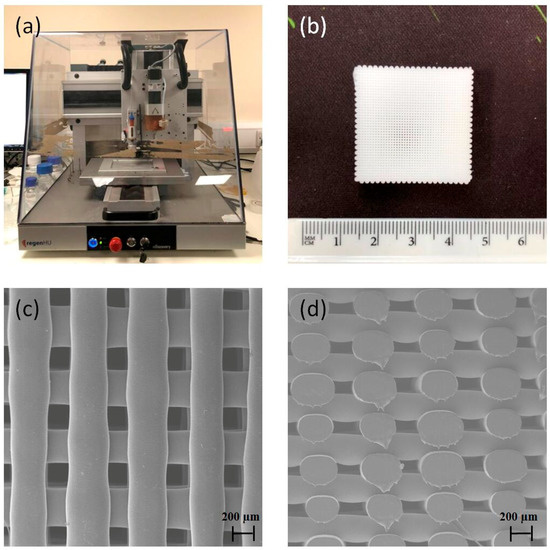 Figure 1
This is an open access article distributed under the
Creative Commons Attribution License
which permits unrestricted use, distribution, and reproduction in any medium, provided the original work is properly cited (CC BY 4.0).

Share & Cite This Article
MDPI and ACS Style
Caetano, G.; Wang, W.; Murashima, A.; Passarini, J.R., Jr.; Bagne, L.; Leite, M.; Hyppolito, M.; Al-Deyab, S.; El-Newehy, M.; Bártolo, P.; Frade, M.A.C. Tissue Constructs with Human Adipose-Derived Mesenchymal Stem Cells to Treat Bone Defects in Rats. Materials 2019, 12, 2268.
Note that from the first issue of 2016, MDPI journals use article numbers instead of page numbers. See further details here.
Related Articles
Comments
[Return to top]