Performances of Cement Mortar Incorporating Superabsorbent Polymer (SAP) Using Different Dosing Methods
1
School of Materials Science and Engineering, Chang'an University, Xi'an 710061, Shanxi, China
2
State Key Laboratory of Green Building Materials, China Building Materials Academy, Beijing 100024, China
3
CCCC Second Highway Engineering CO., LTD, Xi'an 710065, Shaanxi, China
*
Author to whom correspondence should be addressed.
Materials 2019, 12(10), 1619; https://doi.org/10.3390/ma12101619 (registering DOI)
Received: 10 April 2019 / Revised: 8 May 2019 / Accepted: 9 May 2019 / Published: 17 May 2019
Abstract
Modified cement mortar was prepared by incorporating a superabsorbent polymer (SAP) with two kinds of dosing state, dry powdery SAP and swelled SAP (where the SAP has been pre-wetted in tap water), respectively. The mechanical properties, drying shrinkage and freeze–thaw resistance of the mortars were compared and analyzed with the variation of SAP content and entrained water-to-cement ratios. Additionally, the effect of SAP on the microstructure of mortar was characterized by scanning electron microscopy (SEM). The results indicate that agglomerative accumulation is formed in the voids of mortar after water desorption from SAP and there are abundant hydration products, most of which are C-S-H gels, around the SAP voids. The incorporation of the powdery SAP increases the 28 d compressive strength of the mortars by about 10% to 50%, while for the incorporation of swelled SAP, the 28 d compressive strength of the mortar can be increased by about −26% to 6%. At a dosage of 0.1% SAP and an entrained water–cement ratio of 0.06, the powdery SAP and the swelled SAP can reduce the mortar shrinkage rate by about 32.2% and 14.5%, respectively. Both the incorporation of powdery and swelled SAP has a positive effect on the freeze–thaw resistance of cement mortar. In particular, for powdery SAP with an entrained water-to-cement ratio of 0.06, the mass loss rate after 300 cycles is still lower than 5%.
View Full-Text
►

▼

Figures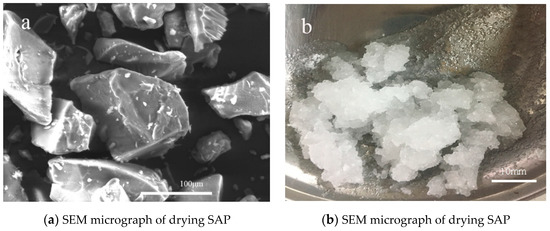 Figure 1
This is an open access article distributed under the
Creative Commons Attribution License
which permits unrestricted use, distribution, and reproduction in any medium, provided the original work is properly cited (CC BY 4.0).
Share & Cite This Article
MDPI and ACS Style
Tan, Y.; Chen, H.; Wang, Z.; Xue, C.; He, R. Performances of Cement Mortar Incorporating Superabsorbent Polymer (SAP) Using Different Dosing Methods. Materials 2019, 12, 1619.
Note that from the first issue of 2016, MDPI journals use article numbers instead of page numbers. See further details here.
Related Articles
Comments
[Return to top]