Laser-Ablated ZnO Nanoparticles and Their Photocatalytic Activity toward Organic Pollutants
1
Institute of Innovative Science and Technology, Tokai University, Hiratsuka, Kanagawa 259-1292, Japan
2
Department of Chemistry, University of Mining and Geology, Sofia 1700, Bulgaria
3
Department of Materials Science, Tokai University, Hiratsuka, Kanagawa 259-1292, Japan
4
Research Institute of Science and Technology, Tokai University, Hiratsuka, Kanagawa 259-1292, Japan
*
Authors to whom correspondence should be addressed.
Received: 7 June 2018 / Revised: 27 June 2018 / Accepted: 27 June 2018 / Published: 3 July 2018
This work aimed to prepare nanostructures of ZnO with various lasers, testing them as photocatalysts, and comparing their morphology and activity in the degradation of organic pollutants in aqueous media. ZnO nanospheres (ns-ZnO) and ZnO nanorods (ms-ZnO) were prepared via the laser ablation of a Zn metal plate in water using nanosecond- and millisecond-pulsed lasers, respectively. The obtained materials were characterized using a set of optical, structural, and surface-science techniques, such as UV-vis spectroscopy, X-ray diffraction (XRD), transmission electron microscopy (TEM), and X-ray photoelectron spectroscopy (XPS). Under visible-light irradiation, both nanostructures were found to be catalytically active toward the oxidation of methylene blue, which was used as a model compound. The ZnO nanorods fabricated with the millisecond laser showed better photocatalytic performance than their spherically shaped counterparts obtained by means of the nanosecond laser, which could be assigned to a larger number of defects on the ms-ZnO surface.
2. Materials and Methods
Both samples were prepared using Nd:YAG lasers with a wavelength of 1064 nm. In both cases, the laser beam was focused on metal targets with spot sizes of 150–200 µm. The target was a Zn metal plate, which was placed vertically into a quartz cuvette with dimensions of 30 mm × 30 mm × 50 mm, and a wall thickness of 2 mm. Neat deionized water (15 mL) with no surfactants was used as a medium, which was agitated by a magnetic stirrer during the experiments. The procedures were previously reported in more detail elsewhere [
5
,
10
,
20
,
23
,
24
].
In accordance with our previous results [
5
,
10
], the rod-shaped ZnO nanomaterial (hereafter denoted as ms-ZnO) was prepared using a millisecond-pulsed laser, with the following applied parameters: peak pulse power of 5 kW, pulse width of 1.0 ms (which corresponded to a pulse energy of 5.0 J), pulse frequency of 5 Hz, and an ablation time of 30 min. The second sample (denoted as ns-ZnO hereafter) was prepared by means of a nanosecond-pulsed laser, which was previously reported to generate spherical NPs [
7
,
10
,
20
]. The experimental set-ups used were similar for both samples. The laser beam parameters used for this sample were as follows: a pulse energy of 120 mJ/pulse, a pulse width of 7 ns, and a repetition rate of 10 Hz. The treatment time was also set at 30 min.
The freshly prepared colloids were first evaluated (in liquid phase) with UV-vis spectroscopy, after which they were centrifuged and rinsed with water. Finally, after redispersion, the products were adjusted to a volume of ~1.5 mL and drop-cast onto glass plates for further annealing at 400 °C for 2 h (for catalytic test), or onto Si wafers (for phase and chemical analyses). For transmission electron microscopy (TEM), one drop of each colloid was placed onto a Cu grid, and dried in air. For the photocatalytic tests, the samples were used both as prepared and after annealing. The concentrated as-prepared suspensions were directly added to the methylene blue (MB) solution, while their annealed counterparts were immersed into aqueous MB as coatings drop-cast onto glass plates.
The photocatalytic activity of both laser-ablated samples was evaluated via the photo-degradation of MB under visible-light irradiation. The catalytic tests were carried out using 50 mL of aqueous MB with a concentration 8 × 10−6 mol/L, and 6 mg of photocatalyst. The mixture was irradiated with a 1000-W tungsten-halogen lamp for 210 min. Prior to irradiation, the reaction mixture was kept in the dark for 30 min to reach an adsorption–desorption equilibrium between the dye molecules and the catalyst surface. The MB decomposition process was monitored via absorption changes of its characteristic band at a 664-nm wavelength using UV-vis spectroscopy. After each 30 min interval, an aliquot of 4 mL was pipetted, and its UV-vis spectrum was recorded, before the solution was returned back to the reactor.
The prepared nanomaterials were characterized using UV-vis spectroscopy (UV-2450 model from Shimadzu, Kyoto, Japan, X-ray diffractometry (XRD; D8 Discover from Bruker, Yokohama, Japan), transmission electron microscopy (HF-2200 tool from Hitachi, Tokyo, Japan), and X-ray photoelectron spectroscopy (XPS, Quantum 2000, ULVAC-PHI, Inc., Chigasaki, Japan). The photocatalytic reactions were carried out with both as-prepared and annealed samples of ms-ZnO generated using a millisecond laser (ML-2150A from Miyachi Co. Ltd., Isehara, Japan), and ns-ZnO obtained by means of a nanosecond laser (Surelite SL I-10 from Continuum Co., San Jose, CA, USA).
3. Results and Discussion
It can be seen that the photocatalytic performance of the ms-ZnO sample was slightly higher, as both its as-prepared and annealed NPs (curves (1) and (3)) decomposed MB faster than those prepared using the ns-pulsed laser (curves (2) and (4)). Interestingly, no noticeable effect of heat treatment (400 °C, 2 h) was found, as both curves (1) and (3) exhibited comparable photocatalytic activity of ms-ZnO tested as fresh NPs and an annealed coating, respectively. A very similar trend was also observed for curves (2) and (4), which represent the ns-ZnO NPs.
4. Conclusions
This study compared ZnO nanomaterials prepared via ablating Zn metal plates in water by means of nanosecond- and millisecond-long laser pulses. ZnO nanomaterials with spherical and nanorod morphologies were obtained, respectively. The prepared materials were characterized, and then applied to the photodegradation of methylene blue in aqueous media under visible-light irradiation. The nanorods generated using the millisecond laser had more chemisorbed water, oxygen molecules, and oxygen defects, which was believed to be the reason why they showed somewhat higher photocatalytic activity when compared with their spherical ZnO counterparts prepared using the nanosecond-pulsed laser. The work, thus, demonstrates that ZnO-based nanomaterials with different shapes and surface defects can be prepared by means of laser ablation in liquid media. Such laser-produced nanostructures have defect-rich surfaces, which appears to be promising for their enhanced photocatalytic performance. Varying the laser parameters and liquid media is seen, therefore, as a simple and attractive approach to achieving catalysts with tuned properties.
Author Contributions
N.M. and S.A.K. conceived and designed experiments; N.M. carried out the experiments; N.M. and A.A.A. conducted most of analyses; W.W. performed the TEM measurements. N.M. and S.A.K. wrote the manuscript. S.I. assisted with interpreting the results; all the authors discussed the results, and helped prepare the manuscript.
Funding
This work was supported by an exchange academic grant from the Tokai University, Japan, and the grant MTF 158/2017 from the University of Mining and Geology. S.A.K. also acknowledges the support from JSPS (grant no. 16K04904).
Conflicts of Interest
The authors declare no conflict of interest.
Figure 1. UV-vis absorption spectra of as-prepared ZnO nanosphere (ns-ZnO) and ZnO nanorod (ms-ZnO) colloids in water.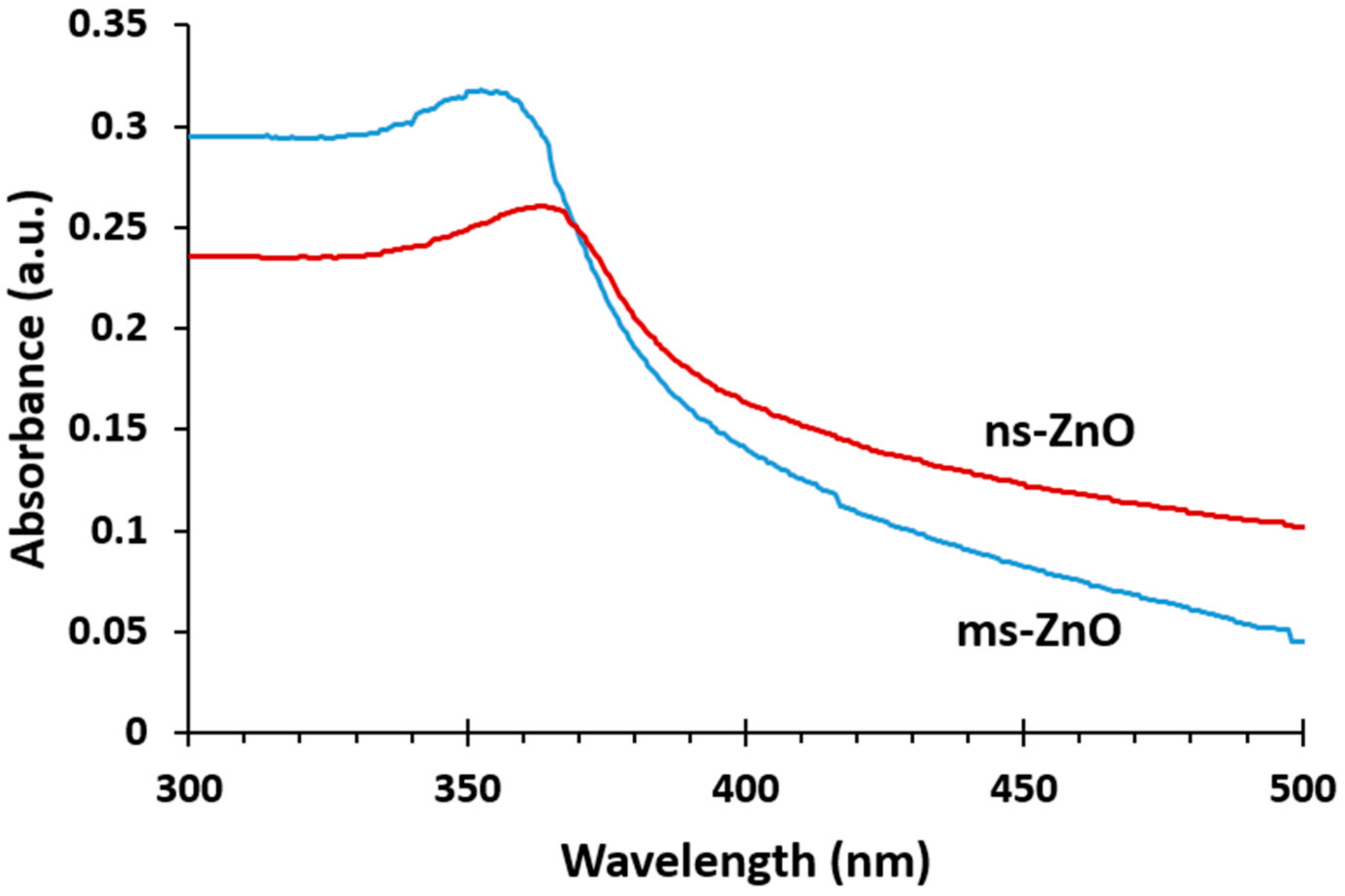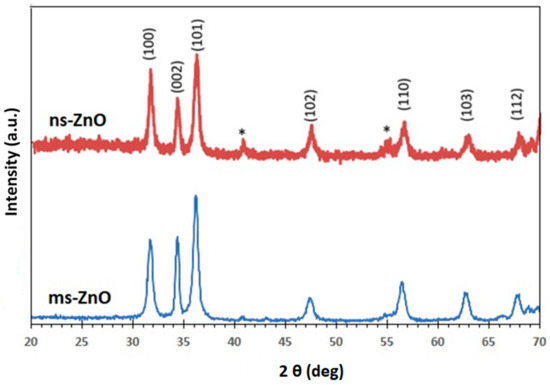 Figure 2. X-ray diffraction (XRD) patterns of ns-ZnO and ms-ZnO samples prepared using nanosecond- and millisecond-pulsed lasers, respectively. Multiple signals due to the Si substrate are marked by asterisks. All signals in both patterns were indexed as hexagonal ZnO.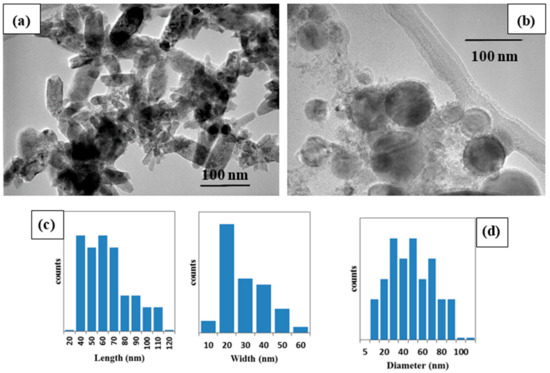 Figure 3. Transmission electron microscopy (TEM) images of (a) ms-ZnO nanoparticles (NPs; nanorod-shaped) prepared using the millisecond-pulsed laser, and (b) ns-ZnO NPs (sphere-shaped) prepared using the nanosecond-pulsed laser; (c) size distribution (length and width) of the ZnO nanorods; (d) size distribution of the ZnO nanospheres.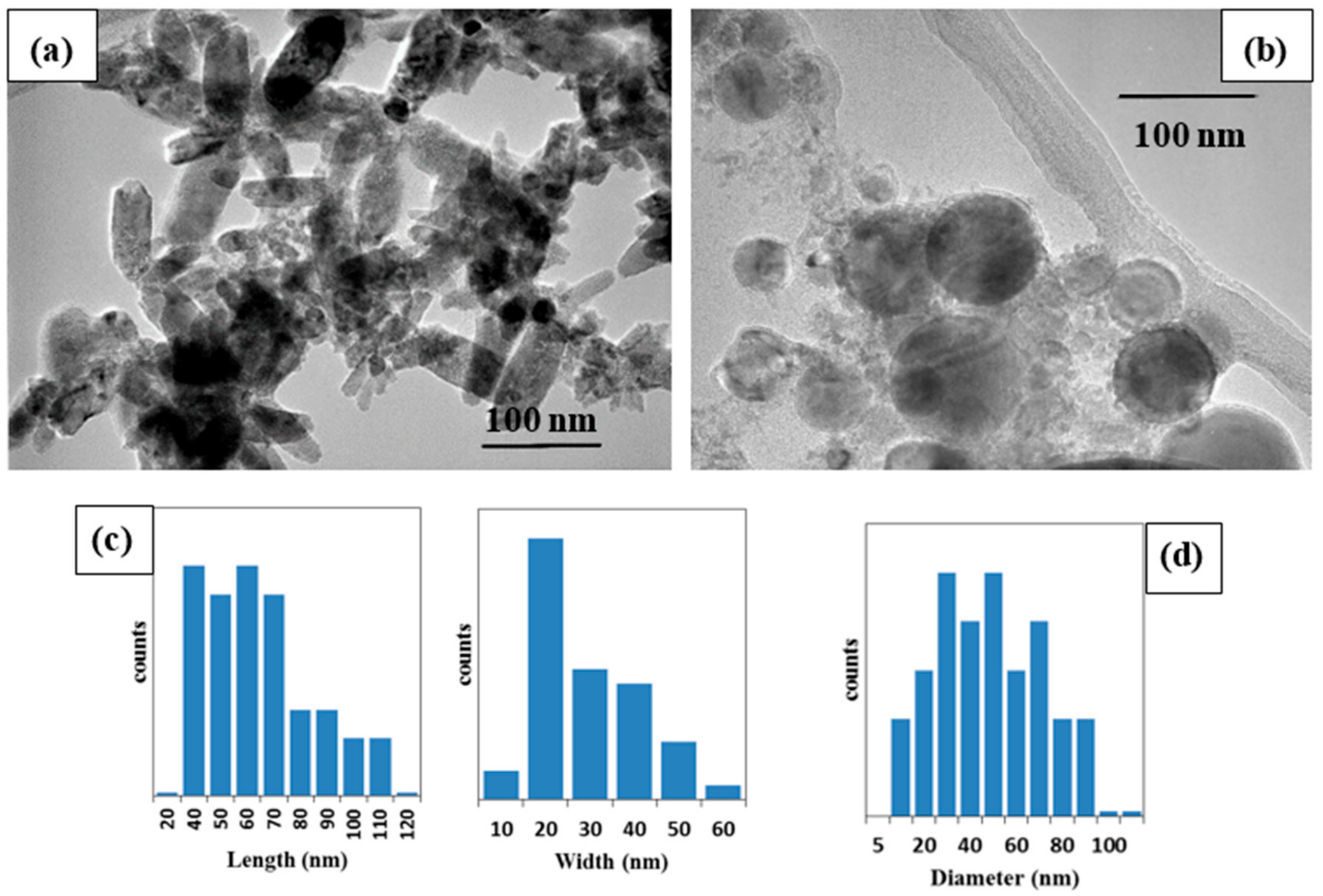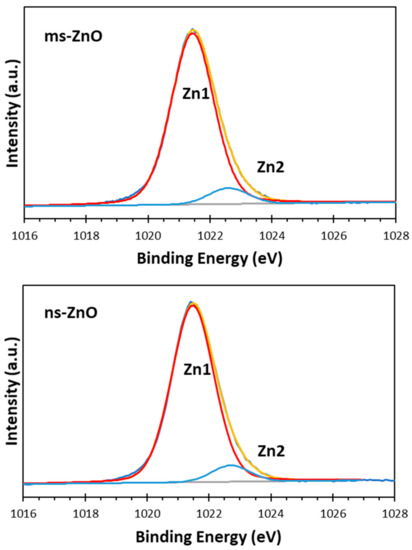 Figure 4. X-ray photoelectron spectroscopy (XPS) Zn 2p3/2 spectra of ms-ZnO and ns-ZnO samples curve-fitted with two components corresponding to ZnO (Zn1) and Zn–OH species (Zn2).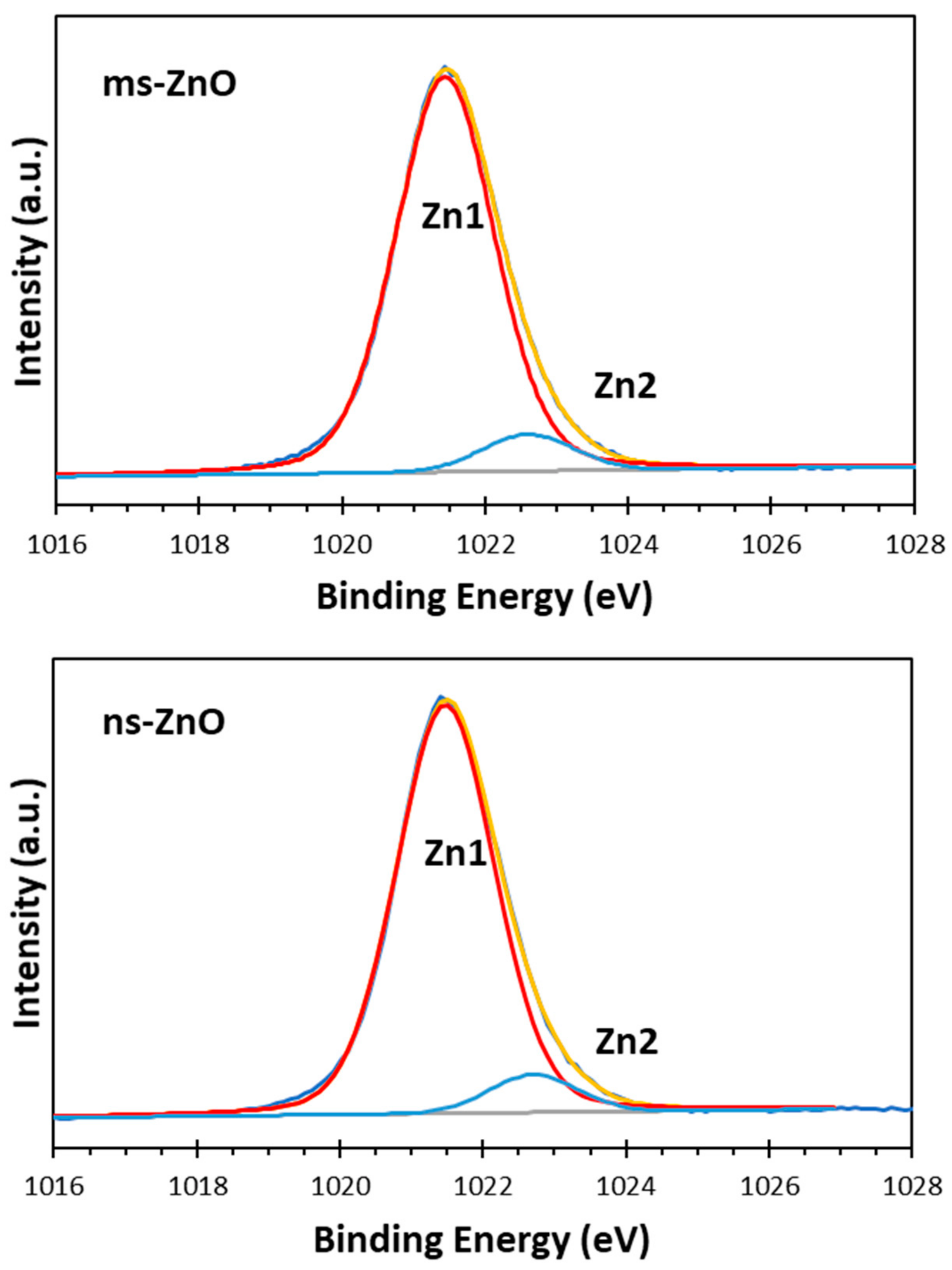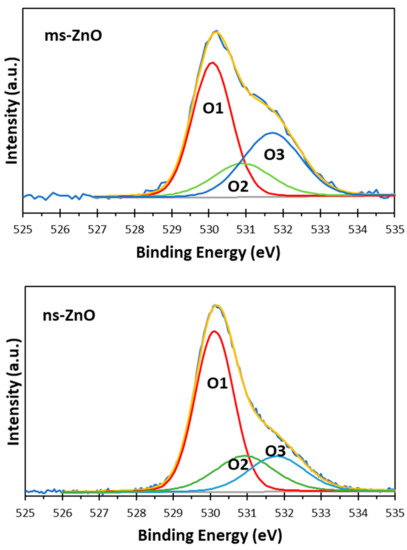 Figure 5. XPS O 1s spectra of ms-ZnO and ns-ZnO samples curve-fitted with three components corresponding to an O2− ion in the wurtzite phase surrounded by Zn atoms in their full tetrahedral geometry of nearest oxygen atoms (O1), surface OH groups bonded to Zn2+ (O2), and chemisorbed oxygen, such as O2 and adsorbed H2O (O3).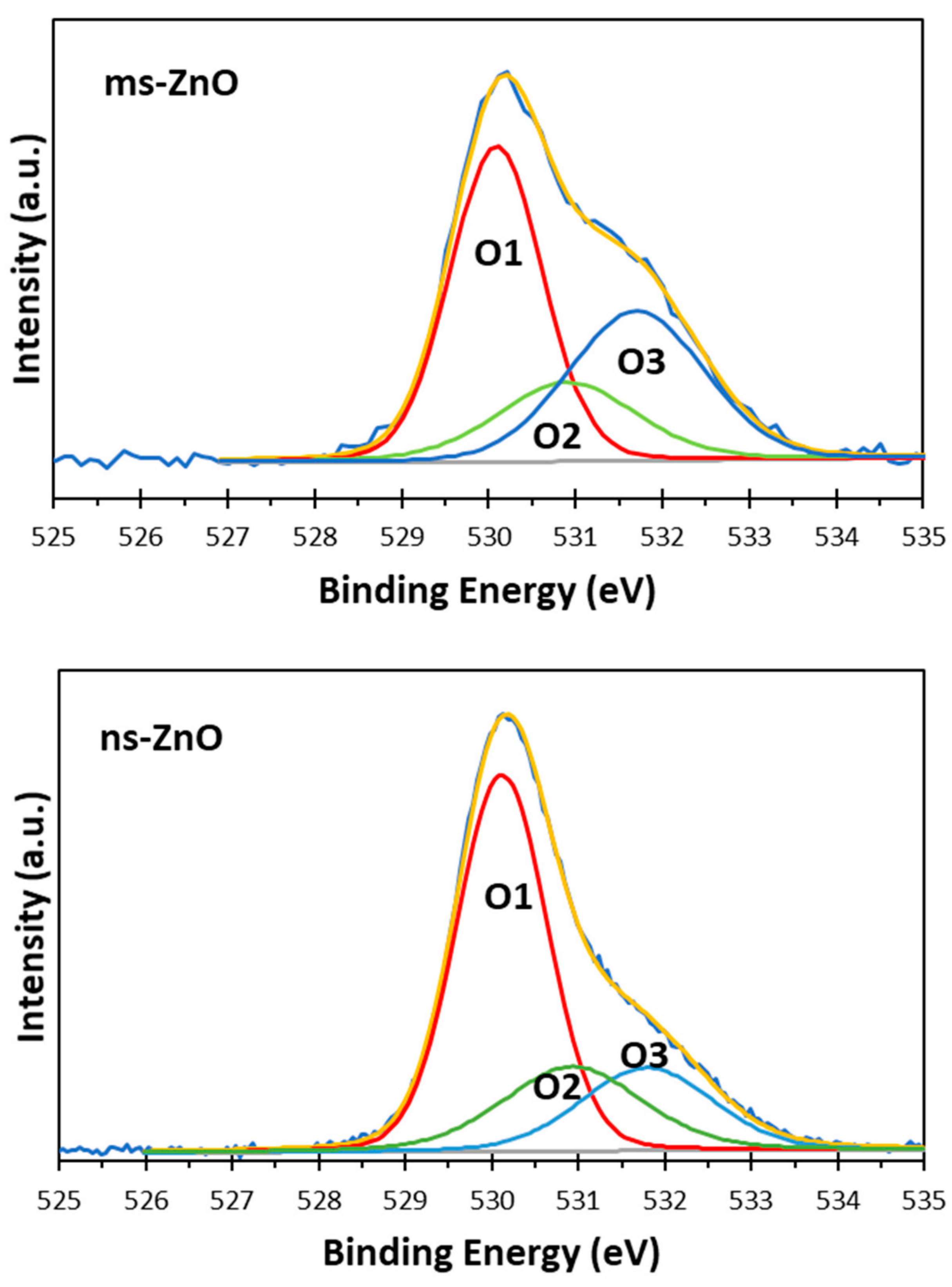 Figure 6. Photodegradation curves of methylene blue (MB) (a) in the presence of as-prepared ms-ZnO (1) and ns-ZnO (2); (b) in the presence of annealed ms-ZnO (3) and ns-ZnO (4). Curve (5) represents the blank sample.


© 2018 by the authors. Licensee MDPI, Basel, Switzerland. This article is an open access article distributed under the terms and conditions of the Creative Commons Attribution (CC BY) license (http://creativecommons.org/licenses/by/4.0/).