Improved Optical and Morphological Properties of Vinyl-Substituted Hybrid Silica Materials Incorporating a Zn-Metalloporphyrin
1
Wigner Research Centre for Physics, Institute for Solid State Physics and Optics, Hungarian Academy of Sciences, P.O. 49, 1525 Budapest, Hungary
2
Institute of Chemistry Timisoara of Romanian Academy, Laboratory of Inorganic Chemistry, Bv. Mihai Viteazul, No. 24, RO-300223 Timișoara, Romania
3
Faculty of Engineering and Information Technology, University of Pécs, Boszorkány Str 2, 7624 Pécs, Hungary
4
Functional Interfaces Research Group, Institute of Materials and Environmental Chemistry, Research Centre for Natural Sciences, Hungarian Academy of Sciences, Magyar tudósok körútja 2., 1117 Budapest, Hungary
5
Faculty of Chemistry, Biology, Geography, Department of Biology-Chemistry, West University of Timisoara, 16 Pestalozzi, 300115 Timișoara, Romania
6
Department of Inorganic Chemistry and Technology, National Institute of Chemistry, Hajdrihova 19, 1001 Ljubljana, Slovenia
7
Institute of Inorganic Chemistry, Graz University of Technology, Stremayrgasse 9, 8010 Graz, Austria
8
National Institute of Materials Physics, 405a Atomistilor Street, 077125 Bucuresti-Magurele, Romania
9
Faculty of Physics, University of Bucharest, 405 Atomistilor Street, 077125 Bucuresti-Magurele, Romania
*
Author to whom correspondence should be addressed.
Received: 23 February 2018 / Revised: 2 April 2018 / Accepted: 4 April 2018 / Published: 6 April 2018
Abstract
This work is focused on a novel class of hybrid materials exhibiting enhanced optical properties and high surface areas that combine the morphology offered by the vinyl substituted silica host, and the excellent absorption and emission properties of 5,10,15,20-tetrakis(
N
-methyl-4-pyridyl)porphyrin-Zn(II) tetrachloride as a water soluble guest molecule. In order to optimize the synthesis procedure and the performance of the immobilized porphyrin, silica precursor mixtures of different compositions were used. To achieve the requirements regarding the hydrophobicity and the porous structure of the gels for the successful incorporation of porphyrin, the content of vinyltriacetoxysilane was systematically changed and thoroughly investigated. Substitution of the silica gels with organic groups is a viable way to provide new properties to the support. An exhaustive characterization of the synthesized silica samples was realised by complementary physicochemical methods, such as infrared spectroscopy (FT-IR), absorption spectroscopy (UV-Vis) and photoluminescence, nuclear magnetic resonance spectroscopy (
29
Si-MAS-NMR) transmission and scanning electron microscopy (TEM and SEM), nitrogen absorption (BET), contact angle (CA), small angle X ray and neutron scattering (SAXS and SANS). All hybrids showed an increase in emission intensity in the wide region from 575 to 725 nm (Q bands) in comparison with bare porphyrin. By simply tuning the vinyltriacetoxysilane content, the hydrophilic/hydrophobic profile of the hybrid materials was changed, while maintaining a high surface area. Good control of hydrophobicity is important to enhance properties such as dispersion, stability behaviour, and resistance to water, in order to achieve highly dispersible systems in water for biomedical applications.
View Full-Text
►

▼

Figures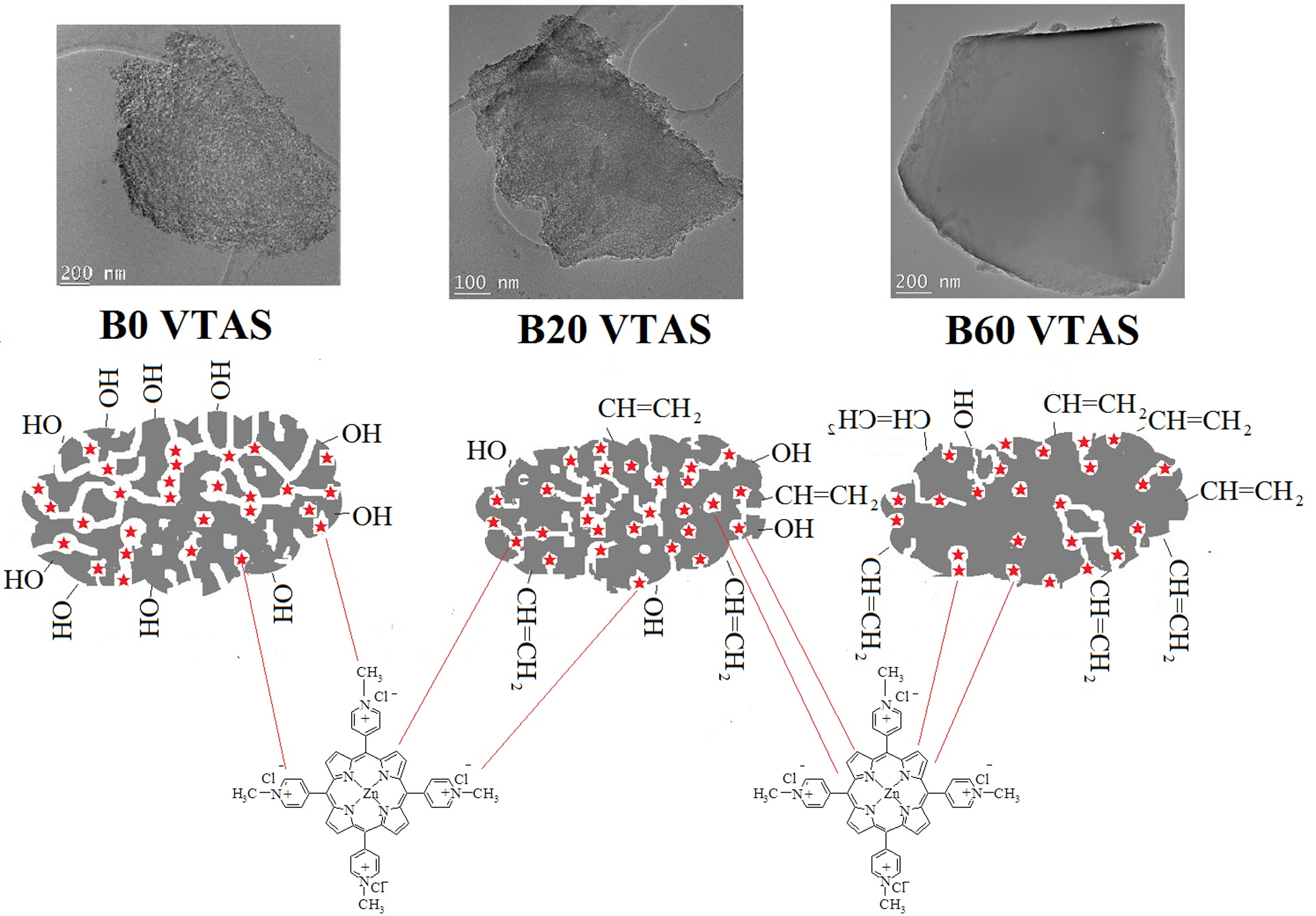 Graphical abstract
This is an open access article distributed under the
Creative Commons Attribution License
which permits unrestricted use, distribution, and reproduction in any medium, provided the original work is properly cited (CC BY 4.0).

Share & Cite This Article
MDPI and ACS Style
Dudás, Z.; Fagadar-Cosma, E.; Len, A.; Románszki, L.; Almásy, L.; Vlad-Oros, B.; Dascălu, D.; Krajnc, A.; Kriechbaum, M.; Kuncser, A. Improved Optical and Morphological Properties of Vinyl-Substituted Hybrid Silica Materials Incorporating a Zn-Metalloporphyrin. Materials 2018, 11, 565.
Note that from the first issue of 2016, MDPI journals use article numbers instead of page numbers. See further details here.
Related Articles
Comments
[Return to top]