Open Access This article is
freely available
re-usable
Review
Hysteretic Photochromic Switching (HPS) in Doubly Doped GaN(Mg):Eu—A Summary of Recent Results
1
SUPA Department of Physics, University of Strathclyde, 107 Rottenrow, Glasgow G4 0NG, UK
2
Alternative Energy Materials, CSIR-National Physical Laboratory, New Delhi-110012, India
3
INESC/MN, IPFN, Instituto Superior Técnico, Universidade de Lisboa, Campus Tecnológico e Nuclear, Estrada Nacional 10, 2695-066 Bobadela LRS, Portugal
4
Department of Mathematical and Design Engineering, Gifu University, Gifu 501-1193, Japan
5
Kyma Technologies, 8829 Midway West Rd, Raleigh, NC 27612, USA
6
Department of Materials Science and Metallurgy, University of Cambridge, 27 Charles Babbage Road, Cambridge CB3 0FS, UK
7
Institute of High Pressure Physics PAS, Sokolowska 29/37, 01-142 Warsaw, Poland
*
Author to whom correspondence should be addressed.
Received: 6 July 2018 / Accepted: 19 September 2018 / Published: 22 September 2018
Abstract
:
Europium is the most-studied and least-well-understood rare earth ion (REI) dopant in GaN. While attempting to increase the efficiency of red GaN light-emitting diodes (LEDs) by implanting Eu
+
into p-type GaN templates, the Strathclyde University group, in collaboration with IST Lisbon and Unipress Warsaw, discovered hysteretic photochromic switching (HPS) in the photoluminescence spectrum of doubly doped GaN(Mg):Eu. Our recent work, summarised in this contribution, has used time-, temperature- and light-induced changes in the Eu intra-4
f
shell emission spectrum to deduce the microscopic nature of the Mg-Eu defects that form in this material. As well as shedding light on the Mg acceptor in GaN, we propose a possible role for these emission centres in quantum information and computing.
Keywords:
gallium nitride; rare earth ions; europium; photoluminescence; photochromism; qubit
Author Contributions
Conceptualization, K.P.O'.D.; Investigation, all authors; Writing: Original Draft Preparation, K.P.O'.D., P.R.E.; Writing: Review and Editing, all authors; Supervision, K.P.O'.D.; Project Administration, K.P.O'.D., P.R.E.; Funding Acquisition, K.P.O'.D., P.R.E.
Funding
This research was funded by the Engineering and Physical Sciences Research Council grant number EP/N00275X/1.
Conflicts of Interest
The authors declare no conflict of interest. The funders had no role in the design of the study; in the collection, analyses, or interpretation of data; in the writing of the manuscript, and in the decision to publish the results.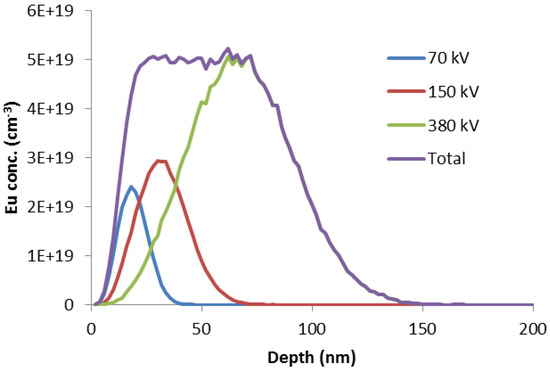 Figure 1. Ion implantation using multiple beam energies produces a top-hat dopant profile as shown in the above example, determined by Monte Carlo simulations using the SRIM code for Eu ions in GaN.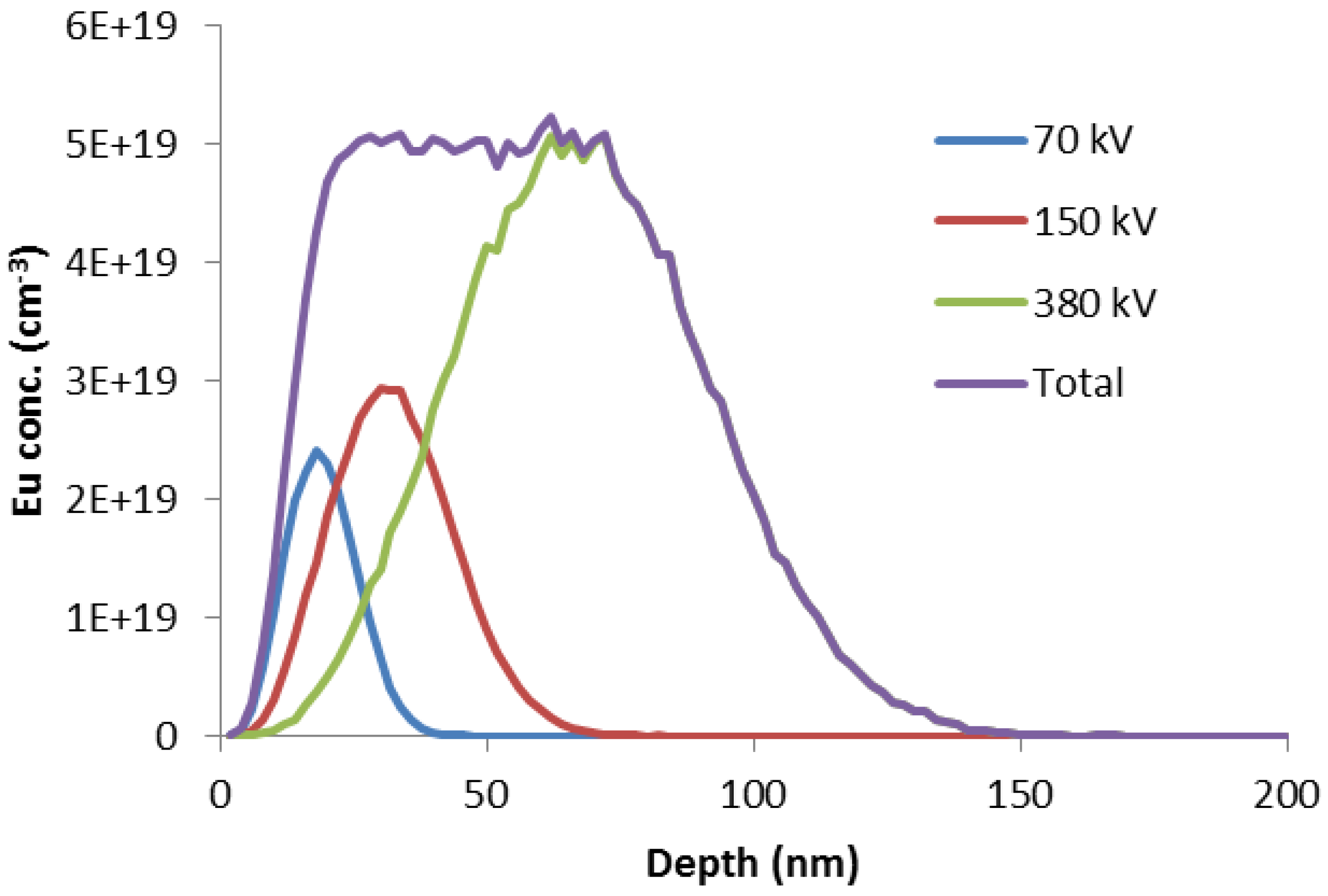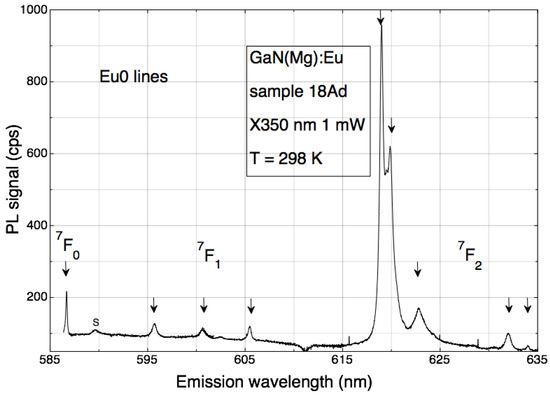 Figure 2.
When excited with above-bandgap light at RT, spectrally pure GaN(Mg):Eu samples show only the Eu0 spectrum (reproduced from Ref. [
9
]).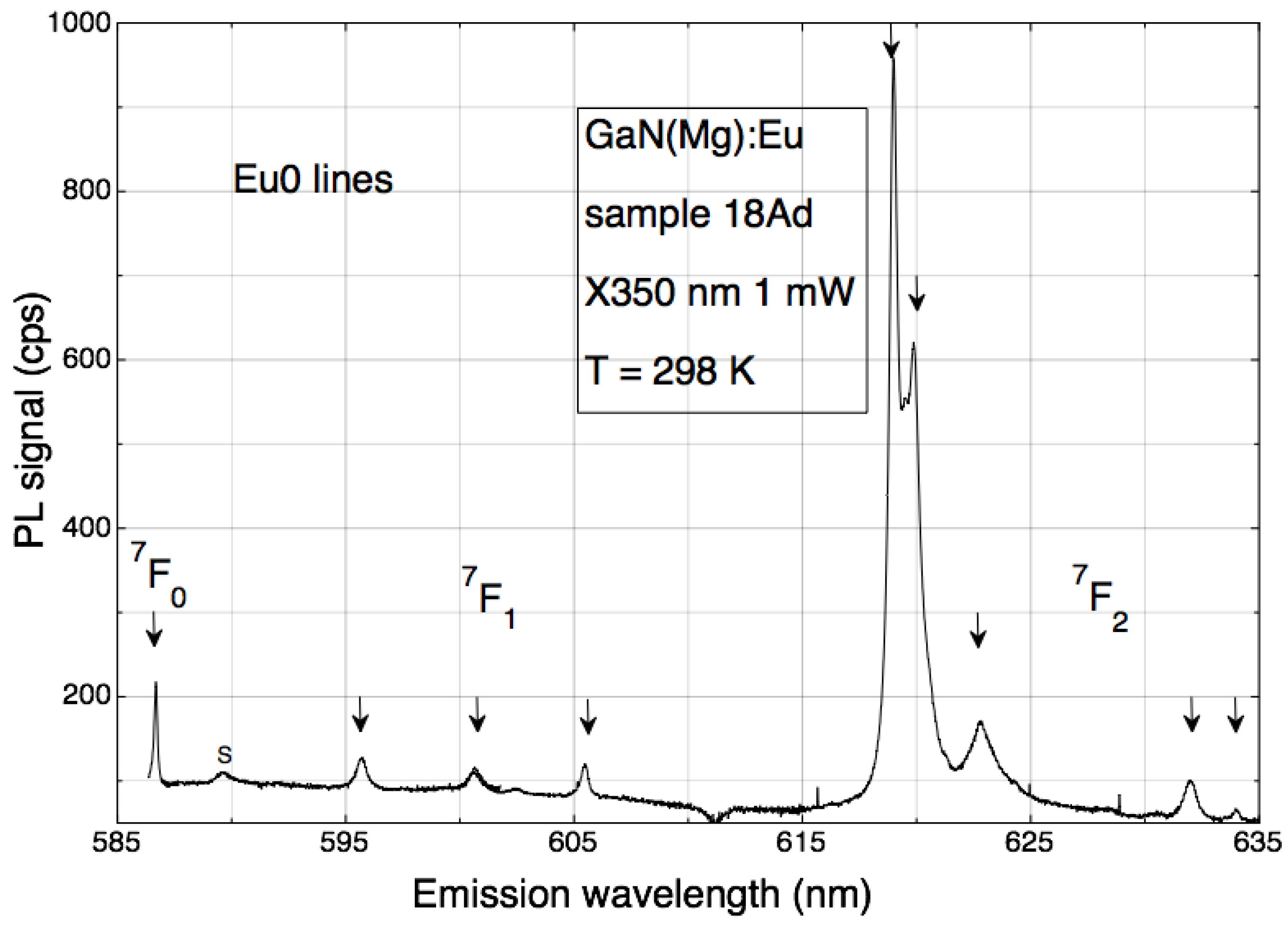 Figure 3.
Showing the two very different
5
D
0
to
7
F
1
spectral patterns for the photochromic pair Eu0 and Eu1(Mg), dominant at 100 K and 25 K respectively (reproduced from Ref. [
9
]).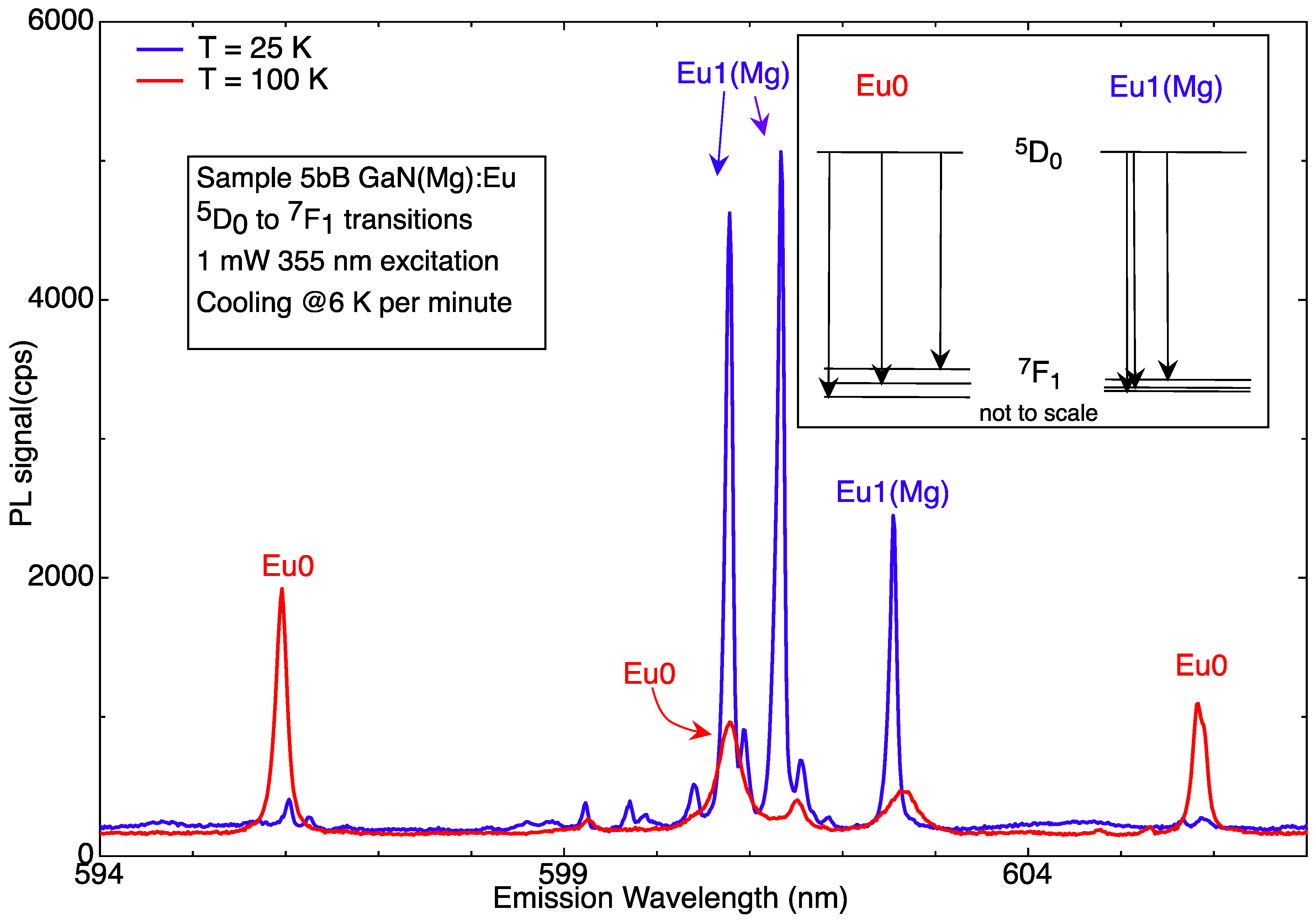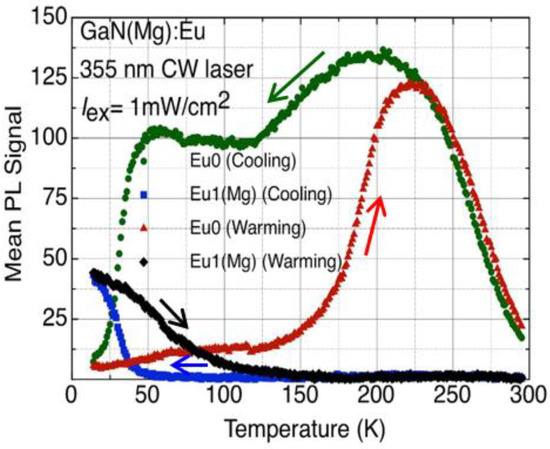 Figure 4.
Showing various hysteresis loops associated with the HPS of Eu0-Eu1(Mg) during a cooling-warming cycle. The mean signal intensities are plotted against temperature for cooling and warming runs, as indicated by arrows, undertaken at a fixed rate of 6 K per minute. Data are recorded at 1 K intervals (reproduced from Ref. [
3
]).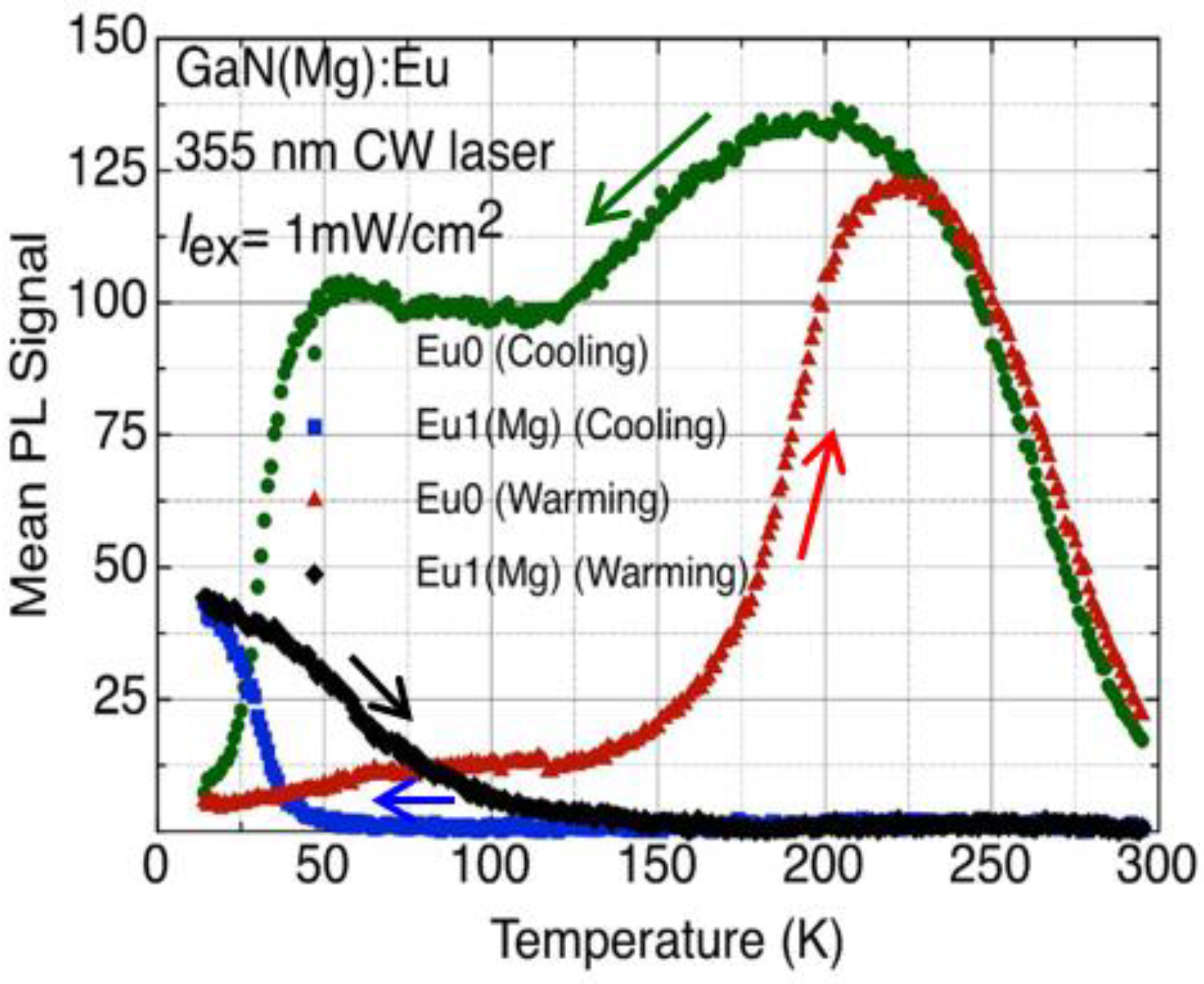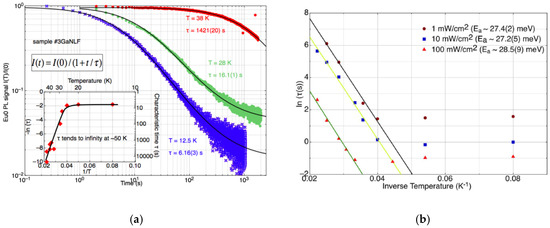 Figure 5.
(
a
) Temperature dependence of switching at fixed excitation density and wavelength, the inset showing temperature independence below 20 K; (
b
) anti-Arrhenius fits to the temperature dependence above ~20 K show an independence of the activation energy on the power density (after Ref. [
3
]).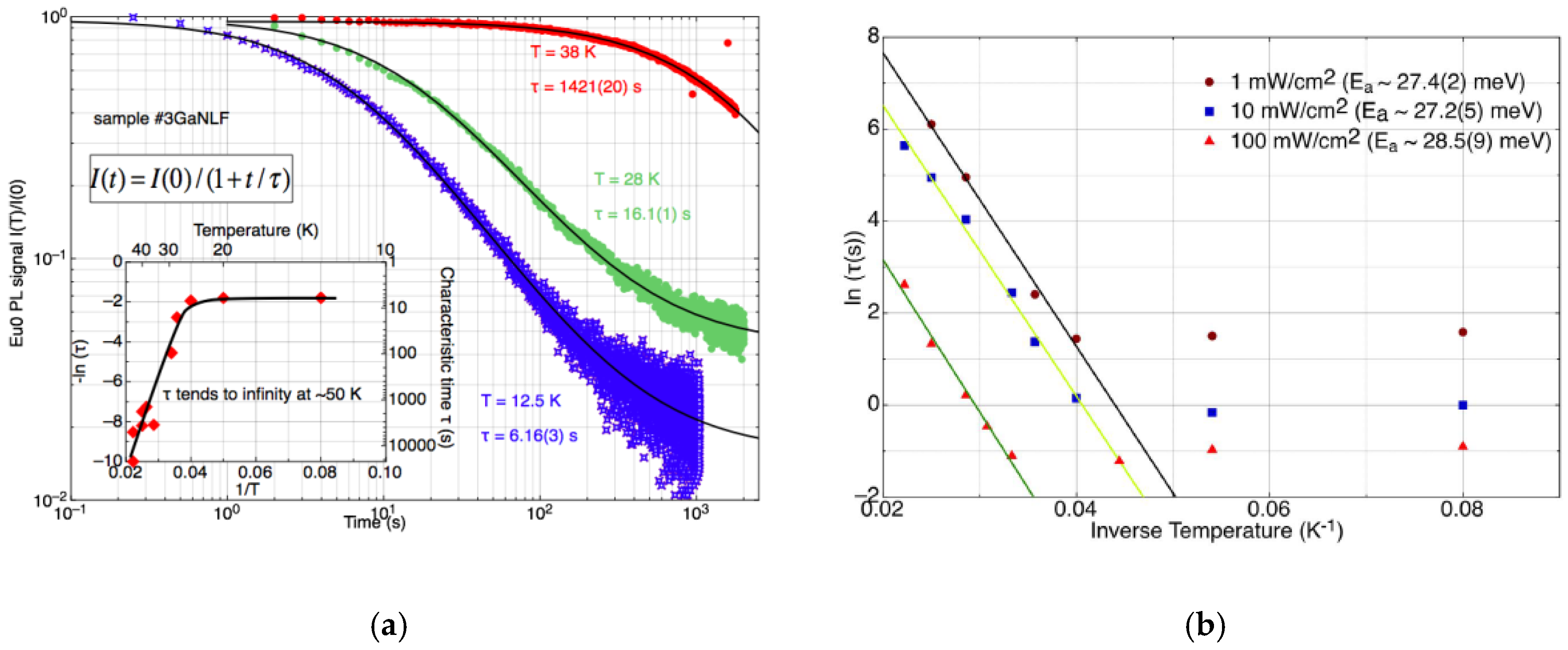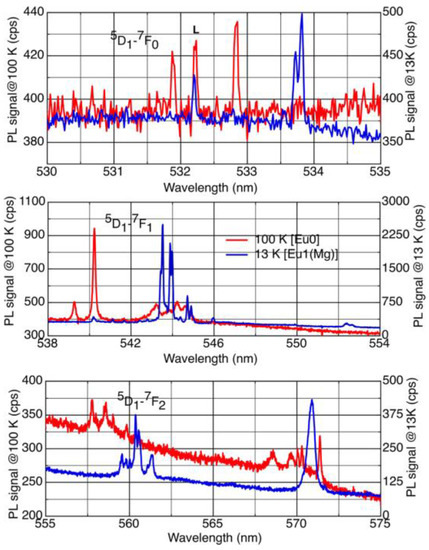 Figure 6.
The transitions from the
5
D
1
states of both Eu0 and Eu1(Mg) configurations of the Eu-Mg defects can be observed at the appropriate temperatures, allowing for photochromic switching (reproduced from Ref. [
6
]). For an explanation, see text.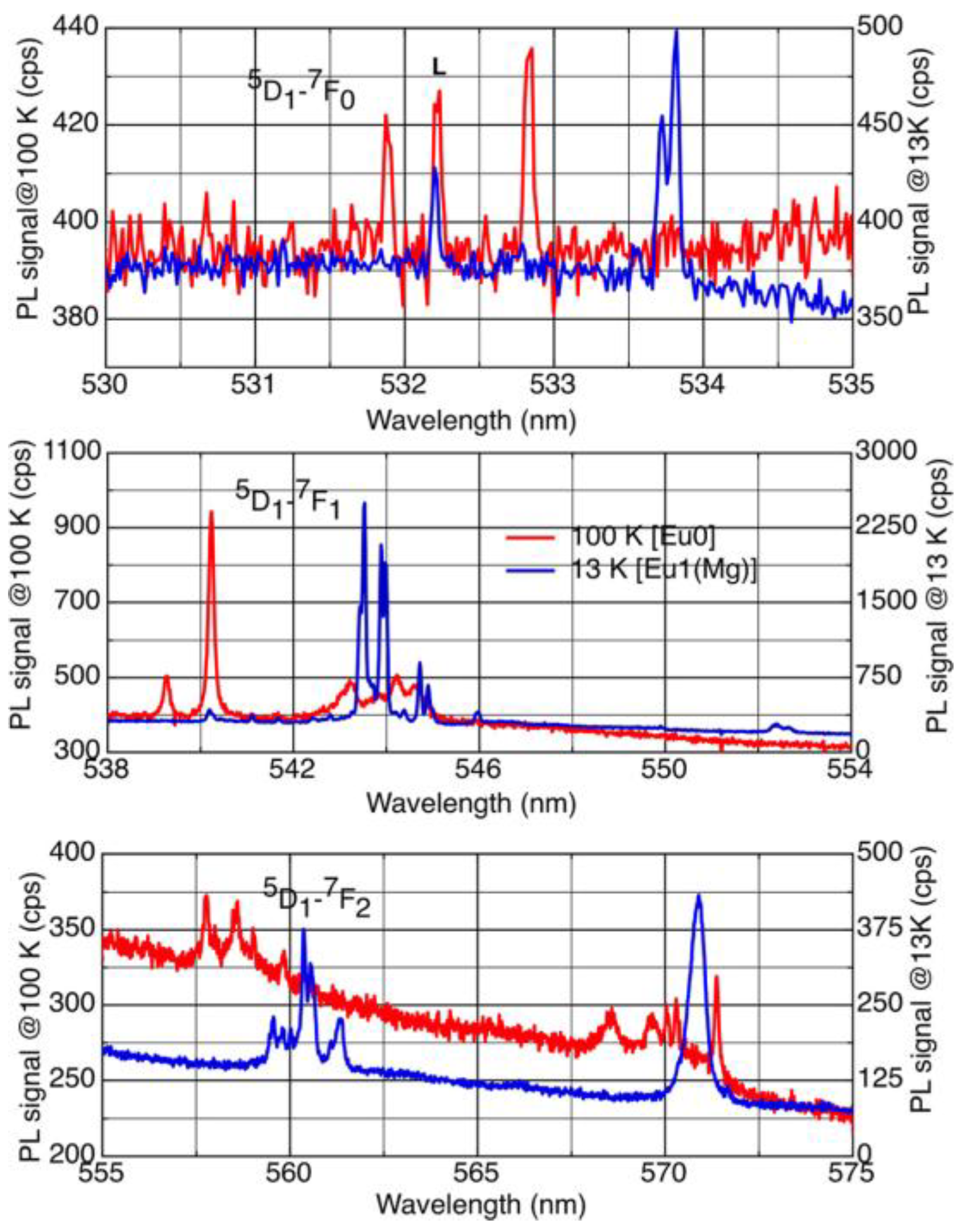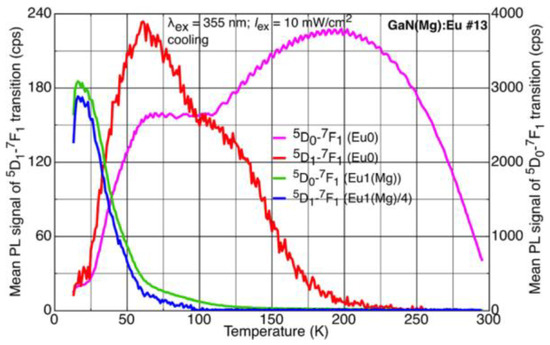 Figure 7.
Temperature dependences of intensities of transitions as indicated (cooling run). Note the anti-correlation of Eu0 PL signals from the
5
D
1
and
5
D
0
states in the temperature range 200 K to 100 K (reproduced from Ref. [
6
]).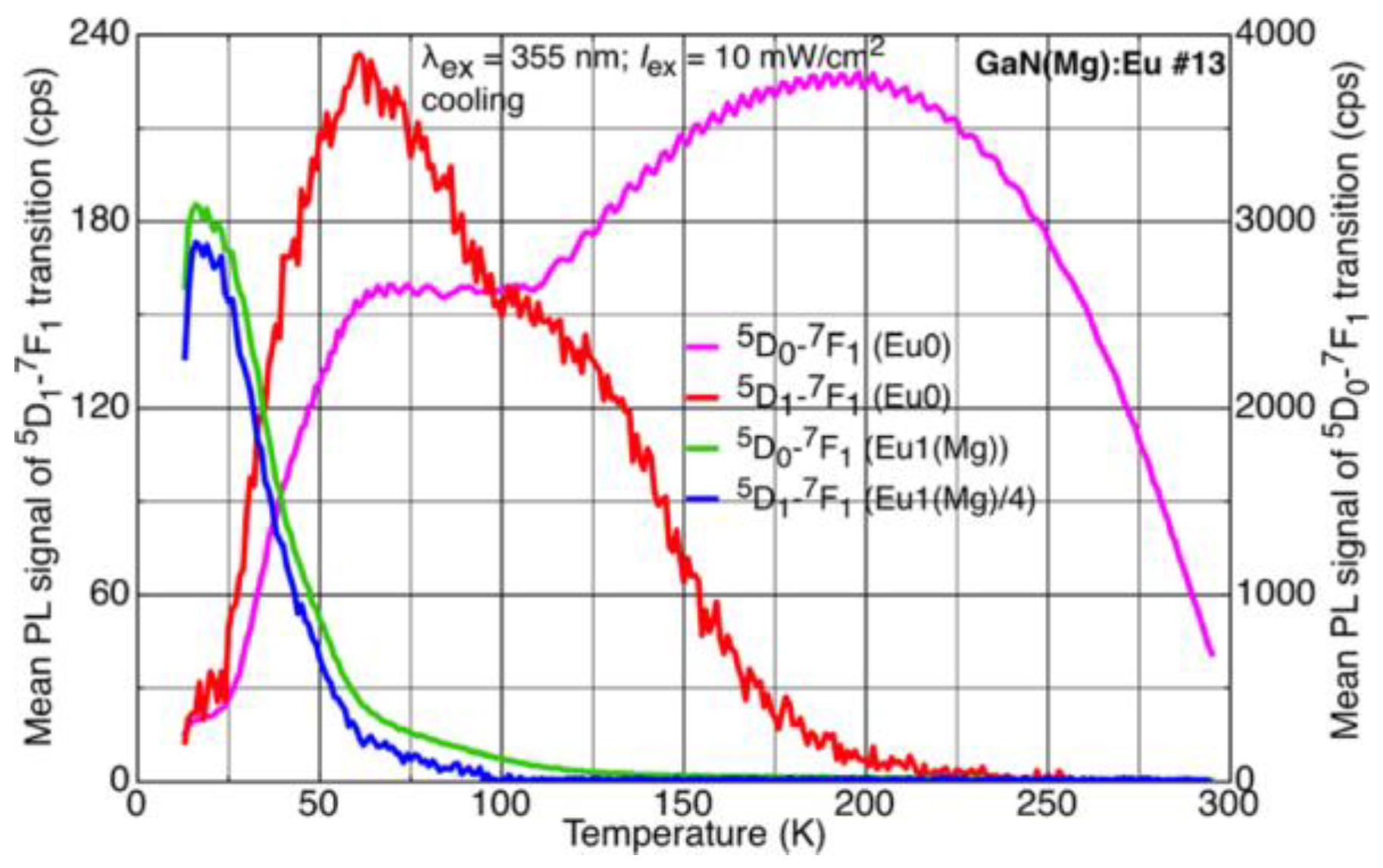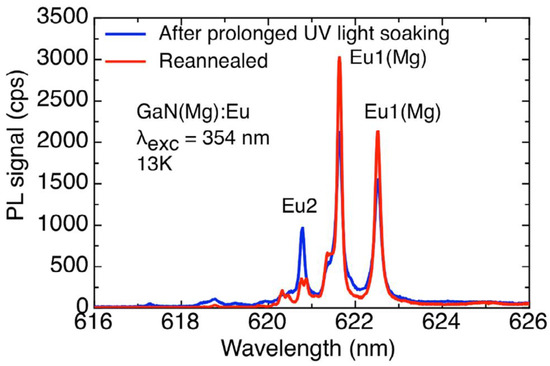 Figure 8.
After prolonged exposure to UV light at low temperature, this 'half-cooked' sample displays the characteristic 620.9 nm line of the prime Eu2 centre, produced by unassociated substitutional Eu
3+
ions [
11
].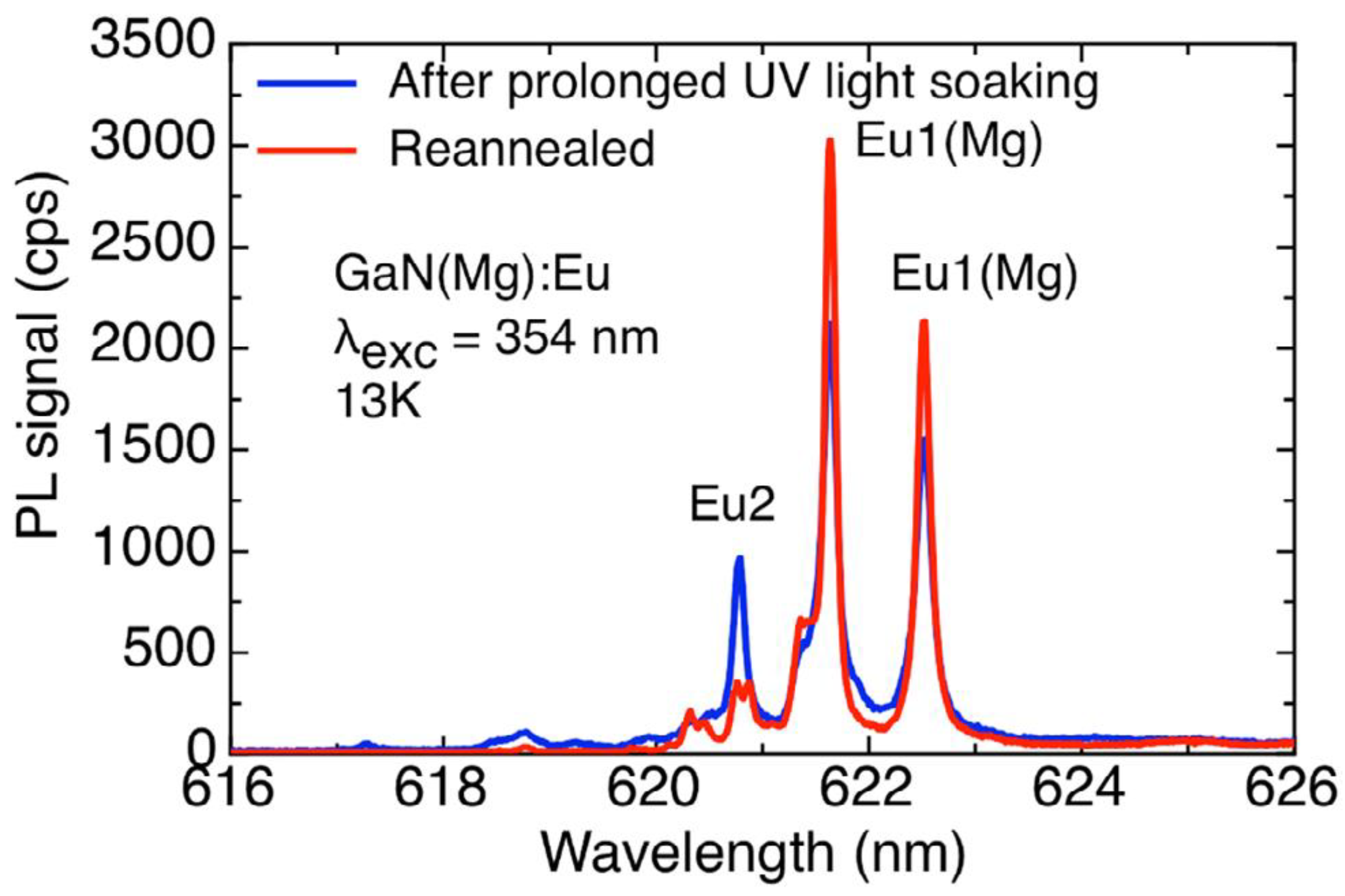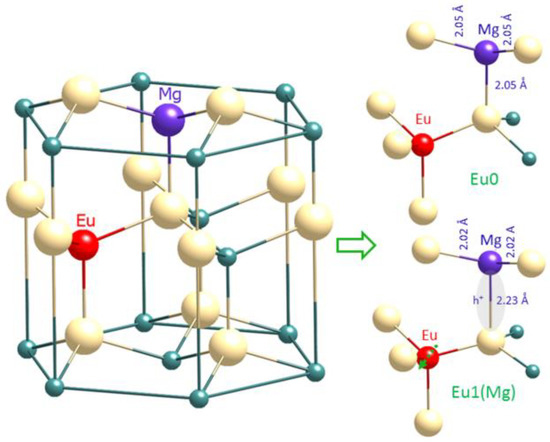 Figure 9.
Proposed microscopic model showing Eu sharing a nitrogen atom axially bonded to the Mg. The distortion of this arrangement due to the localization of a hole at this bond is also depicted (reproduced from Ref. [
3
]).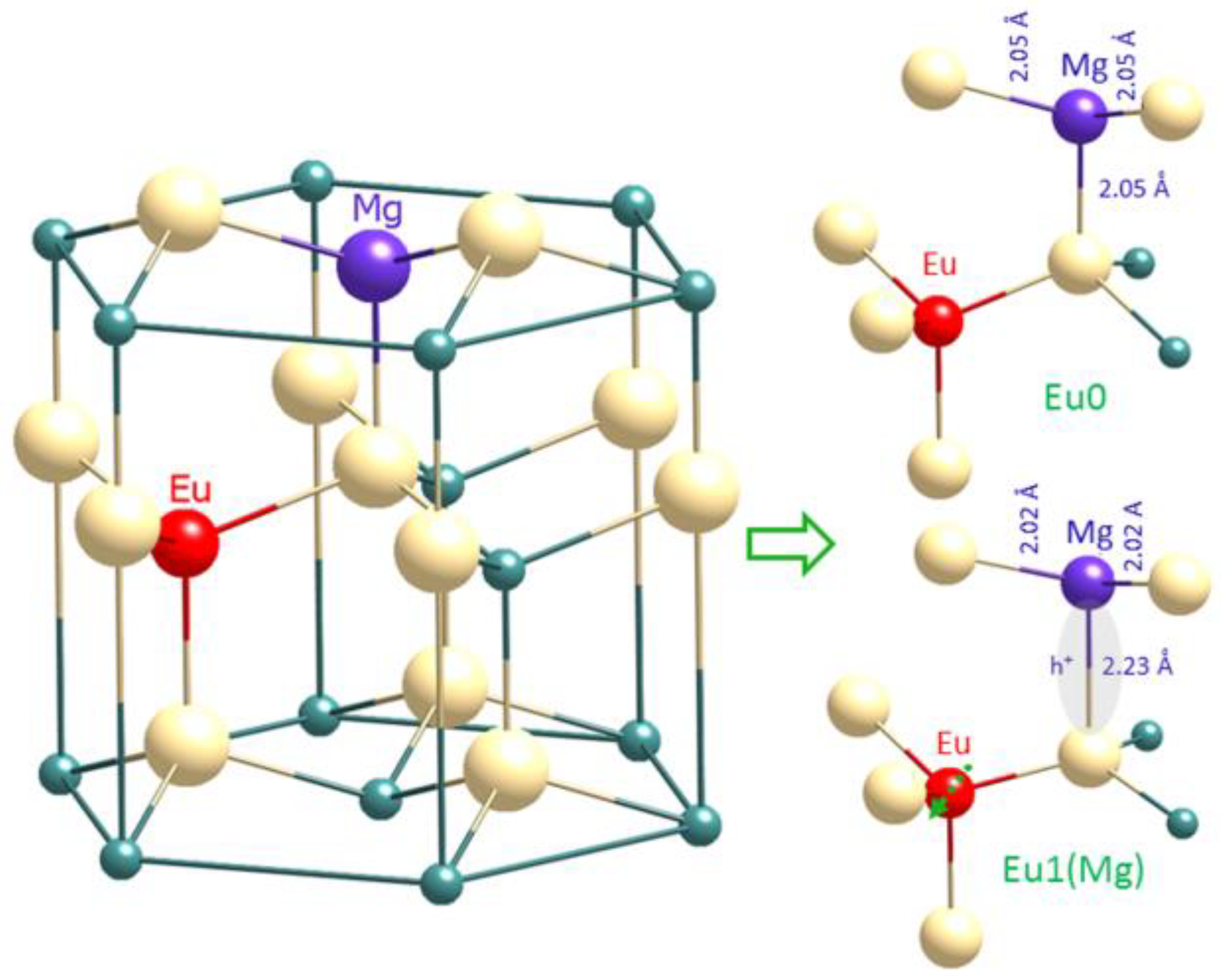 © 2018 by the authors. Licensee MDPI, Basel, Switzerland. This article is an open access article distributed under the terms and conditions of the Creative Commons Attribution (CC BY) license (http://creativecommons.org/licenses/by/4.0/).