Open Access This article is
freely available
re-usable
Review
Metallic Biomaterials: Current Challenges and Opportunities
1
School of Chemistry, Physics and Mechanical Engineering, Queensland University of Technology, Brisbane, QLD 4000, Australia
2
CSIRO-QUT Joint Sustainable Processes and Devices Laboratory, Commonwealth Scientific and Industrial Research Organization, P.O. Box 218, Lindfield, NSW 2070, Australia
3
Institute of Health and Biomedical Innovation, Queensland University of Technology, Brisbane, QLD 4000, Australia
4
College of Science and Engineering, Technology and Engineering, James Cook University, Townsville, QLD 4810, Australia
*
Authors to whom correspondence should be addressed.
Received: 27 April 2017 / Accepted: 25 July 2017 / Published: 31 July 2017
Abstract
:
Metallic biomaterials are engineered systems designed to provide internal support to biological tissues and they are being used largely in joint replacements, dental implants, orthopaedic fixations and stents. Higher biomaterial usage is associated with an increased incidence of implant-related complications due to poor implant integration, inflammation, mechanical instability, necrosis and infections, and associated prolonged patient care, pain and loss of function. In this review, we will briefly explore major representatives of metallic biomaterials along with the key existing and emerging strategies for surface and bulk modification used to improve biointegration, mechanical strength and flexibility of biometals, and discuss their compatibility with the concept of 3D printing.
Keywords:
biomaterial; inflammation; implant; advanced materials; surface modification
1. Introduction
Such an approach to impart multi-functionality on metallic implants is clearly highly attractive, not least because of the fact that unlike other methods, where several parts are individually-processed and then assembled, 3D bioprinting promises to produce the final complex product in a single process, significantly reducing the time and cost of manufacturing. However, 3D printing is ridden with challenges, particularly when it comes to processing of metals where melting or the use of nanoparticle is necessary to enable assembly. Furthermore, it is not clear to which extent the gains made from other methods of pre- or post-processing will be retained in the final structure should it be processed with 3D printing.
In this review, we will briefly explore major representatives of metallic biomaterials along with the key existing and emerging strategies for surface and bulk modification used to improve biointegration, mechanical strength and flexibility of biometals, and discuss their compatibility with the concept of 3D printing.
3. Permanent Metallic Implants
Among bio-inert metals, surgical stainless steel (316L), cobalt-chromium (CoCr) alloys and titanium (Ti) alloys are the most commonly used metals for fracture fixation, angioplasty and bone remodelling [
18
]. This is primarily due to their long-term stability under highly-reactive in vivo conditions and excellent mechanical properties [
18
]. It is important to note that while these materials are considered to have low corrosion, wear, friction, and highly-aggressive microenvironment may lead to material degradation, and associated release of unwanted metallic ions, which may induce local tissue damage and inflammatory reactions, such as gradual osteolysis of adjacent tissues, as well as systemic damage, such as metal hypersensitivity. The osteolysis may undermine the fixation and ultimately the loading and force transfer of the implant, leading to implant failure, corrective surgeries or post-surgery complications [
48
].
3.2. Titanium and Ti-Based Alloys
3.3. Cobalt-Based Biometals
3.4. Tantalum-Based Bio Implants
As a biocompatible metal, tantalum has been studied for many biomaterial applications, where biocompatibility and outstanding corrosion resistance even in acidic media are required [
88
]. The anticorrosion properties of tantalum are due to the stable, native Ta
2
O
5
protective film formed on the implant surface [
89
,
90
]. Porous tantalum has excellent bone-bonding properties, which makes it an attractive material for artificial joints as bulk material or as a coating on stainless steel and titanium implants to enhance corrosion resistance and osseointegration (
Figure 4
) [
91
,
92
,
93
,
94
].
However, the wide spread use of this metal is limited by its high elastic modulus and difficulty with manufacturing this material with high precision. The elastic modulus and density of tantalum are above 186 GPa and 16.6 g/cm
3
, respectively. When used in orthopaedic implants, these properties are detrimental, mainly due to the significant difference when compared to those of natural cortical (12–18 GPa) and cancellous bone (0.1–0.5 GPa) [
90
,
96
,
97
]. From manufacturing standpoint, the refractory nature of this metal, specifically very high melting temperature of approximately 3017 °C, makes bulk production of this metal a significant challenge [
90
]. High temperature conductivity of Ta may also lead the patients to experience temperature-dependent headaches when Ta was used for cranioplasty [
98
].
Titanium-tantalum alloys containing 50 wt % of Ti and Ta were manufactured into implants using selective laser melting (SLM). Structurally, the alloys were composed of Ti-Ta matrix with randomly-dispersed pure Ta nanoparticles. The matrix was composed of equiaxed grains of β phase Ti and Ta in random orientations, owing to β stabilizing effect and rapid solidification [
99
]. Compared to commercial pure Ti and Ti-6Al-4V alloy, thus-fabricated Ti-Ta alloy demonstrated higher strength to modulus ratio, with ultimate tensile strength of ~925 MPa and elastic modulus of 75 GPa.
3.5. Challenges with Permanent Metals
By now, we have already demonstrated that 3D printing can provide adequate load bearing function for the fractured musculoskeletal tissue [
100
], showing better match to the anatomic peculiarities of individual patients. We have also discussed the controlled introduction of porosity as the means to match implant Young's modulus and stiffness to the adjacent cancellous and cortical bone (
Table 1
), and thus limit stress shielding, a serious issue that often results in re-fracturing of the already weakened bone [
100
]. Indeed, bone growth and bone density are directly related to loads exerted on that area of bone tissue. Since titanium alloys could be more than ten times as strong as cortical bone [
100
], its use may lead to drastic reduction in the forces experienced by the bone, which in turn may lead to loss of density and bone weakening [
100
]. These benefits can be attained while still preserving sufficient compressive strengths and high fatigue resistance, and with the additional benefit of improved osseointegration.
On the other hand, unlike biodegradable ceramics and polymers, inert metallic scaffolds cannot be readily impregnated in situ with bioactive molecules or cells, which somewhat limits the use of these kinds of scaffolds for complete tissue regeneration. Post-processing, such as functionalization of the surfaces with pharmaceutically relevant biomolecules, such as paracetamol [
101
], attached onto phosphonic acid-based self-assembled monolayers is therefore required to control surface chemistry.
Furthermore, by significantly increasing the surface to volume ratio through addition of interconnected pores, there is a chance that the leaching of metal ions from stainless steel, Ti, and Co-Cr and Ti alloys into peri-implant milieu will also increase. This may be particularly significant when used in environments poor in dissolved oxygen, since surface oxide films are known to inhibit ion release in vivo. Inorganic ions, proteins, and cells present in the body fluids may further accelerate ion release. Stress-induced wear and fretting may promote the removal of the oxide and release of metal ions. Inorganic salts, oxides, hydroxides, and other compounds that form as a result of the reactions between highly chemically-reactive ions and water molecules and anions may also affect cell-surface interactions. The interactions between ions and host cells may lead to the development of sarcoma.
4. Biodegradable Biometals
Using biodegradable metals in lieu of permanent metallic implants may produce far better means of fracture fixation for applications where complete tissue regeneration is expected. Currently, magnesium (Mg), iron (Fe) and zinc (Zn) alloys are best researched biodegradable metals for orthopaedic and cardiovascular uses [
104
], for they offer good in vivo biocompatibility, controlled degradation profile and sufficient mechanical strength to support bone during regeneration process. Indeed, bioresorbable metals have superior mechanical behaviour when compared to bioresorbable polymers, e.g., polylactide (PLA), polyglycolide (PGA) or polylactic-glycolic acid (PLGA) copolymer, since these polymers are brittle and may not be suitable for applications where significant forces are applied to the implant [
100
,
104
]. Furthermore, unlike Mg, Fe and Zi, the products of biodegradation of which are naturally metabolised by the host cells, the by-products of polymer break down may lead to inflammatory tissue response and necrosis [
102
].
4.2. Zinc Alloys
Zinc is another trace elements that plays a significant role in the structure and function of proteins, being essential to catalytic functions in more than 300 enzymes, inducing folding and stabilizing of protein subdomains, e.g., DNA-binding domains of eukaryotic transcription factors, RNA polymerases and accessory proteins engaged in nucleic acid replication [
117
]. Currently, zinc alloys are being explored for bioresorbable metallic stent applications, since most tissues have good tolerance to excess Zn ions [
102
]. Anodic dissolution and cathodic reduction of dissolved oxygen are the main processes involved in the corrosion of Zn [
102
], with pH of the surrounding environment playing an important role. For instance, at pH levels of 7.3, zinc chloride (ZnCl) and zinc oxide (ZnO) begin to participate in the corrosion process [
102
]. The corrosion rate of pure Zn is lower than that of pure Mg, and is not associated with the evolution of hydrogen gas.
When used as stents in rat arteries for up to 6 months, pure Zn wire did not lead to inflammatory response or extensive thrombosis [
102
], with evidence of considerable tissue integration within the partially degraded stent. In addition to the use of Zn in stent applications, Zn and zinc alloys (specifically Zn-Mg) are currently investigated for fracture fixation. Combing zinc with magnesium increases the corrosion rate whilst also improving the mechanical properties of the alloy [
104
]. Yet, further investigations into the corrosion behaviour of these alloys in vivo are warranted to fully understand the corrosion mechanisms, such as the role of the surface oxide layers in biodegradation and cell-surface interactions [
29
,
104
].
5. Limitations of Biomaterials and Strategies for Enhancement
With the increased need for synthetic limbs, joints, and other body part replacements, it is important to be aware about the limitations of these materials that could be utilised for these prosthetic body parts and existing strategies to overcome these limitations.
5.1. Biocompatibility
To maintain the desired level of precision, an approach that provides sufficient degree of control over the distribution, orientation and attachment of the functional groups or active molecules is critical. Self-assembly offers better control over the spatial distribution, producing a monolayer that is highly suited for functionalization with active molecules, e.g., growth factors, hormones, polypeptides, drugs, antibodies etc. Importantly, the monolayer is typically several nm thick, preserving the internal geometry of the 3D printed structure. Furthermore, the chemistry of the monolayer can be altered for specific application. The assembly itself is a relatively simple process, which does not interfere with the bulk materials properties of the underlying material.
5.2. Surface Colonisation and Biofilm Formation
5.3. Wear of Metallic Implants
6. Emerging Metallic Biomaterials and Future Trends
6.1. Bulk Metallic Glasses
Compared to conventional alloys, bioresorbable BMG alloys have more desirable rate of corrosion. The strength decay is inversely proportional to wound healing, i.e., osteogenesis, and thus limits stress shielding. The ions that are released in this process are non-toxic. Once the process is complete, a removal surgery is not needed as the device has been absorbed. Potentially, bioresorbable BMGs can be used as a bone screw or surgical plate, intramedullary nails or a temporary vascular stent.
6.2. Shape-Memory Alloys
Shape-memory alloys are a class of biomaterials which are capable of undergoing reversible phase transitions as a result of temperature, pressure, or other stress-related effects, such as super elasticity [
171
]. These have unique mechanical and functional properties which are known as 'the shape memory effect' and their pseudo-elasticity [
172
]. Pseudo-elasticity explains the ability of a material to recover to its original shape after a mechanical load has formed large deformations. The shape memory effect describes the ability of a material to be plastically deformed below the transition temperature [
173
]. This material will then recover to its original shape once the temperature has increased. Shape memory alloys are characterised by two solid phases. The first solid type is the austenitic parent phase which is stable at high temperatures and has high symmetry [
174
]. The second solid type is the martensitic phase which is stable at low temperatures and has low symmetry. In regards to the application of this alloy, it is important to attain the desired mechanical characteristics, shape memory and pseudo-elastic behaviour at temperatures that suit the living systems [
175
].
Nitinol is a Ti-based thermos elastic biomaterial with 50% atomic Ni content. Ti-based materials have been the most promising shape memory alloys, which is why Nitinol has become so popular in the medical field [
176
]. Nitinol has mechanical stability, lower stiffness, and thermo-elasticity and biodegradation corrosion resistance. With these promising properties, Nitinol is a suitable replacement for stainless steel implants. Other applications for Nitinol according to its shape memory alloy characteristics include wires, palatal arches, intraspinal implants, intramedullary nails, staples, and devices for correcting scoliosis, spinal vertebrae spacer, self-expanding vascular stents and many more [
177
]. However, any use of Nitinol within the body hinges on the ability to control the release of Ni, which is typically achieved though surface modification in order to preserve bulk shape recovery properties of the alloy. Strategies typically used to modify the surface properties of Nitinol and thus control corrosion include deposition of thin film coatings, chemical etching, electro- and mechanical polishing, annealing, ion beam treatment, autoclaving, ion implantation, laser melting and others [
178
]. The depth of the modification also varies from nm to µm, with thicker coatings potentially providing better corrosion protection under strain. Yet, in very small implants, such as vascular stents, thinker coatings may also interfere with shape recovery ability of the implant. Presence of the Ni-enriched sub-layer, level of surface oxide hydration and surface charge, catalytic activity, conductivity and electronic structure of surface oxides, presence of structural defects and other surface and bulk characteristics may also be important factors that affect Ni ion leaching.
3D printed porous nitinol skeletal fixation devices have the potential to provide sufficient stiffness for fixation during a 6–9 month healing period, and flexibility to restore normal stress distribution once the bone is fully remodeled [
179
]. It has been shown that when Ti-6Al-4V fixtures are used to repair segmental mandibulectomy defects, stress shielding may lead to the failure of the bone to remodel correctly, with the fixation device required to continue to carry most of the load. Under these circumstances, the implant may eventually break. For these cases, stiffness-matched nitinol fixation devices more adequately recreate normal stress-strain trajectories in a regenerated mandibular defect compared to Ti-6Al-4V, providing better chewing, speaking, swallowing, and breathing patient outcomes.
7. Conclusions
In this review, the currently used biomaterials have been discussed with possible drawbacks and suggestions to improve. It is the new or modified materials that can address these challenges currently faced by existing implants, and offer biomaterials that not only minimize the likelihood of medical complications but possibly offer more realistic, aesthetically pleasing outcomes for the patients. Materials engineering can add significant value to the future biomaterials and the next generation implants can be manufactured using nanomaterials which can serve multiple purposes.
3D printing holds great promise for processing of patient-specific metallic implants to create complex architectures with controlled internal nano-, micro-, and macro-scaled features and personalised external geometry. However, at present, there are a number of issues that need to be addressed for these sophisticated implants to be used clinically. These include advances in visualisation and modelling techniques. Indeed, even though CT scans are produced in very thin slices, the imaging modality can only generate the accumulation of the multiple slices, becoming a source of error. While this error may not be significant for macroscale features, the impact at micro- and nano-scale can be significant. Furthermore, the resolution of the assembly methods also needs to improve for faithful recreation of modelled architectures. Once these obstacles are overcome, 3D printing of metallic implants can develop into a mature modality in personalised medicine.
Author Contributions
All the authors contributed equally to the manuscript.
Conflicts of Interest
The authors declare no conflict of interest.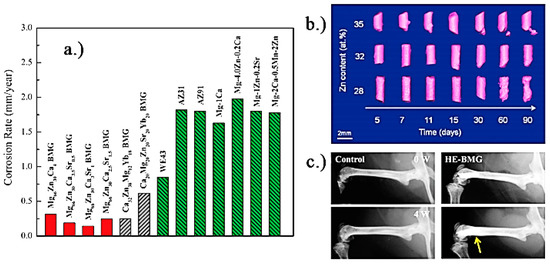 Figure 1.
(
a
) Corrosion rates of Mg-based alloys in physiologically relevant solutions [
12
]; (
b
) Images of Mg95–xZnxCa5 (at %) implanted in rat femurs, reconstructed from in vivo μ-CT scans. Note visible degradation after 30 days for the x = 28 sample, while minimal and no degradation are visible on the x = 32 and x = 35 samples, respectively [
13
]; (
c
) Radiographs of mice distal femora with and without implanted high-entropy CaMgZnSrYb alloy, immediately after implantation, and 4 weeks postoperatively. The sample shows no gas formation, no inflammation, and enhanced circumferential osteogenesis in the implanted bone (yellow arrow), indicating new bone formation [
14
]. Reproduced with permission from [
14
,
15
].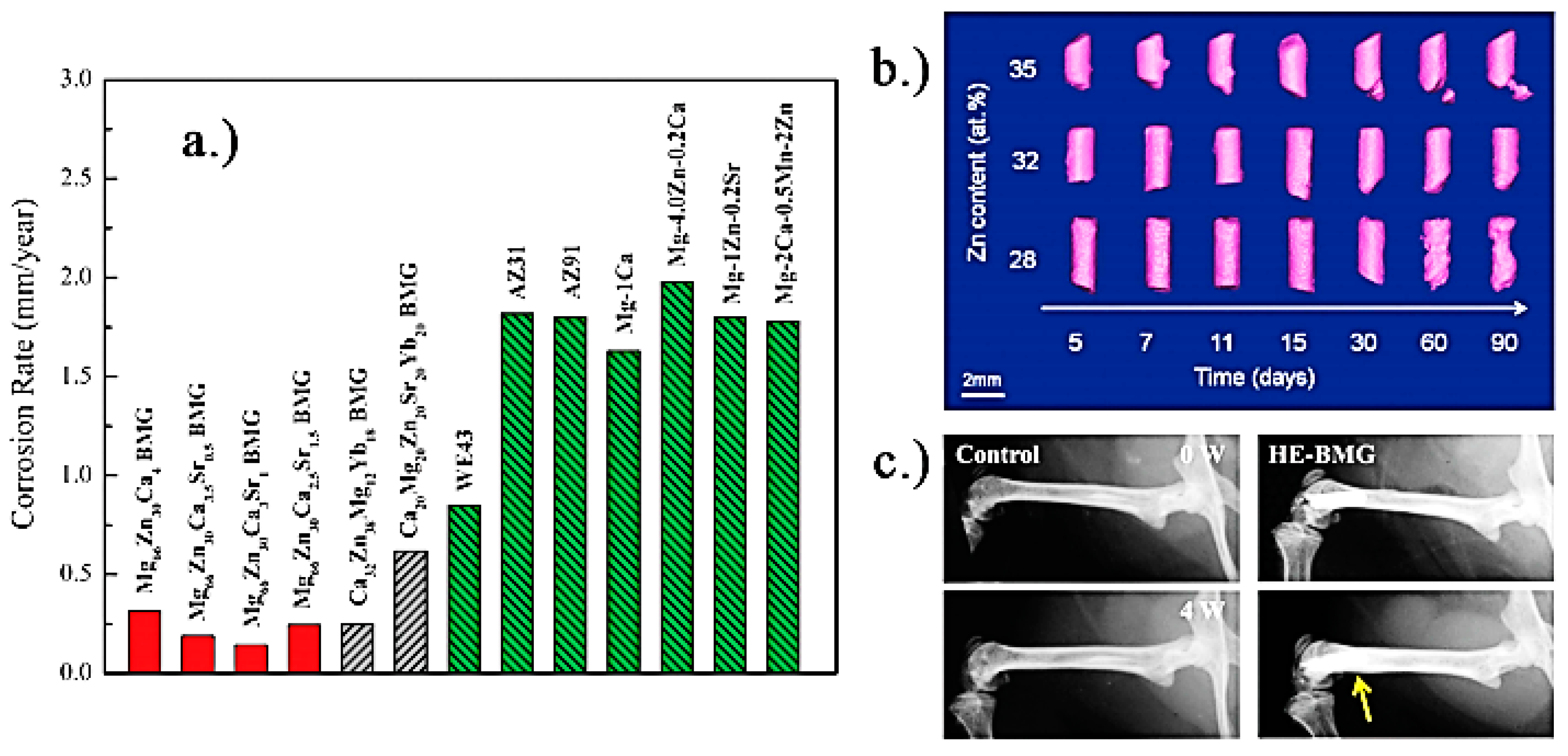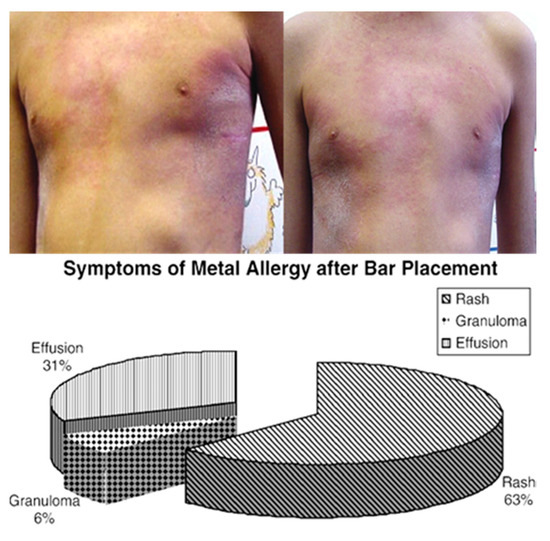 Figure 2.
Top image: Photographs of a patient with erythema and rash after implantation of a stainless steel bar. Bottom image: typical symptoms reported in patients implanted with steel bars as part of a Nuss procedure for repair of pectus excavatum. Patients did not have a history of metal allergy prior to implantation. Reproduced with permission from [
52
].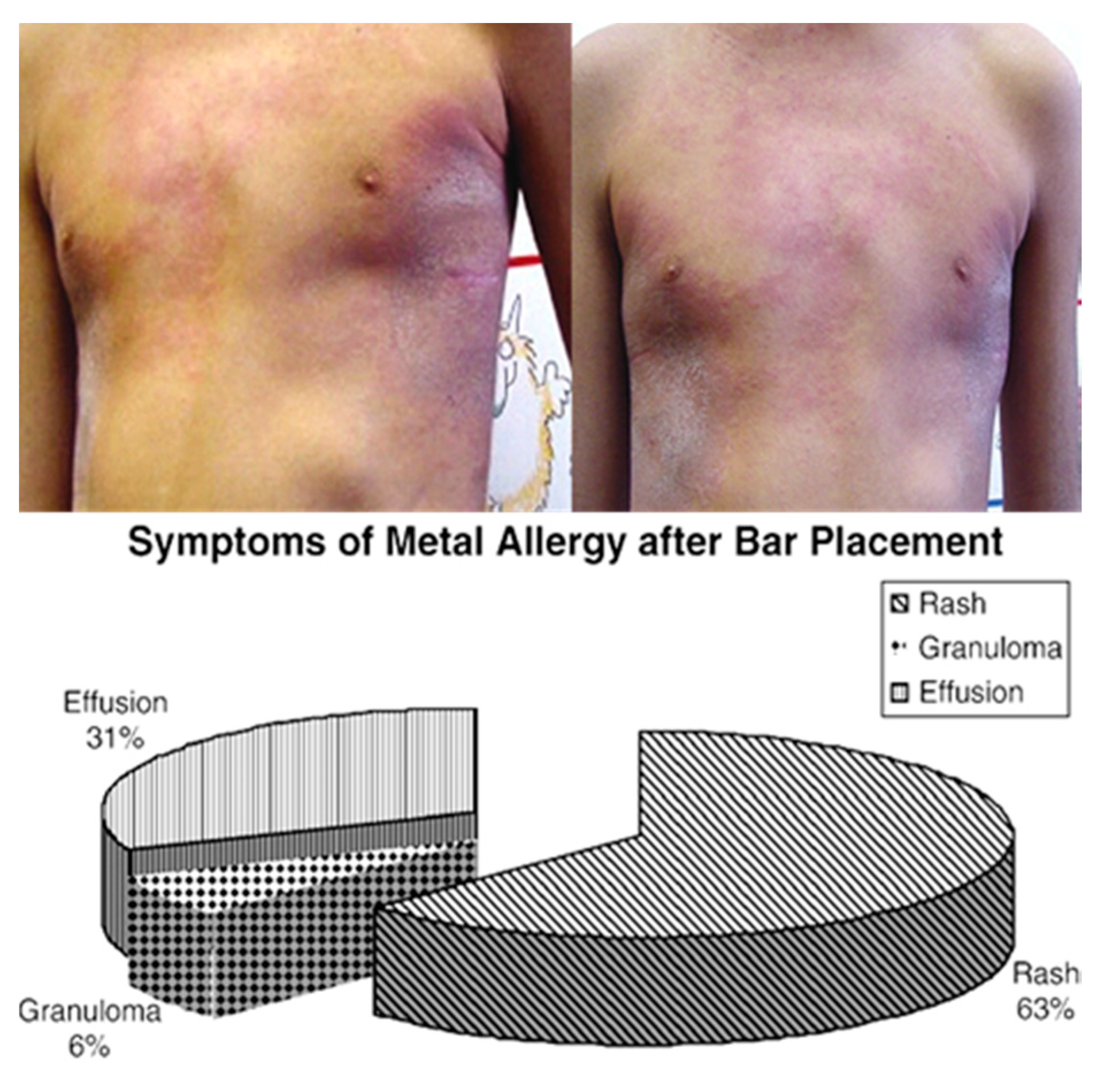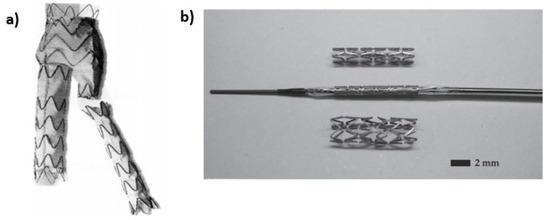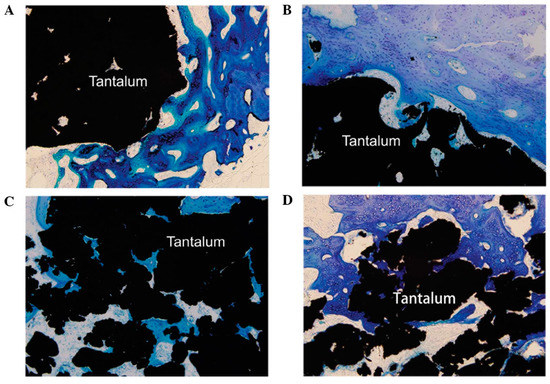 Figure 4.
Histological observation of hard tissue in contact with porous tantalum implants at week (
A
) 2; (
B
) 4; (
C
) 8 and (
D
) 12 after implantation (methylene blue staining). Reproduced with permission from [
95
].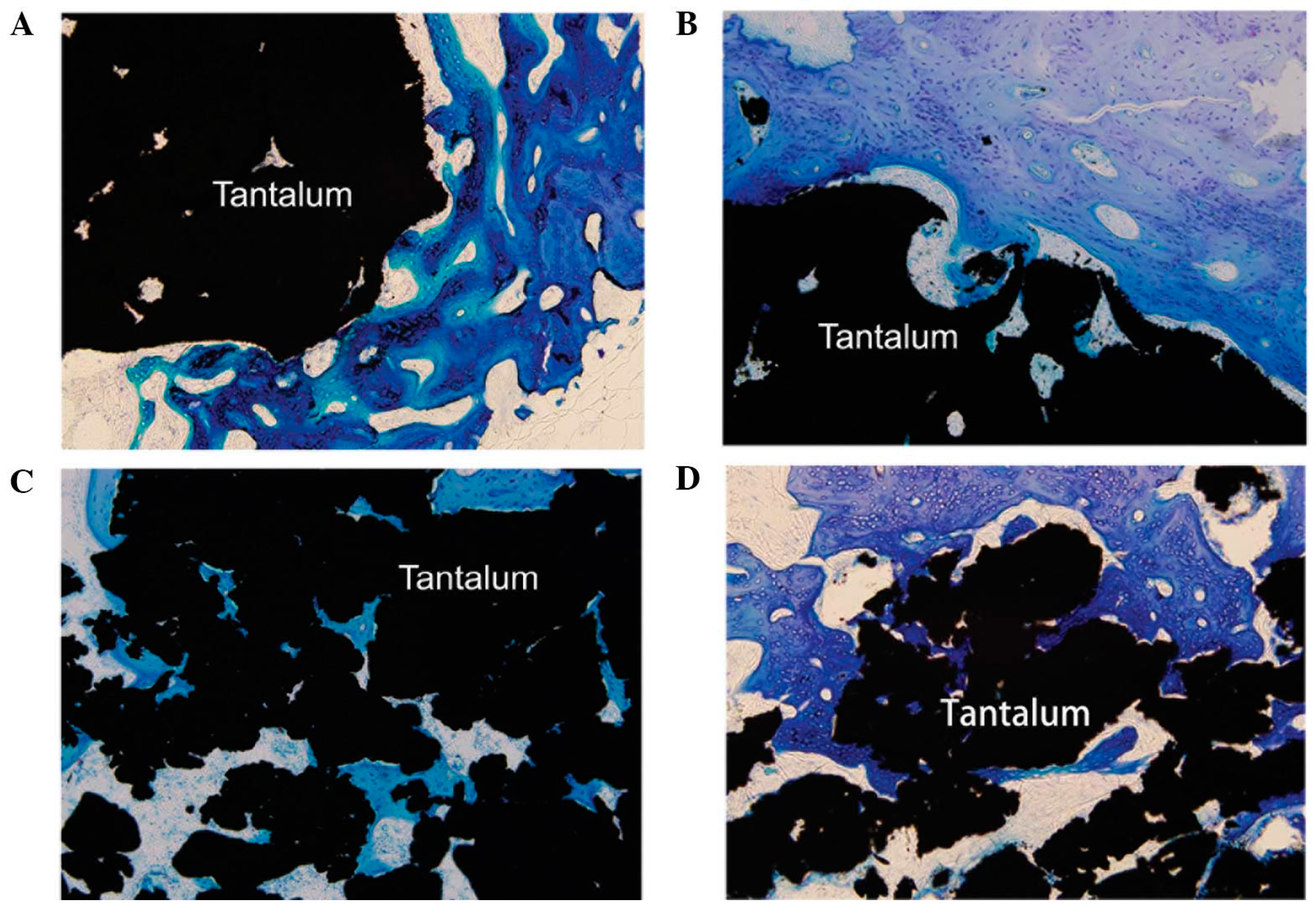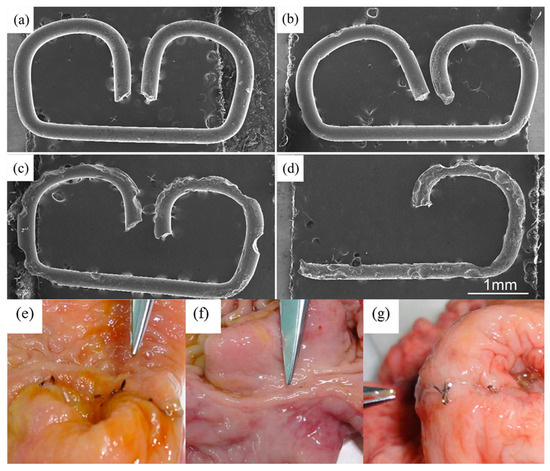 Figure 5.
Degradation of magnesium staples under in vitro and in vivo conditions. Optical visualisation of morphology of Mg staples after immersion in simulated body fluid at pH of 4 for (
a
) 3; (
b
) 7; (
c
) 11; and (
d
) 14 days. Photographs of Mg staples implanted into an animal model for (
e
) 7 and (
f
) 90 days; and (
g
) Ti staples implanted for 90 days. Reproduced with permission from [
116
].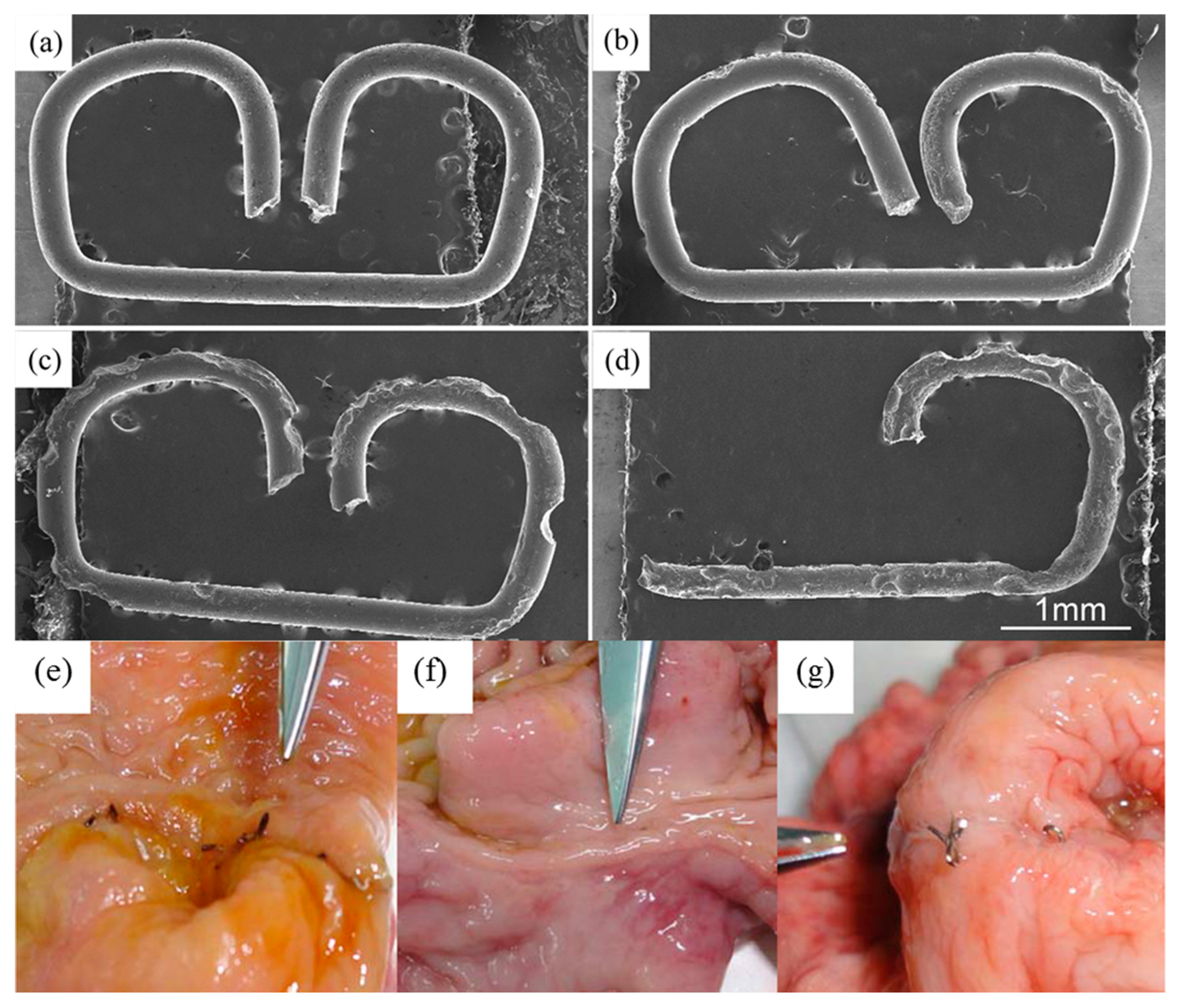 Figure 6.
Fluorescence images of initial adherent bone marrow mesenchymal stem cells (BMSCs) stained with DAPI after 1 h (
a
) and cell numbers measured by counting cells for 0.5 h, 1 h, and 2 h (
b
). Cell attachment on NT10 (titanium nanotube with 10 nm diameter) was significantly improved compared with control Ti surfaces for 1 h and 2 h. In contrast, cell attachment was inhibited on NT30 (titanium nanotube with 30 nm diameter) and NT60 (titanium nanotube with 60 nm diameter) at each time interval adopted in this study. All data were expressed as the mean ± standard deviation (SD) and '
p
', the level of significance.
p
< 0.05 was considered significant, and
p
< 0.01 was considered highly significant. Here, the mean ± SD N = 3, and *
p
< 0.05, and **
p
< 0.01 compared with the T;
#
p
< 0.05 and
##
p
< 0.01 compared with the NT10;
&
p
< 0.05 and
&&
p
< 0.01 compared with NT30. Reproduced with permission from [
124
].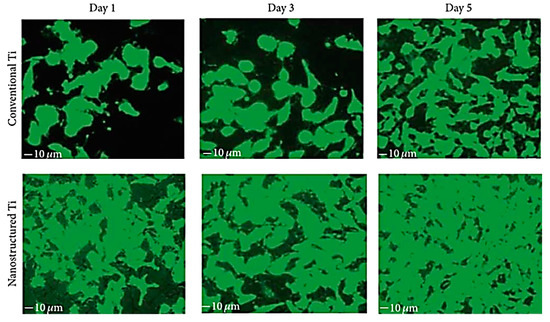 Figure 7.
Fluorescent microscopy images of endothelial cell proliferation on nanostructured Ti compared to conventional Ti. Reproduced with permission from [
129
].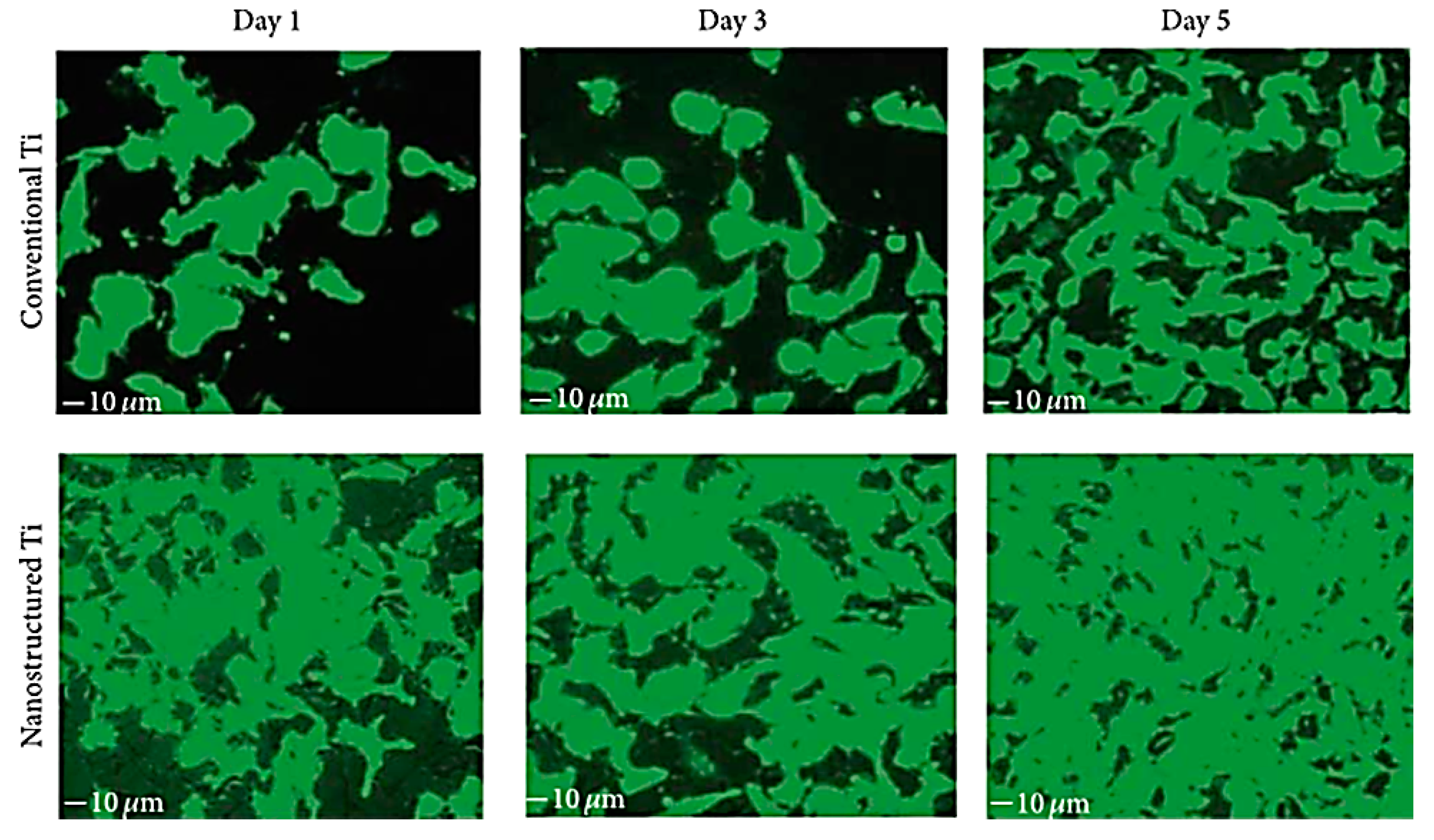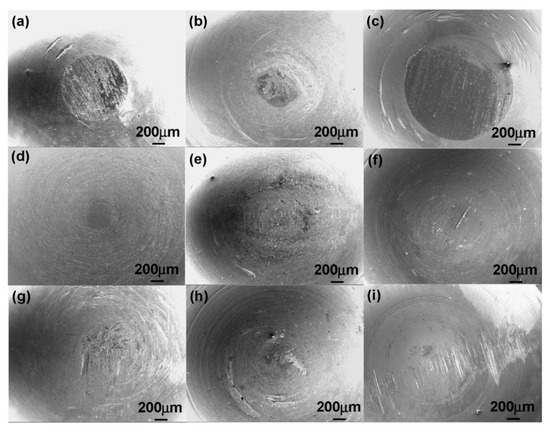 Figure 8.
Wear morphology of two differently-processed Ti-29Nb-13Ta-4.6Zr (TNZT) alloys (
a
) TNZT1 and (
b
) TNZT3 and (
c
) a Ti-6Al-4V alloy (TAV1) sliding on a stainless steel plate; (
d
) TNZT1; (
e
) TNZT3; and (
f
) TAV1 sliding on ultra-high-molecular-weight polyethylene (UHMWPE); (
g
) TNZT1; (
h
) TNZT3; and (
i
) TAV1 sliding on a pig bone in 0.9% NaCl. Reproduced with permission from [
81
].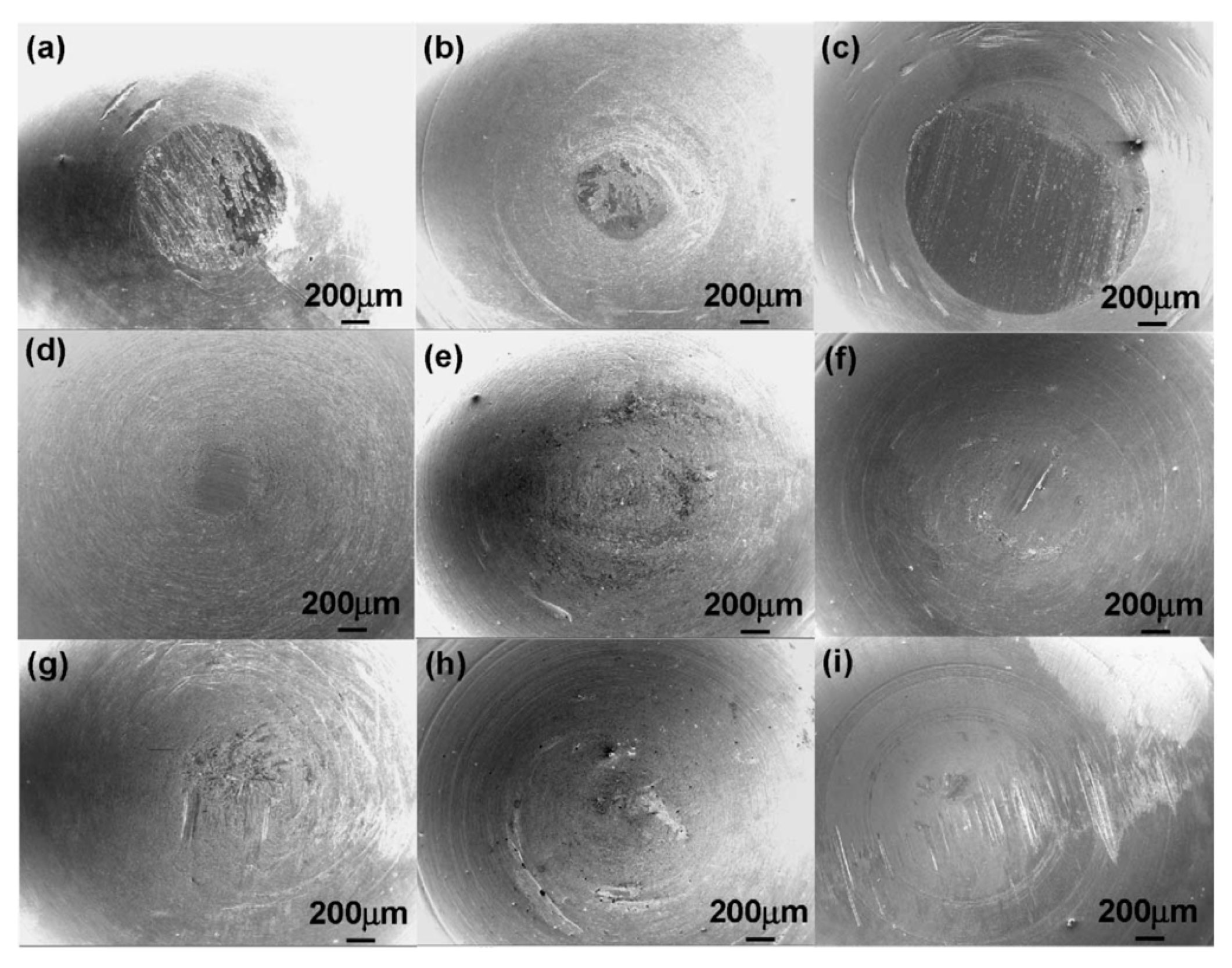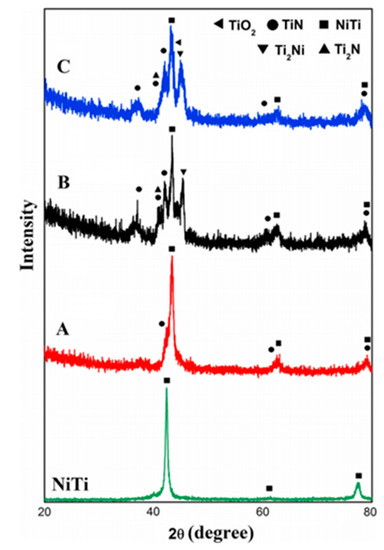 Figure 9.
Low angle XRD phase analysis of NiTi surface implanted by nitrogen ions: A, B and C indicated the intensities at different concentration of nitrogen, such as 6.9 × 10
17
ion cm
−2
(sample A) 1.4 × 10
18
ion cm
−2
(sample B), and 1.8 × 10
18
ion cm
−2
(sample C). Reproduced with permission from [
161
].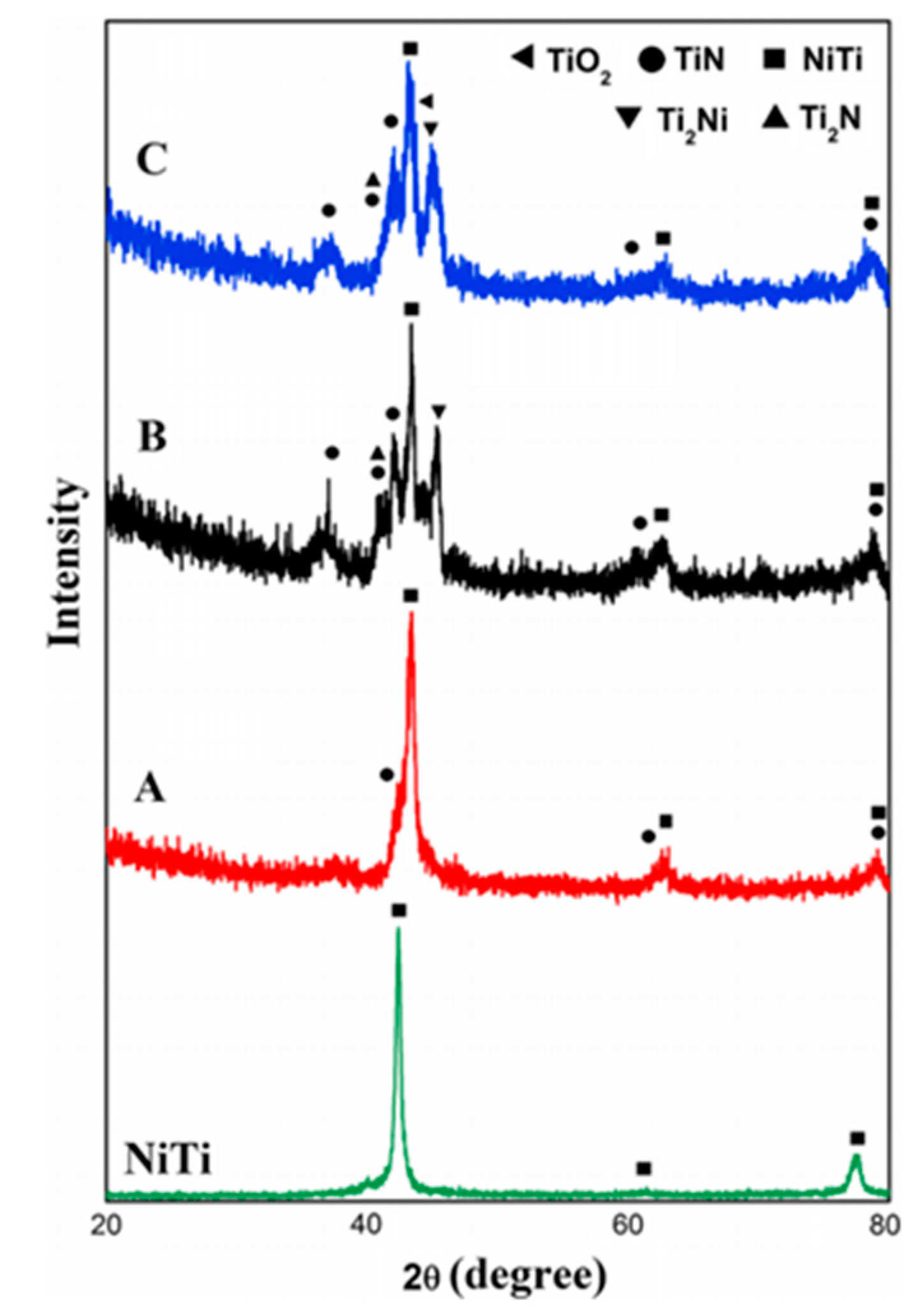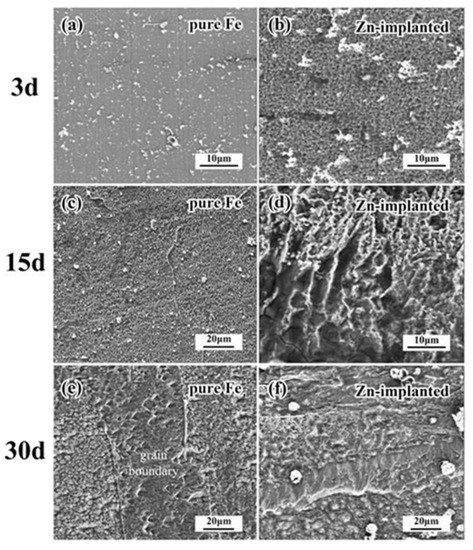 Figure 10.
SEM images showing the corrosion after 3, 15 and 30 days. The image shows the increased corrosion rate of the Zn- implanted iron (
b
,
d,f
) in comparison to the pure iron (
a
,
c,e
) samples, with pure Fe samples degrading mostly along the grain boundaries (
e
). Reproduced with permission from [
164
].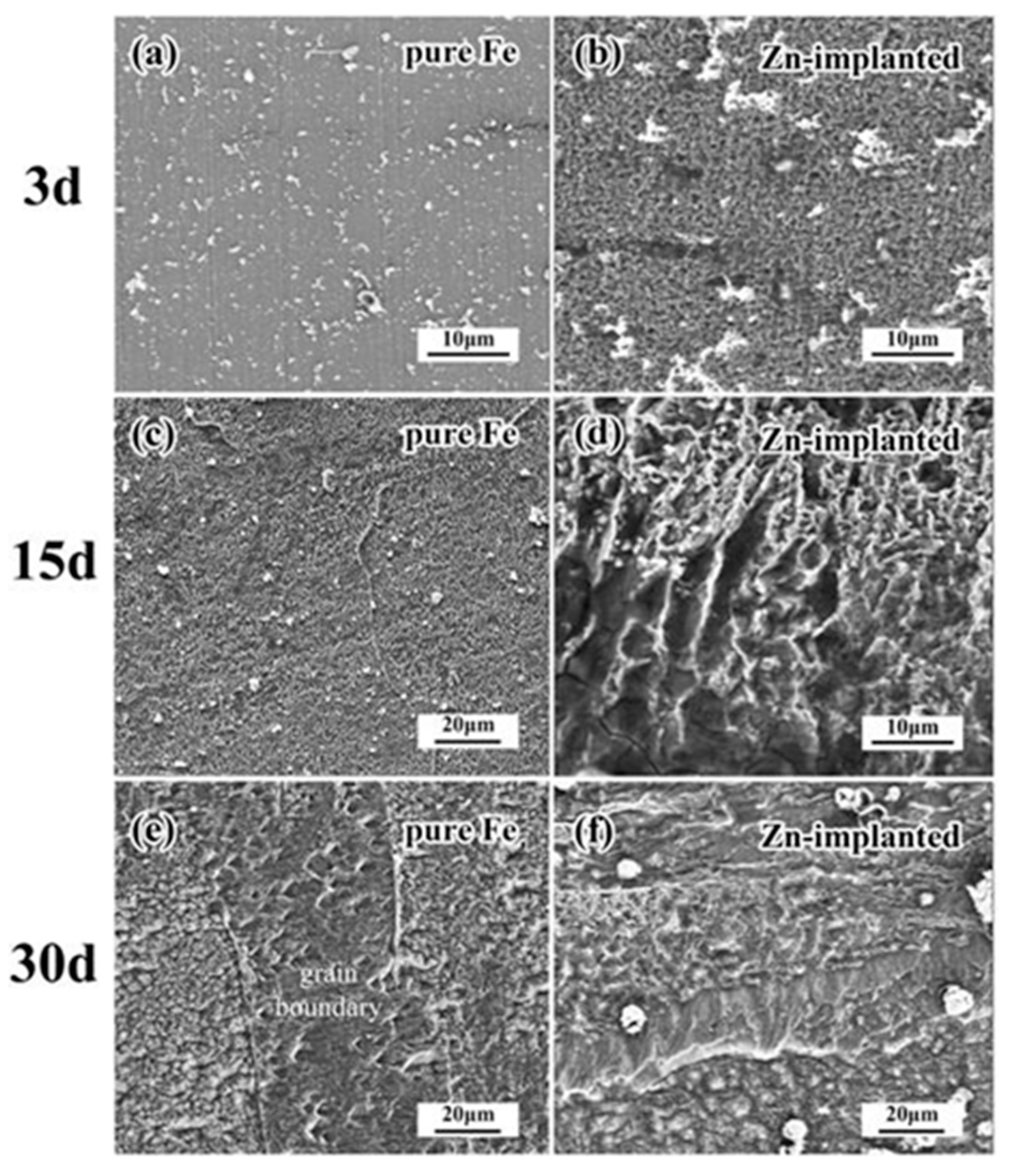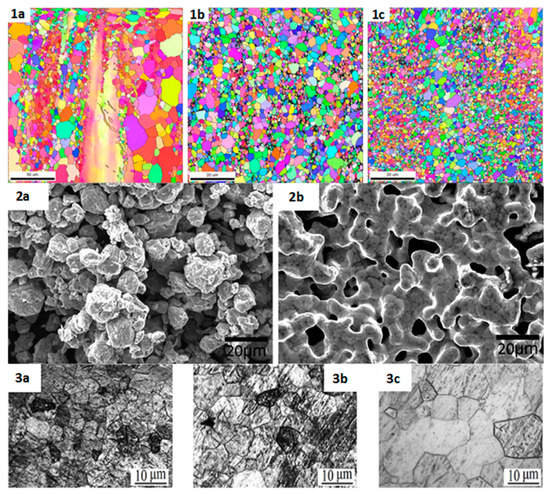 Figure 11.
Grain structures or morphologies of magnesium alloy (AZ31) (series 1), iron alloy (Fe-Mn-1Ca) (series 2) and commercially pure (CP) titanium (series 3). Series 1 depicts the cyclic extrusion compression (CEC) process of AZ31 at 300 °C, (
1a
) showing the alloy "as extruded', (
1b
) showing the alloy after 7 passes and (
1c
) showing the alloy after 15 passes. Series 2 shows the morphology of the iron based alloy before (
2a
) and after (
2b
) the binder-jet-3D printing process has been completed. Series 3 shows the morphology of a CP titanium sample after 3 laser shock peening impacts. (
3a
) shows the morphology of the sample close to the surface, while (
3b
) shows the morphology of the sample less than 0.5 mm below the surface and (
3c
) shows the sample morphology at about 2 mm below the surface. All images—series 1, 2 & 3—were reproduced with permission from [
166
], [
4
] and [
3
], respectively.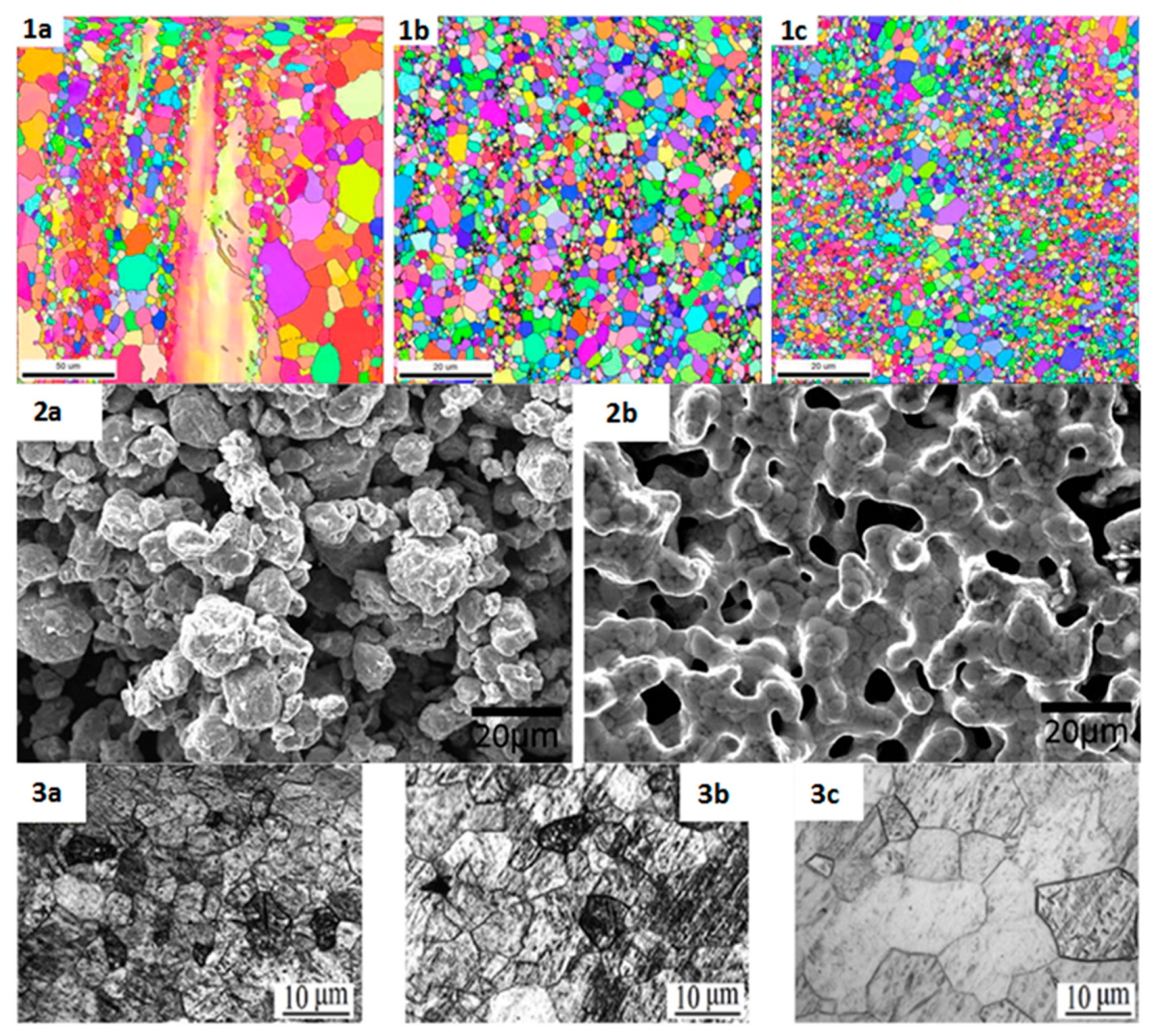 | Tissue/Material | Young's Modulus (GPa) | Yield Strength (MPa) | Compression Strength (MPa) | Tensile Strength (MPa) |
| --- | --- | --- | --- | --- |
| Cortical bone | 7–30 | | 100–230 | 164–240 |
| Cancellous bone | 0.01–3.0 | | 2–12 | |
| Ti6Al4V (casted) | 114 | 760–880 | | 895–930 |
| Ti6Al4V (wrought) | 114 | 827–1103 | 896–1172 | 860–965 |
| Stainless steel 316L | 193 | 170–310 | 480–620 | 540–1000 |
| CoCrMo Alloy | 240 | 500–1500 | | 900–1540 |
| Mg (99.9%, casted) | 41 | 21 | 40 | 87 |
| Mg (99.9%, wrought) | 41 | 100 | 100–140 | 180 |

© 2017 by the authors. Licensee MDPI, Basel, Switzerland. This article is an open access article distributed under the terms and conditions of the Creative Commons Attribution (CC BY) license (http://creativecommons.org/licenses/by/4.0/).