Finite Element Analysis of Interfacial Debonding in Copper/Diamond Composites for Thermal Management Applications
1
Mechanical Engineering Department, University of Jeddah, Jeddah 21589, Saudi Arabia
2
FMSE, GIK Institute of Engineering Sciences and Technology, Topi 23640, Pakistan
3
Chemical Engineering Department, University of Jeddah, Jeddah 21589, Saudi Arabia
4
Mechanical Engineering Department, ENIT, University of Tunis El Manar, Tunis 2092, Tunisia
*
Author to whom correspondence should be addressed.
Received: 15 May 2017 / Revised: 27 June 2017 / Accepted: 27 June 2017 / Published: 2 July 2017
Copper/diamond (Cu/D) composites are famous in thermal management applications for their high thermal conductivity values. They, however, offer some interface related problems like high thermal boundary resistance and excessive debonding. This paper investigates interfacial debonding in Cu/D composites subjected to steady-state and transient thermal cyclic loading. A micro-scale finite element (FE) model was developed from a SEM image of the Cu/20 vol % D composite sample. Several test cases were assumed with respect to the direction of heat flow and the boundary interactions between Cu/uncoated diamonds and Cu/Cr-coated diamonds. It was observed that the debonding behavior varied as a result of the differences in the coefficients of thermal expansions (CTEs) among Cu, diamond, and Cr. Moreover, the separation of interfaces had a direct influence upon the equivalent stress state of the Cu-matrix, since diamond particles only deformed elastically. It was revealed through a fully coupled thermo-mechanical FE analysis that repeated heating and cooling cycles resulted in an extremely high stress state within the Cu-matrix along the diamond interface. Since these stresses lead to interfacial debonding, their computation through numerical means may help in determining the service life of heat sinks for a given application beforehand.
1. Introduction
Copper/diamond (Cu/D) composites have recently gained popularity in thermal management applications due to their improved thermal conductivity (TC) and high heat dissipation characteristics. They, however, suffer from an increased level of interfacial resistance and debonding, where the latter is a direct consequence of the difference between coefficients of thermal expansion (CTEs) of copper (~16.7 × 10−6 K−1) and diamond (~0.89 × 10−6 K−1). An adequate solution to this problem is the introduction of an interface medium with some intermediate value of CTE, for example chromium (~6.1 × 10−6 K−1). Such an interface material is likely not only to reduce the CTE mismatch, but also to improve the bond strength between the Cu-matrix and diamond particles. Given that the TCs of Cu and diamond are on the order of 400 W·K−1·m−1 and 2000 W·K−1·m−1, respectively, their combination (Cu/D) should theoretically yield the TC values such that TCD > TCCu/D > TCCu. Nevertheless, the interfacial boundary resistance plays its role and at times lowers the TC of the composite to the values less than that of Cu. This problem is taken care of by introducing some appropriate intermediate material between the matrix and the inclusion.
In an attempt to improve the interfacial bond strength and reduce the boundary resistance, several authors [
1
,
2
,
3
,
4
,
5
,
6
,
7
] exploited the so-called 'pre-coated' diamonds, where the coating material was chromium, tungsten, titanium, molybdenum, etc. It should be noted that the bond strength and, hence, the resulting TC of the composite is mainly a function of the coating material properties, fabrication method, thickness of coating, and the type of bond (physical or chemical). For example, Mizuuchi et al. [
8
], using Cu-coated diamond (CuD), achieved an increase in conductivity from 300 to 654 W·K
−1
·m
−1
by changing the sintering temperature from 700 to 900 °C. Kang et al. [
9
] reported conductivity values approaching 562 W·K
−1
·m
−1
, where Cr was coated upon diamond through a molten salt method, while Ren et al. [
2
] used a vacuum deposition method for Cr coating and found a conductivity of 657 W·K
−1
·m
−1
. Zhang et al. [
1
] examined the effect of titanium coating and observed an improvement in TC from 170 to 493 W·K
−1
·m
−1
. Abyzov et al. [
10
], on the other hand, noticed a decrease in conductivity from 910 to 480 W·K
−1
·m
−1
as a function of the increase in the tungsten coating thickness from 110 to 470 nm. For further description on TC of diamond composites and their fabrication by powder metallurgy, the readers are referred to the works of Kidalov et al. [
11
] and Hamid et al. [
12
].
Finite element (FE) analysis has proven itself to be a useful tool for capturing the behavior of materials, which is otherwise difficult to determine through experimental means. Bakker [
13
] used the FE method to calculate the thermal and electrical conductivities of composite materials. Decarlis and Jaeger [
14
] proposed a self-consistent FE model to compute the effective TC of a heterogeneous two phase medium. Yamada et al. [
15
] performed both the experimental and FE analyses to develop highly thermally conductive fiber-reinforced SiC composites. Similarly, Yang et al. [
16
] and Rape et al. [
17
] used experimental and numerical techniques to predict the effective TCs of Al/diamond and Cu/Zr-coated diamond composites, respectively. The capabilities of the FE method have been exploited in the present work to predict the interfacial debonding of the Cu/D composite at the micro-scale.
2. Scope and Methodology
Given that heat sinks allow rapid dissipation of heat energy from the microelectronic components, it is desirable that their conductive properties, when 'in-service', do not deteriorate as a result of thermal fatigue/cyclic loading. Since the interfacial debonding can lead to the degradation of material properties, the present work primarily deals with the FE analysis of a Cu/D composite subjected to thermal loading. The initial phases of this work were dedicated to, (i) the fabrication of Cu/D composites using uncoated, Cu-coated (CuD), and Cr-coated diamonds (CrD); (ii) the experimental identification of effective TC and optimization of sintering parameters [
7
]; and (iii) the numerical investigation of the effect of the interfacial boundary resistance upon the effective TC [
18
].
This paper describes the 2D micro-scale FE modeling approach in detail. A micro-scale thermo-mechanical analysis requires mesh generation from SEM images. Since SEM images provide only a 2D representation of the composite samples, the direction of heat flow with respect to the 2D micrograph can be anywhere between perpendicular (out-of-plane) or parallel (in-plane) orientation, see
Figure 1
. Hence, the cases of perpendicular (PD) and parallel (PL) orientations are the limiting cases.
Now, the PD orientation of a 2D FE model suggests a transient heat transfer analysis, where the temperature of the entire domain (SEM image) increases and decreases simultaneously, i.e., no in-plane thermal gradient (). Conversely, the PL orientation, given a prolonged heating, will eventually lead to a steady-state condition, resulting in a strong thermal gradient () depending upon the source and ambient temperatures.
Considering the interfacial resistance and debonding, the resulting expansion/contraction of the Cu-matrix, diamond-particles, and the interface material will give rise to several types of thermo-mechanical analyses, which are summarized as case studies in
Table 1
in the order of increasing complexity.
3. Experimental Work
A detailed account of experimental work is presented in [
7
]. Only a brief description relevant to the current investigation is being provided here. Using uncoated and Cr-coated diamonds (CrD), Cu/D composites were fabricated by a powder metallurgy technique, convention sintering, in a vacuum tube furnace with diamond volume fractions between 5–20%. The particle size of cubo-octahedral shaped diamond and irregular copper powders were 100 μm and 45 μm, respectively. The Cr coating was performed by the diffusion method that produced a layer of thickness between 0.3 and 1 μm. Finally, the TC of each sample was measured using the principal of transient plane source method.
The SEM images of composite samples that can be used for numerical modeling are shown in
Figure 2
. By and large, the distribution of diamond particles in the Cu matrix is uniform throughout. Some distinctions, however, can be made with respect to the specific volume fraction. For example,
Figure 2
a with 5 vol % diamond shows large areas of continuous matrix, while
Figure 2
b with 20 vol % diamond illustrates frequent clusters of several diamond particles. From the viewpoint of the FE simulation,
Figure 2
b is of greater interest since it has a higher degree of matrix discontinuity and is likely to reveal maximum information regarding the debonding behavior. It is for this reason that the Cu/20 vol % diamond composite, corresponding to
Figure 2
b, was selected for FE analysis.
4. Finite Element Analysis
5. Results and Discussion
6. Conclusions
This work has been devoted to developing the micro-scale FE model for the prediction of interfacial debonding within the Cu/diamond composites subjected to thermal steady-state and transient cyclic loading. A total of four test cases with increasing complexity have been investigated. It was noted that although the source of interfacial debonding is the intrinsic CTE of each constituent of the composite, it also depends upon the bond strength between the matrix and the reinforcement. A perfect interfacial bond (case 1) leads to better heat conduction; however, it induces very high thermal stresses in its immediate vicinity. A weak interface (case 2) on the other hand yields poor conductive properties as well as a lower level of stresses in the matrix.
The numerical simulation can also be exploited to select the interfacial medium with intermediate CTE so as to predict the debonding behavior of the matrix and reinforcement. Applied to the Cr-coated diamonds immersed in the Cu-matrix (case 3), the interface separation (~11.8 μm) was found to be almost half (~21.3 μm) of that of the Cu/uncoated-diamond composite. This shows that an appropriate interface medium may further reduce the interfacial debonding and, hence, can help in improving the conductive properties of the composite. It was also revealed that the cyclic loading leads to a relatively higher level of thermal stresses within the matrix (case 4), however this depends strongly upon the heating and cooling rates. Nevertheless, a higher non-uniform state of stress will eventually lead to the interfacial debonding, thereby, degrading the overall properties of the composite.
From the perspective of the design and service life of heat sinks, this work may further be extended by integrating different interface material, thermal boundary conditions, composition, etc., with the numerical model. In addition, thermal fatigue failure may also be investigated by incorporating the material properties data corresponding to the cyclic behavior. Similarly, the effect of grain size/boundaries may also be included in future work.
Acknowledgments
This project was funded by the Deanship of Scientific Research (DSR), University of Jeddah, Jeddah, under grant No. G-1436-966-192. The authors, therefore, acknowledge with thanks the DSR technical and financial support.
Author Contributions
Muhammad Zain-ul-abdein and Kabeer Raza conceived and designed the numerical and experimental work. Muhammad Zain-ul-abdein proposed the numerical model. Hassan Ijaz defined the cohesive behavior and interactions. Waqas Saleem suggested the material behavior laws to be incorporated. Kabeer Raza provided the relevant experimental results. Abdullah Salmeen Bin Mahfouz interpreted the results and supervised the project. Tarek Mabrouki performed the analyses and discussed the results. Muhammad Zain-ul-abdein wrote the first draft of the paper. The co-authors proof-read and made significant changes to the paper from both the technical and non-technical viewpoints.
Conflicts of Interest
The authors declare no conflict of interest. The funding sponsors had no role in the design of the study; in the collection, analyses, or interpretation of data; in the writing of the manuscript, and in the decision to publish the results.
References
Zhang, Y.; Zhang, H.L.; Wu, J.H.; Wang, X.T. Enhanced thermal conductivity in copper matrix composites reinforced with titanium-coated diamond particles.

Scr. Mater.

2011,

65

, 1097–1100. [Google Scholar] [CrossRef]
Ren, S.; Shen, X.; Guo, C.; Liu, N.; Zang, J.; He, X.; Qu, X. Effect of coating on the microstructure and thermal conductivities of diamond–Cu composites prepared by powder metallurgy.

Compos. Sci. Technol.

2011,

71

, 1550–1555. [Google Scholar] [CrossRef]
Chu, K.; Liu, Z.; Jia, C.; Chen, H.; Liang, X.; Gao, W.; Tian, W.; Guo, H. Thermal conductivity of SPS consolidated Cu/diamond composites with Cr-coated diamond particles.

J. Alloys Compd.

2010,

490

, 453–458. [Google Scholar] [CrossRef]
Xia, Y.; Song, Y.; Lin, C.; Cui, S.; Fang, Z. Effect of carbide formers on microstructure and thermal conductivity of diamond-Cu composites for heat sink materials.

Trans. Nonferrous Met. Soc. China

2009,

19

, 1161–1166. [Google Scholar] [CrossRef]
Bai, H.; Ma, N.; Lang, J.; Zhu, C.; Ma, Y. Thermal conductivity of Cu/diamond composites prepared by a new pretreatment of diamond powder.

Compos. Part B

2013,

52

, 182–186. [Google Scholar] [CrossRef]
Shen, X.Y.; He, X.B.; Ren, S.B.; Zhang, H.M.; Qu, X.H. Effect of molybdenum as interfacial element on the thermal conductivity of diamond/Cu composites.

J. Alloys Compd.

2012,

529

, 134–139. [Google Scholar] [CrossRef]
Raza, K.; Khalid, F.A. Optimization of sintering parameters for diamond–copper composites in conventional sintering and their thermal conductivity.

J. Alloys Compd.

2014,

615

, 111–118. [Google Scholar] [CrossRef]
Mizuuchi, K.; Inoue, K.; Agari, Y.; Yamada, S.; Tanaka, M.; Sugioka, M.; Takeuchi, T.; Tani, J.; Kawahara, M.; Lee, J.H.; et al. Thermal properties of diamond-particle-dispersed Cu-matrix-composites fabricated by spark plasma sintering (SPS).

Mater. Sci. Forum

2010,

638–642

, 2115–2120. [Google Scholar] [CrossRef]
Kang, Q.; He, X.; Ren, S.; Zhang, L.; Wu, M.; Guo, C.; Cui, W.; Qu, X. Preparation of copper-diamond composites with chromium carbide coatings on diamond particles for heat sink applications.

Appl. Therm. Eng.

2013,

60

, 423–429. [Google Scholar] [CrossRef]
Abyzov, A.M.; Kidalov, S.V.; Shakhov, F.M. High thermal conductivity composite of diamond particles with tungsten coating in a copper matrix for heat sink application.

Appl. Therm. Eng.

2012,

48

, 72–80. [Google Scholar] [CrossRef]
Kidalov, S.V.; Shakhov, F.M. Thermal Conductivity of Diamond Composites.

Materials

2009,

2

, 2467–2495. [Google Scholar] [CrossRef]
Hamid, Z.A.; Moustafa, S.F.; Morsy, F.A.; Khalifa, N.A.A.; Mouez, F.A. Fabrication and characterization copper/diamond composites for heat sink application using powder metallurgy.

Nat. Sci.

2011,

3

, 936–947. [Google Scholar] [CrossRef]
Bakker, K. Using the finite element method to compute the influence of complex porosity and inclusion structures on the thermal and electrical conductivity.

Int. J. Heat Mass Transf.

1997,

40

, 3503–3511. [Google Scholar] [CrossRef]
Decarlis, A.; Jaeger, M. Effective thermal conductivity of heterogeneous two-phase material using the self-consistent finite element method.

Scr. Mater.

2001,

44

, 1955–1958. [Google Scholar] [CrossRef]
Yamada, R.; Igawa, N.; Taguchi, T.; Jitsukawa, S. Highly thermal conductive, sintered SiC fiber-reinforced 3D-SiC/SiC composites: Experiments and finite-element analysis of the thermal diffusivity/conductivity.

J. Nucl. Mater.

2002,

307–311

, 1215–1220. [Google Scholar] [CrossRef]
Yang, W.; Peng, K.; Zhou, L.; Zhu, J.; Li, D. Finite element simulation and experimental investigation on thermal conductivity of diamond/aluminium composites with imperfect interface.

Comput. Mater. Sci.

2014,

83

, 375–380. [Google Scholar] [CrossRef]
Rape, A.; Gott, K.; Kulkarni, A.; Singh, J. Simulation of matrix conductivity in copper-diamond composites sintered by field assisted sintering technology.

Comput. Mater. Sci.

2015,

110

, 29–33. [Google Scholar] [CrossRef]
Zain-ul-abdein, M.; Raza, K.; Khalid, F.A.; Mabrouki, T. Numerical investigation of the effect of interfacial thermal resistance upon the thermal conductivity of copper/diamond composites.

Mater. Des.

2015,

86

, 248–258. [Google Scholar] [CrossRef]
Simon, N.J.; Drexler, E.S.; Reed, R.P.

Properties of Copper and Copper Alloys at Cryogenic Temperatures

; USA Government Printing Office: Washington, DC, USA, 1992.
Reeber, R.R.; Wang, K. Thermal expansion, molar volume and specific heat of diamond from 0 to 3000 K.

J. Electron. Mater.

1996,

25

, 63–67. [Google Scholar] [CrossRef]
Ho, C.Y.; Powell, R.W.; Liley, P.E. Thermal conductivity of the elements.

J. Phys. Chem. Ref. Data

1972,

1

, 279. [Google Scholar] [CrossRef]
White, G.K.; Collocott, S.J. Heat capacity of reference materials: Cu and W.

J. Phys. Chem. Ref. Data

1984,

13

, 1251. [Google Scholar] [CrossRef]
Pankratz, L.B.

Thermodynamic Properties of Halides, Bulletin 674

; USA Bureau of Mines: Washington, DC, USA, 1982.
Spear, K.E.; Dismukes, J.P.

Synthetic Diamond—Emerging CVD Science and Technology

; Wiley: New York, NY, USA, 1994; p. 315. ISBN 978-0-471-53589-8. [Google Scholar]
Johnson, G.R.; Cook, W.H. A constitutive model and data for metals subjected to large strains, high strain rates and high temperatures. In Proceedings of the 7th International Symposium on Ballistics, Hague, The Netherlands, 19–21 April 1983; pp. 541–547. [Google Scholar]
Mańkowski, P.; Dominiak, A.; Domański, R.; Kruszewski, M.J.; Ciupiński, L. Thermal conductivity enhancement of copper–diamond composites by sintering with chromium additive.

J. Therm. Anal. Calorim.

2014,

116

, 881–885. [Google Scholar] [CrossRef]
Ikeda, Y.; Nashida, N.; Horio, M.; Takubo, H.; Takahashi, Y. Ultra compact, low thermal impedance and high reliability module structure with SiC Schottky Barrier Diodes. In Proceedings of the 26th Annual IEEE Applied Power Electronics Conference and Exposition (APEC), Fort Worth, TX, USA, 6–11 March 2011; pp. 1298–1300. [Google Scholar]
Halasz, G.A.S. Performance trends in high-end processors.

Proc. IEEE

1995,

83

, 20–36. [Google Scholar] [CrossRef]
Turon, A.; Dávila, C.G.; Camanho, P.P.; Costa, J. An engineering solution for mesh size effects in the simulation of delamination using cohesive zone models.

Eng. Fract. Mech.

2007,

74

, 1665–1682. [Google Scholar] [CrossRef]
Figiel, L.; Kamiński, M. Mechanical and thermal fatigue delamination of curved layered composites.

Comput. Struct.

2003,

81

, 1865–1873. [Google Scholar] [CrossRef]
Figure 1. Schematic of the heat sink indicating the heat flow from source to ambient, such that Tsource > Tamb, in the perpendicular and parallel orientations.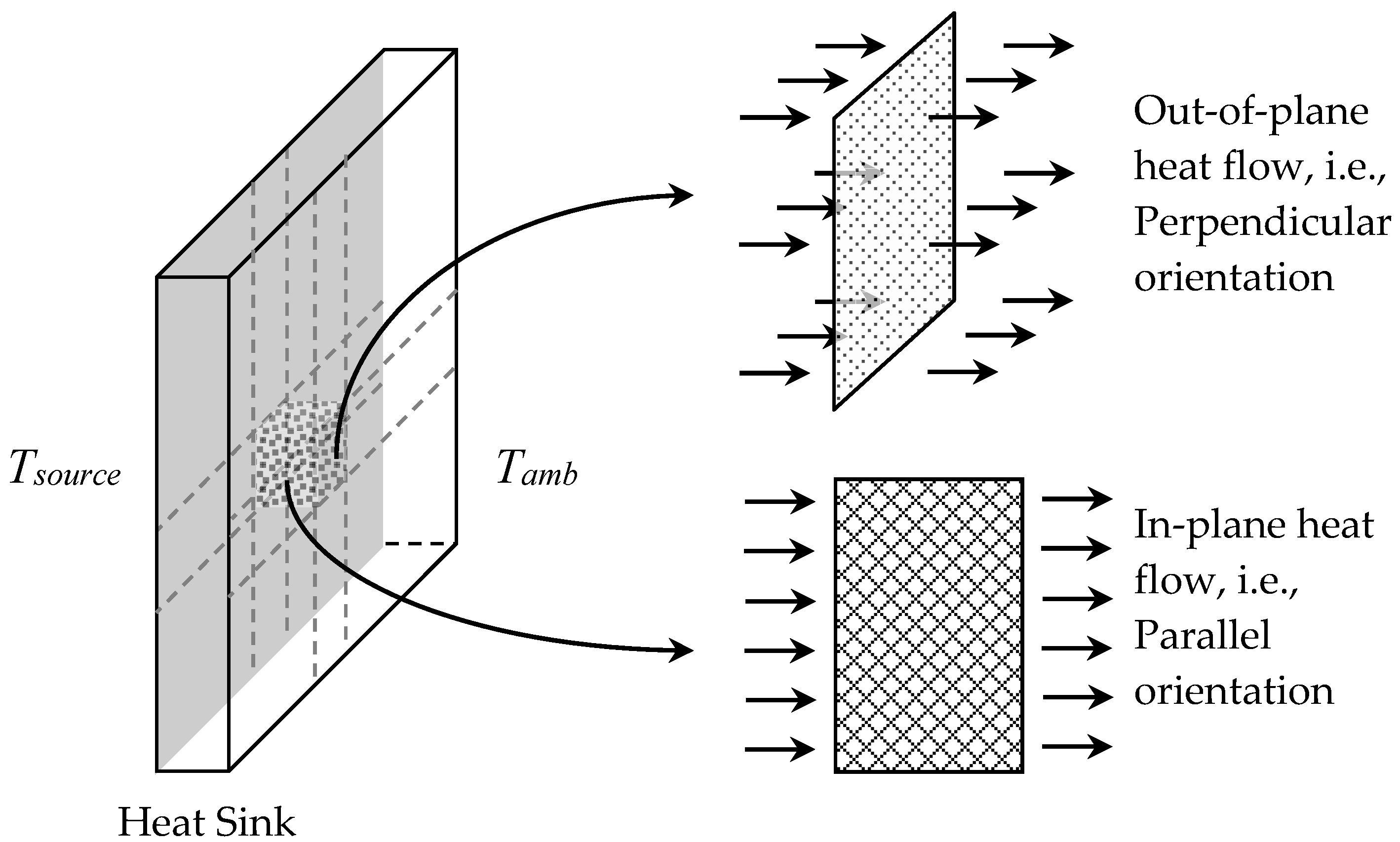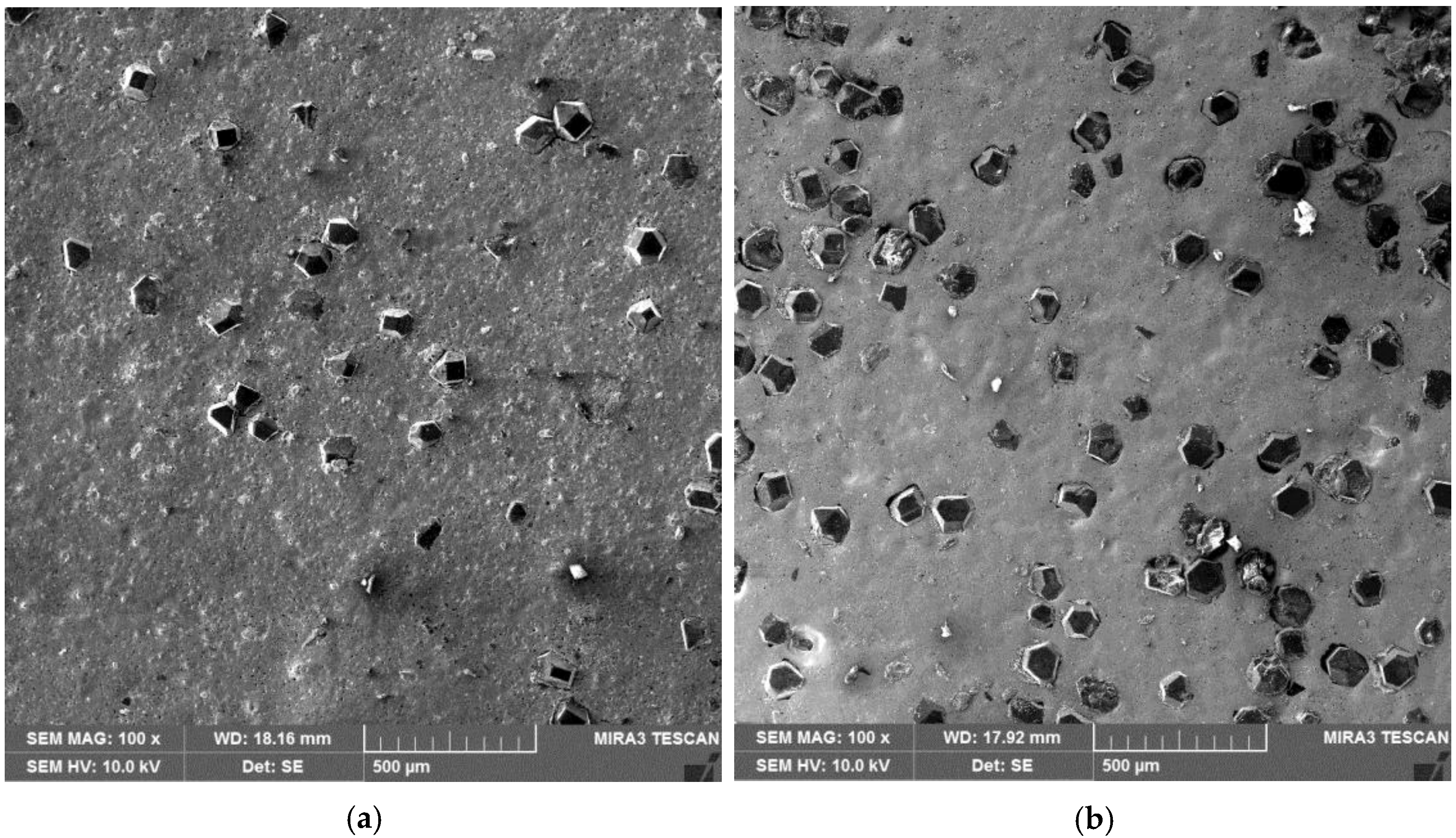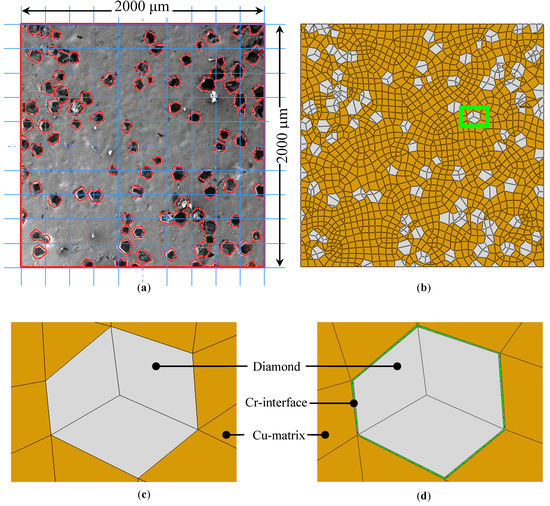 Figure 3. Mesh generation—(a) SEM image of the Cu/20 vol % CrD composite; (b) Finite element (FE) mesh; (c) Cu/D composite mesh without the Cr-interface; and (d) Cu/D composite mesh with the Cr-interface.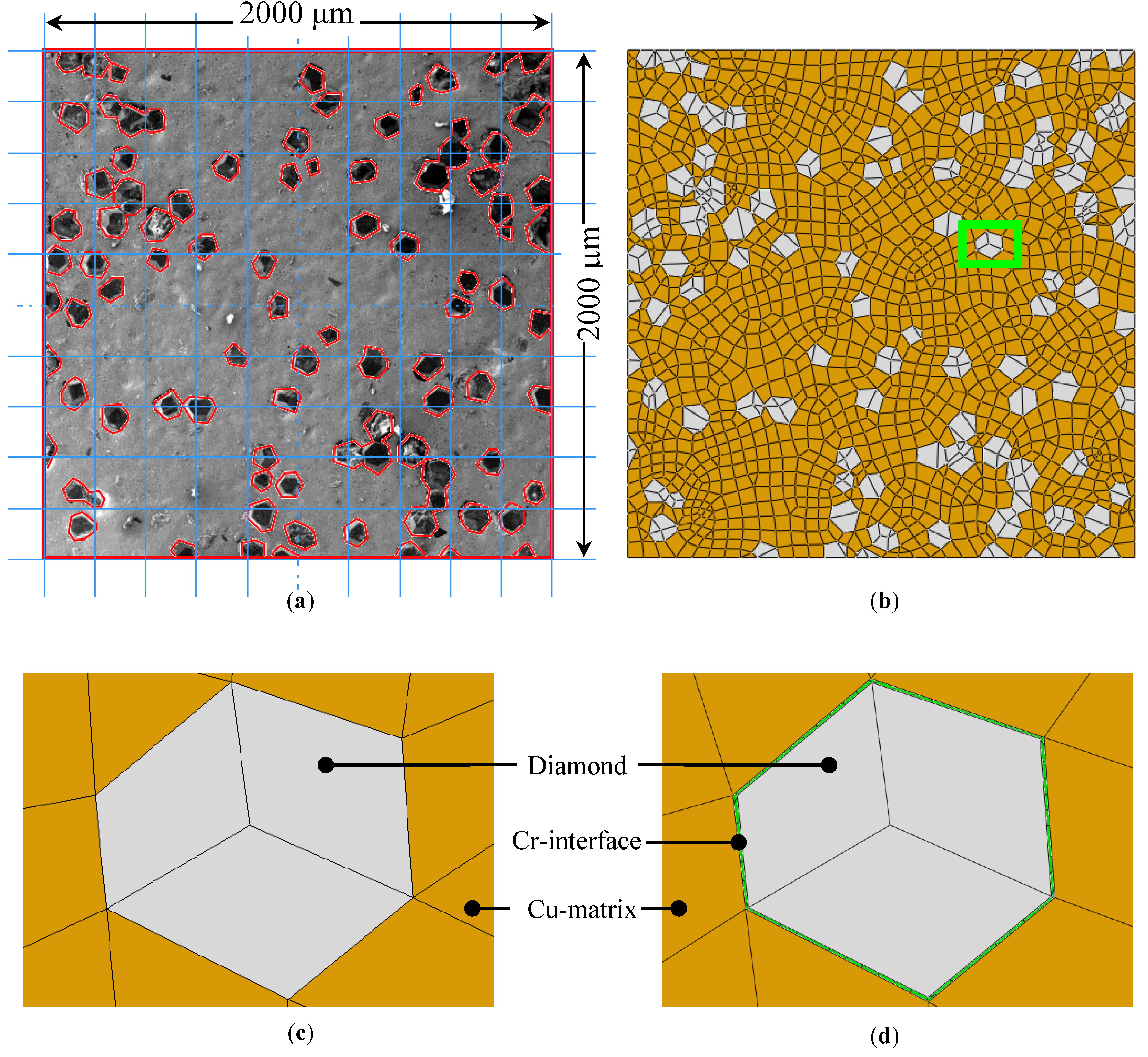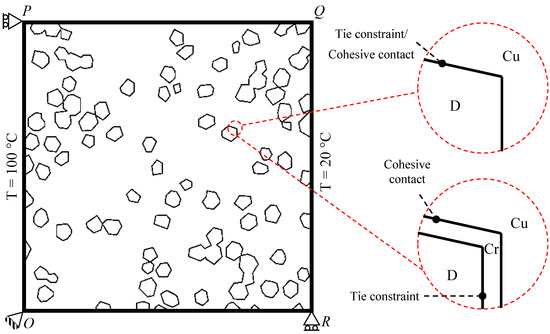 Figure 4. Schematics of the boundary conditions and the types of interfaces—Tie constraint or the cohesive contact at the Cu/uncoated diamond interface, tie constraint at the Cr/diamond interface, and cohesive contact at the Cu/Cr interface.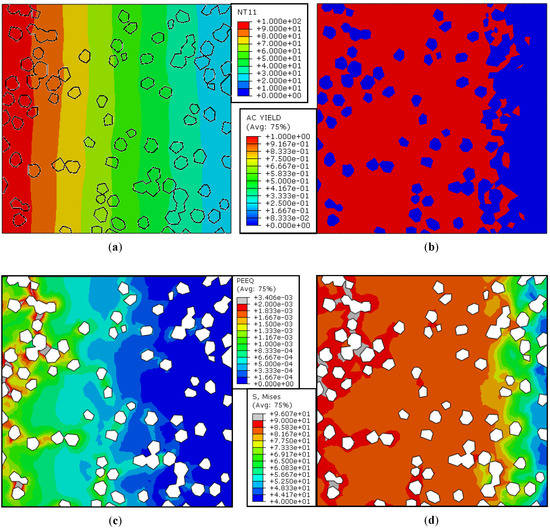 Figure 5. Steady-state analysis without interacting surfaces (Case 1): Contours of (a) Nodal temperature (°C); (b) Active yielding; (c) Equivalent plastic strain; (d) Mises equivalent stress (MPa).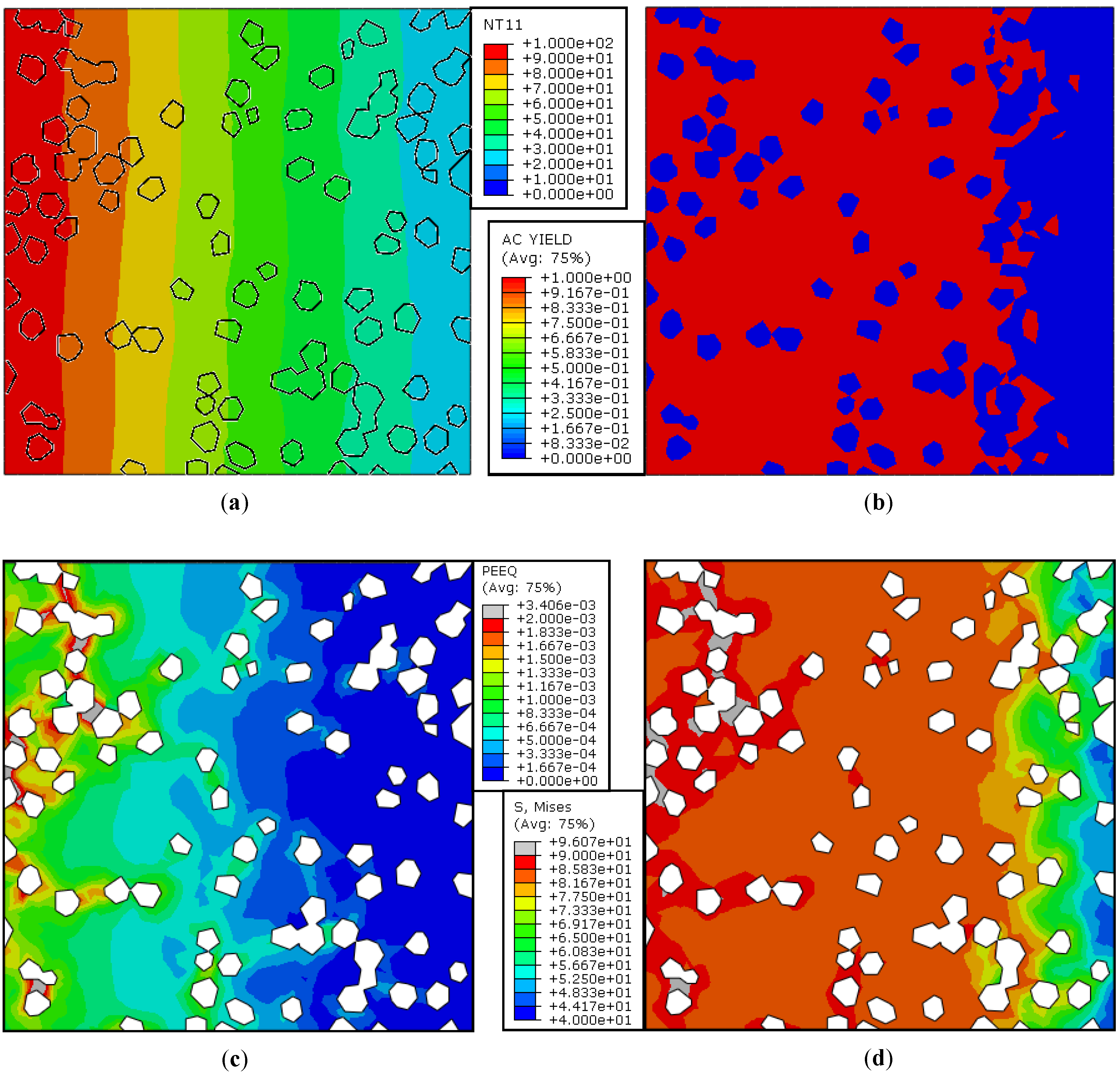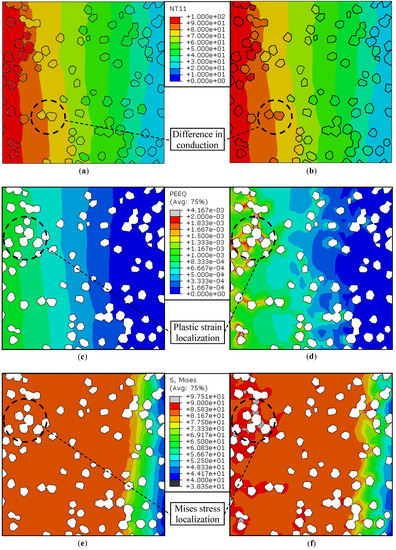 Figure 6. Steady-state analysis with interacting surfaces—Contours of (a) Case 2: Nodal temperature (°C); (b) Case 3: Nodal temperature (°C); (c) Case 2: Equivalent plastic strain; (d) Case 3: Equivalent plastic strain; (e) Case 2: Mises equivalent stress (MPa); and (f) Case 3: Mises equivalent stress (MPa).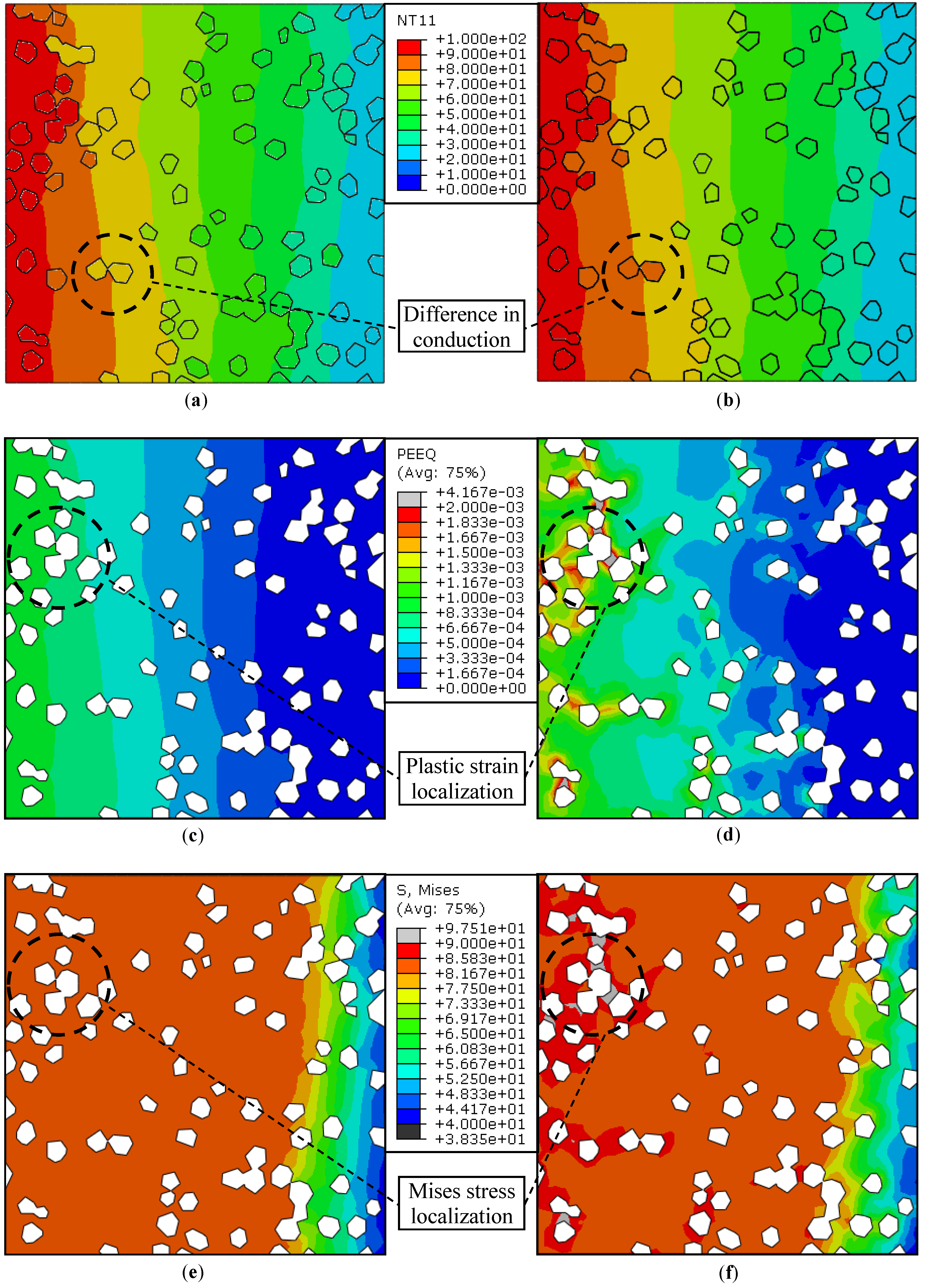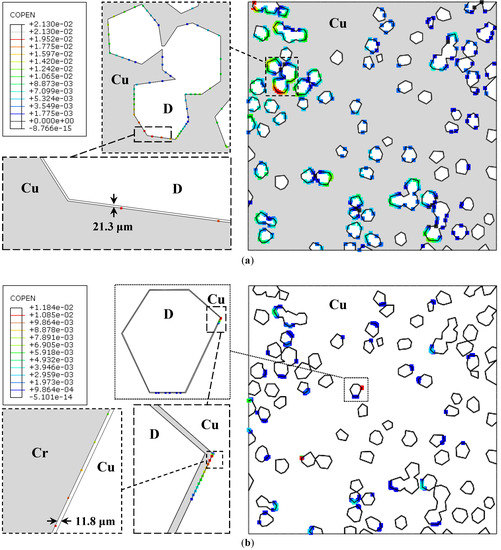 Figure 7. Contours of contact opening (mm)—(a) Case 2: Cu/uncoated diamond; (b) Case 3: Cu/Cr-coated diamond.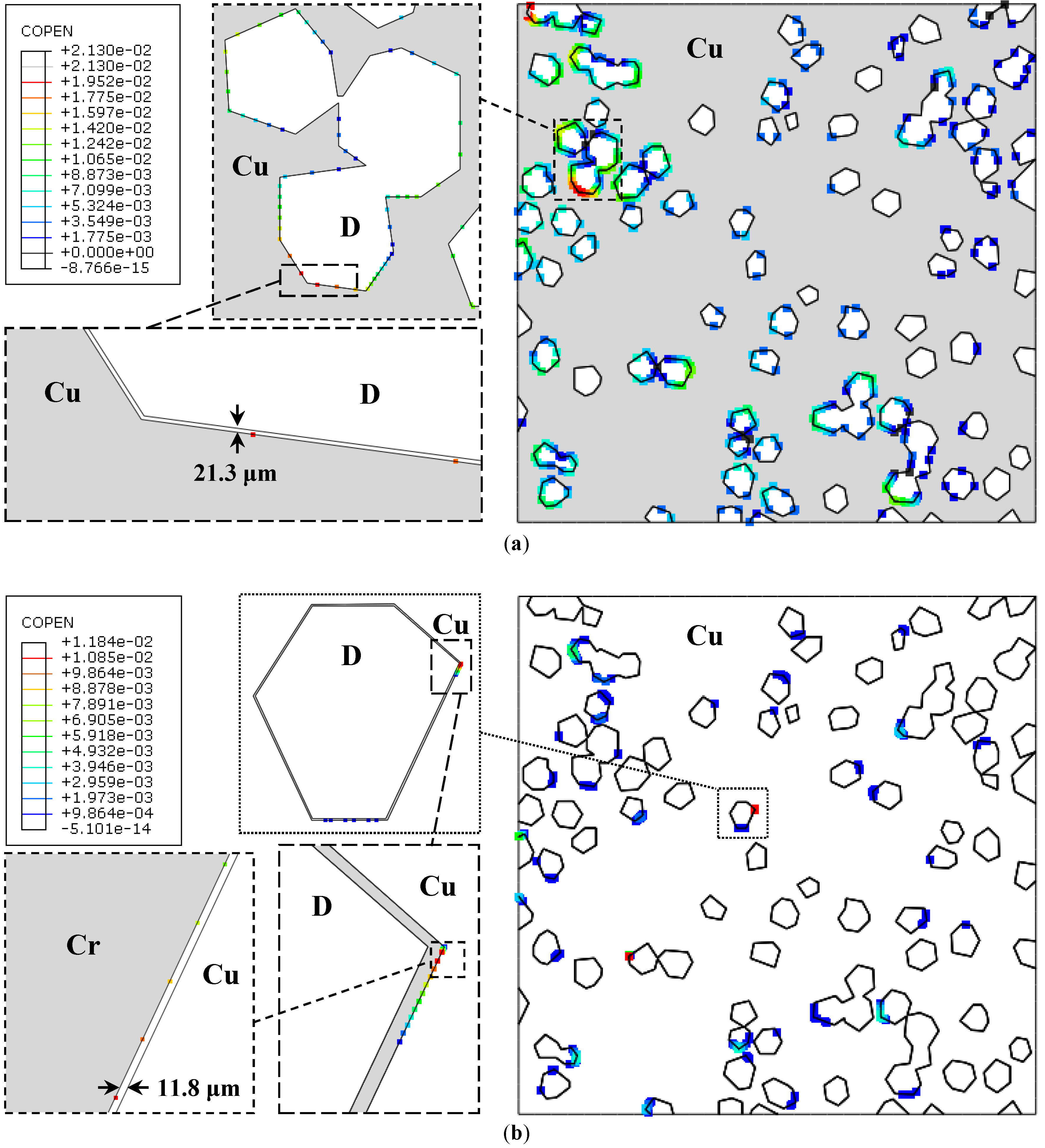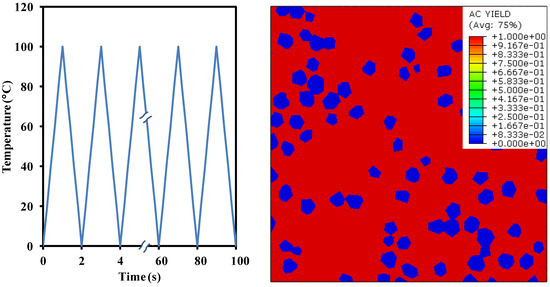 Figure 8. Case 4: Thermal boundary condition applied to all nodes (left), Contours of active yielding (right).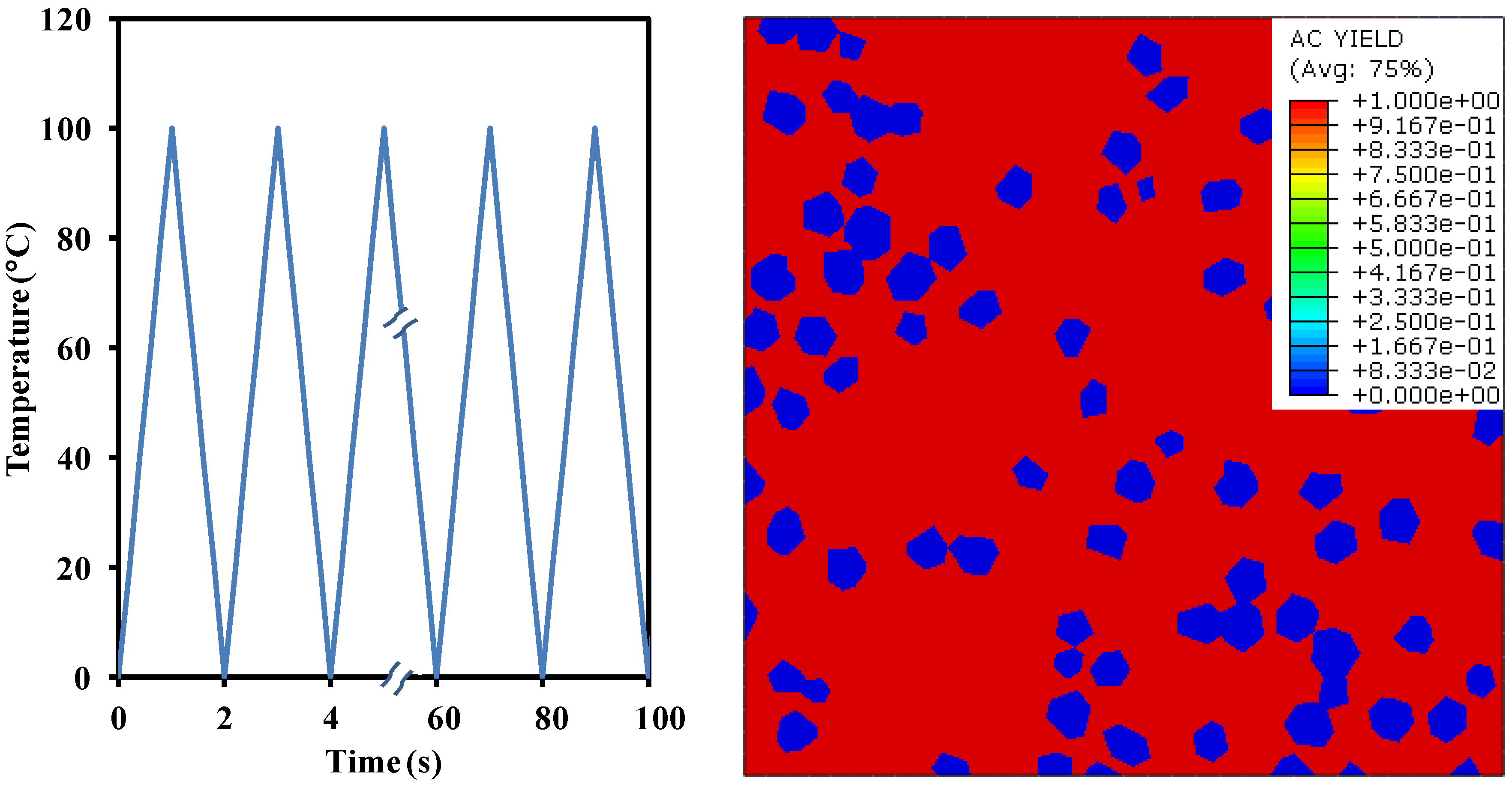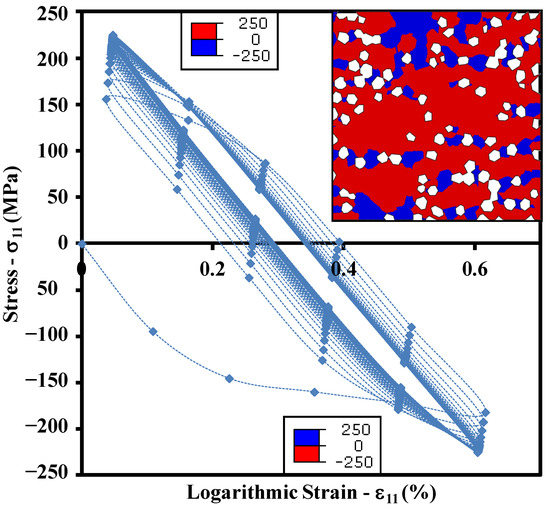 Figure 9. Case 4: Peak stress vs. logarithmic strain response to the applied thermal cyclic loading and zones of tension and compression within the Cu-matrix.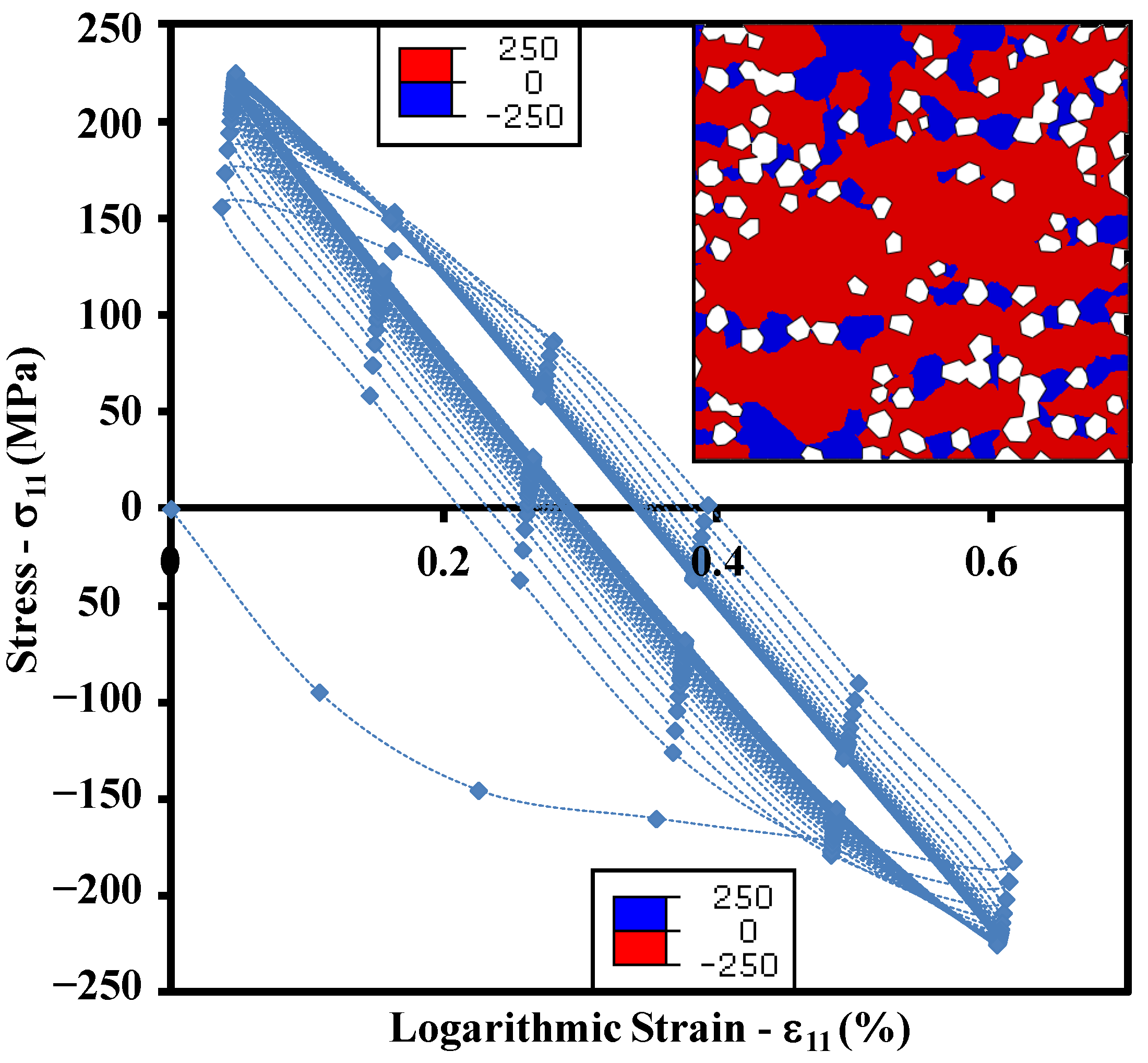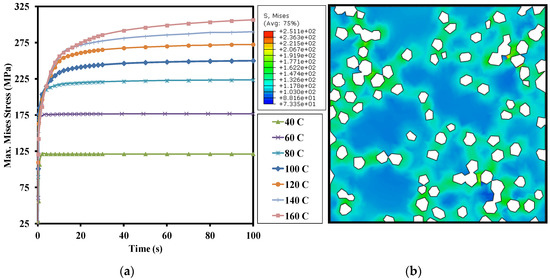 Figure 10. Case 4: Maximum von Mises equivalent stress as a function of time for different temperature values (a); Contours of Mises stress at the end of cyclic loading for a peak temperature of 100 °C (b).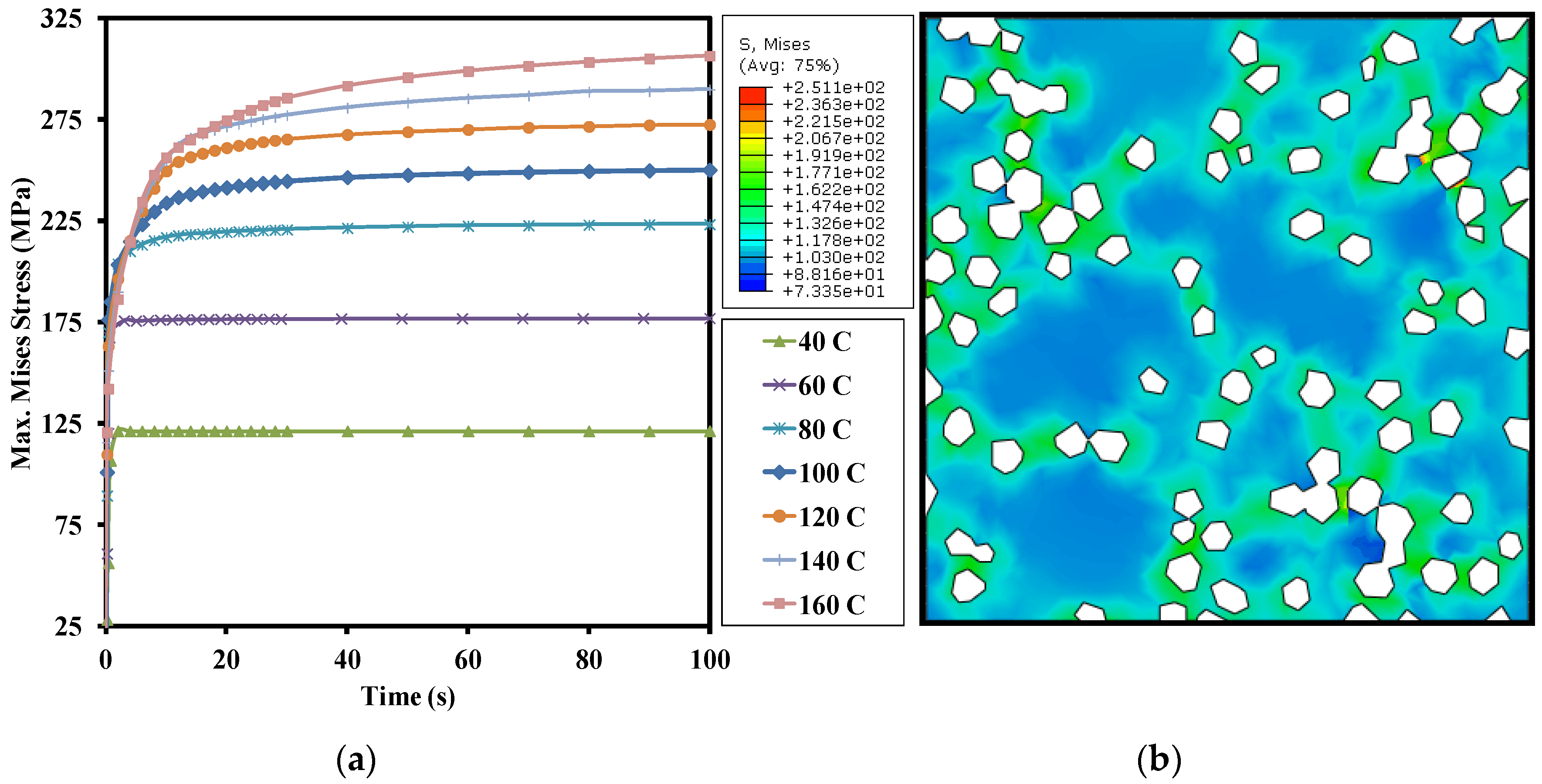 | Description | Case 1 | Case 2 | Case 3 | Case 4 |
| --- | --- | --- | --- | --- |
| Composite | Cu/D 1 | Cu/D | Cu/CrD 1 | Cu/D |
| Analysis type | SS 1 | SS | SS | TS 1 |
| Model orientation | PL 1 | PL | PL | PD 1 |
| Interfacial resistance | NO | YES | YES | NO |
| Interfacial debonding | NO | YES | YES | NO |
1 D: uncoated diamond; CrD: Cr-coated diamond; TS: transient; SS: steady-state; PD: perpendicular; PL: parallel.

© 2017 by the authors. Licensee MDPI, Basel, Switzerland. This article is an open access article distributed under the terms and conditions of the Creative Commons Attribution (CC BY) license (http://creativecommons.org/licenses/by/4.0/).