Functionalization of Magnetic Chitosan Particles for the Sorption of U(VI), Cu(II) and Zn(II)—Hydrazide Derivative of Glycine-Grafted Chitosan
1
Nuclear Materials Authority, 530 El Maadi, Cairo, Egypt
2
Ecole des Mines d'Alès, Centre des Matériaux des Mines d'Alès, 6 Avenue de Clavières, F-30319 Ales CEDEX, France
3
Faculty of Nursing, Menoufia University, Al Minufya, 00123 Shebine El-Koam, Egypt
*
Author to whom correspondence should be addressed.
Academic Editor: Jaroslaw W. Drelich
Received: 19 April 2017 / Revised: 5 May 2017 / Accepted: 9 May 2017 / Published: 16 May 2017
Abstract
A new magnetic functionalized derivative of chitosan is synthesized and characterized for the sorption of metal ions (environmental applications and metal valorization). The chemical modification of the glycine derivative of chitosan consists of: activation of the magnetic support with epichlorohydrin, followed by reaction with either glycine to produce the reference material (i.e., Gly sorbent) or glycine ester hydrochloride, followed by hydrazinolysis to synthesize the hydrazide functionalized sorbent (i.e., HGly sorbent). The materials are characterized by titration, elemental analysis, FTIR analysis (Fourrier-transform infrared spectrometry), TGA analysis (thermogravimetric analysis) and with SEM-EDX (scanning electron microscopy coupled to energy dispersive X-ray analysis). The sorption performances for U(VI), Cu(II), and Zn(II) are tested in batch systems. The sorption performances are compared for Gly and HGly taking into account the effect of pH, the uptake kinetics (fitted by the pseudo-second order rate equation), and the sorption isotherms (described by the Langmuir and the Sips equations). The sorption capacities of the modified sorbent reach up to 1.14 mmol U g
−1
, 1.69 mmol Cu g
−1
, and 0.85 mmol Zn g
−1
. In multi-metal solutions of equimolar concentration, the chemical modification changes the preferences for given metal ions. Metal ions are desorbed using 0.2 M HCl solutions and the sorbents are re-used for five cycles of sorption/desorption without significant loss in performances.
View Full-Text
►

▼

Figures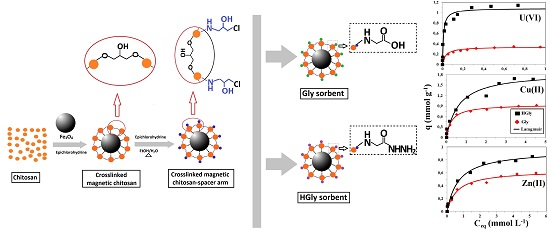 Graphical abstract
This is an open access article distributed under the
Creative Commons Attribution License
which permits unrestricted use, distribution, and reproduction in any medium, provided the original work is properly cited (CC BY 4.0).

Share & Cite This Article
MDPI and ACS Style
Hamza, M.F.; Aly, M.M.; Abdel-Rahman, A.A.-H.; Ramadan, S.; Raslan, H.; Wang, S.; Vincent, T.; Guibal, E. Functionalization of Magnetic Chitosan Particles for the Sorption of U(VI), Cu(II) and Zn(II)—Hydrazide Derivative of Glycine-Grafted Chitosan. Materials 2017, 10, 539.
Note that from the first issue of 2016, MDPI journals use article numbers instead of page numbers. See further details here.
Related Articles
Comments
[Return to top]